If you eat low carb, this option for a stuffing alternative could really help you round out your holiday meal!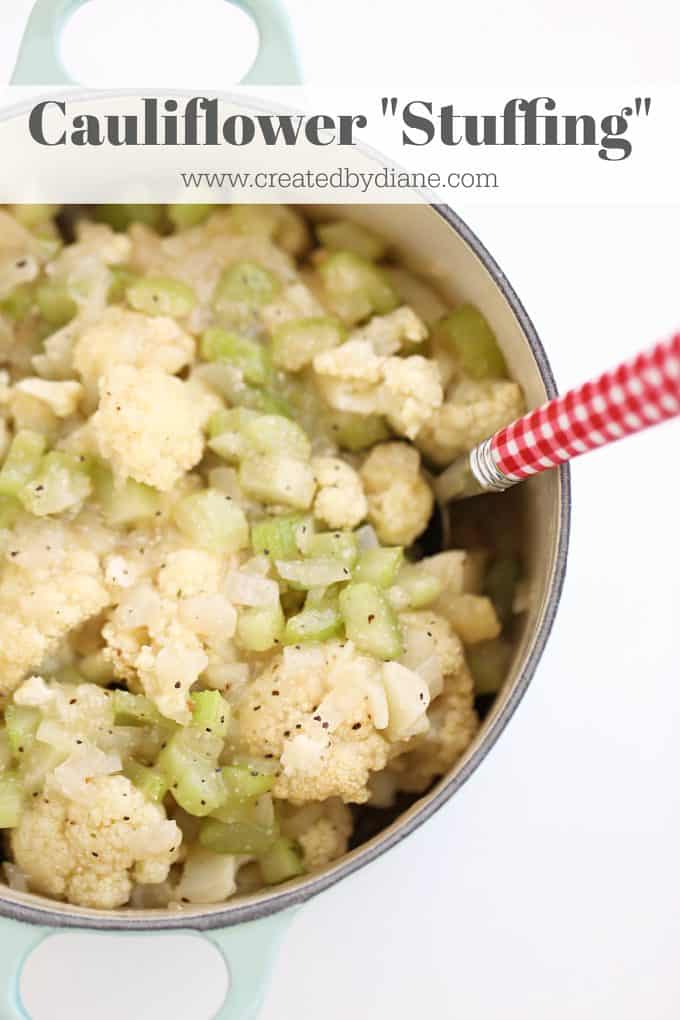 If you don't eat low carb, go right ahead and eat all the stuffing you like.
There are many reasons why people eat low carb, health reasons, diet reasons, or maybe your just want to eat more vegetables, or you are a vegetarian and don't want to fill up on bread or flour but really prefer "vegetables".
I have lots of Cauliflower recipes that are similar tasting to classic recipes and some fool even the die-hard carb eaters!
If you are used to eating lots of cauliflower, this will just go right along with your trying new things and liking them.
You can add all sorts of things to this basic recipe if you like sausage go right ahead and add some if you're nuts… I mean if you like nuts then go right ahead and add in some of your favorites, pecans, walnuts, almonds whatever you prefer. Put some cranberries right on the tray to roast for a fun fruit flavor.
More Cauliflower Recipes to try: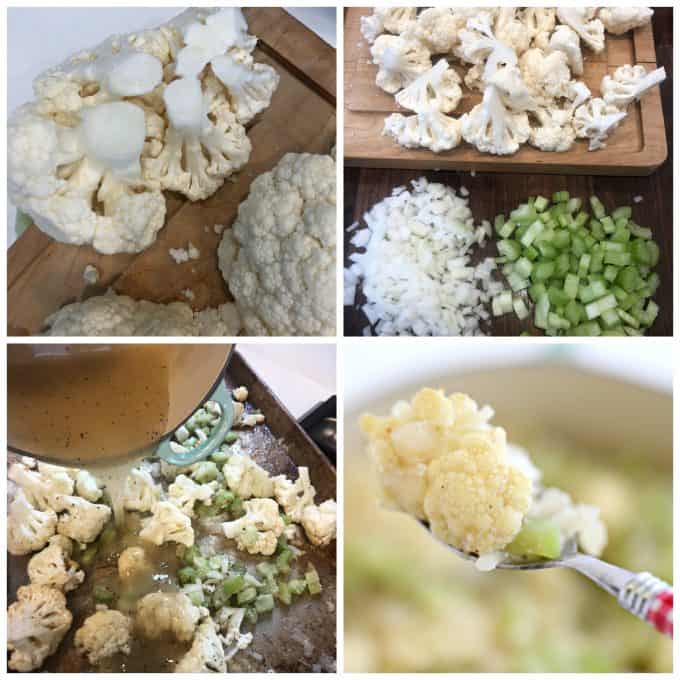 Stuffing is of those comfort food dishes you can smell a mile away, I always think it's the sage in the poultry seasoning or maybe that is just the way my mom made it!
Once you make this, you may find it making its' way into your weekly dinner rotation with some chicken or pork chops!
Cauliflower Stuffing-low carb stuffing option
Ingredients
1 head cauliflower
1/2 white onion
4 stalks celery
2 tablespoon almond flour
1-2 teaspoon poultry seasoning ( it must be the sage in poultry seasoning that reminds me so much of stuffing)
salt and pepper
2cup chicken broth (or 2 cups water and bouillon)
2 tablespoons cornstarch
Instructions
Cut up cauliflower into 2-inch florets, place them on a baking sheet with diced onion and celery with the almond flour, poultry seasoning, salt, and pepper added.
Roast at 400° for 20 minutes or until the cauliflower is tender when pierced with a knife.
In a saucepan, bring the chicken broth and cornstarch to a boil, it will thicken into a sauce.
Pour the sauce over the vegetables and serve.
*the almond flour isn't critical, but it gives the cauliflower a nice nutty flavor.