Chocolate Frosting tops Chocolate Cookies…. could there be anything better!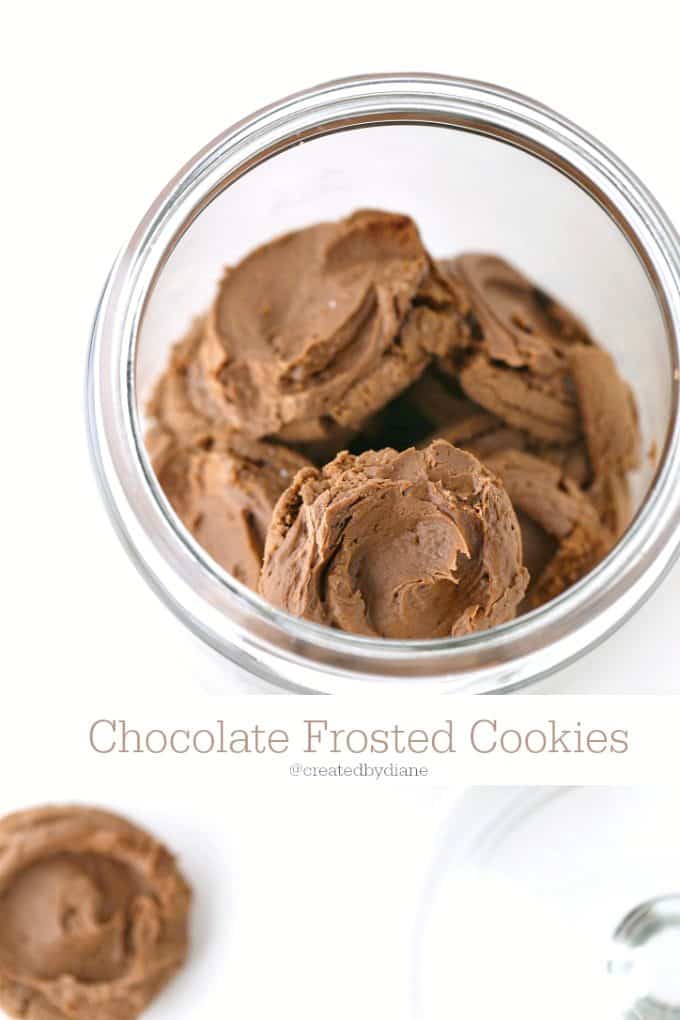 Well, these aren't ordinary chocolate cookies, these cookies are baking and "decorated" using the glass bottom method.
It's a way of producing a moist centered cookie, with a sugar crunch on top. You can use an antique glass with a design in the bottom or you can use the bottom of a metal measuring cup to apply the sugar to baked cookies.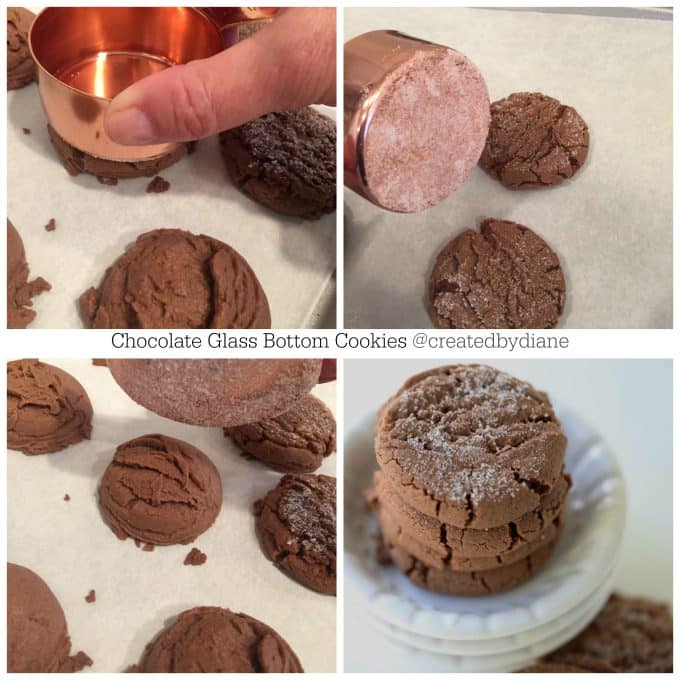 In order to get the sugar to stick to the bottom of my measuring cup (or glass) use a little dab of butter so it will stick.
When the cookies come out of the oven, gently press the sugar into them. The edges of the cookies may "crack" a bit, that's ok, don't squish them too much. Just gently press.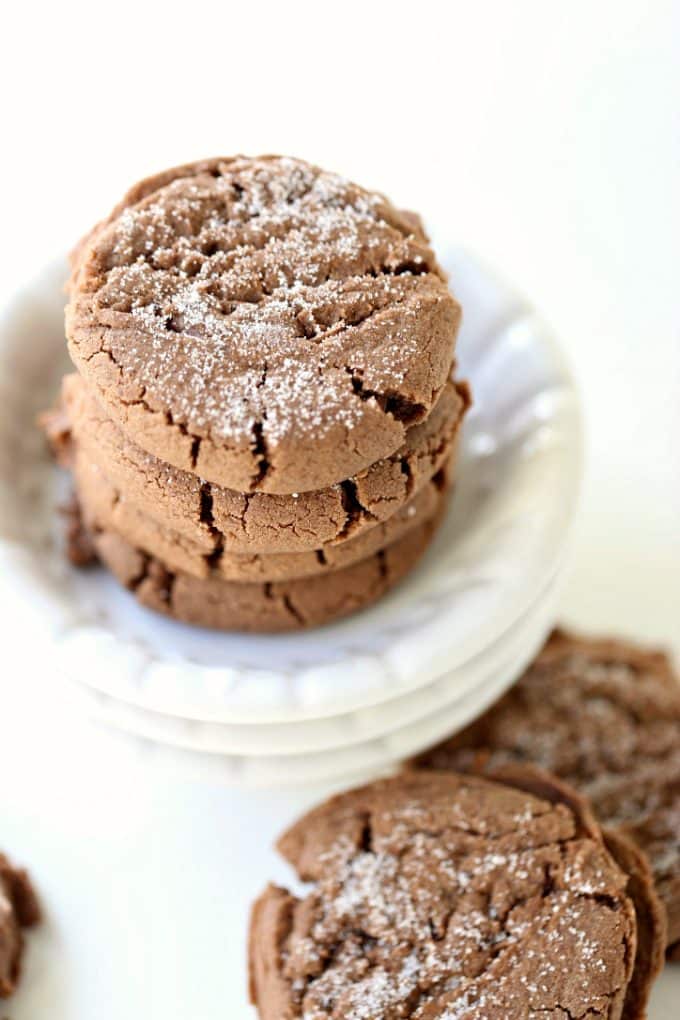 These cookies are irresistible! These are the kind of cookies you like to have sitting in the cookie jar on the counter. I love seeing a full cookie jar.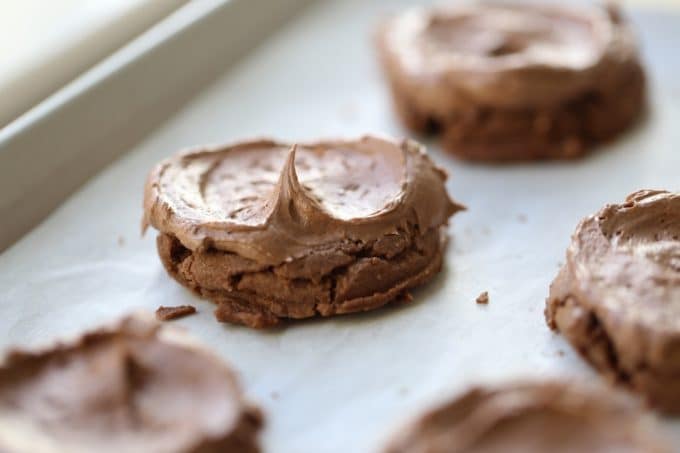 Now you can add on frosting onto the cookies…. oh these are so fun, the frosting will firm up enough if you want to stack them in a cookie jar, or wrap them up and put them in lunch boxes, bring them to a friends house and sit and chat…these are that kinds of cookies, the kind of cookies that are perfect anytime!

Chocolate Frosted Glass Bottom Cookies
Ingredients
1 cup butter (room temperature)
1 cups sugar
3/4 cup powdered sugar
1/2 cup oil
2 eggs
1 1/2 teaspoons cornstarch
1/2 teaspoon baking soda
1/2 teaspoon cream of tartar
1 teaspoon salt
1/4 cup cocoa (I use dutch process cocoa)
4 cups flour
*additional 1/4 cup granulated sugar for adding to the cookies after being baked.
Instructions
Preheat the oven to 350°
In the bowl of a mixer cream the butter with both sugars until smooth.
Mix the oil and eggs until combined.
Next mix in the cornstarch, baking soda, cream of tartar, salt, cocoa, and flour and mix until it's all well incorporated.
Use a 2 tablespoon cookie scoop and place the cookie dough onto parchment lined baking sheets.
Bake for 10 minutes. You can test with a toothpick, a toothpick should come out clean.
Glass Bottom method-use and antique glass with a decorative bottom or a smooth measuring cup.
While the cookies are still warm, about 2 minutes out of the oven...
Add a little dab of butter or frosting to the bottom of the item you will be adding sugar too.
I used a measuring cup, then added a dab of butter to it and dipped the smooth bottom of the measuring cup into granulated sugar.
While the cookies are still warm, gently press the bottom of the measuring cup onto the cookies, the edges of the cookies may crack a bit, that is ok, don't squish the cookies or press too hard.
Allow the cookies to cool completely.
Spread frosting onto cookie with a small offset spatula. Allow frosting to set up completely so it won't get messed up if you move them or stack them. I allow the frosting to set up for a few hours to overnight if I'm going to stack them.
Chocolate Frosting
Ingredients
1 cup butter
4 cups powdered sugar
2 tablespoons cocoa
1/4 cup melted dark chocolate
2 tablespoon heavy cream
1 teaspoon vanilla
Instructions
In a large bowl of a mixer beat butter until smooth, add in powdered sugar and cocoa.
Pour in melted chocolate and add heavy cream and vanilla and beat on medium-high until it's all creamy and smooth.
Spread frosting onto cookies with a small offset spatula, start by applying the frosting into the center and as you press down in the center swirl the spatula around in a circle to create a pretty swirl shape of frosting on the cookies.