I love versatile recipes and this shortbread is nothing less than spectacular! You can make a batch of dough and then roll out or bake drop cookies, perfect for adding sprinkles or jam on top of.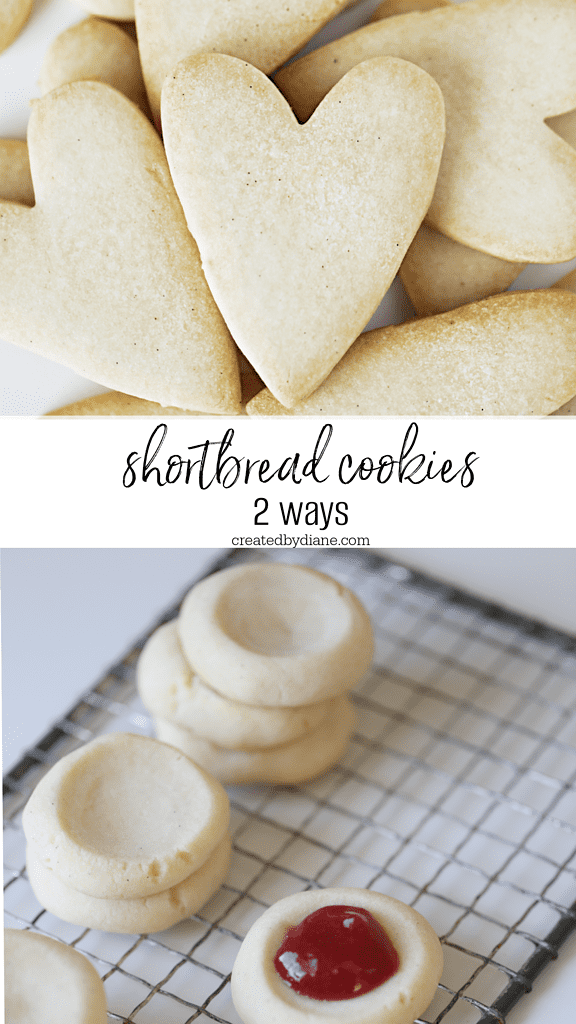 I have always loved shortbread cookies, so rich and delicious and a great crumb texture that is irresistible.
Shortbread cookies pretty simple, 
they have no leavening, so you don't have to worry if they'll hold their shape, they WILL…
they won't rise and fall or spread too much, they will look coming out of the oven the way they go in.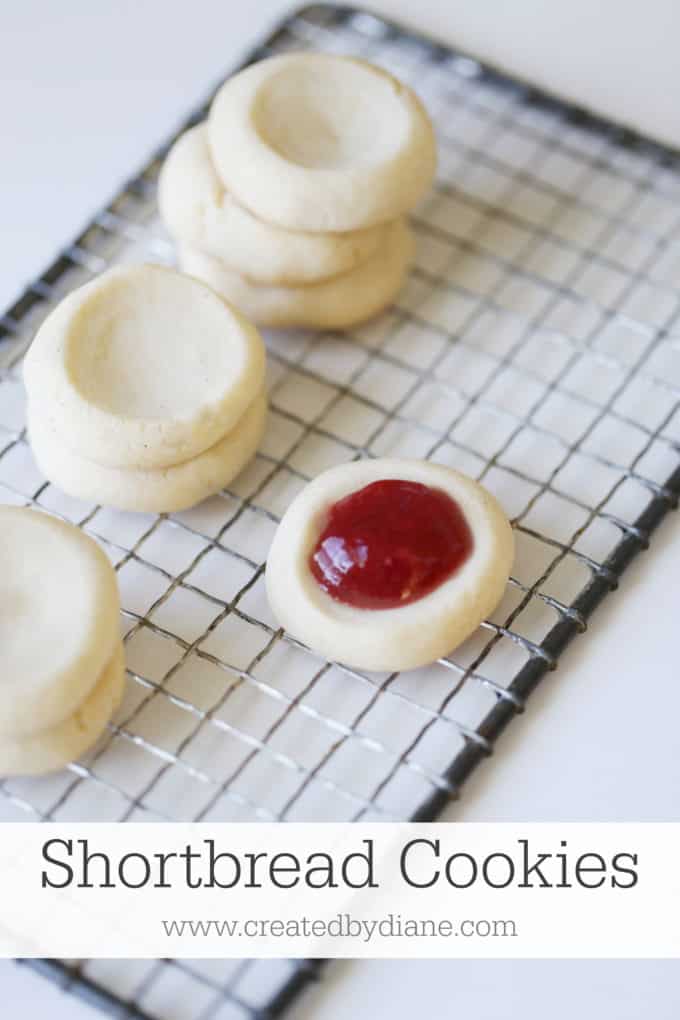 Shortbread dough is drier than ordinary cookie dough, so "resting" and refrigerating the cookie dough allows the gluten in the flour to relax and stretch and create a crumbly texture versus a chewy texture like you get with cookies with eggs.
It also allows the butter to firm up so it doesn't spread easily when baked and the cookies hold their shape, whether rolled into balls or rolled out flat with a rolling pin. The dough will be able to stretch without cracking.
The amount of butter is what makes shortbread short: shortbread has a larger amount of butter ratio that creates the term short, when applied to biscuits and pastry, which means crumbly, like shortcrust pastry. This is not traditionally used for cut-out cookies, but this recipe works well for cut-out cookies as well as drop cookies. 
Traditional shortbread, 1 part sugar, 2 parts butter, 3 parts flour. This is slightly different as it uses powdered sugar as does my sugar cookie recipe and it results in another great cookie perfect for a drop, rolled, or rolled out cookies.
I pressed the back of a teaspoon measuring spoon into the cookie dough after rolling 2 tablespoons of dough into a ball, then after they are baked and completely cooled, they are perfect for adding jam or curd. I used a fresh fruit raspberry jam that I strained extra smooth in a fine sieve.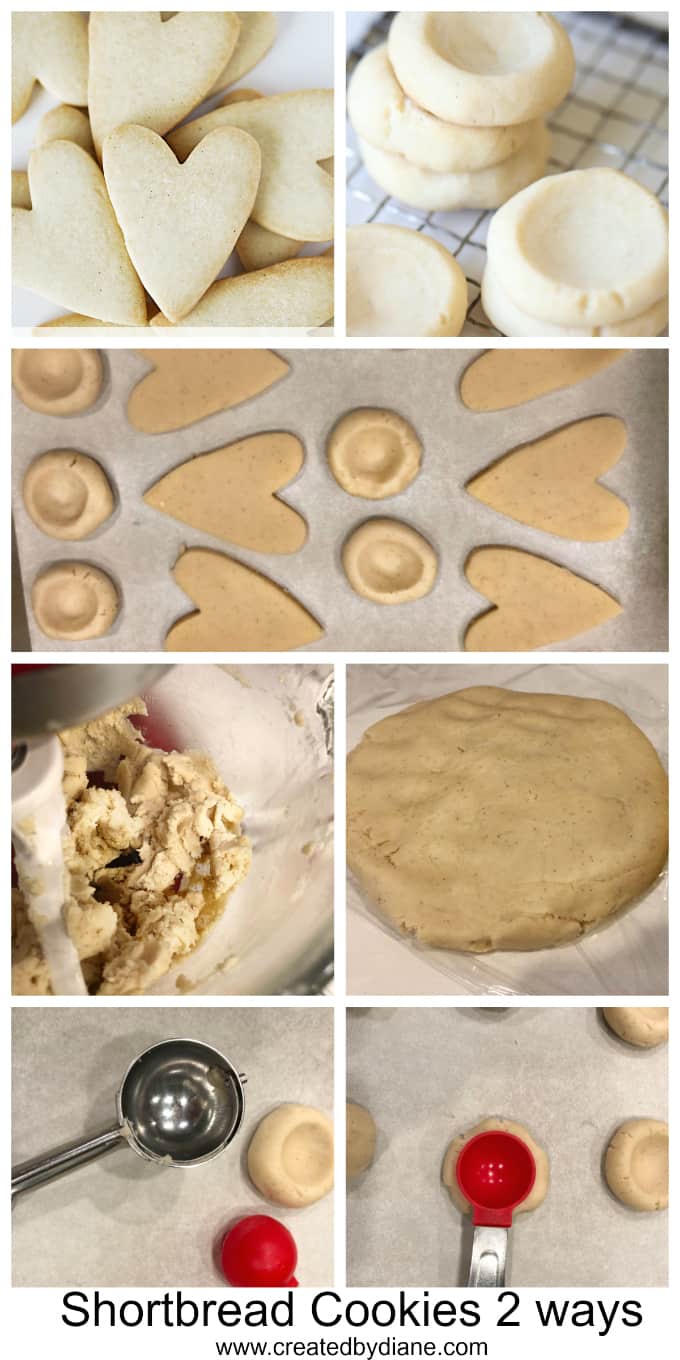 The cookie dough will pull away from the sides of the bowl as you mix it, then roll it into a ball and then flatten to a disk. Then you'll wrap it in plastic wrap and refrigerate for 15 minutes.
Roll out the cookie dough in between wax paper sheets and cut with a cookie-cutter, or scoop out 2 tablespoons of dough and roll into a ball and roll the balls into sprinkles, or powdered sugar or use a teaspoon measuring spoon and press the back into the dough to create an indentation to fill after being baked and cooled with your favorite fruit curd, jam, or melted chocolate.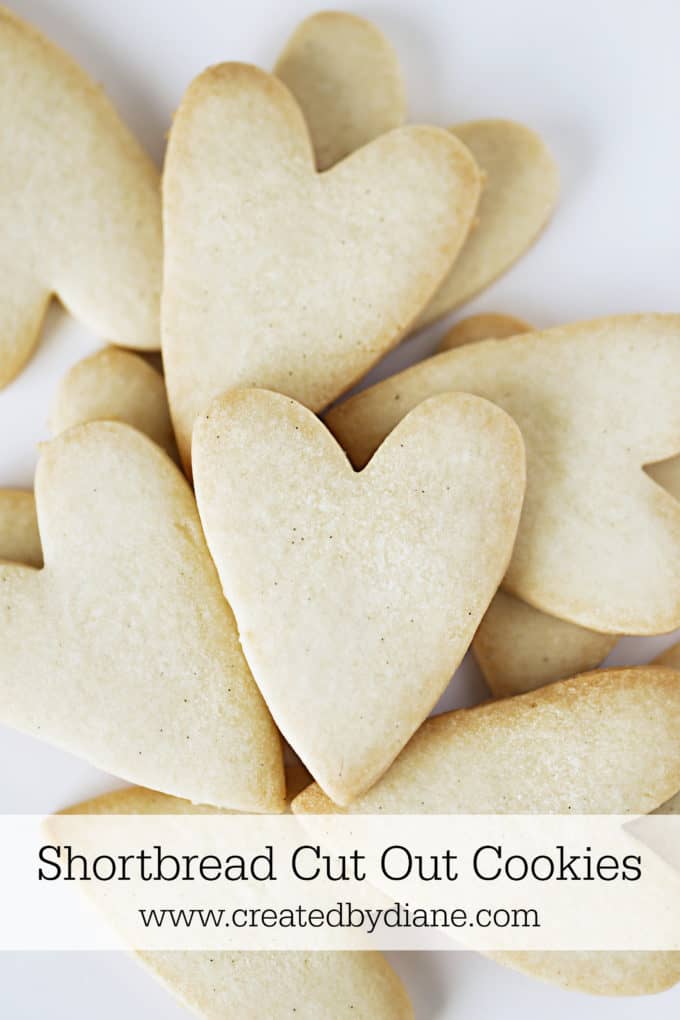 This recipe is so delicious!
These will become your new favorite for Christmas Cookie Baking and all-year long. Take a look at some of my curd recipes for filling, like cherry lime curd or blueberry curd. 
Shortbread Cookies 2 ways!
Tender shortbread cookies with great texture can be rolled into drop cookies or rolled out with a rolling pin and cut with cookie cutters for any occasion.
Author:
Diane Schmidt - Created by Diane
Ingredients
1 cup butter, room temperature (slightly indents when pressed but not soft or melted)
1/2 cup powdered sugar
1 teaspoon vanilla extract
2 cups all-purpose flour
1/4 teaspoon salt (if using unsalted butter)
Instructions
Preheat your oven to 350° now or while the dough is in the fridge. Be sure your oven is fully at the right temperature before baking cookies.
In the bowl of a mixer beat butter until it's light and smooth.
Add in powdered sugar and vanilla extract and mix completely.
Mix in flour and salt (if adding) and beat until all ingredients are incorporated, scraping down the sides and bottom of the bowl so everything is mixed well.
Roll cookie dough into a ball and flatten it to a disk shape.
Wrap in plastic wrap and refrigerate the wrapped dough for 15 minutes. (If you refrigerate the dough longer allow it to warm a few minutes on the counter before rolling or it will crack easily)
Roll out scoops of dough and roll in between hands for drop cookies or roll out dough in between wax paper sheets to 1/4" thick and cut with cookie cutters.
Place cookies on parchment-lined baking sheets.
Place baking sheets in the refrigerator for 10 minutes.
Then bake each baking sheet for 15 minutes. The cookies should be fairly pale, and lightly golden on bottoms or edges is ok, do not over-bake or brown shortbread, it will become dry and crumbly,
Let the cookies cool completely on the baking sheets before moving them. Remember they are dryer cookies and will be more tender and break easier if handled too much before they are completely cooled.
Notes
Rolling out cookie dough in between wax paper sheets allows you to avoid adding more flour, so the dough will be more pliable. If the dough gets warm and you need to add a little flour that is fine, just dust your hands with flour and roll it into a ball then roll it out again between wax sheets.[be]! Additionally, you can adjust the flavor in these to your liking, if you like peppermint add 1/2 teaspoon of peppermint extract, almond extract, lemon, or your favorite extract flavor.