Delicious chocolate sugar cookies with rainbow nonpareils coating all over the outside, pretty and tasty a great cookie combo.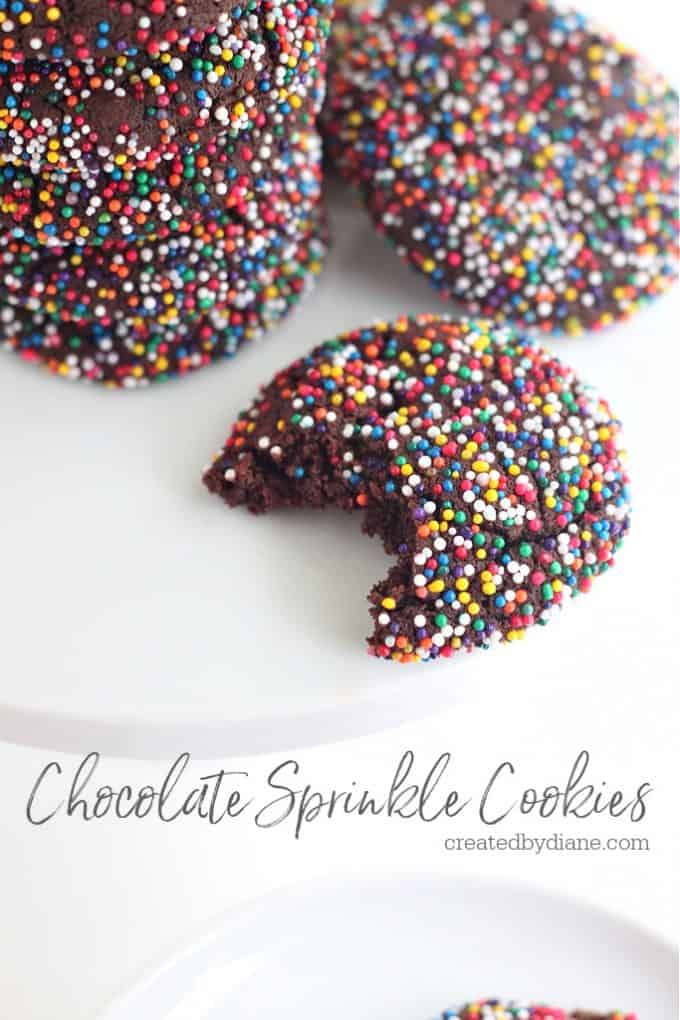 These drop chocolate sugar cookies are not only simple, and they look fantastic!
With a great firm outside coating and a chewy interior, these cookies will not only win you over when it's holiday baking season but all year long.
How do you make drop cookies?
With a few simple steps, you'll be enjoying cookies very quickly.
Drop cookies are fairly simple, 
start by creaming the butter and the sugar together (until it's pale in color and whipped well and the sugar is completely combined.
Then you'll add in the egg, then the cocoa with the flour, baking soda, vanilla, and salt.
Once it's mixed well, then the cookie dough is rolled into ball shapes and then into sprinkles.
They are then baked, and as soon as they cool, they are ready to eat.
These cookies remind me of Christmas lights…
Christmas Lights
It was all about multi-colored lights over here this Christmas, so it only seemed fitting that I made some cookies with multi-colored
I am all about white lights on the tree, but outside it was all about the COLOR this year.
All the lights and decorations are down and packed away so these will bring some color into the New Year! BAM!!!
Then it's time to make resolutions or goals for the new year…
try to be more patient,
try to exercise more,
try to stay more organized…
I know where everything is, it's just messy….mainly paperwork.
I thought computers would reduce paperwork, but I still find myself printing so much,
and tax time is just around the corner and that is all about paperwork!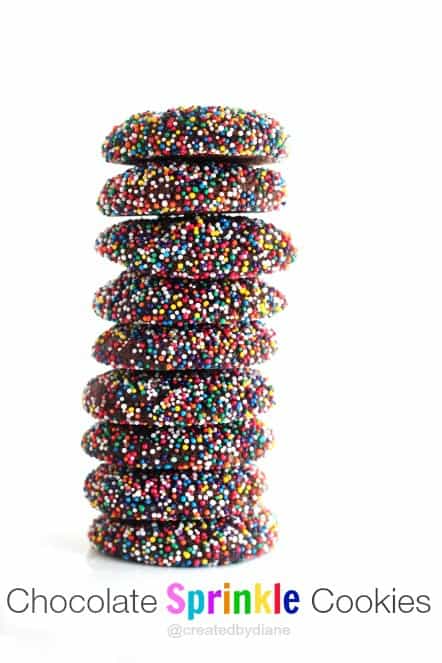 There are going to be a MUST with all the paperwork and clean up I need to do on my desk.
My desk is like a constant paper dump yard.
I think I'll be making batches of these until it's all cleaned up.
It's not like I don't clean it up all the time,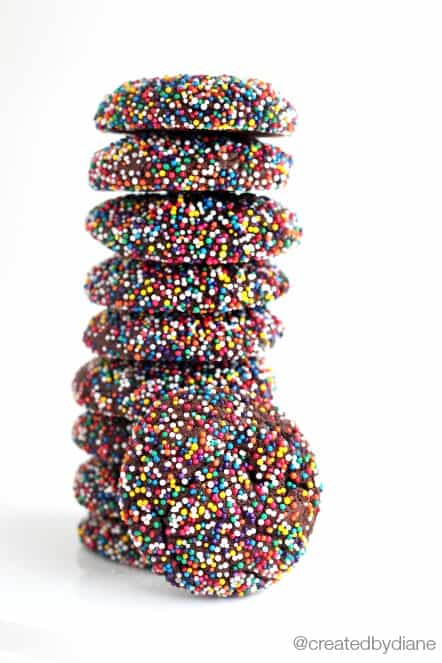 I do,
it just gets messy SO fast 🙁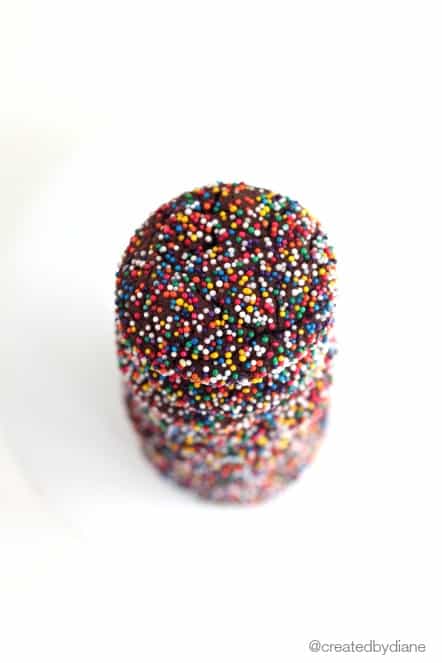 There is something so fun about all these colors,
they sure make delicious cookies,
even more fantastic!
And I need a little more fantastic in my life!
If you like cookies with a sugar coating… check out these Chocolate Sprinkle Cookies (here)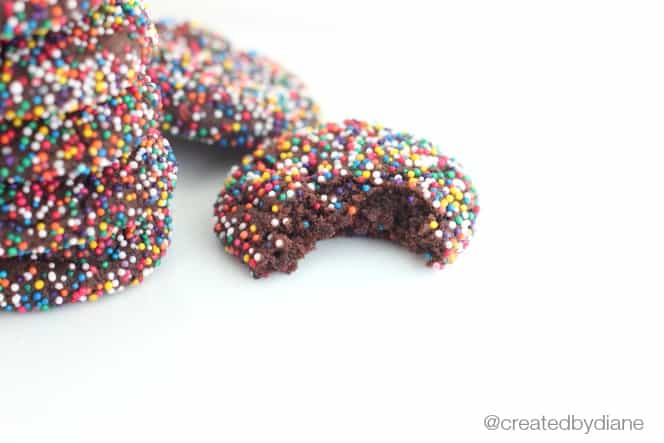 Let this year be filled with deliciousness!
And a clean desk.

Chocolate Sprinkle Cookies
Delicious chocolate sugar cookies with sprinkles, chewy inside and a great texture outside
Author:
Diane Schmidt Created by Diane
Ingredients
1 cup butter
1½ cups brown sugar
2 large eggs
1 teaspoon vanilla
¾ cup cocoa powder (I used dutch cocoa powder)
2 cups flour
1 teaspoon baking soda
1 teaspoon salt
½ cup rainbow nonpareil sprinkles
Instructions
Preheat oven to 350 degrees
in mixer bowl cream butter and brown sugar until light and fluffy
add in one egg at a time mixing completely after each addition
mix in vanilla
in separate bowl place cocoa powder, flour, baking soda, and salt and mix until well blended
add flour mixture to the mixer bowl with butter and brown sugar on low until fully combined
cover bowl with plastic wrap and place in the fridge until the dough is chilled, at least 30 minutes.
roll two tablespoons of dough into a ball, then into the sprinkles
place each ball of dough on a parchment-lined baking sheet 2 inches apart and bake for 9-11 minutes, edges will be slightly firm
allow cookies to cool on the baking sheet.