If there are three things I adore, it's chocolate, cookies, and snow.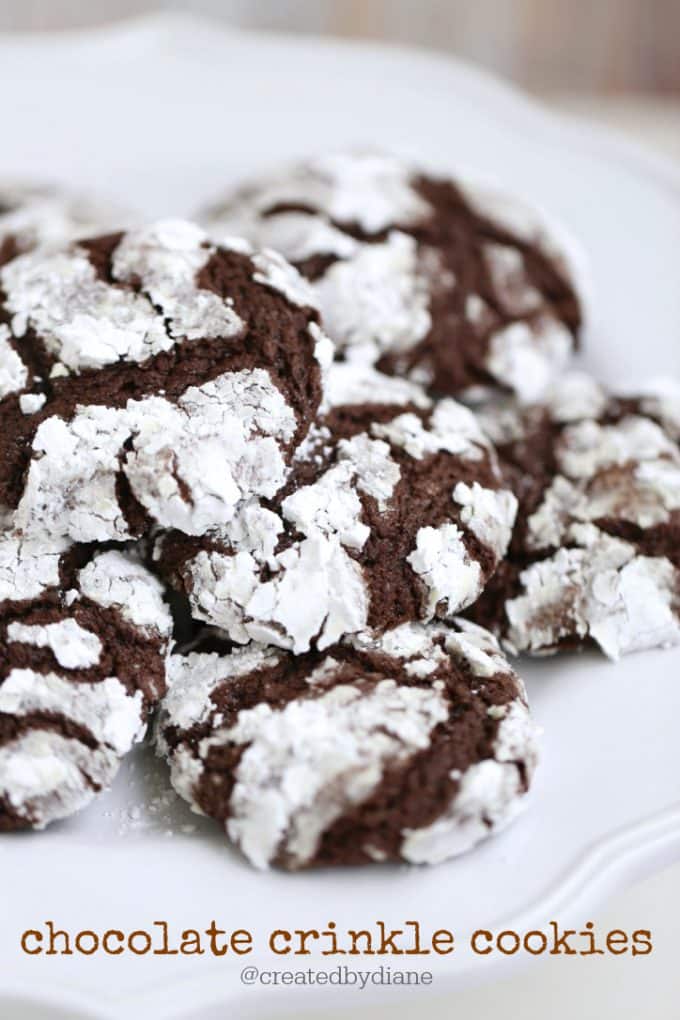 We usually don't get snow here in Southern California,
and I sure miss it… well at least a couple inches a year I miss.
These chocolate crinkle cookies are a delicious chocolatey confection that look like they have been delicately dusted with a sprinkling of snow. 
Snow…
it's SNOWING!!!
On the cookies 🙂
So pretty! 
Now I'm feeling nostalgic…  Okay, back to the cookies.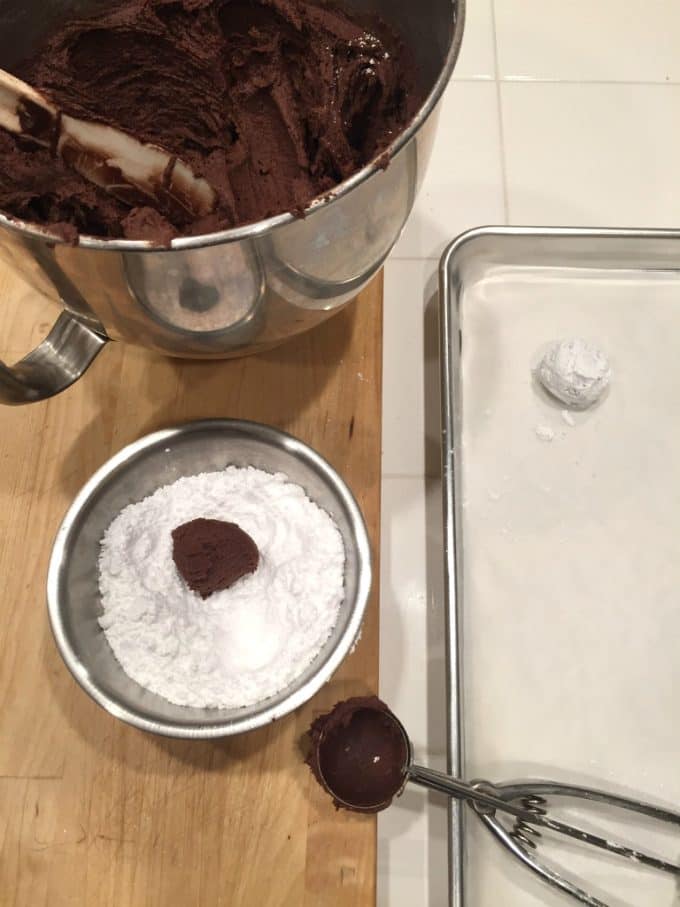 Who doesn't love a good chocolate cookie?
The crackle tops hint at the slightly crispy exterior and once you take a bite, you'll enjoy that all this chocolatey goodness is balanced and PERFECT!
  So these little gems lend themselves perfectly to dunking in a frosty glass of milk or served alongside coffee, tea or – my favorite – hot cocoa. 
Absolutely yummy!
Perfect for the holidays or any time of year, really.
They're both beautiful and delicious and would be an excellent addition to any holiday cookie tray.
Don't be surprised if they're the very first cookies to be devoured at the party.
They're THAT good.
And don't forget Santa – he'd appreciate a big plate of these, too.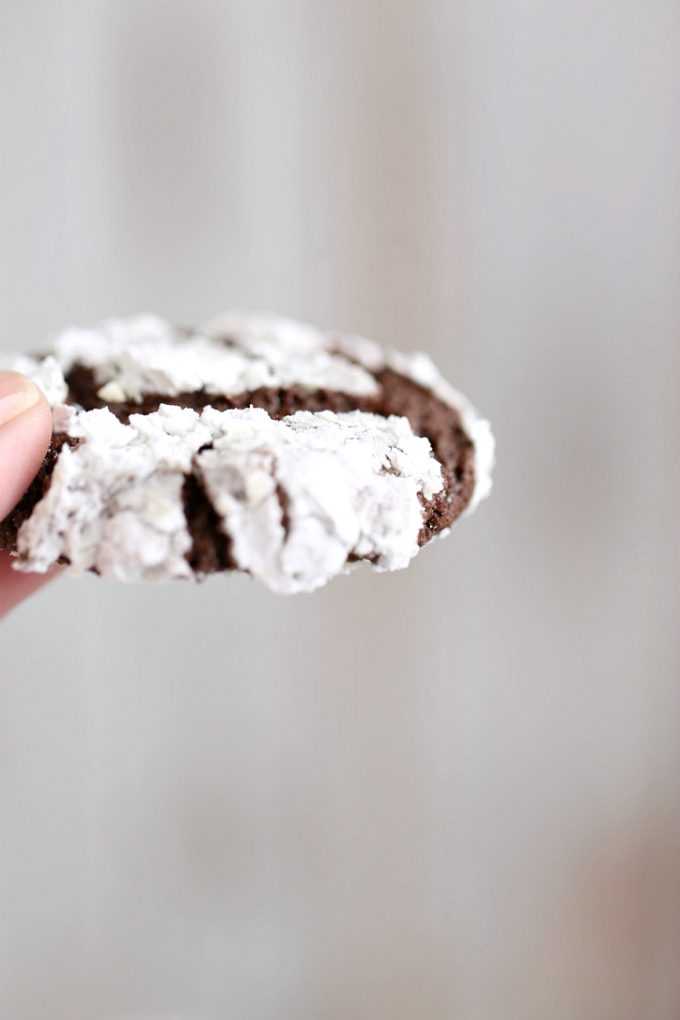 The best part about making these cookies is that they're quick and easy.
No need to refrigerate the dough for two hours, these only take ten minutes in the fridge.
I scoop out the cookies, roll them in powdered sugar and place each baking sheet in the fridge for ten minutes before I know it they are all baked.
Which is totally manageable.
 Just mix, bake and enjoy…
  or mix, bake and devour?
I'm warning you, you may want to double up on this recipe so you'll have plenty to go around.  If you don't make extra, you might not have enough to enjoy all to yourself.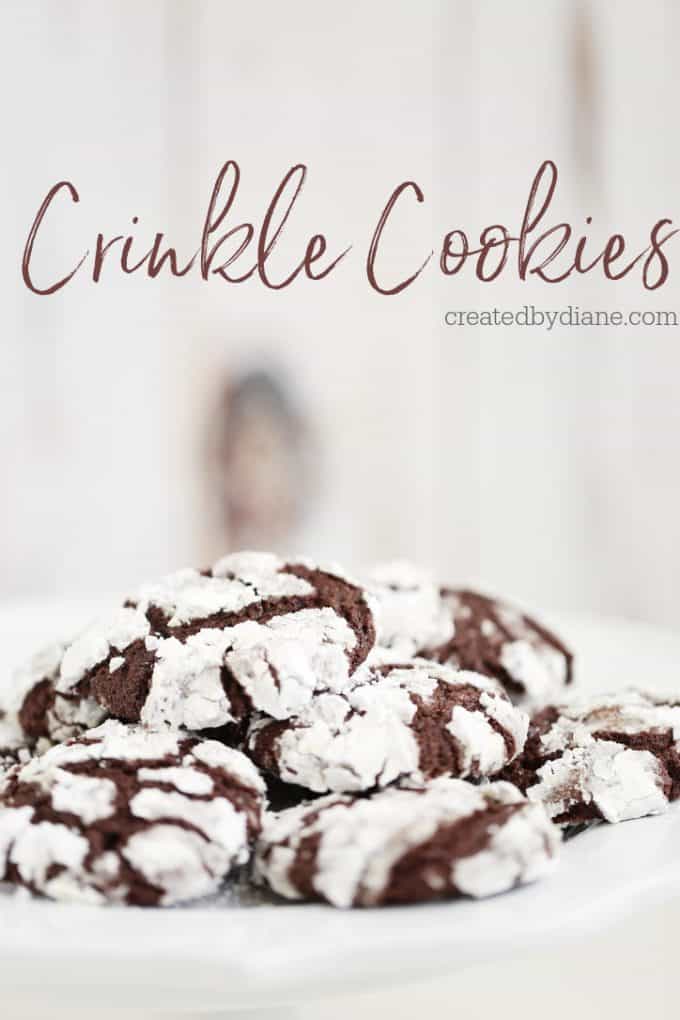 How do "Crinkle Cookies" get the crinkles?
The cookie dough is rolled in powdered sugar, then as the cookies are baking they swell and create cracks in the powdered sugar. The result is a firm outer edge of the cookie with a chewy inside.
Can I make the cookie dough ahead of time?
Yes, make the cookie dough, roll them into powdered sugar coating them well, then place them on a baking sheet and refrigerate them, freeze them if desired. (flash freeze them for 15 minutes, then place the balls of cookie dough into a freezer zippered bag until you are ready to bake them) place frozen or thawed dough onto baking sheets 2 inches apart. If frozen add a couple of minutes to the baking time. 
Be sure to check out my other DROP COOKIE Recipes as well.
Chocolate Crinkle Cookies
Ingredients
10 tablespoons butter
2 tablespoons vegetable oil
1 cup sugar
1/2 cup brown sugar
2 eggs
1 teaspoon vanilla
3/4 cup dutch cocoa powder
2 cups flour
2 teaspoons baking powder
1/2 teaspoon salt
1 cup powdered sugar
Instructions
In large mixer bowl beat butter with sugars until fluffy.
Add in eggs one at a time and mix thoroughly.
Then add in vanilla and oil and mix.
Add in cocoa, flour, baking powder, and salt and mix well.
You can chill the bowl of dough for 10 minutes or you can scoop out the cookies and refrigerate each tray for 10 minutes, that is how I do it.
Roll two tablespoons of dough into balls and roll them in a dish of powdered sugar until they are completely coated.
Place on parchment lined baking sheets, place in the fridge for 10 minutes.
Bake at 350 degrees for 12-14 minutes test with a toothpick, they are cooked when it comes out clean.
Allow the cookies to cool on the baking sheet before moving them.