In no time you'll be enjoying these DELICIOUS cookies!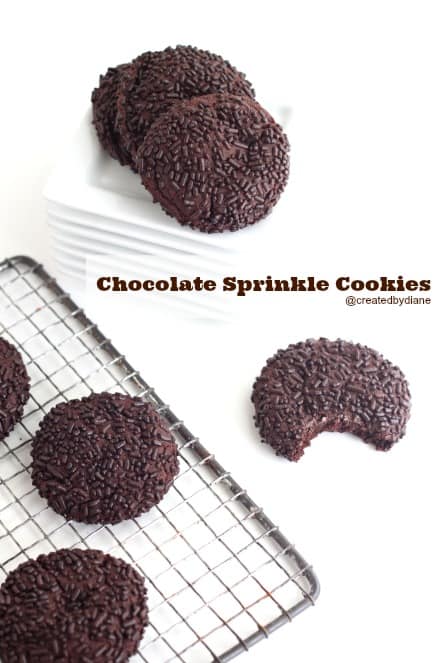 Chocolate cookies always remind me of my childhood,
every once in a while my mom would buy chocolate sugar cookies.
Specifically Archway Dutch Chocolate Cookies,
They were slightly firm on the outside and tender and chewy inside.
A while back I saw  Joan from Chocolate Chocolate and More post her Chocolate Sugar Cookies I knew I had to give them a try…
and I dreamed they would be similar to the Archway cookies I used to love.
I'm SO glad I did.
They are so delicious and have a bit of a fudgy texture inside which makes them EXTRA delicious. Chewy, fudgy, and chocolatey, those and all the needed qualities for a fantastic chocolate cookie to me.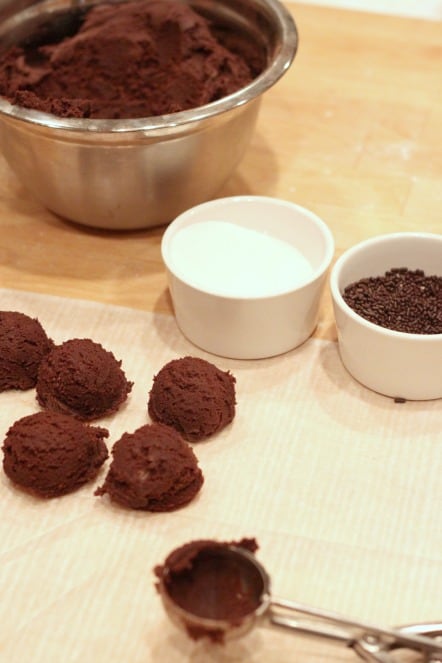 Mix up the cookie dough, chill the dough, roll it into balls and then into sprinkles and bake.
This is one recipe I will be making over and over and just had to share it with you.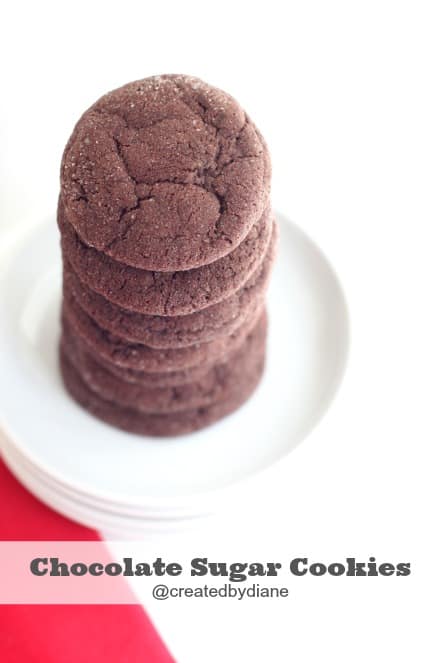 Roll the cookie dough in sugar before baking to give them the classic Archway Dutch Chocolate Cookie texture and taste I remember so well.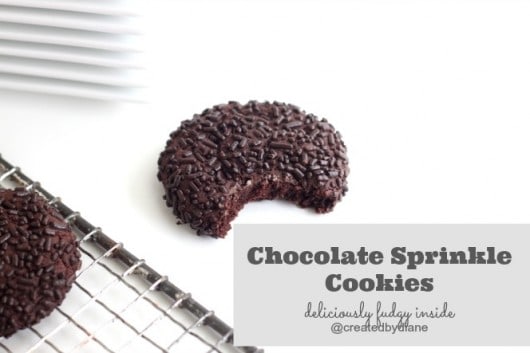 I just LOVE these cookies and sprinkles and know any chocolate lover would really LOVE these too!
Chocolate Sprinkle Cookies
Ingredients
1 cup butter
1 1/2 cups brown sugar
2 large eggs
1 teaspoon vanilla
3/4 cup cocoa powder (I used dutch cocoa powder)
2 cups flour
1 teaspoon baking soda
1 teaspoon salt
1/2 cup chocolate sprinkles
Instructions
Preheat oven to 350 degrees
in mixer bowl cream butter and brown sugar until light and fluffy
add in one egg at a time mixing completely after each addition
mix in vanilla
in separate bowl place cocoa powder, flour, baking soda and salt and mix until well blended
add flour mixture to the mixer bowl with butter and brown sugar on low until fully combined
cover bowl with plastic wrap and place in fridge until dough is chilled, at least 30 minutes.
roll two tablespoons of dough into a ball, then into the sprinkles
place each ball of dough on a parchment-lined baking sheet 2 inches apart and bake for 9-11 minutes, edges will be slightly firm
allow cookies to cool on baking sheet
Notes
alternatively, you can roll the cookie dough into granulated sugar