One bite of this sandwich and you may be surprised it's vegetarian, it's full of great flavor and although I'm not a vegetarian this is always one of my favorites.   
Grilled Eggplant Sandwich
Don't miss one delicious recipe from Created by Diane and get my FREE e-cookbook click here!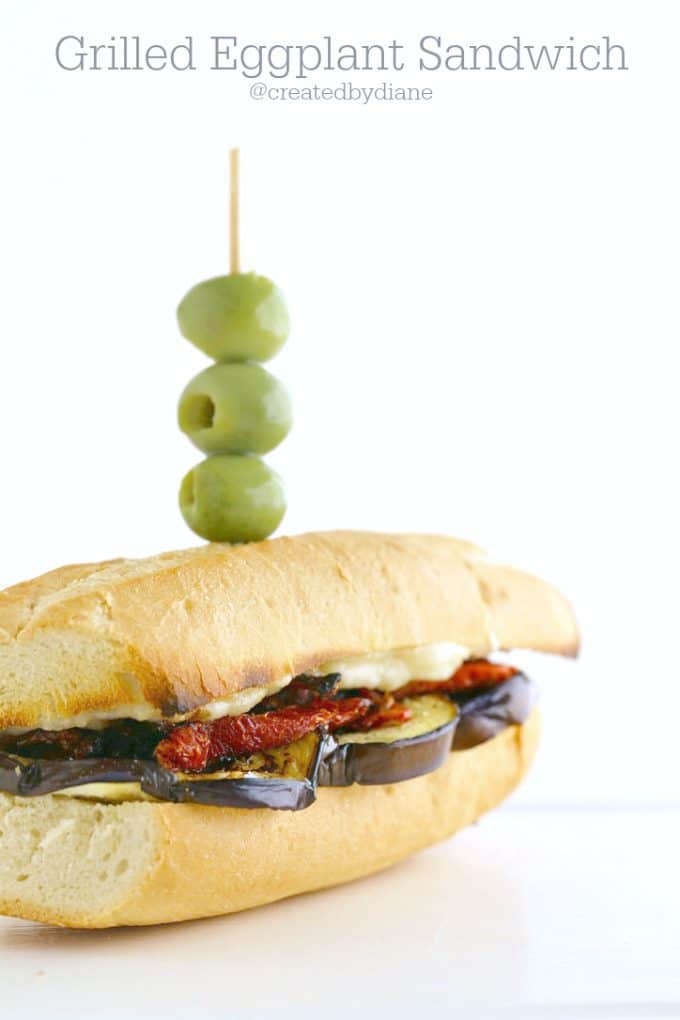 I love toasted sandwiches,
they are so warm and comforting and really easy to make with just a few ingredients.
Now those few ingredients need to be great…
I quickly grill the eggplant in a cast iron skillet alternatively, you can roast them in the oven on a high heat (don't let them get overcooked and soggy) You'll want them to have a great texture and not be mushy.
There are many great things about this sandwich and one GREAT thing is that you can make the eggplant ahead of time. This really saves time when you want to whip up a sandwich quick.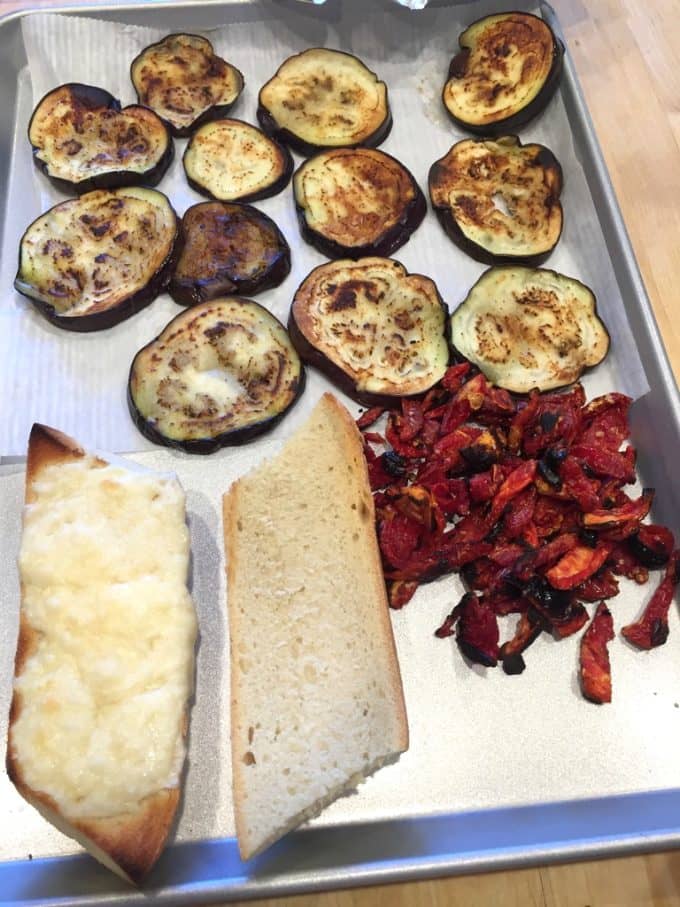 I begin by slicing the eggplant, then heat the cast iron skillet and brush a little vegetable oil onto the eggplant and cook them on both sides, then place them on a tray to cool. I quickly cook the sun dried tomatoes to bring out the flavor for a couple minutes.
The cheese of choice is mozzarella, sometimes I melt it on the bread. Sometimes I use fresh mozzarella if I'm enjoying the sandwich cold.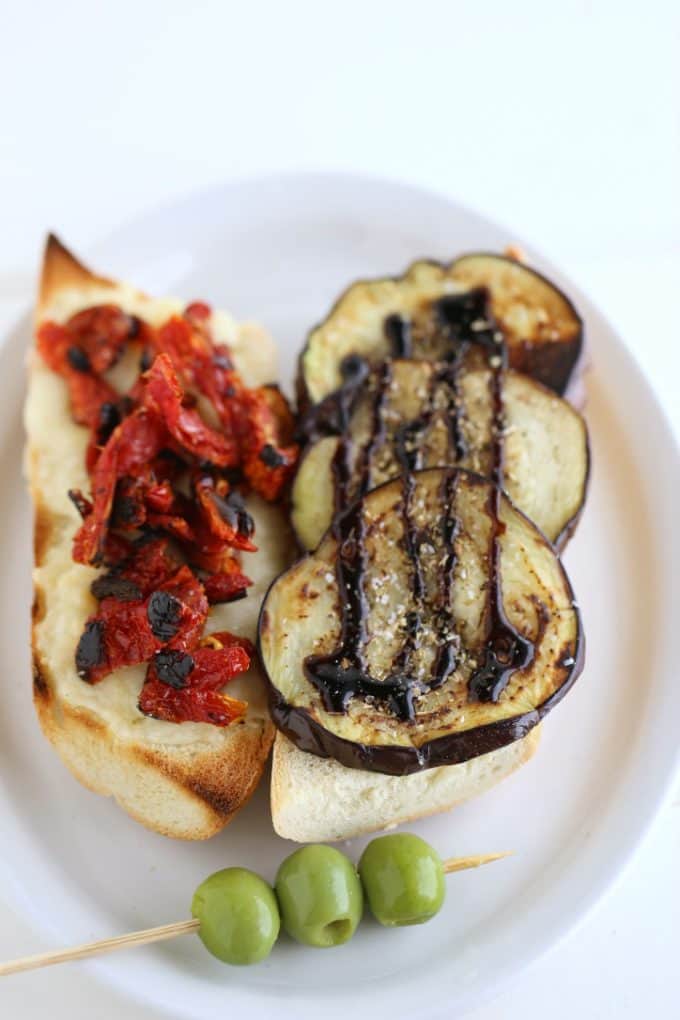 Toast the bread under the broiler for a few minutes or place it in the hot skillet cut side down. If you are going to melt the cheese on the bread, the broiler works great.
Assemble the sandwich and drizzle on some balsamic creme, I love balsamic creme because it's thicker than regular balsamic and stays on the sandwich without running completely off the sandwich.
Top with some dry oregano, salt, and cracked black pepper. (My salt of choice is coarse kosher salt)
Now these bright green Manzanilla Olives are one of my absolute favorite colors, and they taste just as pretty as they look.
Eggplant Sandwich
this eggplant sandwich will win you over, with great flavors of sun dried tomato and mozzarella cheese, add some balsamic and enjoy
Author:
Diane Schmidt, Created by Diane
Recipe type:
sandwich, main dish
Ingredients
1 eggplant sliced 1/4" thick
1 cup sun-dried tomato pieces
8 slices mozzarella cheese (or two balls of fresh mozzarella)
balsamic creme
vegetable oil for cooking eggplant
oregano
salt and pepper
Instructions
Heat cast iron skillet on high.
Brush the eggplant with a little oil.
Cook eggplant on both sides.
Heat up the sun-dried tomatoes.
Heat bread with cheese.
Assemble the sandwich, and add oregano, salt, and pepper to the eggplant. Add the sun-dried tomatoes to the cheese side of the bread.
Enjoy!
If you want to enjoy it cold, you can toast the bread or not, and use fresh mozzarella cheese. Cooking the eggplant ahead of time and having it in the fridge makes it easy to make a quick sandwich.
More great sandwiches to try: