Grilled Goat Cheese and Avocado Sandwich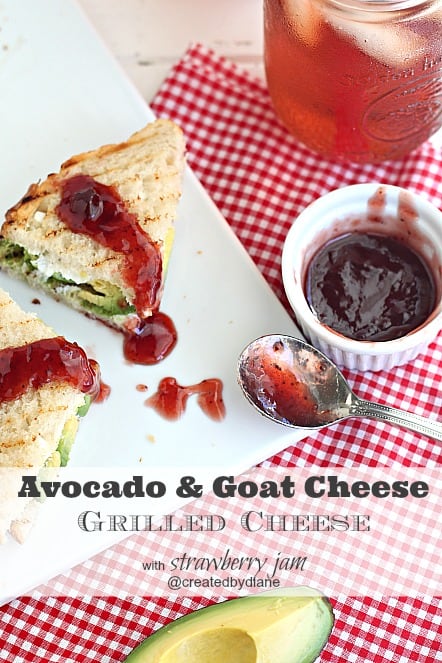 This is one grilled cheese you must make!
I remember as a kid my mom make cream cheese and jelly sandwiches for a snack for us kids
one bit of this sandwich and that was all I could think of, in particular there was one hot summer day and I remember sitting out back with some friends under a big shade tree and we were all laughing and having a great time. I have lots of those types of memories, my mom always tried to make snack time fun, she succeeded. I love reminiscing how great my childhood was, I to hope my kids will look back someday and hopefully have the same types of memories.
This is the epitome of that sandwich I remember, but for grown ups…or kids who like goat cheese.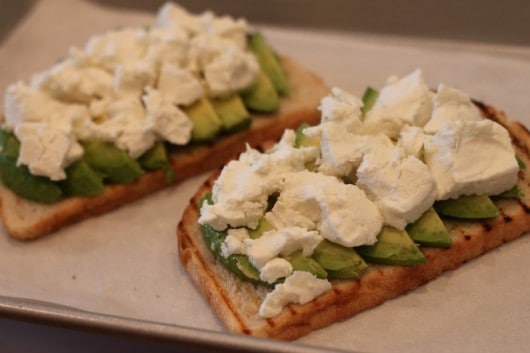 grilled the bread before you layer the ingredients on top works well, so the ingredients don't escape when heated.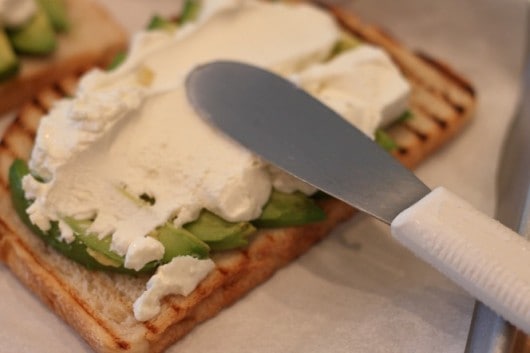 place the avocado on the slices along with the goat cheese place it on a frying pan, grill pan or in the oven to heat the cheese thoroughly so you can spread it.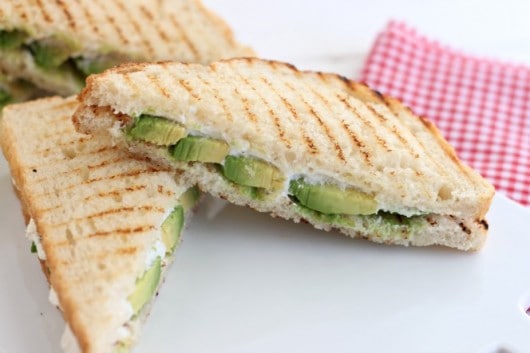 This alone is one great sandwich…but,
it's missing just one thing…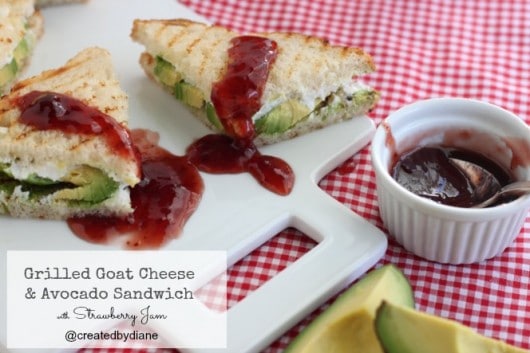 the sweet strawberry jam, this is one perfect sweet and savory sandwich!
Avocado Goat Cheese Grilled Cheese
Ingredients
1 ripe California Avocado
4 oz goat cheese
4 large pieces, sliced sourdough bread
strawberry jam
salt and pepper
Instructions
butter the outsides of each slice of bread, and grill the bread on both sides so it's toasty
lay out the pieces of bread (butter side out) and place 1/2 of sliced avocado and sprinkle some salt and pepper, on two pieces of toasted bread
add the goat cheese on top and place the remaining pieces of toast on top
place the sandwiches on the grill pan to melt the goat cheese or into a preheated oven.
As soon as the goat cheese softens the sandwiches are ready to eat
serve the sandwiches with strawberry jam, placed on top of the sandwich or to dip into.
More great sandwiches to try: