This is a sandwich you'll make again and again, chicken cutlets get an overhaul with Italian flavor, pepper, and onions and make this in irresistible Chicken Cutlet Sandwich.   
I love comfort food, and nothing says comfort food than a hot sandwich.
This sandwich is not your ordinary sandwich, it's FULL of flavor! 
It's simple to make and the oven does all the work.
Baked breaded chicken cutlets, baked up really crispy, oven-roasted red peppers, tomatoes, onions, and garlic all get piled on a toasted roll with some cheese.
Gather all your ingredients before you start it makes it go much easier as you start cooking.
I coated the chicken in Greek yogurt before covering the pieces in bread crumbs,
the yogurt ensures the chicken will be tender and not dry.
The combinations of Italian and Panko bread crumbs give great flavor and a fantastic crunch.
I sliced and roasted the red peppers,
along with onions,
garlic,
and tomato slices…..oh my these smelled amazing!
If you don't like chunks of peppers, tomatoes, and onions or have a fussier eater that always asks what is this, what is that…just puree the vegetables and it will create a thick sauce you can spread onto the sandwiches.
What is an Italian Chicken Cutlet Sandwich?
It has all the classic Italian flavors piled high onto this great sandwich, with tender chicken, roasted peppers, roasted onions, and tomatoes with garlic and cheese, topped with oregano.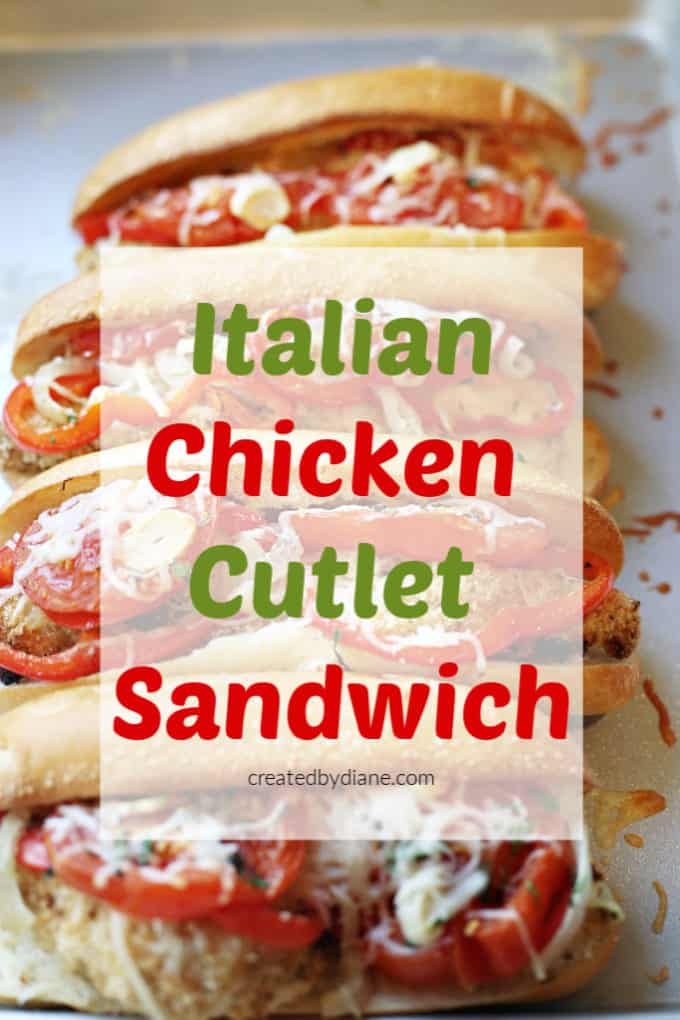 Italian Chicken Sandwiches
A truly tasty sandwich with chicken cutlets breaded and baked along with peppers, onions, garlic, and tomato topped with Italian cheese and oregano. Comfort food sandwich you'll make again and again.
Author:
Diane Schmidt Created by Diane
Cuisine:
Italian, American
Ingredients
1 3/4 lb boneless skinless chicken breasts (slice thin if you purchase thick chicken breasts)
1 cup greek yogurt
6 oz. Italian Cheese (mozzarella, provolone, parmesan) all great options use your favorite- I used a blend of shredded cheese
1 cup panko bread crumbs
1/2 cup Italian bread crumbs
1 small onion
2 red peppers
2 medium tomatoes
2 cloves garlic
Italian Parsley
Oregano
Salt and Pepper
6 rolls
Instructions
Preheat oven to 375 degrees
you will be baking the items on two baking sheets (have those ready and line them with foil for easy clean up)
Slice each chicken breast into 4 pieces about 1 1/2 wide (cut the length to about 4 inches)
In one bowl place yogurt,
in a separate bowl place panko and Italian bread crumbs and mix them together
Place the chicken strips into the yogurt and coat each piece well, then roll them into the bread crumbs, then place them on one baking sheet spaced out so they are not touching.
Slice the red pepper and onions along with the garlic and place them on the second baking sheet,
dice the parsley, oregano and sprinkle that over the tops of the vegetables along with salt and pepper.
Bake for 20 minutes or until chicken is fully cooked and reaches 165 degrees on a meat thermometer.
I baked the two sheets at the same time. I turned the chicken over halfway through the cooking time, to be sure it would be crisp on all sides.
To be sure the chicken was really crisp, I place it under the broiler on high for a minute or two. (if you use the broiler on high, be sure to watch the chicken you don't want it to burn)
Slice the rolls, and place them on a baking sheet
To save from getting out another baking sheet, I just lift off the foil with the chicken and place it to the side, then assemble the sandwiches.
Place the chicken on the bottom, then pile on the tomatoes, onions, and garlic.
Top each roll with an ounce of cheese (about 1/4 cup) then place that baking sheet under the broiler to melt the cheese and heat the roll. It takes 1-2 minutes.
I will mention I had so many ideas that came to mind with the four ingredients given, and I am so happy I went with this Italian Chicken Sandwich, it will be making a rotation into our meal time for sure!
This is a sponsored conversation written by me on behalf of Sargento®. The opinions and text are all my own.