Make sure you have plenty of turkey left over this Thanksgiving, because you will want to make some of these sandwiches. Trust me!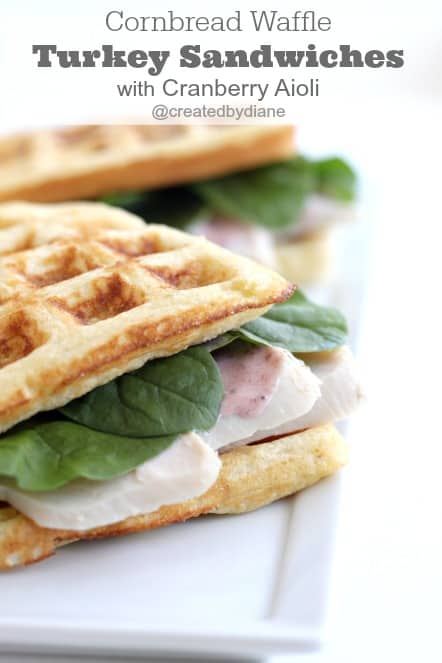 There are so many things to make with leftover turkey,
but sandwiches are a classic.
Although there is nothing classic about this sandwich,
you will want it none the less.
It all starts with seasoned cornbread waffles….
oh how these are going to be good for so many sandwich and snacks!
Then the turkey gets piled on topped with some spinach or your favorite lettuce,
and don't forget the cranberry…sauce, this sauce is REALLY great,
it's a Cranberry Aioli. It's sweet and tangy and savory all at the same time.
Ok, let's talk waffles!
They aren't just for breakfast,
these cornbread waffles are seasoned with chicken flavor to give them an extra delicious taste, think cornbread stuffing.
They are light and not to heavy for a sandwich, and well they are great for snacking too. I may have sampled a few along the way.

Seasoned Cornbread Waffles
Ingredients
6 tablespoon melted unsalted butter
1 cup cornmeal
¾ cup flour
1½ teaspoon baking powder
½ teaspoon baking soda
2 teaspoons chicken flavor, dry (I use knorr)
2 eggs
1½ cups buttermilk
Instructions
preheat waffle iron
In medium bowl pour melted butter and corn meal along with flour, baking powder, baking soda along with chicken flavor.
Mix in eggs and buttermilk until it's combined.
Pour batter onto hot waffle iron and cook until the waffles are golden and cooked through,
Notes
adapted slightly from Paula Deen's CornBread Recipe https://www.foodnetwork.com/recipes/paula-deen/moist-and-easy-cornbread-recipe.html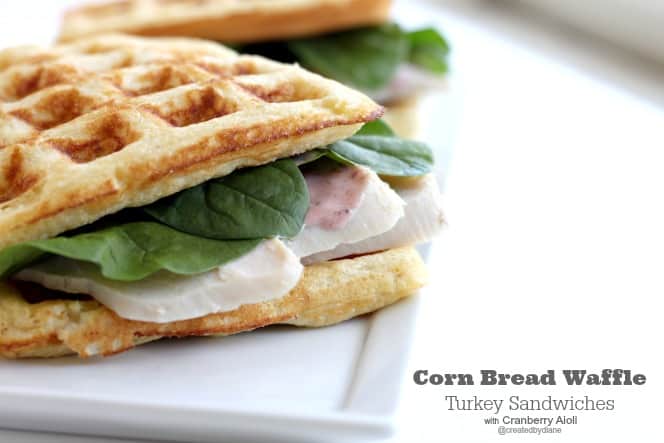 All great sandwiches have something that puts them over the top,
it makes them more delicious,
on this one it's the Cranberry Aioli
This is one sauce I'm sure I will find more thing to put it on, it's that GOOD!

Cranberry Aioli
Ingredients
1 egg yolk
1 tablespoon vinegar
½ teaspoon mustard (I used spicy brown mustard, dijon would be good as well)
1 cup olive oil (or oil of your choice)
pinch of salt (salt is key to balance the flavors, so add a little now and maybe a little after blending)
1 teaspoon garlic (I use Grourmet Gardens garlic, its' smooth and easy to use)
½ cup cranberry sauce
Instructions
In a tall narrow container (glass jar or stemless wine glass) that an immersion blender will fit into. This is how I find I make aioli that comes out great every time, I have used drink makers, blenders, but they never seems as good as the whipping action of a immersion blender.
Add egg yolk, vinegar, mustard, olive oil and salt to the glass jar
Place the immersion blender into the jar and begin blending, moving the blender up and down to emulsify
Once it's blended, add in the cranberry sauce and blend until smooth
add additional salt if desired
Be sure to save some turkey for this from your Thanksgiving turkey,
or go ahead and buy some real turkey breast and enjoy this delicious sandwich anytime of year and maybe it will be the sandwich you make when you want to remind your self of Thanksgiving memories.