Here we have chicken parmesan without all the fuss! This chicken parmesan meatball recipe is ready in under 30 minutes.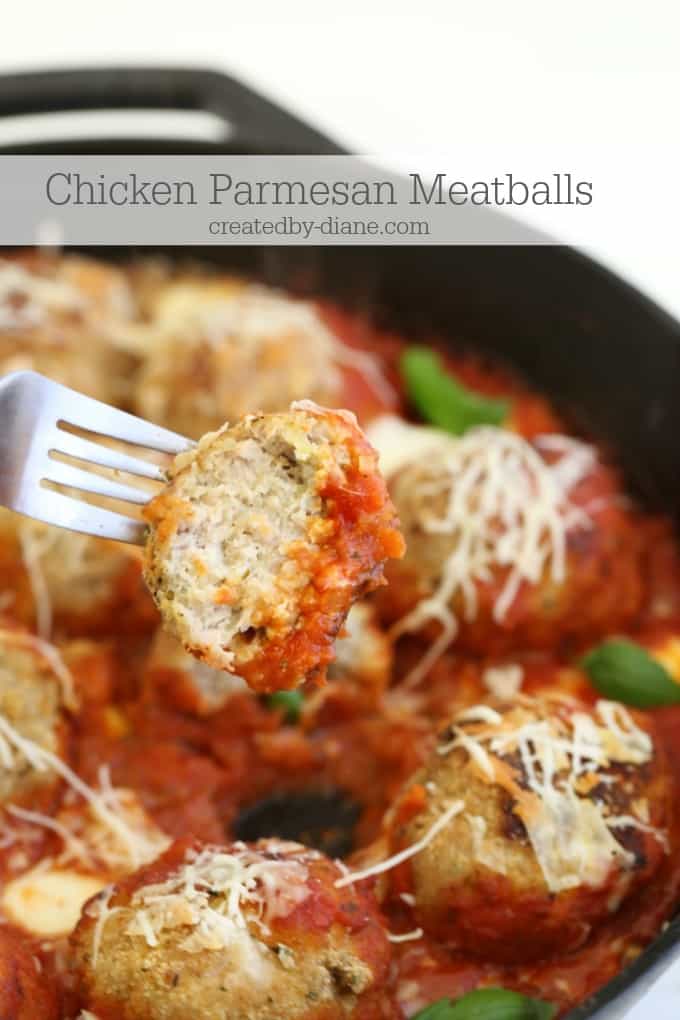 Chicken Parmesan Meatballs
Don't miss one delicious recipe and get my FREE e-cookbook click here!
No-fuss, no-worry and it's ready in a hurry! OMG don't you just love recipes like that, I know I do.
I have been enjoying ground chicken more and more. And it's just PERFECT for these chicken parmesan meatballs.
There are many serving options here if you eat low carb, serve them with a side salad or vegetables, they're great over pasta and perfect on a roll.
Enjoy them any way you like even if you enjoy them as an appetizer!
You won't believe how fast these are to make.
You can put them on a roll for a chicken meatball sub, pour on the sauce and add cheese and pop it under the broiler for a few minutes to melt the cheese and you're all set. 
This recipe will win over even the fussiest eater!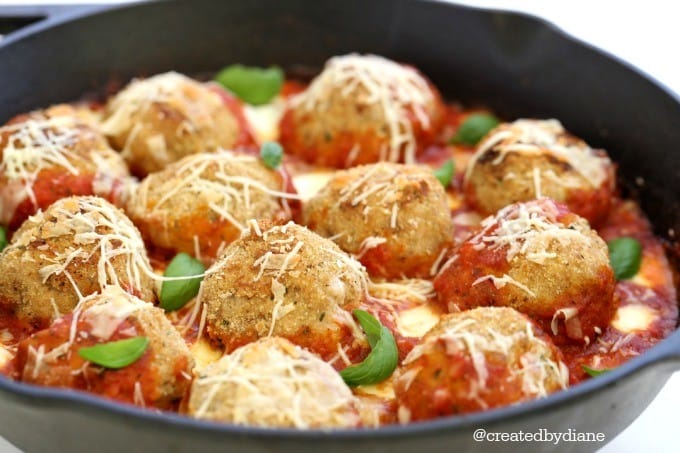 I have sat by these many times and enjoy them on the end of my fork! 
They always seem to disappear before I can get a nice photo taken.
Not this time, I made sure to snap a few photos so I could easily share this recipe with you before I grabbed my fork!
This an easy go-to menu item that my family loves and I hope yours will too.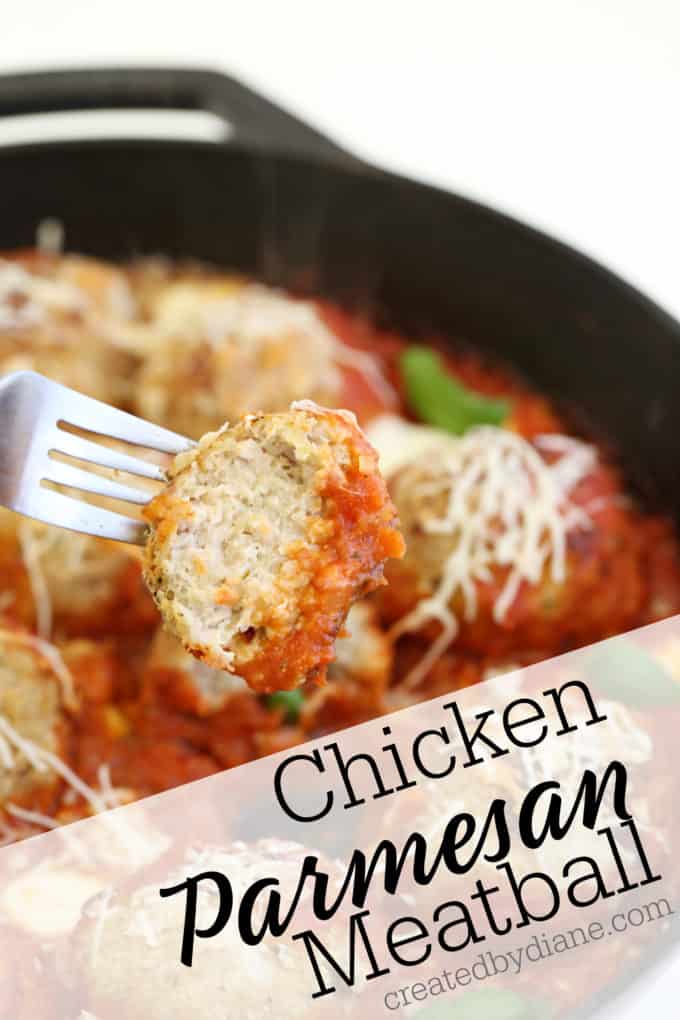 What is the best skillet to use?
This is the skillet I use and love and I use it so much I have 3 of them and more in other sizes too, it's a kitchen must-have.
Do I have to cook these on the stove?
No, you can put the meatballs in the oven to bake, then add some sauce and cheese on top and melt it under the broiler.
Do I have to use ground chicken?
Yes, and No… Yes, ground chicken is what will taste best, but you can certainly use ground turkey in this recipe with great results too. If you can't find ground chicken, ask at the butcher counter if they can grind chicken for you, they will take boneless skinless chicken breasts and grind it like they would beef. Alternatively, you can buy a grinder and grind your own chicken. I have an attachment on my kitchen aid mixer to grind meat, it's easy to use and I do it when I can't find ground chicken or if it's too pricey.
What else can I serve this with?
Not only can you make the meatball sandwiches I mentioned, you can serve this over pasta, or mini rolls for sliders, or place cooked meatballs with pasta, salad and cheese in a casserole dish and bake it all together like baked ziti.
Serve this with garlic bread, a salad, or a side of vegetables for a low-carb meal, broccoli, spinach, or asparagus would go nicely with these chicken parmesan meatballs.
Can I bake these in the one instead of in a skillet on the stove?
Yes, set your oven to 350°, lightly oil the pan as the chicken is more lean than beef and you'd don't want them to dry out and this will allow them to not stick too much. Check with a meat thermometer and remove from oven at 165° for about 15 minutes, turning meatballs halfway through cooking.
More recipes to check out:
Chicken Parmesan Meatballs
Ingredients
1 lb ground chicken
1/2 cup panko bread crumbs
1/2 cup Italian bread crumbs
1 teaspoon oregano
1 egg
1 teaspoon salt
1/2 teaspoon black pepper
1/4 cup grated parmesan cheese
4 oz mini fresh mozzarella balls
1-2 cups Marinara sauce
Instructions
Mix panko bread crumbs and Italian bread crumbs in a small bowl.
In a medium bowl mix, ground chicken with 1/2 cup bread crumbs mixture, oregano, egg, salt, and pepper.
Roll meatballs into two tablespoons size balls.
Roll meatballs into the other 1/2 cup bread crumb mixture.
Heat skillet over medium-high heat, add a tablespoon of oil to the pan, and then add meatballs, turning as they cook.
Test with a thermometer and cook meatballs to 165˙.
Add marinara sauce to the pan of meatballs, grated cheese over meatballs add mozzarella cheese, and turn the temperature to low, cook until sauce is hot and cheese is melting.
Check out these other bloggers' recipes for Chicken Parmesan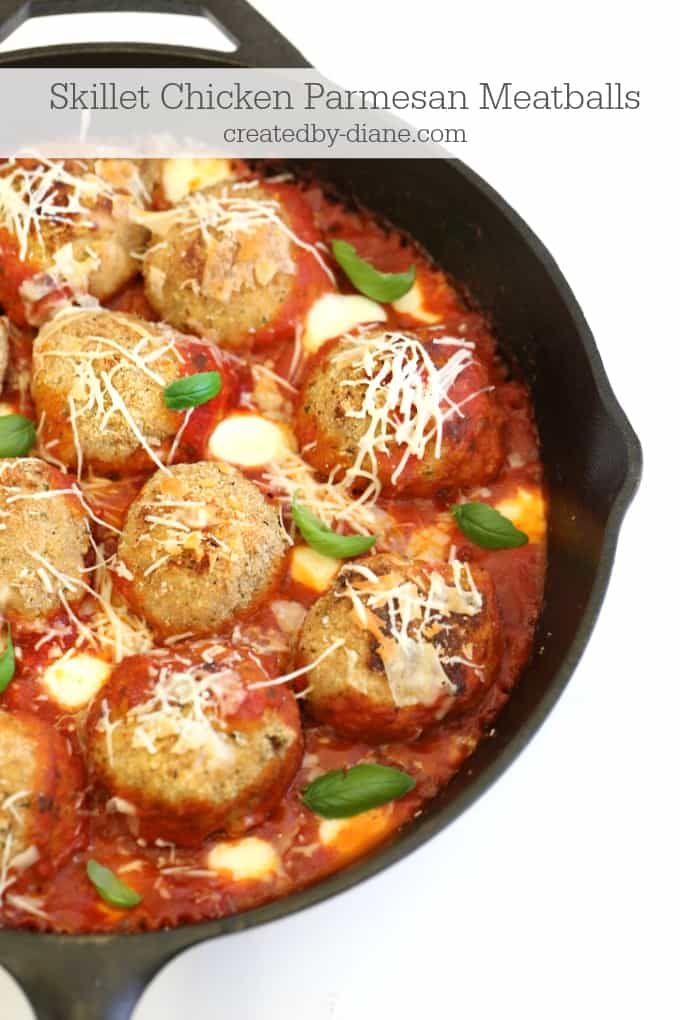 Thanks so much for stopping by to see this recipe!
Sharing this post is appreciated and encouraged. Use the share buttons at the top and bottom of the post, there are many options for all your favorite social media channels and you can also email it to a friend. Print out the recipe to enjoy it on your next kitchen adventure. Please don't copy and paste the full post, it's prohibited without written consent from me. Recipes including wording and photographs are Copyright of createdby-diane.com.
Please enjoy this recipe and click here to sign up for email updates to receive recipes in your inbox.
~Diane