Pasta Salad is always a huge hit and the Italian flavors in this Pesto Pasta Salad will have you retaining your ordinary pasta salad recipe. Let me share with you why…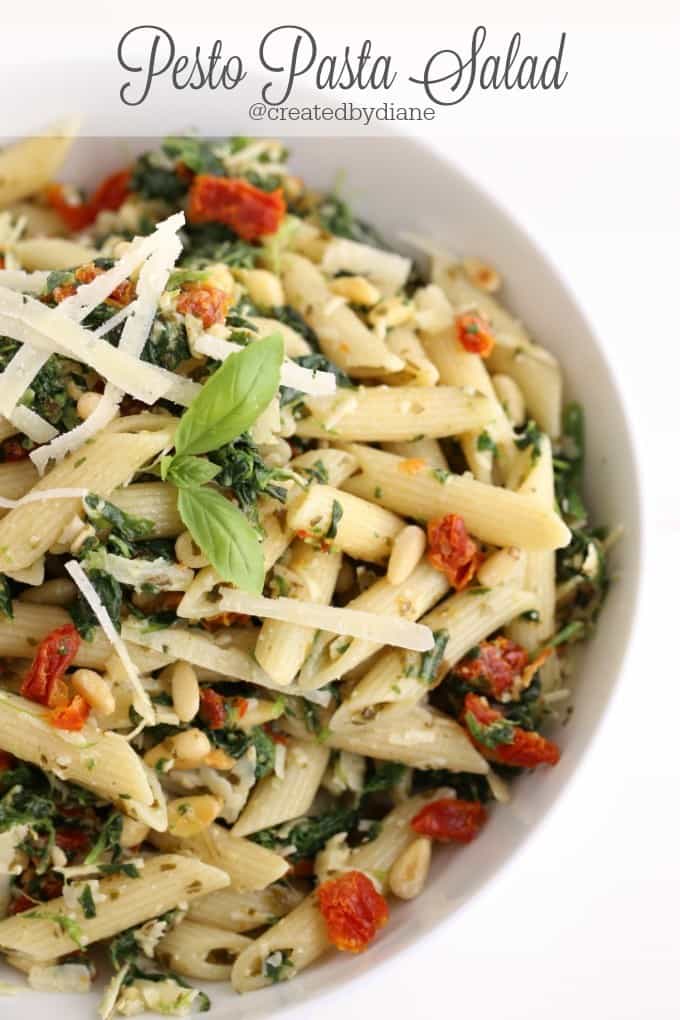 I keep the items in this recipe on hand, and typically in the freezer. 
I portion them out so I can make this in minutes. I often buy the refrigerated pesto and freeze the containers, especially when they are on sale. (a jar of pesto will work as well no need to freeze it) Next, I buy a large bag of sundried tomatoes and portion out servings into small plastic freezer bags along with a chunk of cheese (if I fear I'll run out of my Romano cheese in the fridge any time soon) Place those and a box of frozen spinach in a gallon zipper freezer bag and then all your need to add is the pasta.
Believe me, when you get invited to go somewhere last minute this is SO helpful. Often we can't think of what to make with what we have on hand at a moment's notice…
but having this in the freezer saves TIME and the stress of what to make. 
This pesto pasta salad comes to the RESCUE!
When the weather starts to warm up, I love pasta salad. Don't you?
This recipe is an all-time favorite!
I've been asked to share this recipe numerous times over the years and was surprised I hadn't shared it, until today.
It only takes minutes to put together and is a great dish to bring to a BBQ, Party, also great to have in the refrigerator for lunch and if you prefer you can heat it up as well. My kids love it and my son does not like tomatoes but likes these moist sundried tomatoes.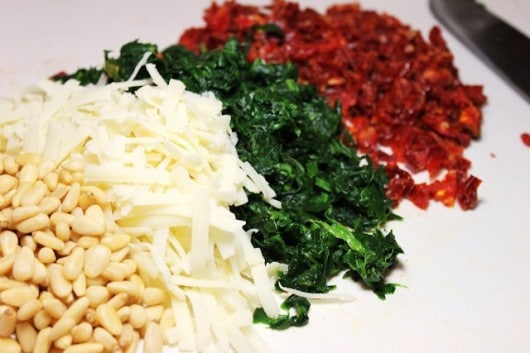 What makes this pasta salad so good?
There is pesto
frozen spinach (thawed) chopped
sun-dried tomatoes
pine nuts
Romano Cheese (or Parmesan)
and pasta
So simple and delicious and ready in under 30 minutes. The perfect meal for. a hot day, to bring to a party and always a hit for weekday lunches.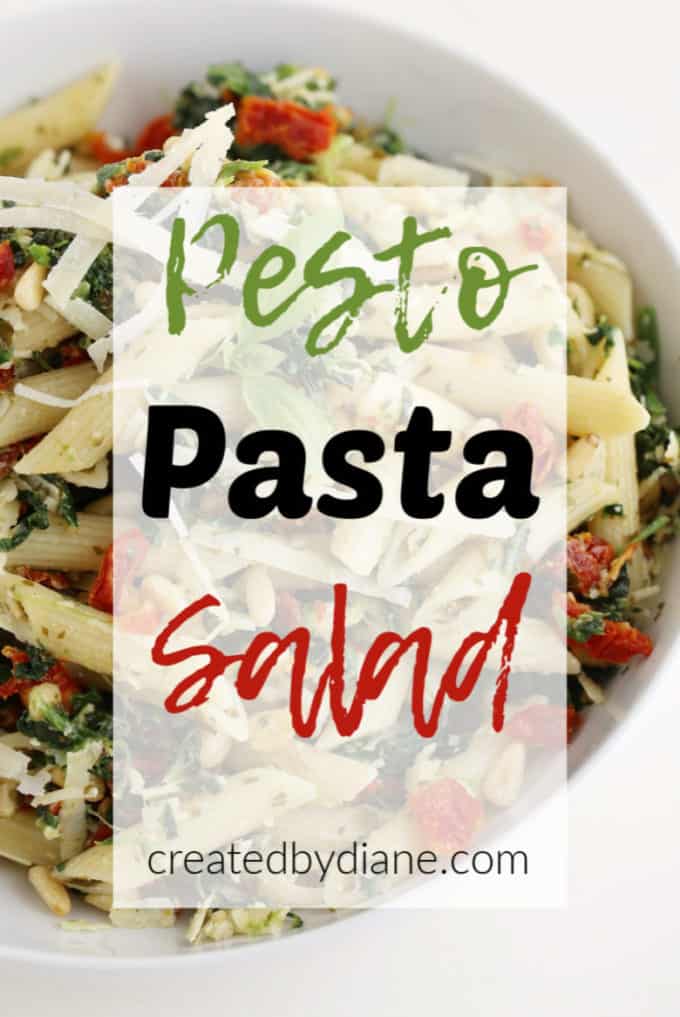 Can I use regular tomatoes instead of sun-dried tomatoes?
Yes, small grape tomatoes work well in this pasta salad, cut in half.
If I don't have frozen spinach, can I use fresh spinach?
Yes, just saute it until it wilts, then chop it and allow it to cool then add it to the pasta salad.
Can I make this pasta salad ahead of time?
Yes, you can make this the day before serving and the flavor of the recipes seems to enhance. If the sauce on it seems to have absorbed too much (this can happen if the pasta isn't completely cooled before adding the pesto) add a tablespoon of oil and give it a stir.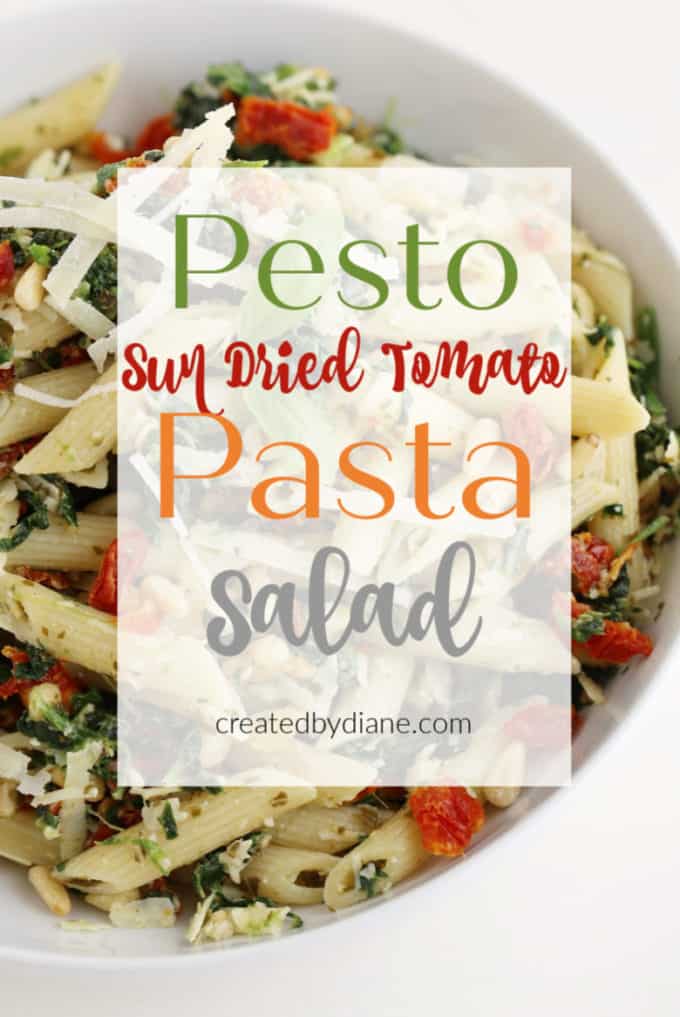 What type of pasta can I use?
I like penne, bow-tie, macaroni, and rotini, but most shapes will work fine.
Can I make fresh pesto for this?
Yes, of course. You'll puree oil, basil, pine nuts, and parmesan cheese together in a food processor. Add a little lemon juice so that the pesto stays green.
Can I add chicken to this?
Yes, Add a cup and a half of cooked chicken to this recipe. Additionally, toss it in some pesto before putting it in the dish for added flavor.
Recipe for Pesto Pasta Salad
Author:
Diane Schmidt Created by Diane
Prep time:
Cook time:
Total time:
A fast and easy meal that is great for parties and weekday lunches that has great flavor and is simple to put together.
Ingredients
1 pound cooked pasta
½ cup pine nuts
¾ cup sun dried tomatoes chopped
1 package frozen chopped spinach, thawed and drained (give it a quick chop so it's bite sized)
1 cup grated Romano or Parmesan Cheese
½ cup pesto
Instructions
Cook the pasta according to the package.
Once the pasta is drained, rinse it in cold water until the pasta is no longer hot. You can soak it in ice water with ice cubes to quicken this step up.
Mix the pasts with ¼ cup of pesto.
Next, you'll add in the spinach. If you want to thaw spinach quickly place it in a bowl of cold water in the box, or use the defrost feature of your microwave to thaw it. Drain the spinach by squeezing out all the excess water.
Add the sun dried tomatoes and pine nuts and stir in the remaining pesto.
Add salt and pepper to taste.
Serve immediately, or it can be covered and refrigerated until you're ready to eat.