Pasta salad is ALWAYS a good idea, and this recipe will have everyone wanting seconds.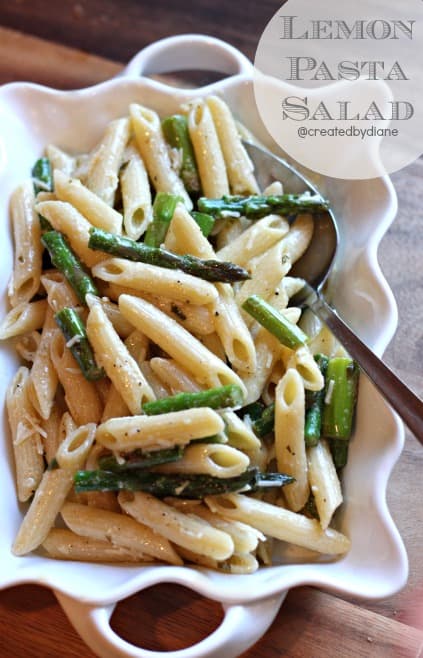 Lemon Pasta Salad
Don't miss one delicious recipe and get my FREE e-cookbook click here!
I love with my whole heart,
yes I may be disappointed,
but I'm willing to take that chance.
My love is for the soft and sweet, that tart and tangy and the perfectly pretty and all those that lie in between.
I just LOVE Lemons!
I'm not sure when my love affair with them started, but I don't see it ending anytime soon.
I like tangy-ness of lemons but some times when recipes made with the tangier type of lemons like Eureka lemons, the tanginess can become too much for some.
I cooked this sauce and it tastes smooth and creamy and so delicious on this pasta salad.
Meyer lemons are sweeter but sadly I used all the Meyer lemons I had all week long and didn't have one left.
*note to self, call my mom and ask for more Meyer Lemons!

Lemon Pasta Salad
Ingredients
1 lb cooked pasta
1 lb (or bunch) asparagus
2/3 cup water
2 tablespoons fresh lemon juice (1/2 medium lemon)
1egg yolk
1-2 cloves garlic minced
2 leaves basil thinly sliced
1/3 cup olive oil
1 tablespoon butter
1/4 cup grated Romano/Parmesan Cheese
salt and pepper to taste
Instructions
Bring water to a boil in saucepan.
In small bowl mix lemon juice, egg yolk olive oil and garlic.
Slowly pour a small amount of hot water at a time into lemon mixture
Whisk continually (so the egg yolk doesn't "cook" and separate)
Pour the mixture back into the saucepan and heat thoroughly
Add butter, basil, salt and pepper.
Pour sauce over a pound of cooked pasta
that you have run under cold water and tossed with olive oil.
Add grated cheese
*with one tablespoon olive oil,
saute asparagus cut into small pieces until tender,
toss asparagus into pasta and sauce.
Serve cold, room temperature.
Garnish with lemon slices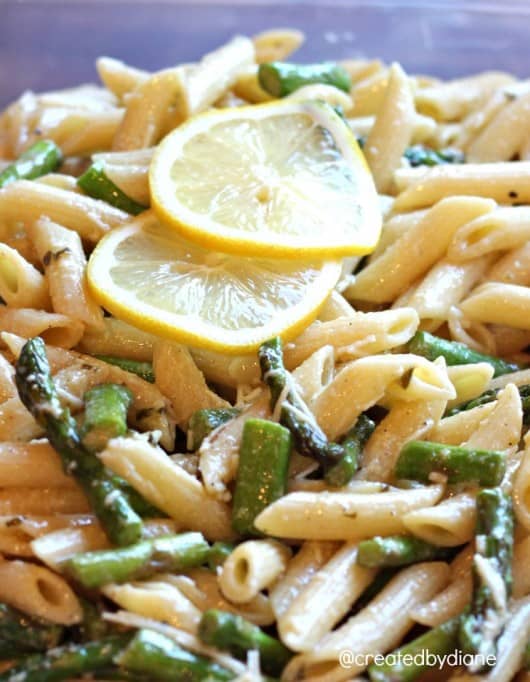 This is a great pasta salad to bring to a gathering or for you to grab a fork and dig right into. It's hard not to eat the whole thing if you ask me!
Please be sure to SHARE where you got this recipe when you make it, everyone will ask you for it, tell them Created by Diane! Thanks so much!!!  Tag me on social media @createdbydiane on instagram if you post a photo of you making it, or you can tag @Created by Diane on facebook and I'll see it in my notifications 🙂