Creamy Crab Pasta Sauce.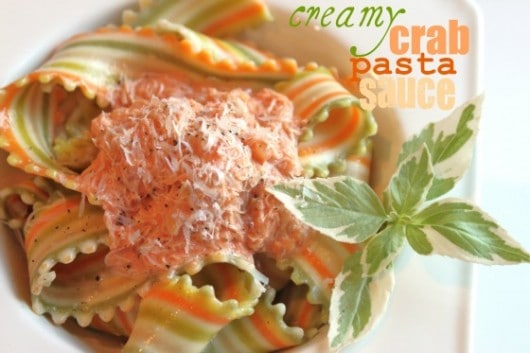 Hearing a name sometimes immediately brings an image of someone else you know with that name.
I REALLY remember this when we were trying to pick names for our kids.
There was a bit of back and forth.
No, that names reminds me of a kid who picked on me in school. Yes, I like that name. They were so nice and cute. No I dated someone with that name and they were awful…etc…etc….
My daughter came home and told us that her teachers name is Sebastian, "you know like the crab in Ariel" she says.
I asked her if she said that to him or just thought it.
You guessed it she said it, she also said he had a confused look on his face. Maybe he's not used to being associated with a CRAB!
Well, she said he did laugh and that he was nice. Hopefully he doesn't turn crabby half way through the year.
Speaking of CRAB….
I just love crab and if you don't here is a quick and easy recipe for a 30 minute meal. Perfect for the night you just have no idea what to make.

Ingredients
6.5 oz can jumbo lump crab meat (drained)
15 oz can tomato puree, crushed or tomato sauce (your preference)
1 cup heavy cream
1 tablespoon olive oil
1/2 medium onion diced
1/2 teaspoon garlic (I used Gourmet Gardens)
1/4 teaspoon chili pepper (Gourmet Gardens)
Salt and pepper to taste
grated cheese to garnish
Instructions
Prepare your favorite pasta according to package.
Heat garlic and onion with olive oil, until onion is translucent.
Add chili pepper,
Then add tomatoes (if you like the sauce smooth, puree the tomatoes in a blender or use tomato sauce
Pour in cream, stir so it doesn't boil to fast or burn.
Stir in crab.
Serve over hot pasta.
Notes
Garnished with variegated basil and Romano Cheese. This beautiful pasta I found at Home Goods.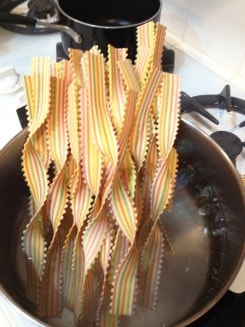 I just couldn't resist purchasing this PRETTY pasta when I was at home goods. But who am I kidding I couldn't resist a lot of things there. I just LOVE their whole kitchen section. Last time I was there I shared a bunch of photos on instagram of what I found. Are you on instagram? I'm @createdbydiane.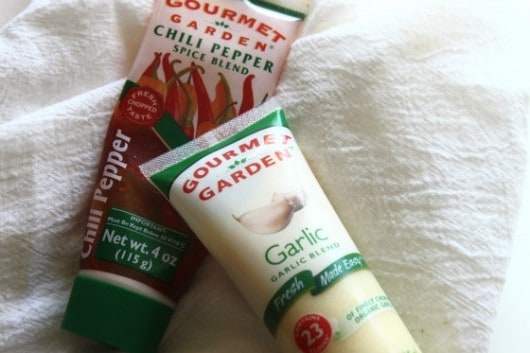 I've been using Gourmet Garden items for about a year now, and I really LOVE how easy and convenient they are. Gourmet Gardens was a sponsor at CampblogAway and I was able to try some of their other varieties and I enjoyed them all. I love the Cilantro, Garlic and Lemon Grass and as you can see the Chili Pepper is almost gone, time to go get some more!
*I was not compensated for this post. I just LOVE them and wanted to share them with you.