Luau Pasta Salad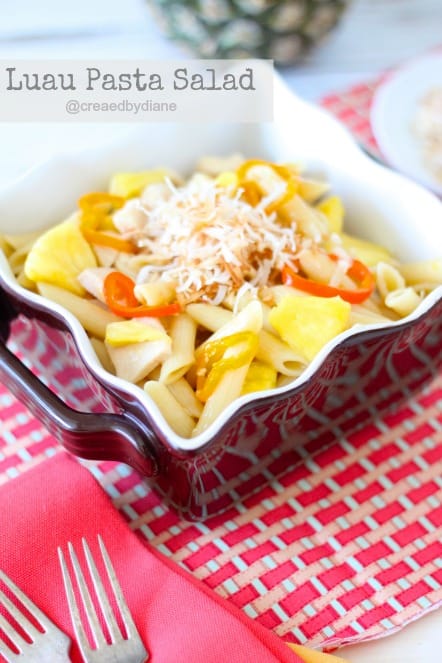 Pasta Salad is one of my go to items for an item to bring to a….
Party, BBQ, Picnic, Beach Day
I like that it's all contained in one dish and at anytime I could grab a scoop and be satisfied that I'm not loading up on everything in sight,
especially if all other items aren't ready yet.
Please tell me that has happened to you before too.
It seems to happen to me often.
By the time I get everyone and everything ready and head out to where ever it is we are going, moments after I arrive I am starving.
I've even been know to sit in my car and take out a small container of what I've prepared and enjoy it, so I can make it though the beginning of an event without wanting to eat my ARM!
This is a really fun flavor combination!
Not only will you be seeing this recipe, but I am celebrating with LOTS of other great blogger for a  SUMMER PICNIC PARTY…..be sure to see what everyone brought to our party and ENTER to WIN the FUN Giveaways at the end of this post.
Luau Pasta Salad "Summer Picnic Party"
Ingredients
1/2 lb penne pasta cooked
2 chicken breasts cooked
1 cup chicken broth
1 teaspoon soy sauce
1 tablespoon corn starch
1/4 cup fresh pineapple juice
pinch crushed red pepper flakes
1 cup fresh pineapple chunks
1/2 cup sweet peppers seeded and sliced
1/2 cup coconut
1/4 cup toasted coconut
Instructions
This can be eaten hot or cold. I preferred it more at room temperature than ice cold, which is great for bringing it somewhere.
Place pasta in an ice bath, and drain once pasta is cooled.
Slice chicken into bite sized pieces.
Heat chicken broth, soy sauce, corn starch, pineapple juice and crushed red pepper flakes on medium heat until sauce comes to a boil.
Pour sauce over pasta with chicken and add in peppers, coconut and pineapple mix until blended.
Top with toasted coconut.
Notes
Heat coconut in a skillet on low until golden brown, stirring constantly so it doesn't burn.
The Marshmallow Studio – Buzzy Bee Pop Tutorial
Sam's Kitchen – Elderflower Cordial
Lila Loa – Sandwich Picnic Cookies
Pink Little Cake –Shortbread Cookie Tart with Caramel Bits
Hungry Happenings – Ketchup and Mustard Push up Pops
The Partiologist – Ant on a Log
Kitchen Fun with My 3 Sons – Picnic Blanket Treats
The Baked Equation – Lemon Cookie Cake
The Decorated Cookie – Cookies on the String
Not Your Momma's Cookie – Ant Attack Cupcakes
Creative Fun Food – Picnic Blanket Sandwich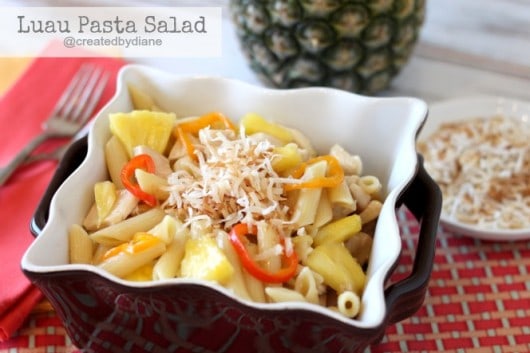 I'm sure after looking around at all the fun items everyone brought to our "Picnic Party" you won't have any trouble finding some new things to bring to your next get-together.