Crab Pasta Salad
Does anyone you know get a little crabby on Sunday?
The work/school week is about to begin and the stress level seem to RISE!
The stores are crowded, so if  you need anything chances are it's better to wait until Monday.
Although Monday is not a very popular day…. people even start talking about Friday on Monday…..or is that just me?
This week don't let everyone else be crabby.
Make this dish and say you're going to be CRABBY too!
I bet someone will want to grab a fork and join you. Once bite and maybe they'll like this crabby alternative better.
This is a really quick and easy dish to mix up and have in the fridge all week long, perfect for a quick snack on the run….now that you'll be heading to the store…It's way less crowded now that it's Monday.
Don't forget a fork!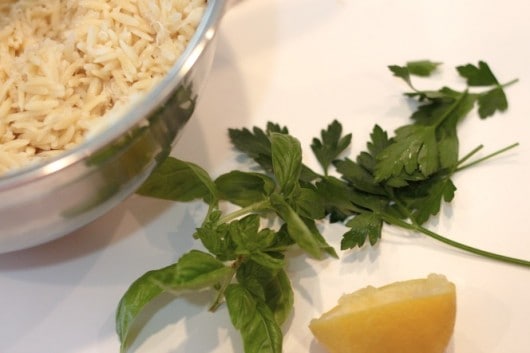 The addition of lemon and fresh herbs, this pasta salad has a great fresh taste.
This is  no ordinary pasta salad!
No mayo on this pasta salad, this pasta salad has a delicious sauce made with garlic, wine and lemon.
Yea, garlic, wine and lemon are the start to many great dishes don't  you think?
I love pasta salad and have shared many varieties like… Mexican Pasta Salad, Luau Pasta Salad, Lemon Pasta Salad with Feta Cheese, Pesto Pasta Salad, and Strawberry Lime & Jalapeño Pasta Salad. Click on the name of those titles to find the recipes.

Crab Pasta Salad
Ingredients
6 oz. canned crab, drained
1.2 pound orzo pasta
3 tablespoons fresh lemon juice
1 tablespoon olive oil
1 teaspoon minced garlic
1/4 cup white wine
1 tablespoon butter
salt and pepper to taste
fresh basil
fresh Italian Parsley
Instructions
Cook pasta according to package, then rinse with cold water until cooled.
In small sauce pan heat butter and olive oil with garlic, add in lemon juice and wine.
In medium-large bowl, mix pasta with crab and sauce.
Add some fresh chopped basil and Italian parsley along with salt and pepper to taste.
Need some more crabby dishes,
here is a fun Crab Appetizer
even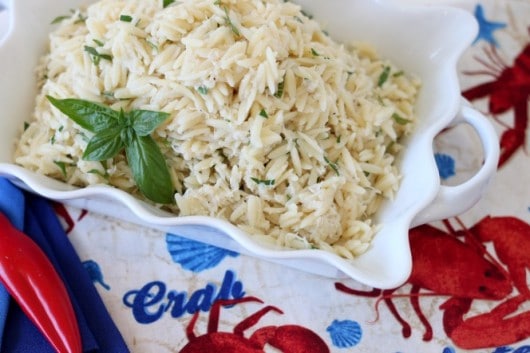 Take charge of the CRABBINESS this week!