This recipe is BEYOND Delicious, it's a creamy mac and cheese recipes with jalapeno and bacon, and really everything is better with jalapeno and bacon! Use pepper jack cheese for an added kick or cheddar, cheese is the hero of this recipe.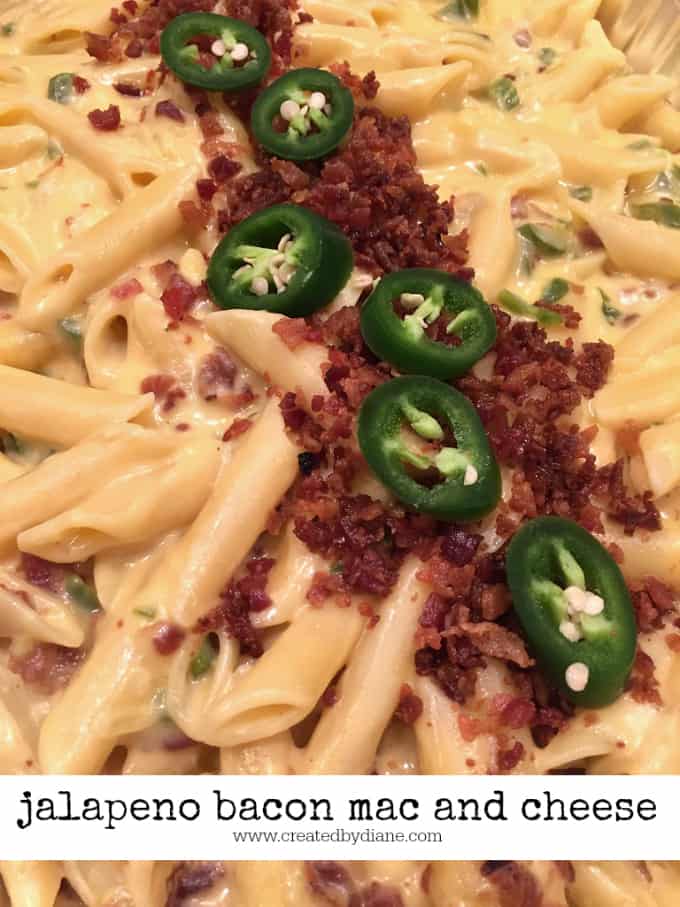 This recipe is by far my favorite penne pasta recipe I make, and bring to EVERY event and is always a hit. But can be made with any tube style pasta.
Pepper Jack Mac & Cheese,
Stuffed Jalapeno Mac and Cheese with Bacon…
yummy, no matter what you call it it's FANTASTIC! 
May possibly be my family's FAVORITE dish, they ask for it all the time and chances are if you open my fridge on any given week…
you'll see a container full of it.
So if cheesy pasta with jalapeños and bacon sound right up your alley,
print the recipe out pronto!!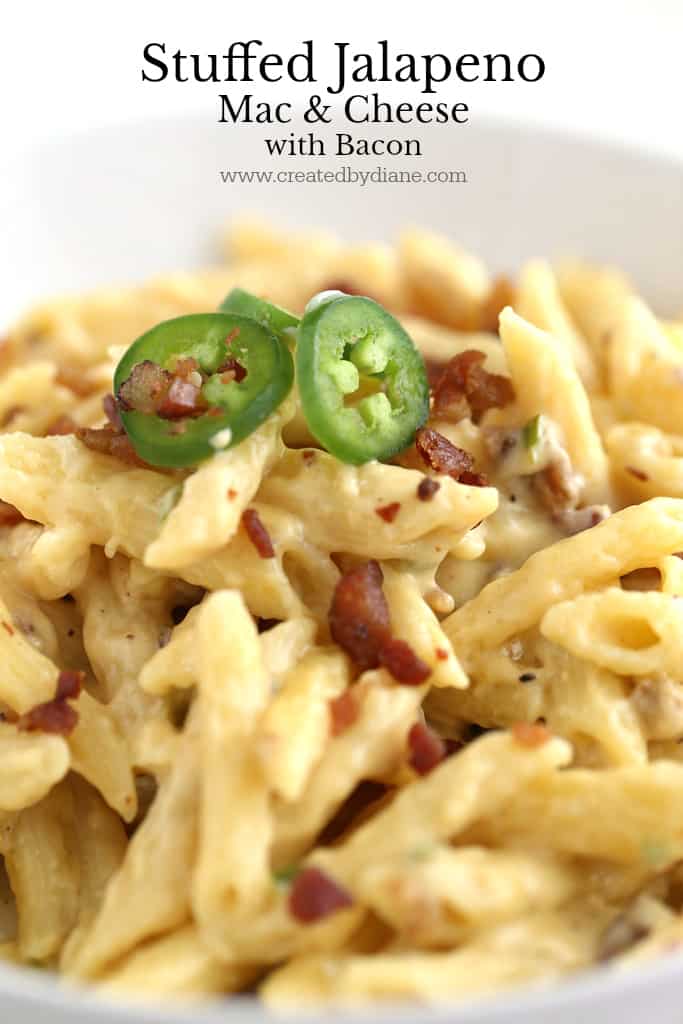 Whenever I hear "Pepper-Jack," I think of my mom,
it's so silly.
She loves cheese just as much and I do and I recall her buying Pepper-Jack cheese in the 80's it was a regular item in our fridge.
I don't recall it going into Mac and Cheese and well, that was a BIG mistake I just fixed and…
if you like Pepper-Jack Cheese and the thought of spicing up Mac and Cheese,
well, start thanking me now!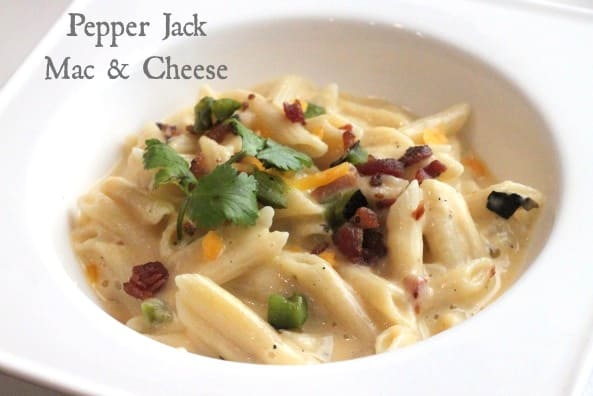 Really this is a WINNER and I have it on good authority many felt the same way.
I recently made a big batch of this to bring to a party and everyone seemed to love it, YIPPEE! I love when that happens.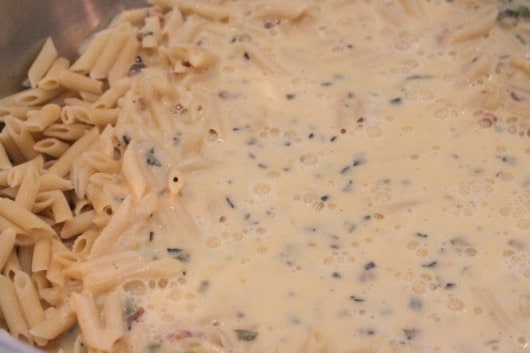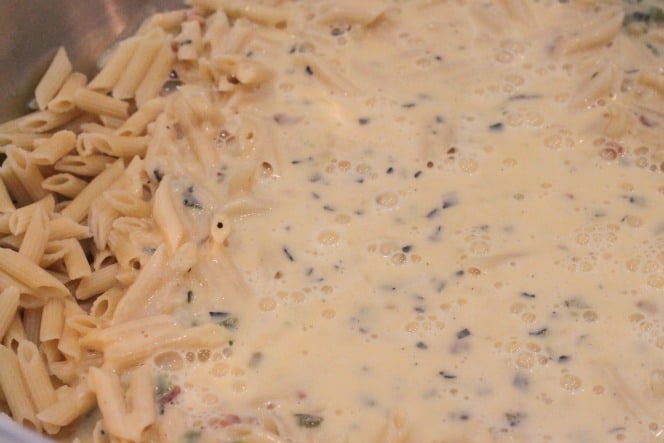 This creamy spicy cheesy sauce is just wonderful!
But I didn't stop there I added roasted jalapeños crisp bacon and cilantro to the top of the dish and well.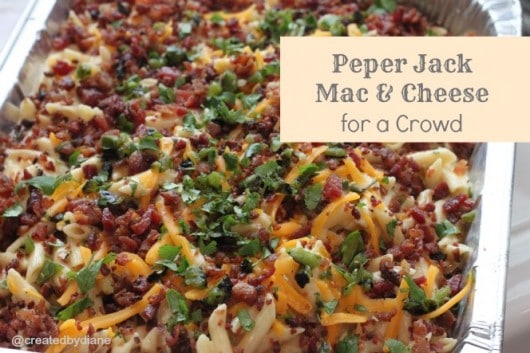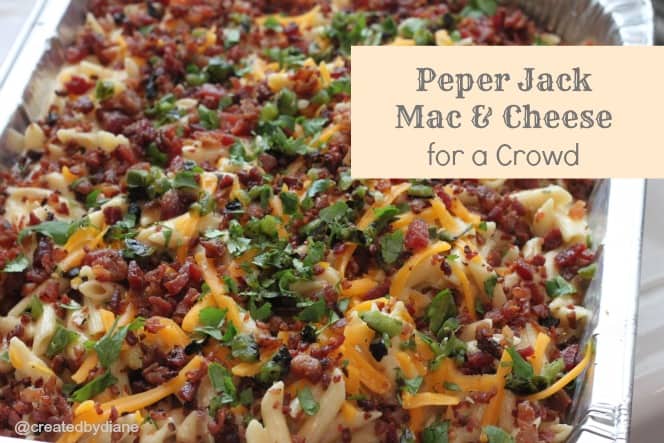 Yep, I think it put it over the top, in a good way of course.
The way…. only bacon can do it.
I bring this dish to parties, the beach, leave it in a slow cooker to stay warm on game day, and it reheats so great, it's perfect to take to lunch for those who eat lunch outside the house.
Add in shredded chicken for a fun flavor option.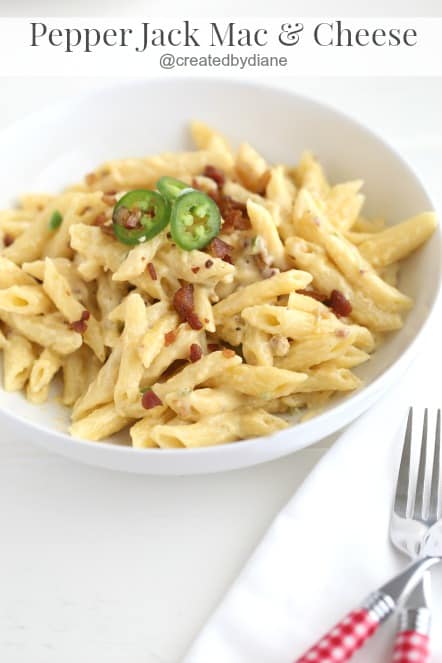 I can't tell you how many times I've made this… so many. I bring it with me everywhere I get invited. It ALWAYS gets devoured!
It's full of flavor and is great to bring to a friend in need of dinner it's not too spicy… even kids love it.
If you don't prefer things spicy, remove the jalapeno, or pepper jack having one or the other is milder, if your not that into jalapenos, I love them. I find the flavor great without being overly spicy!
What other type of cheese can I use?
If you don't have pepper jack cheese, just use cheddar or Monterey Jack cheese. 
I like things extra spicy, what can I do to make this spicier?
Add a total of 3 jalapenos, but don't roast them, just saute them for a minute, they will add a ton of flavor and spice to the recipe.
What type of bacon can I use in this recipe?
You can cook raw bacon, until it's crisp. You can use pre-cooked bacon, and heat it so the flavor come out and it's crispy. You can use cooked crumbled bacon, again heat it up so it releases flavor when added to the recipe.
Can I add nacho style jalapenos?
You can, but the flavor is completely different, as they are pickled and have a vinegar type of taste. I would add some to the top of the dish, but mixing those into the entire dish will most likely overwhelm the flavor. Have each serving/person add their own.
What type of pasta is good for this recipe?
Any tube shaped cut pasta will work well, elbow noodles, penne, ziti, ditilini would also work.
Can I make this recipe creamier?
Add a little more milk if the pasta absorbs the sauce. Alternatively, you can add a cup of heavy cream to this recipe for an even richer, creamier cheese sauce. You can add cream cheese, but it will make the recipe taste a bit sweeter.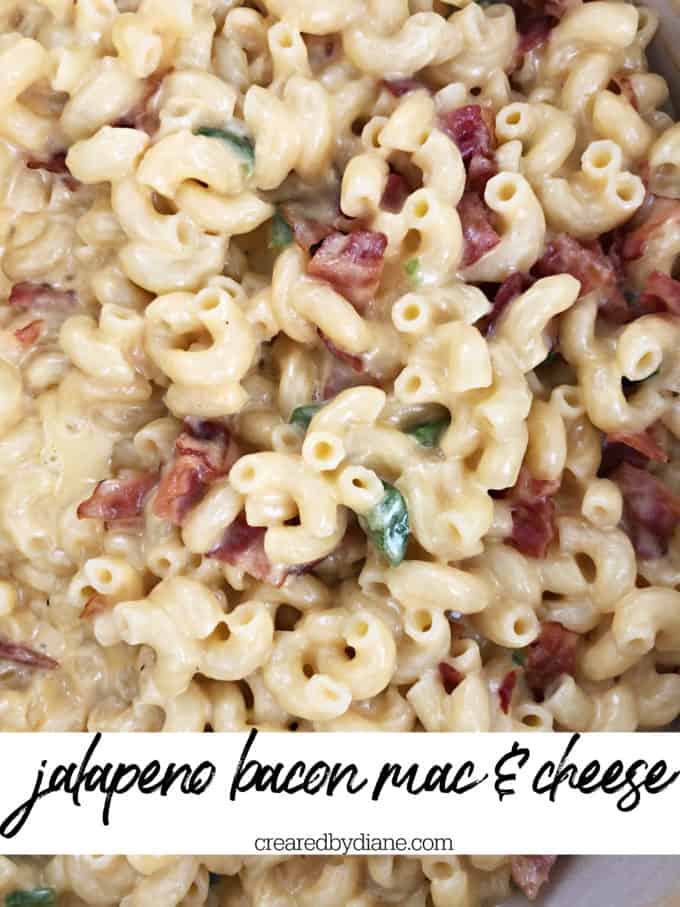 Pepper Jack Mac and Cheese
Ingredients
1 pound cooked pasta (I used mini Penne)
1 tablespoon olive oil
¼ cup minced onion
1 teaspoon minced garlic
1 tablespoon butter
1 tablespoon flour
3 cups milk
½ pound (approx. 2 cups) grated cheddar cheese
¼ pound (approx. 1 cup ) grated pepper jack cheese
1 roasted, seeded, diced jalapeños.
toppings
½ cup crumbled bacon
cilantro
1 jalapeño, roasted, seeded and diced.
Instructions
While I prepare the sauce I cook the pasta that way the pasta is hot when the sauce is complete.
Saute onion and garlic in olive oil
Add butter and flour and whisk until butter is melted and cook the flour for a minute on medium heat.
Slowly add the milk in while whisking, keep adding the milk until it's all incorporated and looks like a sauce. If you add the milk too quickly it will be lumpy, add ½ cup at a time slowly while whisking:trust me, I've been in a hurry and rushed it and wanted to start all over sometimes.
Once all the milk is incorporated, add the cheeses and whisk the cheese into the sauce until smooth.
Stir in 3 roasted and diced jalapeños.
Pour sauce over pasta.
To top off this dish, I heated the crumbled bacon until it was crispy.
Then topped the Pepper-Jack Mac and Cheese with the bacon, cilantro and the additional jalapeño.
The large dish pictured is this recipe doubled-two pounds of pasta-which I find is a great amount to bring to a party.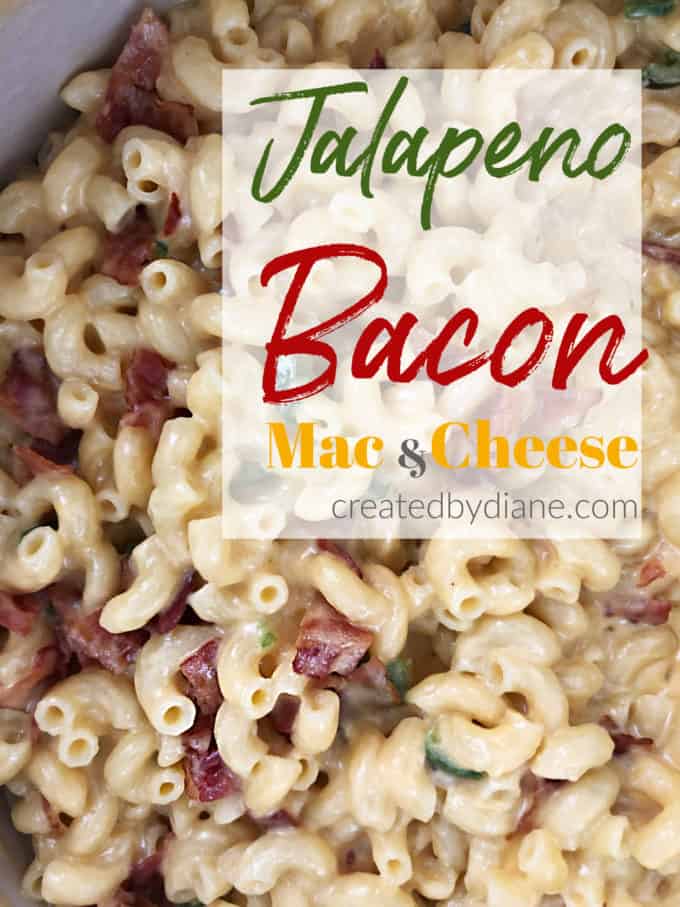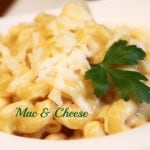 Step by Step instructions for creating a thick sauce for Mac and Cheese.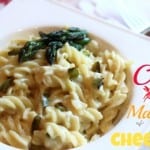 If you like CRAB, you will probably really like this Crab Maca and Cheese!