Slightly sweet with a rich taste, this Fig Jam is so simple to make and yummy, you'll want to slather it on everything.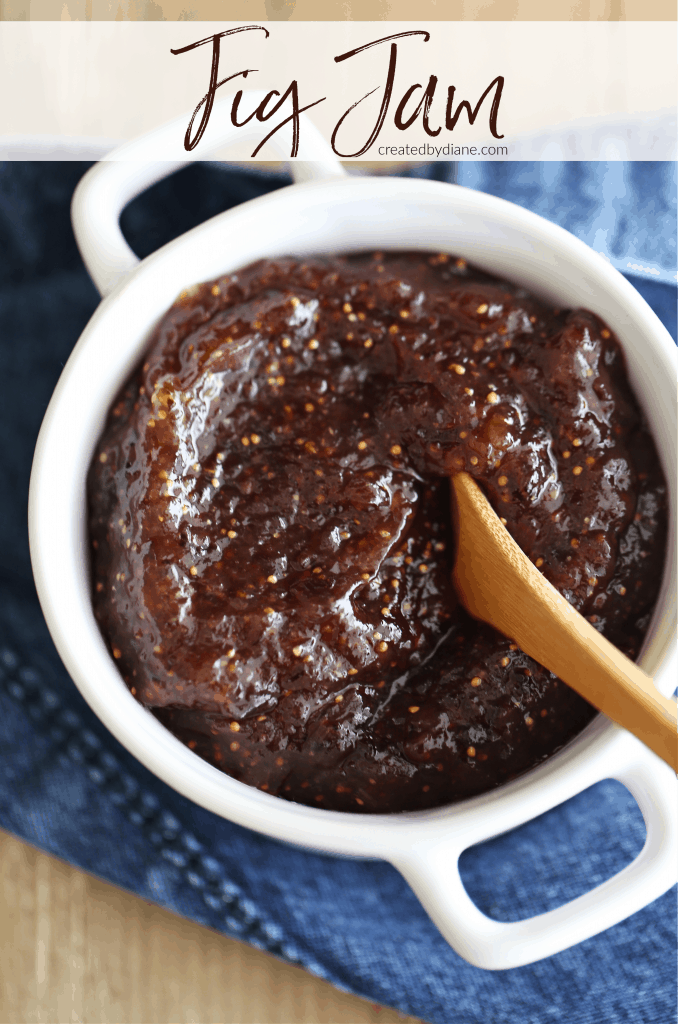 Figs are some of my favorite fruit and I don't think they receive the praise they are warranted. These versatile little morsels are delicious eaten as is or cooked down and made into the sweet little jam I'm going to demonstrate for you here.
Figs are a part of folklore all around the world, from the leaves covering Adam and Eve to the roots of a fig tree saving Romulus and Remus from drowning in the River Tiber. In India, it's believed these trees provided the first shelter and food for people. And for Buddhists, no plant is more sacred than the fig tree where the Buddha rested and attained enlightenment.
This jam is simple, so if you've never made jams or jellies before, take heart!
There's nothing to it. And it's delicious on this French Bread, or as a filling for my Thumbprint Cookies or my absolute favorite sandwich!
It's a great addition to a charcuterie board!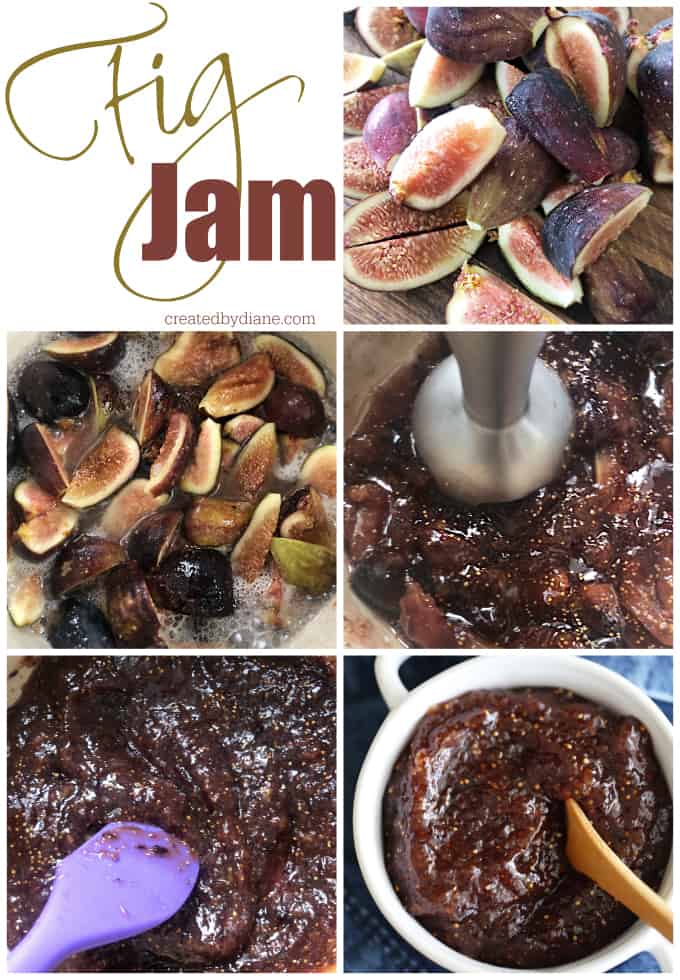 To begin, using a small saucepan, collect your figs, sugar, and water, and bring it to a boil.
Once a full boil has been achieved reduce the heat to medium/low and simmer until the fruit is soft. The "jam" will thicken and stick to the back of a spoon. It should not run be runny, and to be sure I'm achieving peak "jam-iness", I continue to simmer until it reaches 220° F with a thermometer.
Just before you remove it from the heat, add vanilla.
The jam will thicken as it cools.
And that's it! Now your jam is ready for whatever use you have in mind!
This jam will keep in the fridge in a glass jar for at least 2 weeks, that is if you haven't eaten it all by them. This is a small batch recipe, you can multiply it for how many figs you have to make a larger amount.
There's almost always an answer for any question you may have when it comes to cooking and baking, and we are going to address a few of those for you in our Inquiring Minds section:
What type of thermometer is recommended for this recipe?
I first got this thermometer years ago, and I used it all the time. But I upgraded just a couple years ago and OMG… it's so fast (truly INSTANT- READ) and really makes cooking and baking a breeze, so this is the one I'd recommend for anyone who wants to be sure their cooking and baking temperature is accurate in a really fast time. I've had so many thermometers over the years and hated the way they were temperamental, didn't read a true temperature quickly, or melted very easily, so I threw them all out and am really happy with THIS ONE and buy it for gifts now and everyone loves them.
Could I replace the sugar in this recipe with a sugar substitute?
The simple answer is yes, but it also depends on what kind. Not all substitutes are created equal. I've used Swerve sweetener in jams, as well as other cooking and baking with great results, but use what you know best.
I've heard others have had good results with Truvia's Baking Blend can be substituted at the rate of 1/2 cup of Truvia for every 1 cup of sugar.
I've also heard good results for sugar alternatives with Monk Fruit as well.
How do I tell if my figs are ripe enough?
Figs are picked ripe, they don't ripen as they sit. Ripe figs shouldn't feel hard and they should give slightly to pressure, yet not extremely soft or mushy. Figs should be smooth, firm, and tender throughout. Oh and very sweet!
There are two seasons for figs here in the US a short season the first few weeks of June, and then the longer season from August through October. Some common varieties are Black Mission Figs, Brown Turkey Figs, and Green Kadota figs. The Black Mission Figs are my favorite.
Figs don't need to be peeled as the skin is thin and breaks down easily when cooked.
I just found some more figs at the store today and can't wait to make more jam, it's great with peanut butter 🙂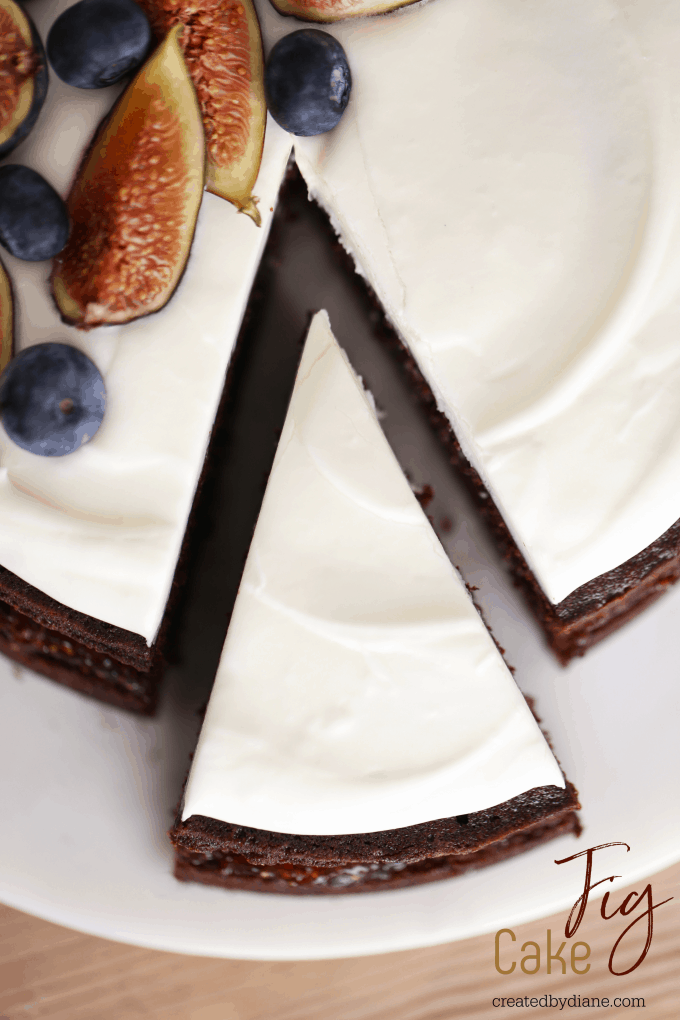 Be sure to check out this delicious fig cake to use some of this fig jam on!
Fig Jam
A delicious jam made with fresh figs, that is not overly sweet and great on toast, cake and so much more.
Author:
Diane Schmidt Created by Diane
Recipe type:
Condiment, Dessert
Ingredients
8 figs, quartered (I used black mission figs)
1/2 cup granulated sugar
1/4 cup water
1/2 teaspoon vanilla extract
options
pinch of cinnamon, 1-2 teaspoon lemon juice,
Instructions
In a small saucepan add figs, sugar, and water to a boil.
Close to the time, it's finished cooking, add the vanilla.
Simmer until the fruit is soft, the "jam" is thickening a bit and sticks to the back of a spoon and it not runny, I use a thermometer, cook the jam until it reaches 220°F.
The jam will thicken as it cools.