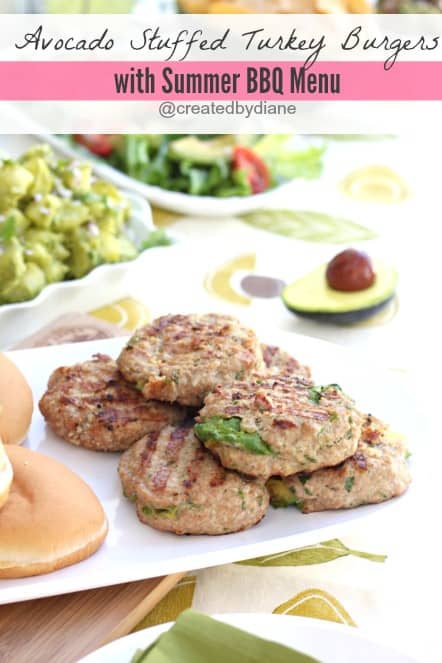 Summer is in full swing and there is no better time to fire up the grill. Gather friends and family around and enjoy.
Summer produce is so much fun to add to the menu, with just a few additions to some favorites you will have really exciting menu.
The first thing that comes to mind for me when we BBQ is burgers, I just LOVE them. I love adding avocado on my burger, but since I am such a fan of stuffed burgers, it seemed perfect to add the avocado directly to the middle of these burgers.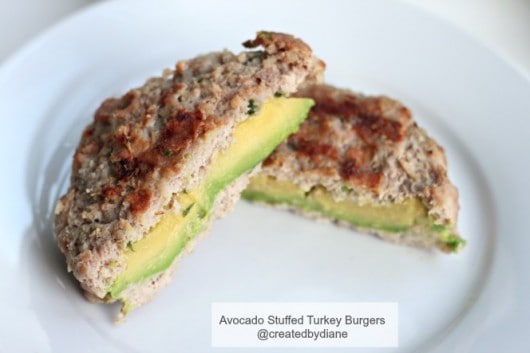 Do you see all that deliciousness.
Avocado turned ordinary ground turkey into a super-delicious burger.
I stuffed 1/4 of a large avocado into each 1/3 pound turkey burger, let me show you how easy it is.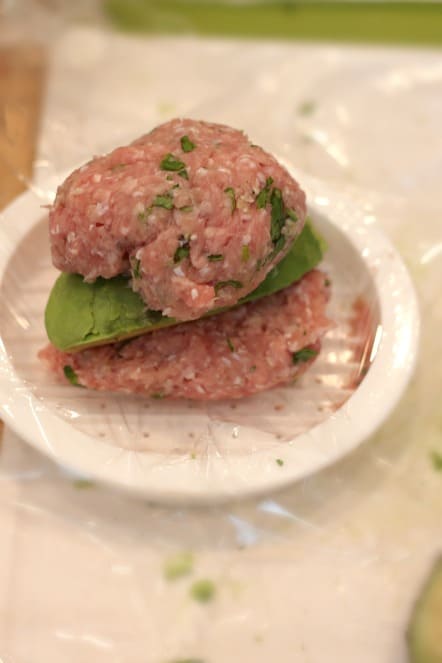 After I mixed up the ground turkey with all the necessary yumminess (recipe below) I portioned the meat to make the hamburgers, (I made 6  into 1/3 pound size balls (and the two remaining were a little smaller), then sliced them in half and placed plastic wrap on my hamburger press to help remove the burgers easily and place half the ball on the bottom then a quarter of a large avocado then the other half of the ball on top, cover with the plastic wrap then press down. The avocado will be perfectly placed in the center.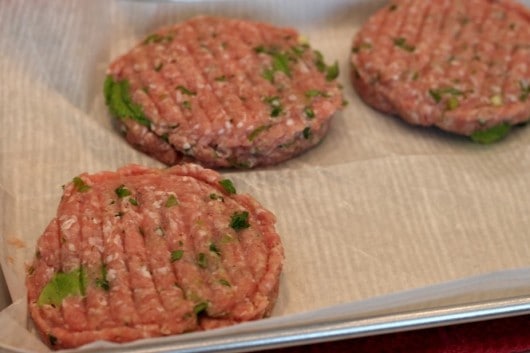 Avocado Stuffed Turkey Burgers with Summer BBQ Menu
Ingredients
2.5 lbs ground turkey
1/4 cup panko bread crumbs
1 tablespoon minced garlic
2 tablespoons fresh chopped cilantro
1 scallion diced
1/2 teaspoon salt
1/4 teaspoon black pepper
2 large California Avocados cut into quarters
Instructions
Mix turkey with bread crumbs, garlic, cilantro, scallion, salt and pepper.
Line a hamburger press with plastic wrap
divide mixture into 6 large and 2 slightly smaller hamburgers
roll each gently into a ball
divide each ball with a knife
place 1/2 on the press, add 1/4 of the avocado on the meat, then top with remaining 1/2 cover with plastic wrap and press until the burger is formed
the plastic wrap makes it easy to keep the burgers from sticking
Grill each burger until the meat reaches 165 degrees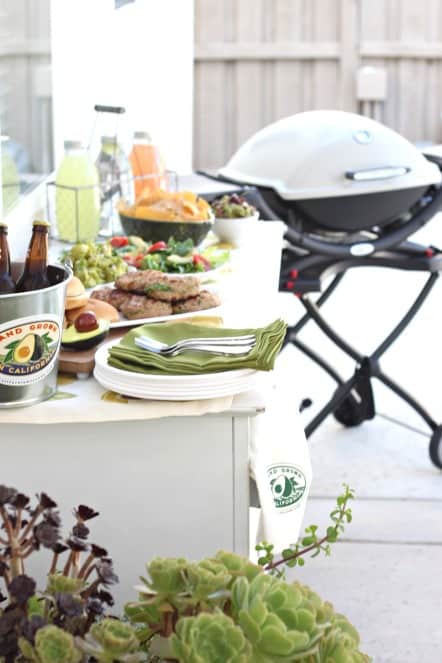 California Avocados sent me a great kit to inspire me to create an avocado menu. Each and every item they sent was well thought out and made entertaining easy.
Along with the burgers,
I made an Avocado Salad (with romaine, tomatoes, avocados, red onion and lemon saffron salad dressing)
I had enough cherries I even added them to lemonade and not only did it turn the lemonade a pretty pink, it was DELICIOUS!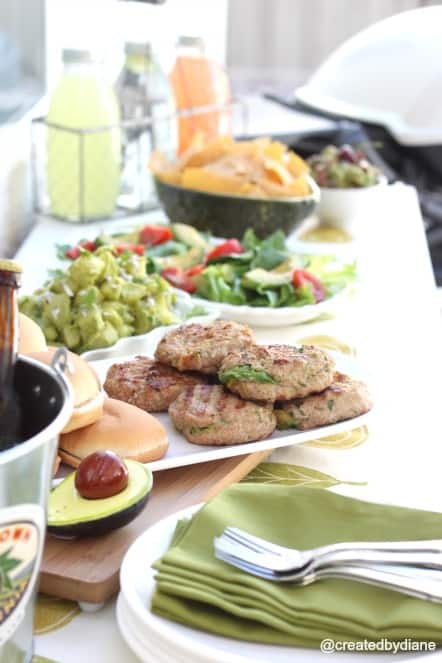 Next time you are heading out to the grill, take the guess work out of it and try some of these ideas. California Avocados make a wonderful addition to so many items!
More Avocado Recipes:
Grilled Goat Cheese and Avocado Sandwich
Coconut Chicken with Pineapple Guacamole
Avocado and Strawberry Margaritas
Guacamole with Goat Cheese and Bacon

I'm woking with California Avocados to bring you some delicious recipes, all opinions are my own. I happen to love California Avocados and am glad they are in season now!