Bean Dip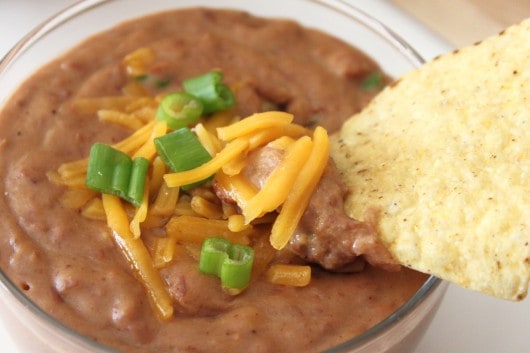 Bean Dip
It's no secret I love Mexican food
and since we live in Southern California there are loads of opportunities to get it.
There are always tortillas in my fridge, to wrap around scrambled eggs or just o heat up and enjoy with butter. I love Steak Tacos and making Cilantro Lime Sauce to top off my Mexican Cravings. My Black Bean Soup is always a huge hit and when the weather is cooler I make it often. I even like to give a Mexican kick to pasta with my Avocado Cilantro Lime Pasta Sauce.
I love to snack on chips and salsa,  but I don't always plan out making salsa so well, either I have tomatoes that are not at the peak of ripeness or I have no tomatoes! But I always have cans of pinto beans in the cabinet. So here is an easy recipe and I have whipped it up many times for unexpected company and my kids just love it.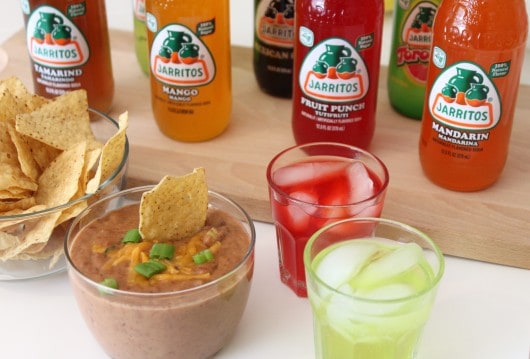 Jarritos send me a selection of their sodas to try and we had fun lining up the taste testing to see which ones were our favorites. Of course, I knew it would be the perfect time to have this bean dip all ready for when the kids came home we would be doing out tasting. Jarritos soda is made with fruit flavors and more carbonated than the popular sodas made in the U.S. or Canada. Which give the soda an extra fizz, *think tiny bubbles.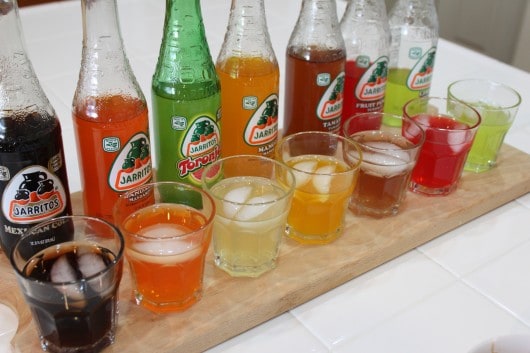 We sampled Jarritos  Mexican Cola, Mandarin, Torani (grapefruit), Mango, Tamarind, Fruit Punch and Lime.
Although it started out that the Mexican Cola was in the lead, the Mandarin and Toronja came out on top, my favorite was the tamarind, it reminded me a bit of Horchata with it's nutty type of flavor.
What a fun way to try this soda, now that we are more familiar with their sodas we will have to try the other varieties. Just after we had out tastings, a friend stopped by and loved the display. They already have a favorite Jarritos it's Mango. My kids are looking forward to having it again, they really loved that is came in glass bottles!
Bean Dip
Bean Dip
Ingredients
1 large 29 oz can pinto beans
2 oz cream cheese
1 cup cheddar cheese
2 teaspoons cumin
2 teaspoons chili powder
2 Tablespoons canned diced green chilies or Jalapenos
Instructions
Drain most of the liquid off beans, reserve some if beans seem dry and you need to add a bit back in. Heat beans with cream cheese and stir until blended. Add cheddar cheese, cumin, chili powder, and chilies or jalapenos, heat thoroughly and mix together. Serve the bean dip warm topped off with scallions and cheddar cheese.
*Jarritos provided me with their product the opinions are my own.