I just LOVE crispy bacon, but who doesn't! I started backing bacon in the oven and just LOVE the results. You will too!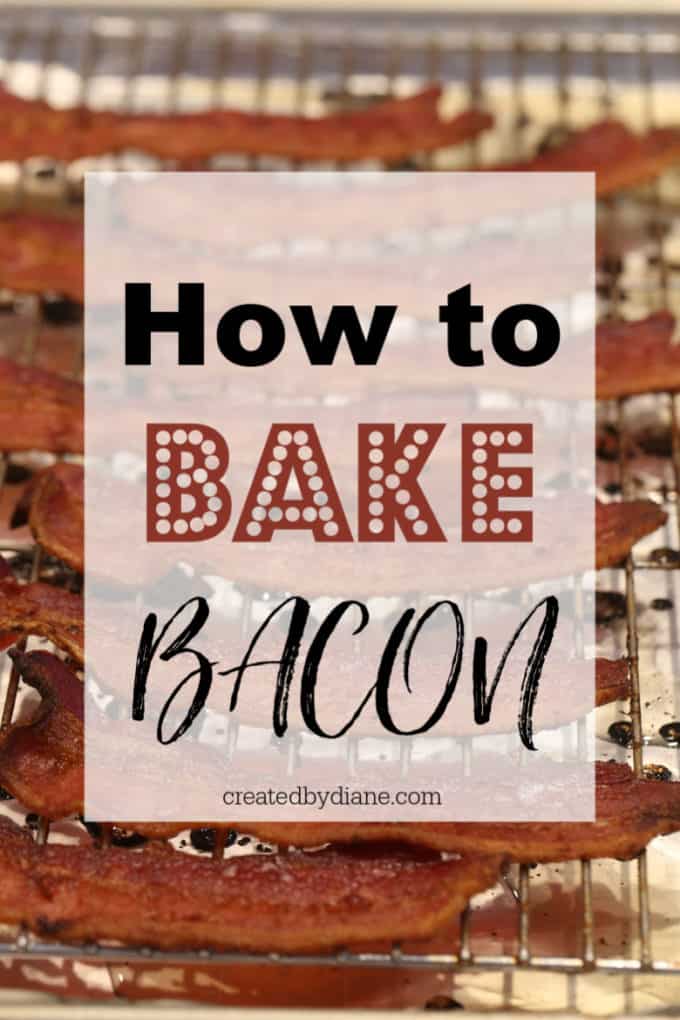 You will,
trust me,
if you don't want to stand over the stove turning bacon and hoping it will get crispy before it burns you will LOVE this.
See LOVE and BACON go hand in hand over here and really…
come to think of it,
when do I not have bacon in one hand or the other. LOL!
Really crispy bacon is essential,
don't you agree?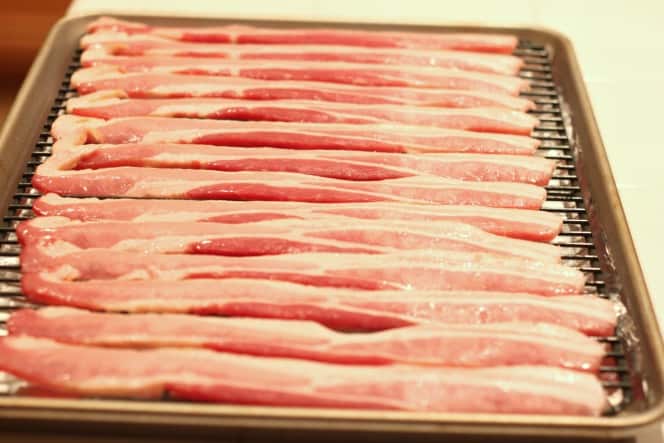 Lin a rimmed baking sheet with foil for easy clean up. Then place a baking rack with close rungs on top of the foil.
Line you bacon on the rack, the bacon will shrink as it cooks so place them close together.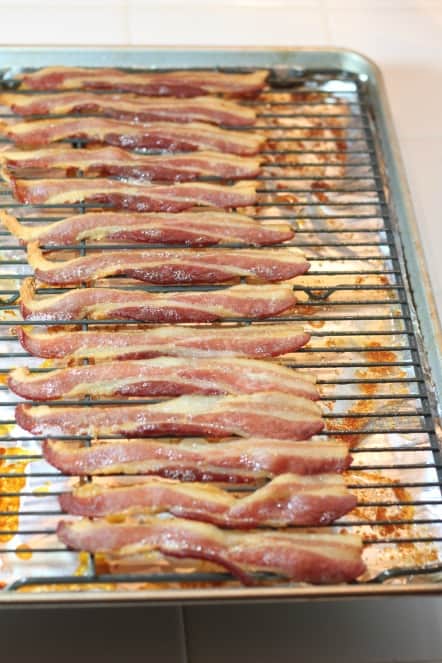 Bake it until it's crispy. When you lift up a piece, it should be stiff, if it's flopping over, put it back for a couple more minutes. The photo above is a great example of bacon that looks like it's done, but it actually needs a couple more minutes.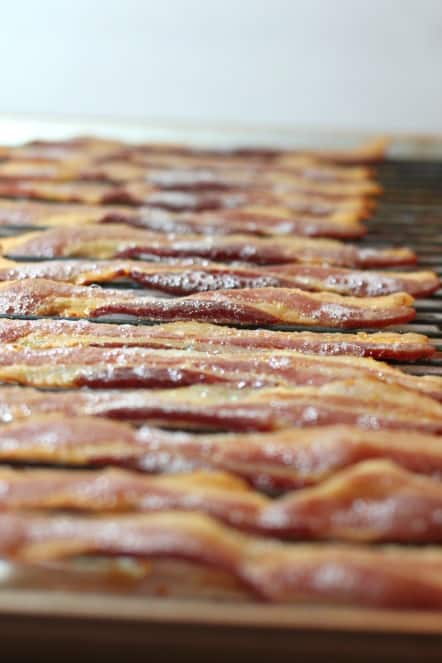 Now, this is crispy.
Remove bacon from oven, and place it in between paper towels to absorb the excess grease off the bacon.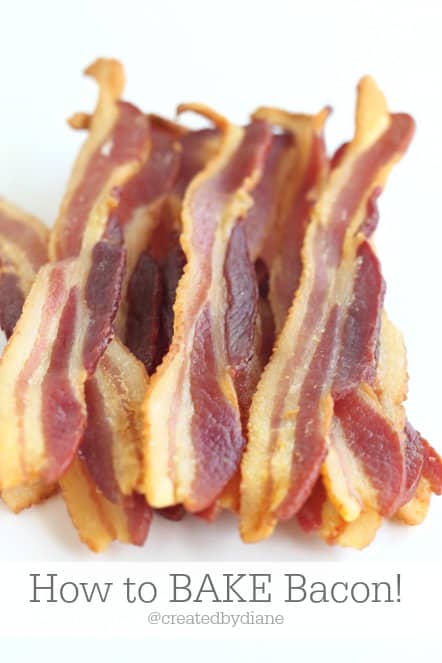 I will mention that baking time will vary depending on how thick your bacon is. I prefer thick-sliced bacon. Check the bacon every few minutes after 10 minutes so that you can take it out when it's as crisp as you like it.
and keep scrolling for more bacon recipes and my chocolate covered bacon!

How to Bake Bacon
Ingredients
thick-sliced bacon
rimmed baking sheet
baking rack
aluminum foil
Instructions
Line a baking sheet with foil,
lay baking rack on top of the foil,
place bacon on the rack,
be sure it's close together, without overlapping.
bake at 400 degrees for 15-20 minutes for thick sliced bacon Can take up to 30 minutes.
Turn the bacon with tongs and bake it until it's crisp on both sides.
Be sure if you want crisp bacon, that you bake it long enough.
Test a piece with a pair of tongs,
pick up a piece, if it's flopping over,
give it a couple more minutes.
*note for thinner bacon check at 10 minutes at then every couple minutes until the bacon is as crisp as you prefer.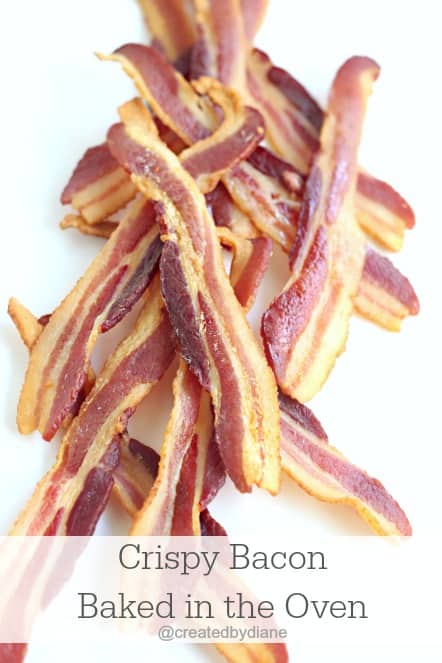 Now,
What should you do with all this crispy bacon?
Let me give you a few suggestions:
Guacamole with Goat Cheese and Bacon
Cornbread Tamales Bites with Jalapeño, Cheese and Bacon
Cheesy Bacon Breakfast Potatoes in 5 Minutes
Stuffed Jalapeño Bread with Bacon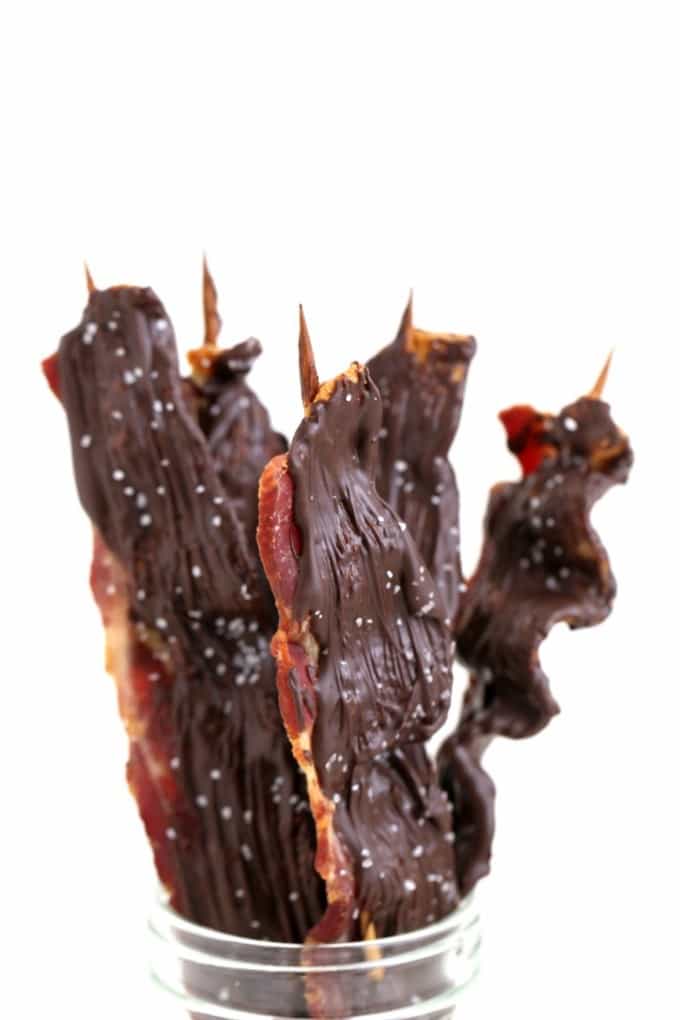 To make chocolate covered bacon, it's important that the bacon be nice and crisp, then dip it into melted chocolate (I find it's best to melt chocolate with a little bit of shortening or coconut oil to make sure it's thin and smooth, then brush it on the bacon with a silicone brush) and the photo shows the bacon skewered, but it wasn't as easy to get it off the skewered, so just coat the bacon over top of a piece of wax paper then add coarse salt, for great results, place it in the fridge for a few minutes to set up the chocolate.
*be sure the chocolate is completely melted and hot, and that no water gets into it or you'll have thick, grainy chocolate.