I'm a huge pasta salad lover and have lots of cold pasta salad recipes for you to try. This Greek pasta salad with chicken will become your new favorite!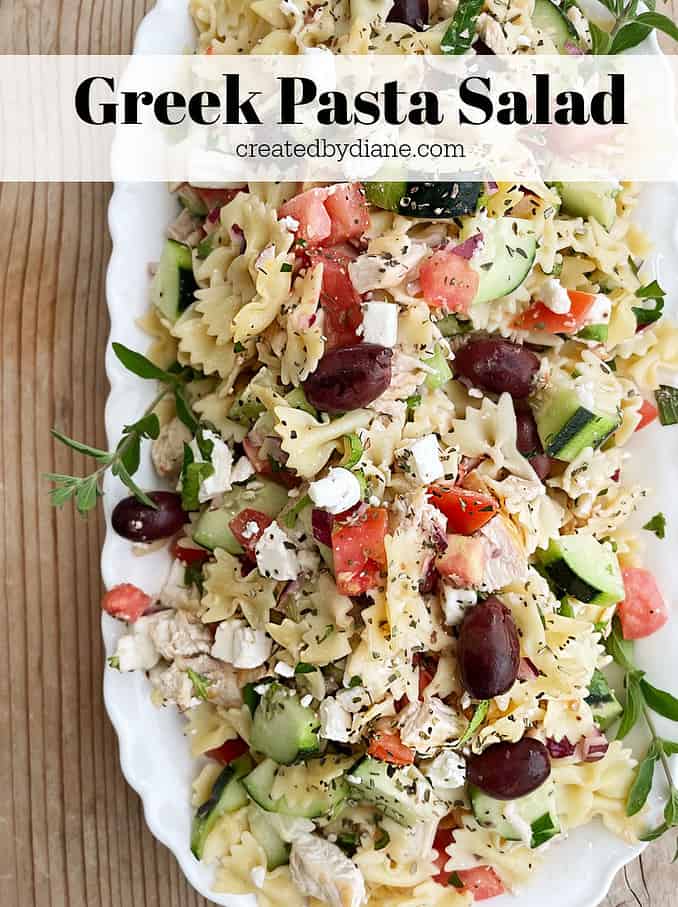 You can never go wrong with pasta salad… 
Let me repeat that (just kidding) there are so many options. Cold pasta has Resistant Starch, which if you haven't heard is considered good for low-carb eaters, and diabetics as it's resistant to digestion and acts like soluble fiber… good news there.
If you love the thought of pasta salad be sure to check out these other pasta salad recipes. 
Be sure to check out my latest video… this recipe is in it!
Pasta salads are a great way to have food ready, meal prepping for the week or a day at the beach can not only reduce stress but saves time and money. pasta salad is a great item to bring in a thermos as it'll stay cold for hours.
I added cooked chicken which not only helps add protein, it'll help you feel full, and ward off food cravings, and with this many colors and flavors, it'll satisfy all your senses.
With the intense hot weather, there is nothing better than a cold Greek pasta salad with feta cheese, it's perfect to eat all week long, make it at the beginning of the week… and have it for lunch or dinner and reduce the stress of wondering what you'll be eating.
Be sure to get tips on making macaroni salad here.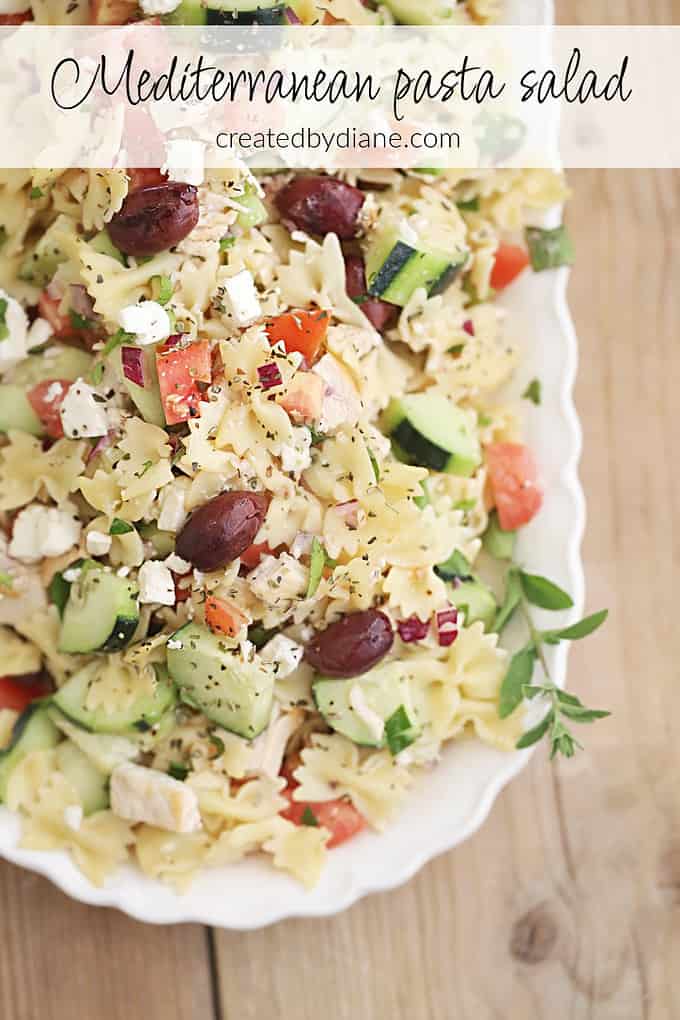 Ingredients
pasta
chicken (a great vegetarian option is chickpeas)
cucumber
tomato
kalamata olives
feta cheese
red onion
oregano (fresh or dry)
parsley (fresh or dry)
red wine vinegar
oil (avocado oil, olive oil)
salt+ pepper
Additional items to serve with Greek Pasta Salad:
wedges of lemon are always a great option
dolmas: stuffed grape leaves
add capers for a fun flavor
hummus and pita: check out how to make my hummus here, and this gorgeous roasted beet hummus.
Another great salad dressing option is this Lemon Saffron Dressing. My opinion on salad dressing is that freshly made is best.
What option can be added instead of chicken?
Make this Mediterranean pasta salad with chickpeas it's a super easy swap and tastes delicious, another white bean is a great option.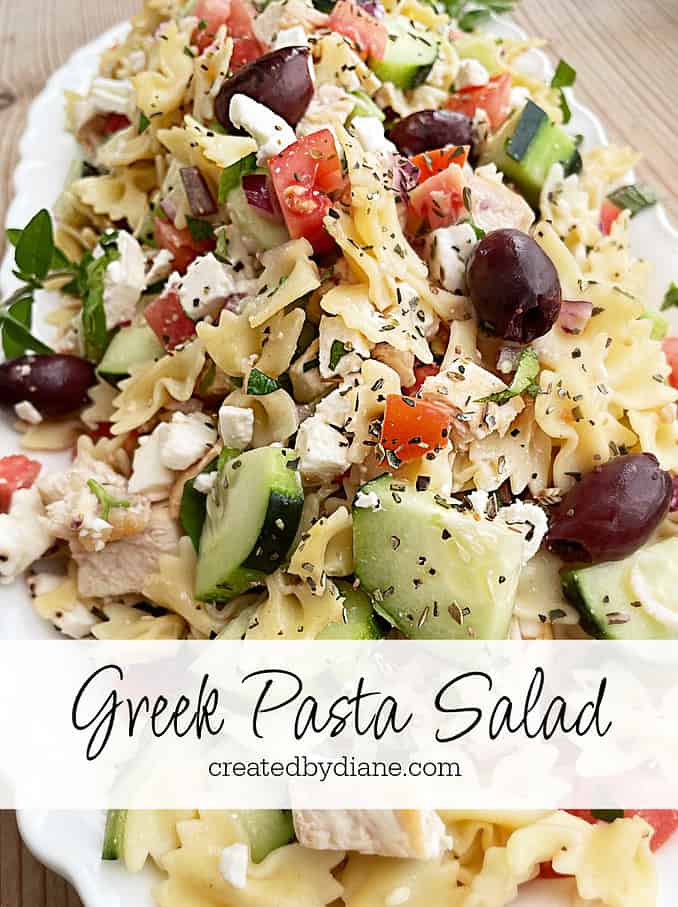 What is a good ratio of oil to vinegar?
2 parts oil 1 part vinegar/lemon juice. Traditionally I believe many used a 3:1 ratio but I think it's oily and I like my salad dressing to be tangy.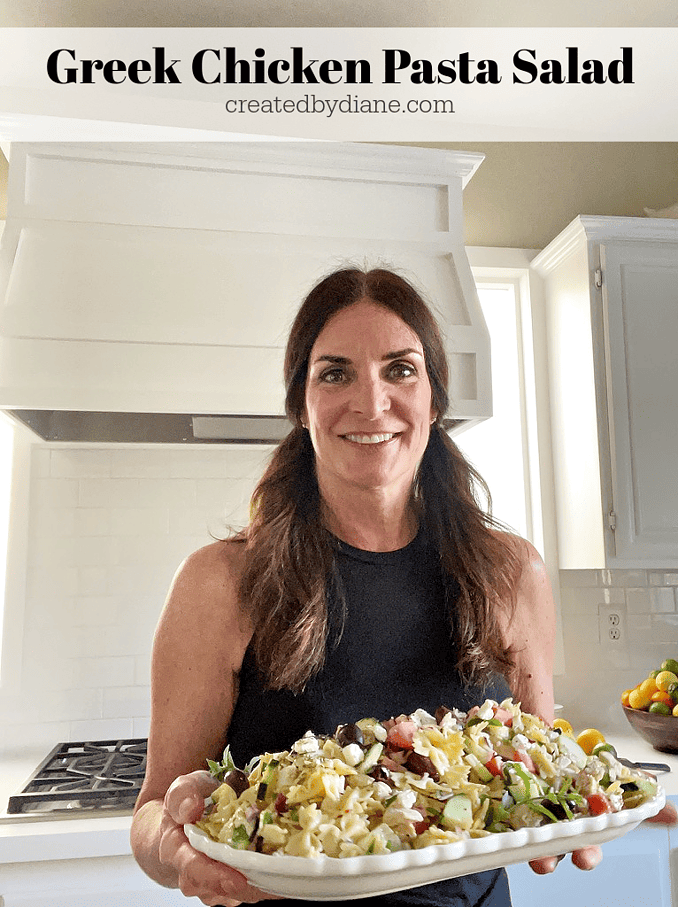 One of the best things about pasta salad is you can make it your own, omit an item you don't prefer, and add an item you love.
I don't typically eat bell peppers (but I do like the mild baby beak peppers, feel free to add sliced or diced peppers). This Greek Chicken Pasta salad hits the taste buds just where you need it to. I love kalamata olives but black olices are a nice alternative.
Simple ingredients, fabulous flavor, and ready in minutes pasta salad is always a good idea… look for more pasta salad recipes here.
Greek Pasta Salad
The pasta salad you'll make on repeat! Greek pasta salad with chicken or chickpeas filled with all the Greek flavors you'd expect, feta cheese, cucumber, tomato, oregano, and more.
Author:
Diane Schmidt, Created by Diane
Recipe type:
Main Dish, Side Dish
Ingredients
1 lb pasta (I used mini bow ties) cooked according to package directions.
3 chicken breasts, cooked and cut, shredded, or diced (rotisserie chicken is an option)
1 English sliced and quartered cucumber
1 cup tomato, grape tomatoes sliced or Roma tomatoes diced
1/2 cup Kalamata olives, sliced or whole
3 oz. feta cheese
1/3 cup diced, red onion
2 tablespoons oregano (fresh or dry)
3 tablespoons chopped parsley (fresh or dry)
2 tablespoons/4 cup red wine vinegar
1/4-1/2 cup oil (avocado oil, olive oil)
salt+ pepper to taste (1 teaspoon salt, 1/2 teaspoon pepper)
Instructions
Once the pasta is cooked strain it, and place it in a cold water bath to cool the pasta and remove any excess starch so it doesn't stick together.
Prep all the items, slicing the cucumbers, tomatoes, olives, feta cheese, and onions. Chop oregano and parsley if using fresh herbs (I prefer fresh herbs, but use dry when unavailable).
In a large bowl add the pasta, chicken, and other items.
Drizzle the oil, vinegar, herbs, salt, and pepper. (alternatively, you can mix the dressing together then pour it on, I usually eyeball it, give it a taste, and add more if needed).
Mix well and chill until cold for the best flavor for about 4 hours.