Oh my goodness, this is like PIZZA a whole new way!   
Pepperoni Pizza Macaroni Salad
Don't miss one delicious recipe and get my FREE e-cookbook click here!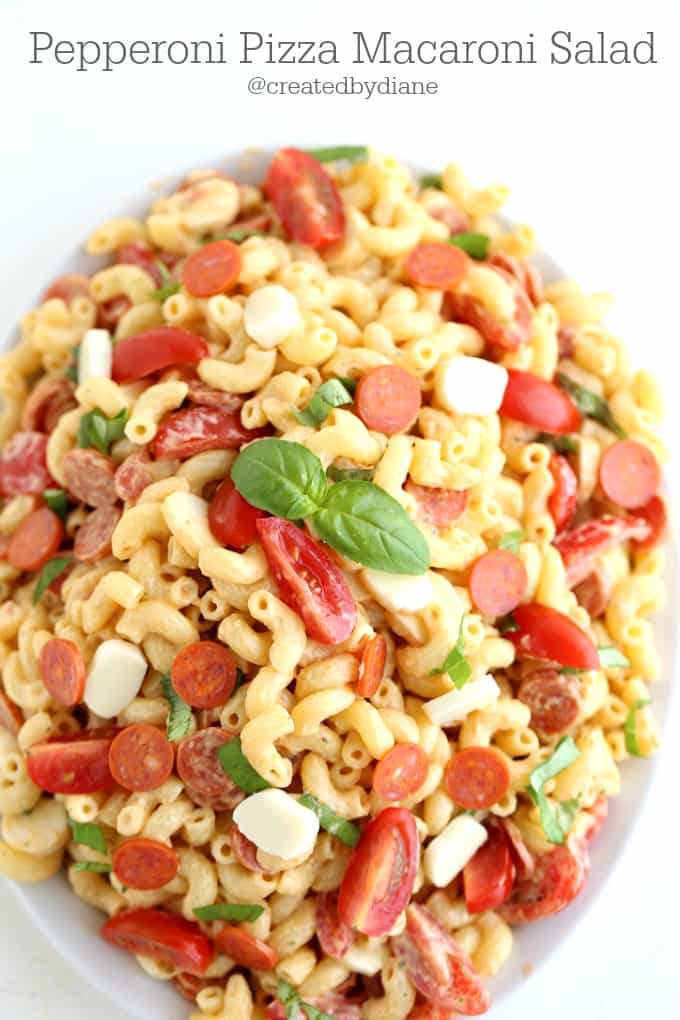 There are so many reasons why you will love this.
First I just love the sauce, I made a tomato basil aioli.
It's so fresh tasting, the flavor tastes right out of the garden.
Yep, it's super delicious and going to be great on a sandwich and perfect for a BLT.
Now onto how EASY it is to make, really there are very few ingredients and that is sure to make you happy, I know I am.
A great vegetarian option is to leave out the pepperoni! Simple and delicious.
Now if a veggie pizza is you favorite, go right ahead and add in some diced peppers, mushrooms, and onions and you're all set!
Now if you are the pizza lover in your house or it's another family member that has PIZZA on the top of your favorites list and it seems like you/they must have it ALL THE TIME.
This is going to be a game changer!
It can be ready at a moments notice and is great to pack for lunches, makes a nice pot luck item to bring to a bbq, party and there is no heating the oven to 500 degrees on a hot summer night, just boil up the noodles and in about 15 minutes you'll be able to enjoy a bowl!
Be sure to check out my post on Homemade Mayo if you'll be making the mayo from scratch as I do. You can use store-bought mayo, but homemade tastes best!
**Be sure to print BOTH recipes.

Pepperoni Pizza Macaroni Salad
Ingredients
1 lb macaroni noodles
1 cup grape tomatoes, cut in quarters
4 mozzarella cheese sticks, cut into pieces
1 cup mini pepperoni pieces
Garnish (save a few pieces of each ingredient to garnish for parties)
Instructions
Boil noodles according to package directions
Prepare tomato basil aioli as the noodles cook, recipe follows in blog post
When pasta if finished cooking, drain and rinse with cold water until noodles are cold.
In large bowl mix pasta with tomatoes, cheese sticks, pepperoni and tomato basil aioli.
Refrigerate for 1 hour for best flavor.
Tomato Basil Aioli
Ingredients
1 cup oil
2 egg yolks
1/3 cup white vinegar
1 1/2 cups tomato sauce (marinara sauce or similar works well)
20 basil leaves
2 teaspoons garlic paste or 1 cloves minced garlic
1 teaspoon salt
1/4 teaspoon crushed red pepper
Instructions
In tall container (I use a 2 cup glass mason jar) with an immersion blender
Mix oil, egg yolks, vinegar, sauce, basil, garlic, salt and crushed red pepper.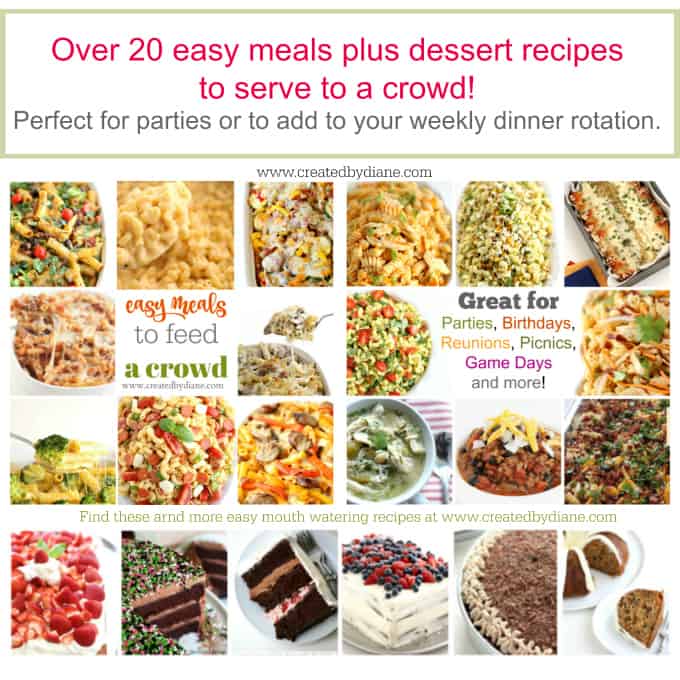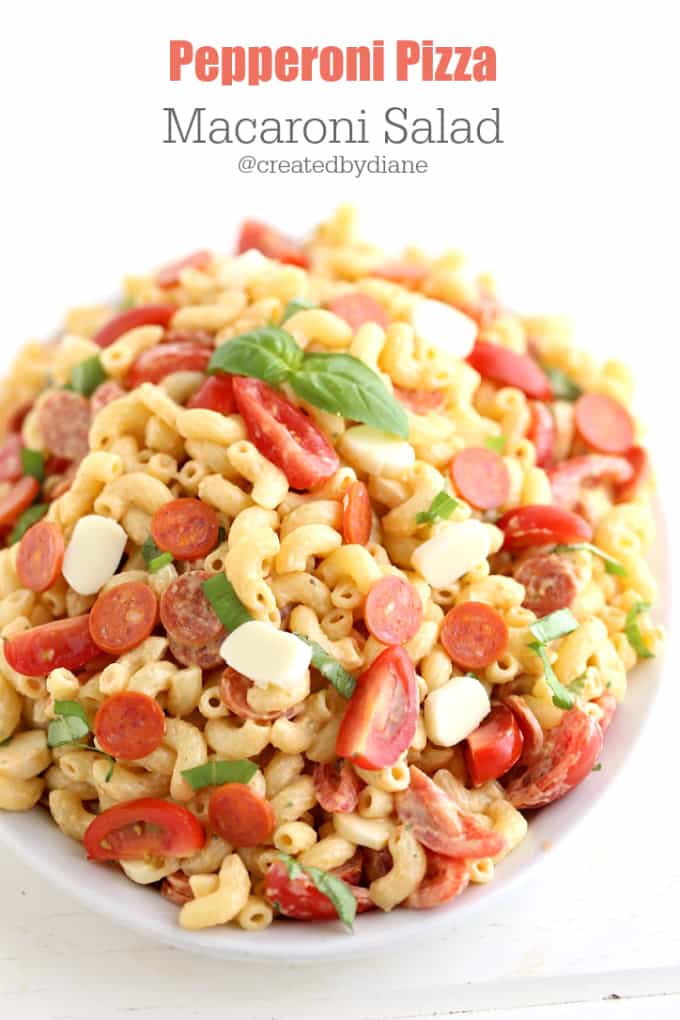 This delicious take on pizza will soon be everyone's favorite!
Thanks so much for stopping by to see this recipe!
Sharing this post is appreciated and encouraged. Use the share buttons at the top and bottom of the post, there are many options to all your favorite social media channels and you can also email it to a friend. Print out the recipe to enjoy it on your next kitchen adventure. Please don't copy and paste the full post, it's prohibited without written consent from me. Recipes including wording and photographs are Copyright of createdby-diane.com.
Please enjoy this recipe and click here to sign up for email updates to receive recipes in your inbox.