Bacon, lettuce, and tomato…. it's one of the most delicious sandwiches ever, now you can enjoy it ANYTIME, even on the go, at a bbq and perfect for a midnight snack!   
BLT Macaroni Salad
Don't miss one delicious recipe and get my FREE e-cookbook click here!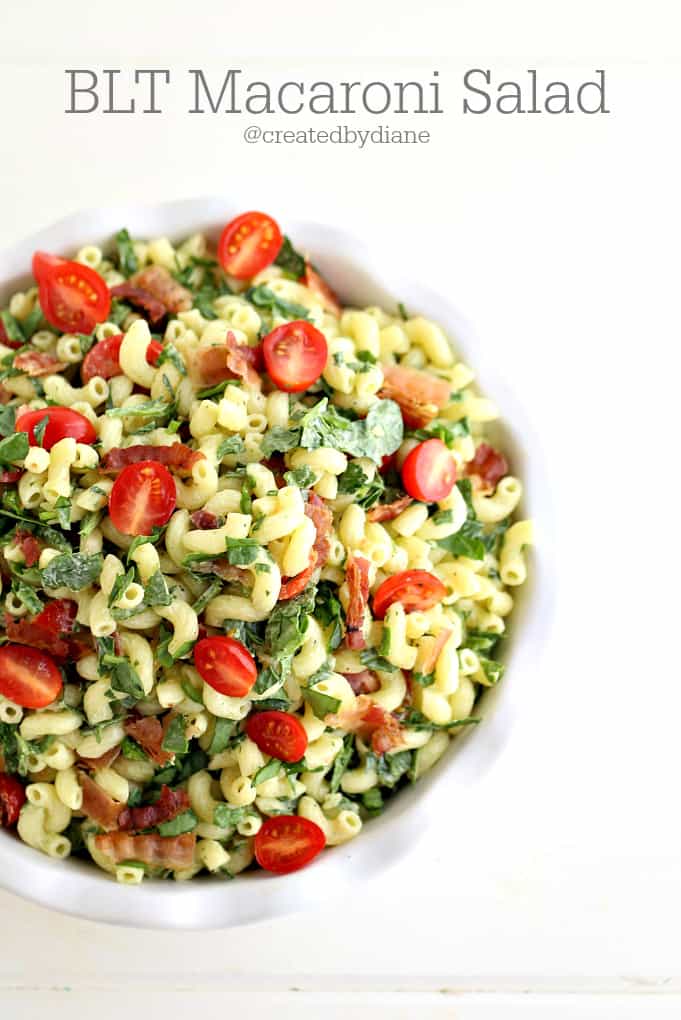 It's no secret how much I love pasta and there are so many reasons this will be making it's way too many get-togethers for MANY years to come.
Most macaroni salads as  you know are mixed with mayonnaise, this one is a little different.
There is mayo in this dish, I made it homemade, it's really easy and here is my post on how to make homemade mayo I did adjust a few things instead of lemon juice, I used lime juice and I added a bunch of basil, oh it's so delicious!
There is fresh spinach, tomatoes and of course bacon.
I used precooked bacon, I always have it in the fridge. I am someone who thinks bacon goes with just about EVERYTHING! Of course, you can cook up come bacon if you don't have a stash of bacon in your fridge already cooked like I do, I don't understand why everyone doesn't have a fridge full of bacon and oh let's say…..cheese, two of my favorites!
I prefer my macaroni salads and pasta salads with a minimal amount of mayo, I'll let you know how much I've added, and also let you know, you can add more if that is more to your liking.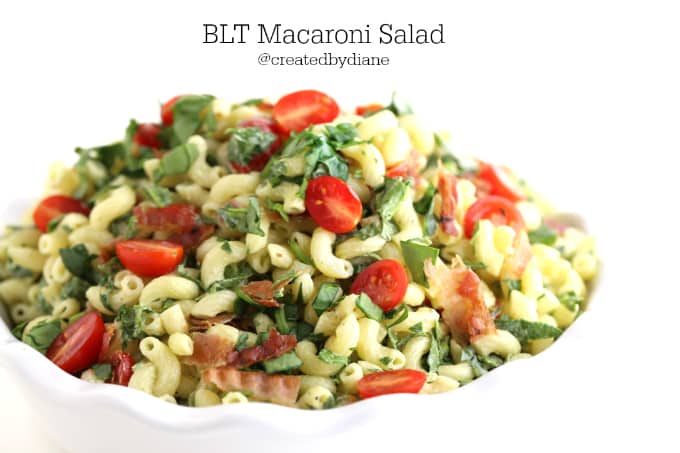 I never tire of a new tasty pasta salad, perfect for potluck get-togethers, parties, to have in  the fridge for lunches, and this one is great for brunches too.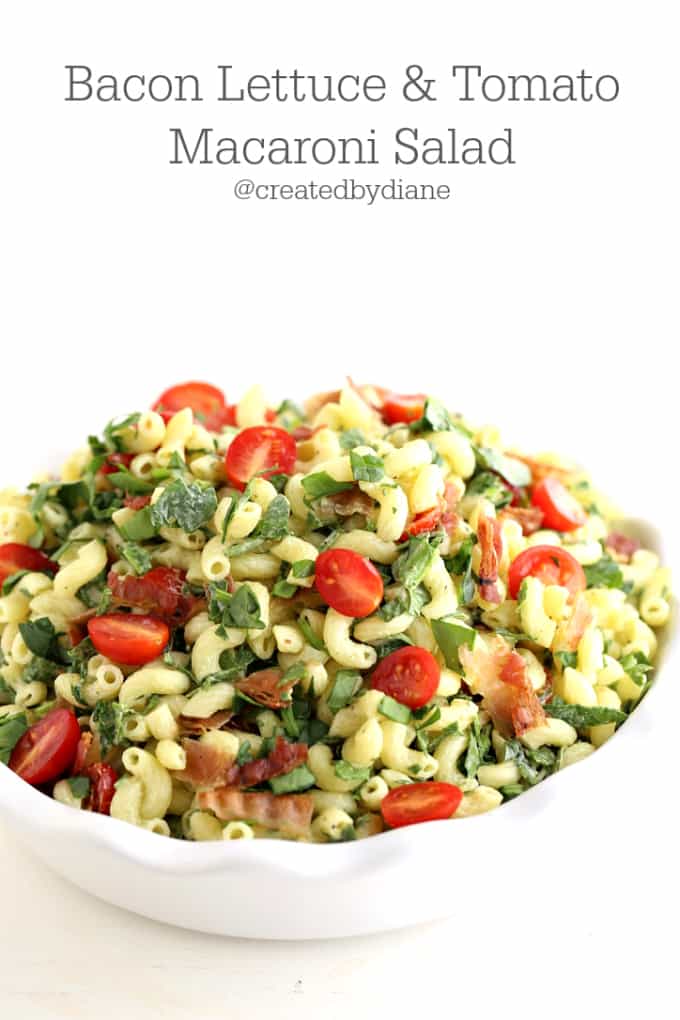 This just screams eat me! Don't you think?!?
I love making pasta salad even if we aren't going to a party or bringing it somewhere. It's great to have a dish full of food in the fridge to eat anytime!
BLT Macaroni Salad
Ingredients
1 lb macaroni pasta
3 cups fresh spinach chopped
12 grape tomato but in quarters
12 pieces cooked bacon cut into pieces
Homemade basil mayonnaise recipe follows, if you don't want to make it use purchased mayonnaise and add 10 leaves finely diced basil.
Add more mayo if you prefer.
Instructions
Cook macaroni noodles according to package directions.
Rinse noodles with cold water.
While noodles cook, prepare flavored mayonnaise.
Mix mayonnaise with noodles.
Stir spinach, tomatoes and bacon into noodles.
refrigerate 1 hour for beat flavor.
basil mayonnaise
Ingredients
1 cup oil
2 egg yolks
1/3 cup lemon juice (or vinegar)
1/2 teaspoon salt
10 leaves fresh basil
Instructions
With an immersion blender in tall cup whip oil egg yolk and lemon juice, salt and basil leaves.