This dip is not only so pretty… it tastes fabulous. It only takes a  few minutes to make this roasted beetroot hummus, it gets it's color from the roasted beet, with that flavor and combined garlic and beans this is a winner.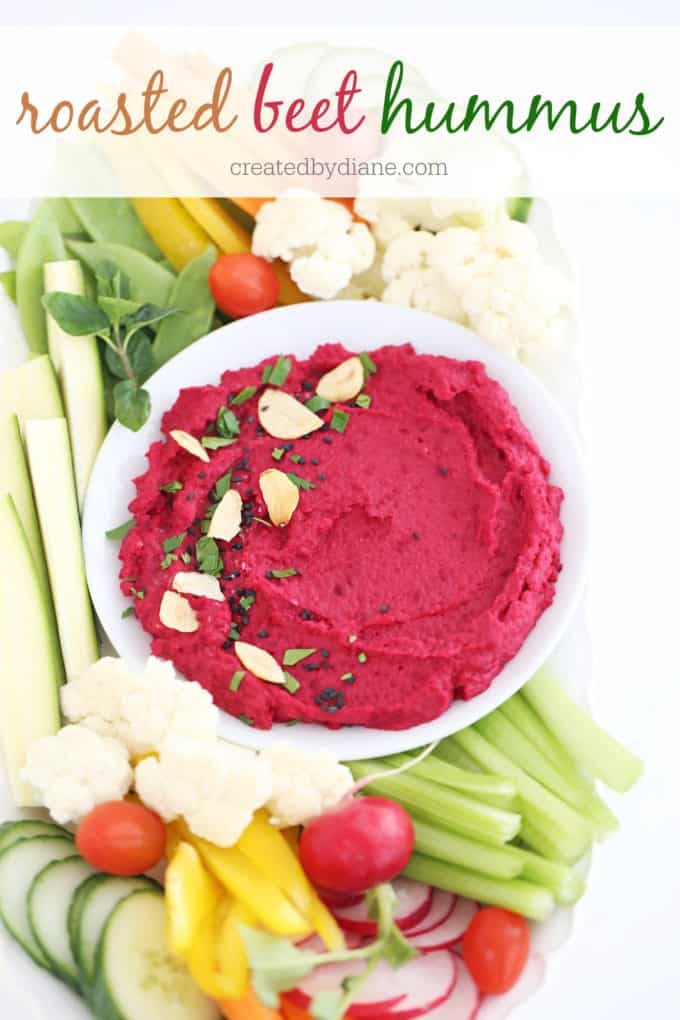 If there is one thing I love it DIP,
really if there is dip…
count me in. And this dip is extra-ordinary…
it's full of flavor it goes beyond basic hummus…
and I can't get enough of that gorgeous flavor.
It's full of garlic, YUM!
Since most people don't have tahini on hand… this recipe used sesame seeds instead. If you want more sesame flavor, add a teaspoon of sesame oil into the recipe… I did it the last time I made it and it was so yummy, but still delicious without.
Cut up all your favorite vegetables to serve with this great hummus recipe.
How do you make hummus from scratch?
Using a food processor you just puree drained chickpeas or your favorite bean, white beans work well here too. Add lemon juice, salt, and pepper to taste. Add tahini if you prefer, I find most people don't have it on hand (adding sesame seeds give this a similar flavor) so you can keep it as simple as you like it. This recipe gets so much delicious flavor from the roasted beets, it only takes a few minutes to roast a diced up beet and what a gorgeous color it ads to this dip. For the garlic, add garlic to the pan when you roast the beets or use roasted garlic that is dehydrated for a really intense flavor.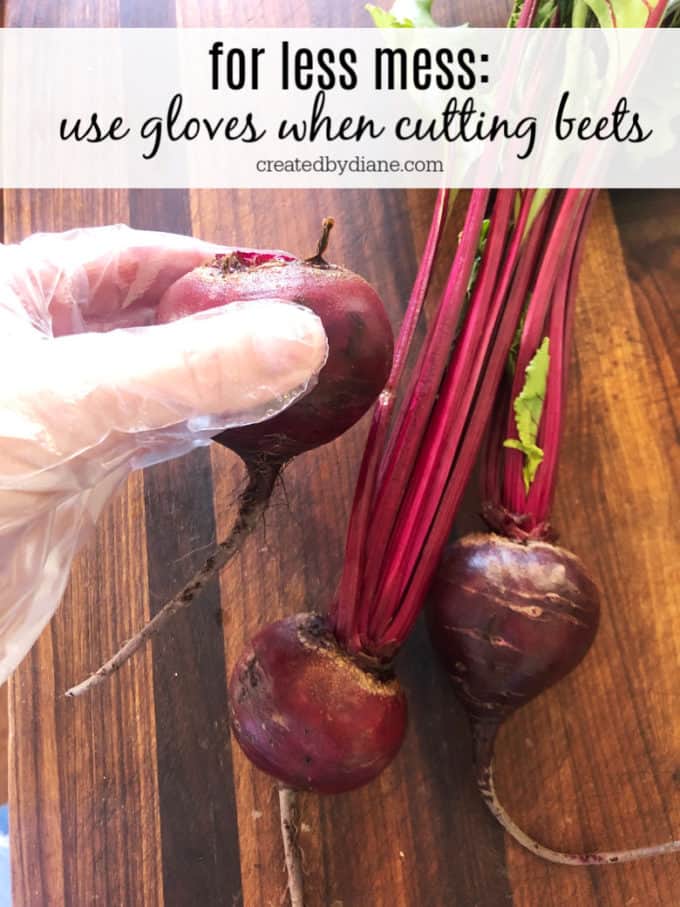 Beets can be messy, to avoid the mess I wear gloves while I peel, chop, and put the beets in the pan to roast them.
*you can use the beet leaves under your veggie son a platter, or add them to a veggie smoothie, or use them in a salad, or in a soup.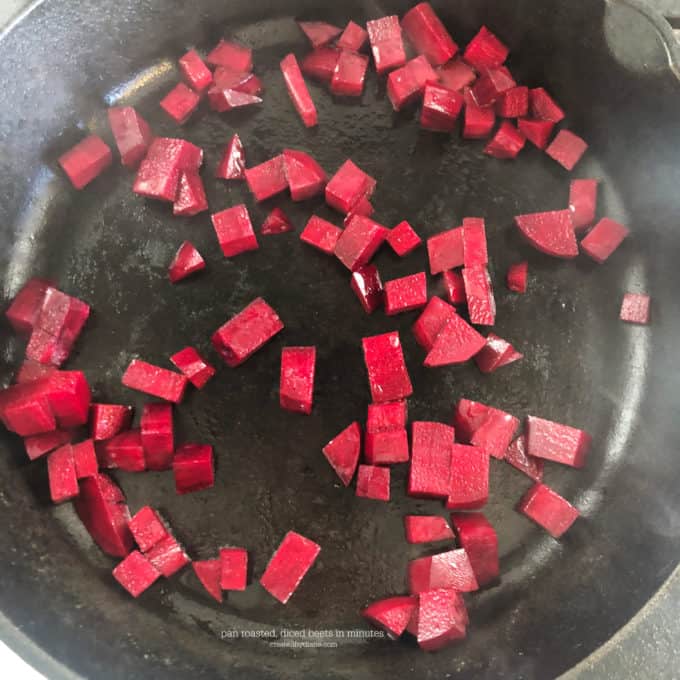 By dicing the beets small they will cook very quickly, placing them in a hot skillet will roast them nicely. After you cook them for a minute to two, cover the pan with a lid and allow them to become tender so they mix smoothly.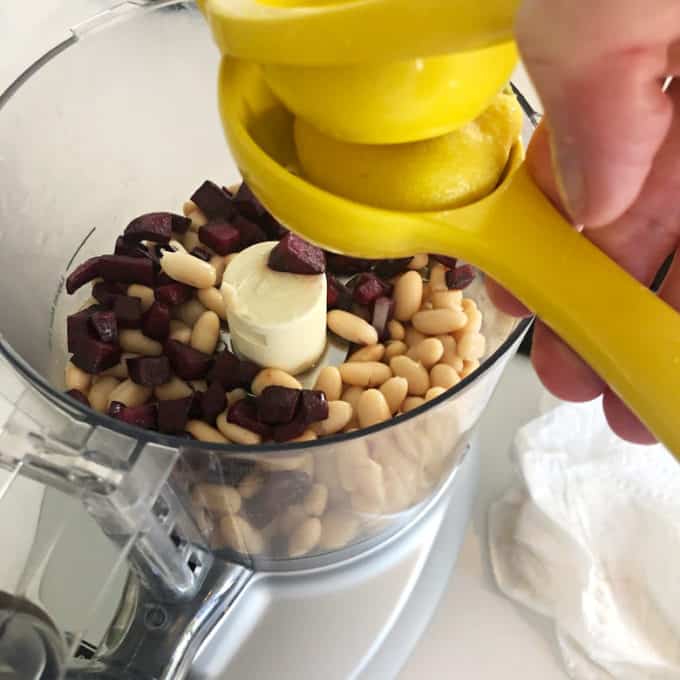 What are the ingredients for this hummus?
beans
roasted beets
lemon juice
garlic
sesame seeds
oil, drizzle it in as it processes.
Add salt and pepper to taste.
As you blend the ingredients int eh food processor you'll drizzle in some oil until the mixture is smooth, if it's too thick you can always add a tablespoon or two of water to thin it so it's very creamy.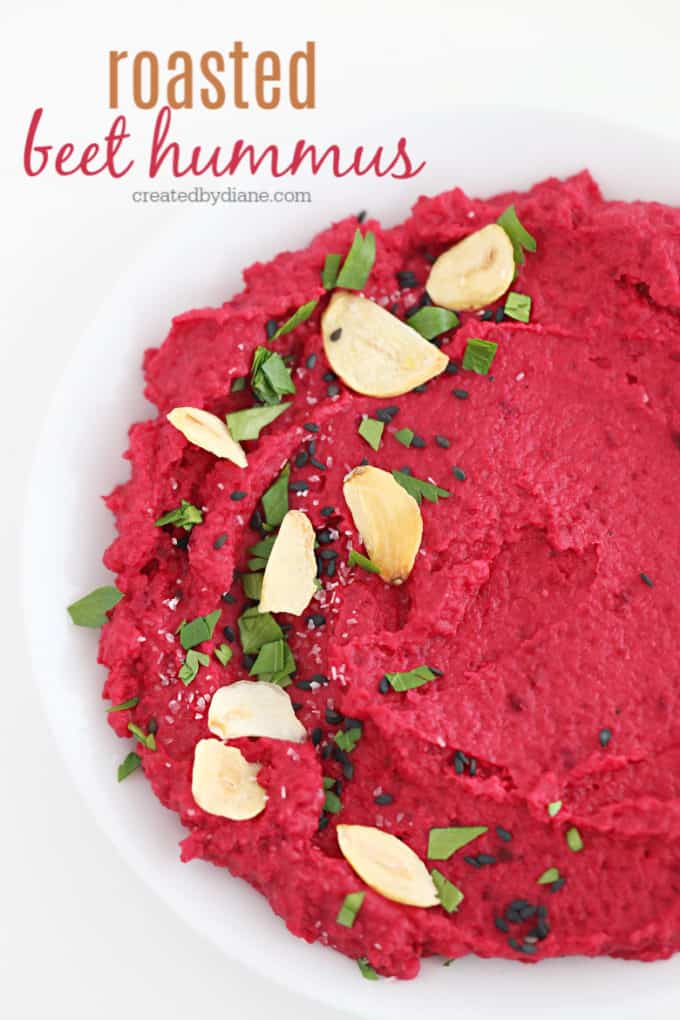 Is beet hummus good for you?
Yes, it's high in fiber, it's low in oil and salt. The great party about making hummus at home is you can adjust the ingredients accordingly.
Can you freeze beet hummus?
Yes, you can freeze hummus. Place it in a bag and remove the excess air, or in a container and place plastic wrap on top. You can freeze small portions which make it great to thaw out quickly to enjoy delicious dip anytime.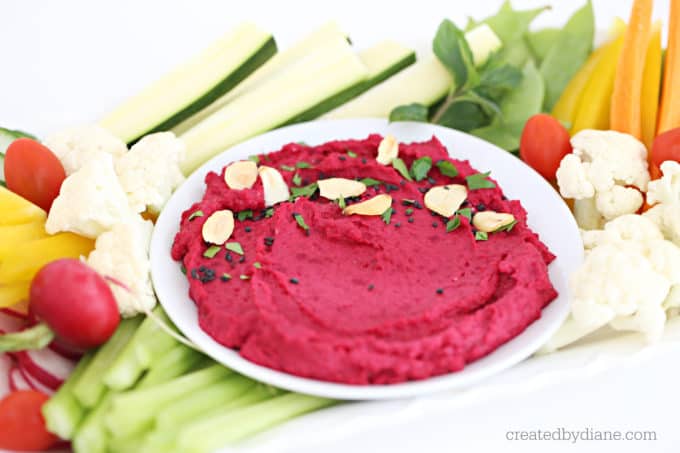 What else goes with this roasted beet hummus?
Hard-boiled eggs, chicken beef area ll good to dip into this. Slather it over bread or use it to spread on the bread of your favorite sandwich. It'll really elevate the flavor to a veggie sandwich, and will complement just about any protein added as well.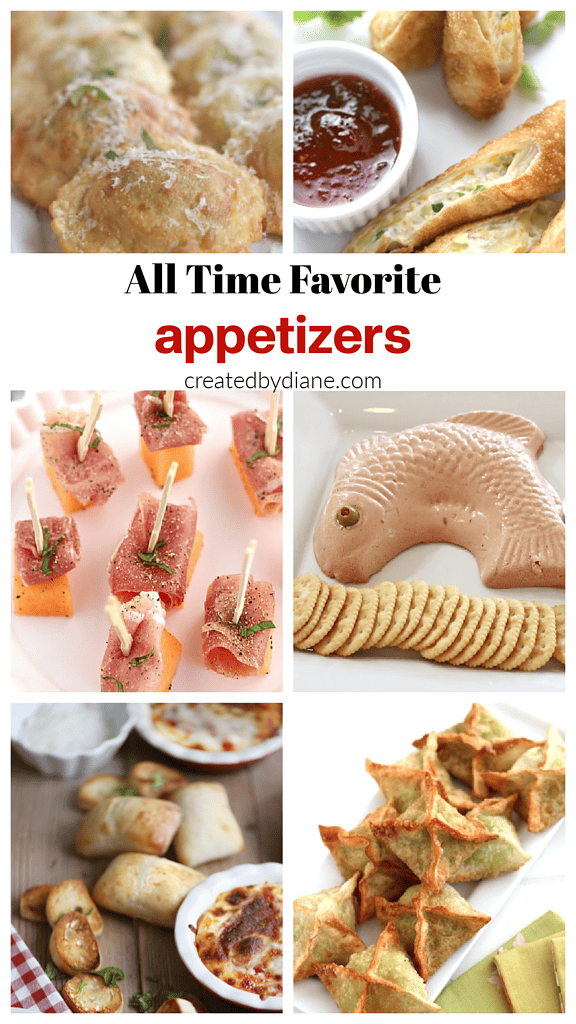 roasted beet hummus
Easy homemade roasted beet hummus in minutes with chickpeas or white beans, no tahini needed.
Author:
Diane Schmidt Created by Diane
Cuisine:
American, Mediterranean
Ingredients
1 beet, peeled and diced
1 can beans, chickpeas or white beans, drained and rinsed
1/2 lemon, juiced
2 cloves garlic, or 1 tablespoon garlic paste
1 tablespoon sesame seeds
2-4 tablespoon oil
water if needed to thin out the dip
Instructions
In a hot skillet cook beets until they are tender, it only takes. a few minutes if you cut them small.
Place the beans, lemon, garlic, sesame seeds in a food processor and process while you drizzle in the oil start with 2 tablespoons add more if needed for the mixture to be smooth.
You can add a tablespoon or two of water to thin the mixture so it's not pasty.
Spread into a dish, add some diced green onion, roasted garlic slices, and sesame seeds on top.