Quick Pickled Jalapenos is a spicy treat that can be used in many different ways, let's explore them!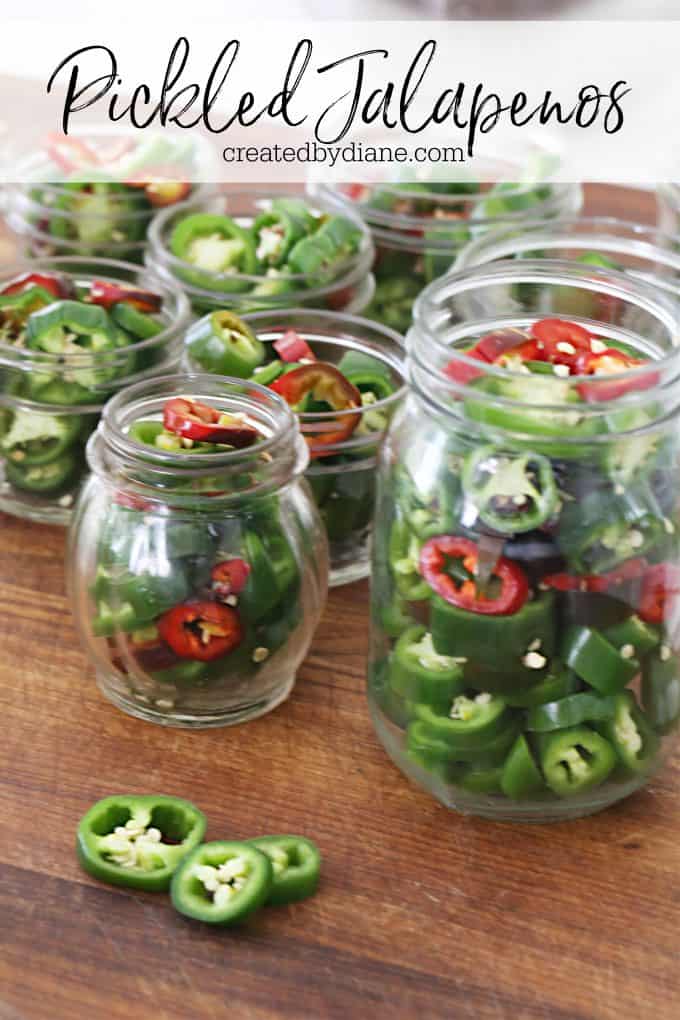 I do not have a green thumb…
however, the one thing I've managed to grow is jalapeno peppers!
And this year's crop is actually from last year's plants since they don't die off in the winter here in southern California. It's the one thing I can grow, jalapenos and herbs…
 It's amazing how varying the flavors are in different jalapenos some are spicier than others. I like adding in some red jalapenos for fun color, but want reed pepper will do it you can only find green jalapenos, but if you like lots of heat add in some Thai chilis… they pack some real heat.
I'm going to walk you through the simple process of quick pickling and then afterward talk about how you can mix it up!
I have lots of recipes that include jalapeños so if you're a jalapeño fan like me check these out: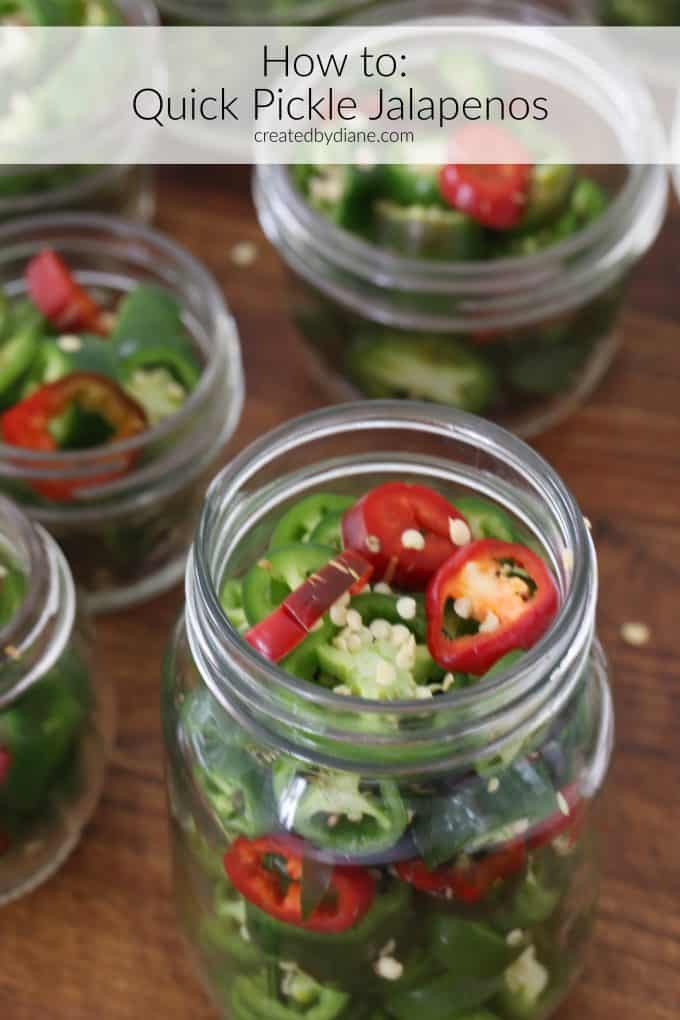 To begin you'll need:
16 oz jar

5 jalapenos

1 cup boiling water

½ cup white vinegar

Salt/sugar to taste ( or leave it out, I do and they taste great)
You'll need to slice up your jalapenos. For this, you'll want to wear gloves. Jalapenos contain capsaicin, and it's this small ingredient that packs a big punch. Any of it on your skin is easily transferred to your eye when you go to itch it. It doesn't feel good at all, so glove up!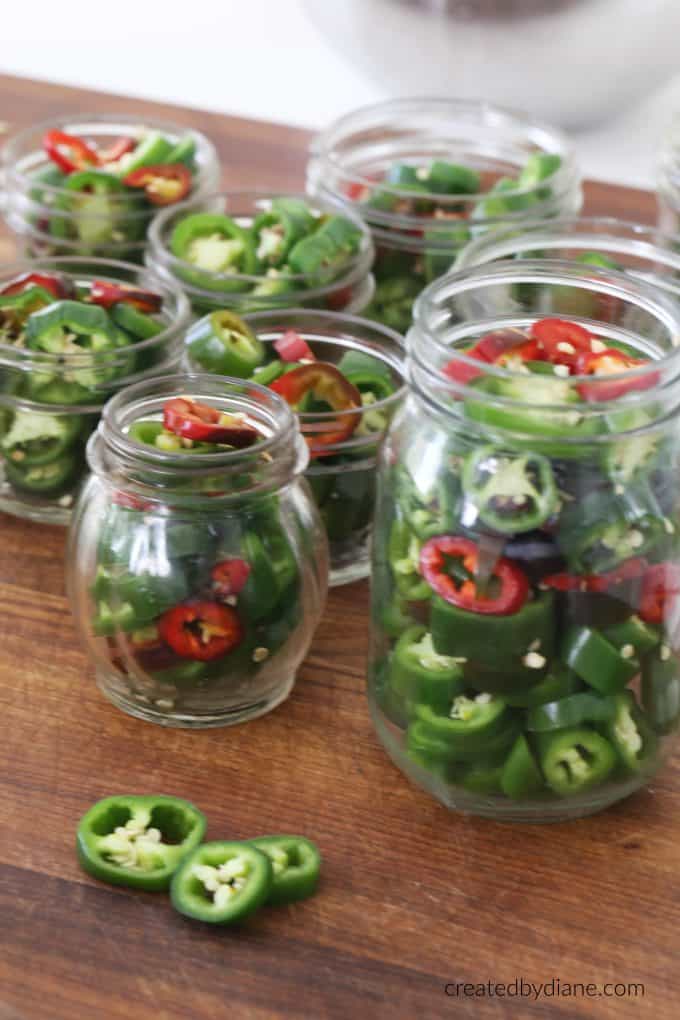 Since we eat with our eyes, as well as our mouths, adding a bit of the red jalapenos can brighten it up. If you're using your own jalapeno plant, just leave a few green ones on for a bit longer and they'll turn bright red. Or simply buy some red peppers at the store. And this works for any variety by the way – banana peppers, shishito peppers, and more. 
Moving on …
once your jalapenos are sliced,
place them, your water, and vinegar in the jar.
You can add salt to taste, or for a sweeter side – add 1 teaspoon of sugar. Place the lid on the jar and allow it to cool at room temp.
Place in the fridge. Can be stored for up to 4 weeks.
That's the basics, now for the add-ins and varieties:
You can add in whatever you like really, that's the great thing about this recipe! I personally love adding in some garlic cloves. But other ideas are peppercorns, mustard seeds, or even some diced onions or carrots for added color and flavor. Grape tomatoes and oregano is a great Italian take on this pickling recipe.
Using this recipe, you can pickle whatever your taste buds desire. Experiment with flavors and textures! And then use them along with different recipes, or offer them as an accompaniment to whatever you're eating.
For example, I tend to keep it simple and put the pickled jalapenos on nachos and quesadillas. It's also fantastic on these Shredded Beef Tacos. But they could also be used on these Avocado Stuffed Turkey Burgers for an extra kick. They're a great topper for hot dogs, too. And pickled vegetables go great on salads – both pasta and green salads. The possibilities are endless.

How do I pick out the best jalapenos?
Younger peppers will have a smooth texture and are bright green, or red depending on your color choice. Older ones may have white lines. Pick smooth firm jalapenos.
Is there a way to tell how spicy a jalapeno will be?
It can be really hard to tell, before cutting into them. Once you slice it you can almost smell the spiciness immediately. 
If the jalapenos are really spicy, you can choose to dice the peppers small, or slice them as I did and then add some sugar to the mixture.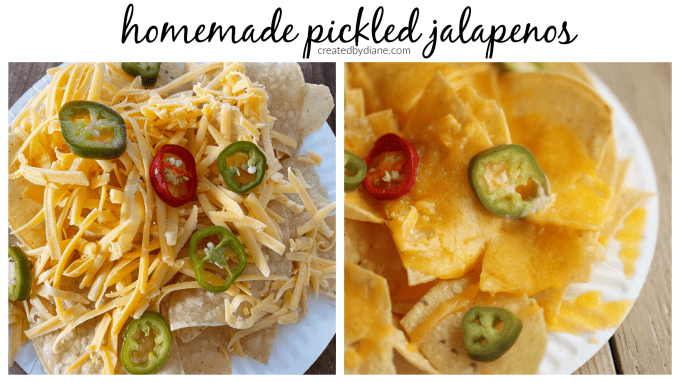 There are so many things to add pickled jalapenos to, like sandwiches, tacos, and of course a plate of nachos, from decked out loaded nachos to a simple plate full of tortilla chips and cheese… so yummy!
Pickled Jalapenos
Pickled jalapenos are perfect for all your nacho and Mexican food needs.
Author:
Diane Schmidt, Created by Diane
Ingredients
16 oz jar
5 jalapenos
1 cup boiling water
½ cup white vinegar
salt/sugar to taste
Instructions
Slice jalapenos.
Place them in the jar with the water, and vinegar in the jar.
Add salt to taste, or for a sweeter side - add 1 teaspoon of sugar (up to 2 tablespoons if you want them sweet)
Place the lid on the jar and allow it to cool at room temp.
Place in the fridge.
Can be stored in the fridge for up to 4 weeks.
I have a couple jalapeño plants that have been producing for over 2 years now, we get as low as 30 degrees in the winter and they still survive. I think I'll plant a new jalapeño plant this year, be used everyone lives the quick k pickles jalapeños so much and prefer them over the very soft store bought varieties, I know I'll be making them more often.