Get ready to indulge your decadent side with this Chocolate Chocolate Chip Skillet Cake! No one will ever guess it's made with a cake mix.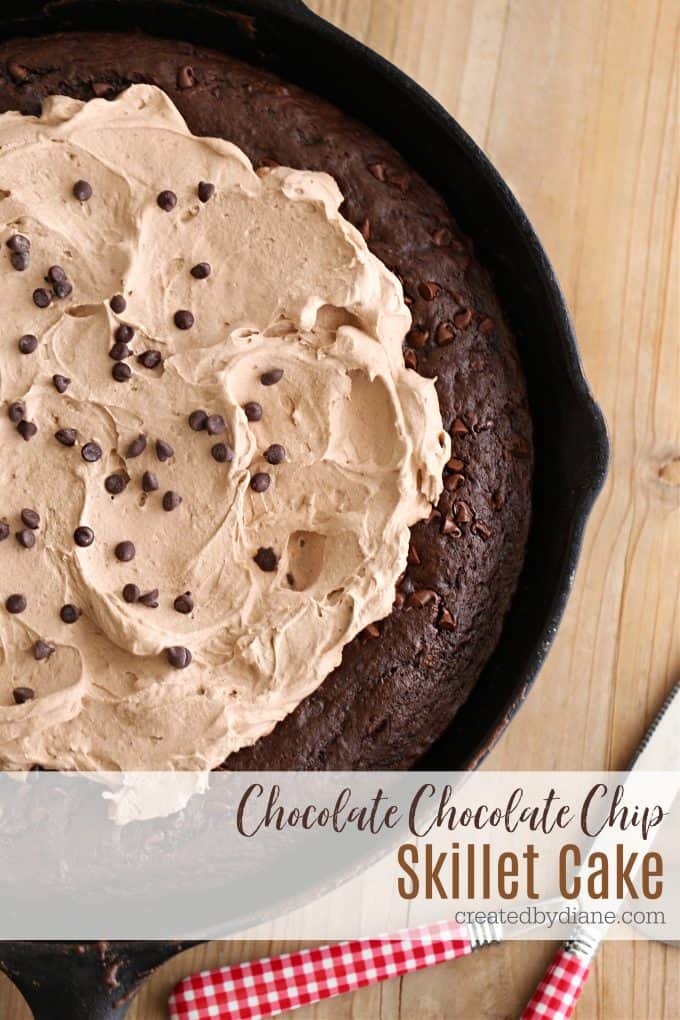 What makes this dessert so indulgent isn't just the double dose of chocolate, but also the whipped cream topping which completes the perfect union.
Baking a cake has never been easier! This recipe utilizes your cast iron skillet for both the mixing bowl and the baking pan, giving you a break on the dishes. And even though we will be using a cake mix, it has an amazing home-made taste.
The advantage of using a cast iron is that it becomes more seasoned with each use, which makes it ideal for baking cakes or this cranberry cornbread, this pizza, as food and baked goods aren't as likely to stick – translating to no broken cakes to patch up!
Be sure to check out my skillet meatloaf too.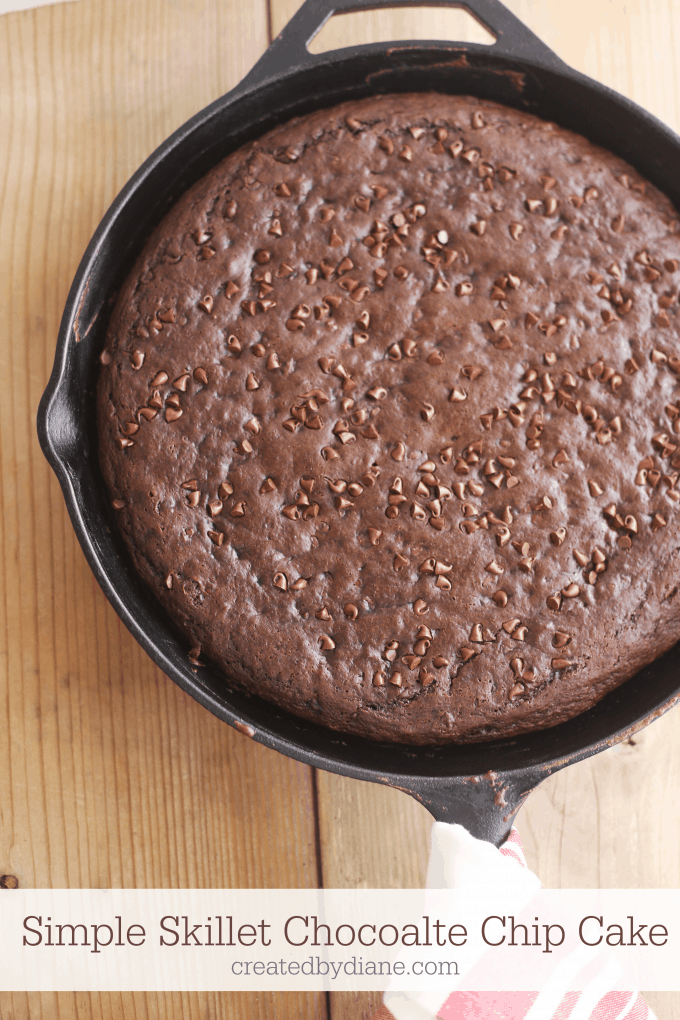 And serving this right from the skillet, gives this dessert a warm homey feel with a bit of rustic beauty.
Before we get to the gold, if this is your first-time using cast iron, or you aren't as familiar with using it, here's a couple tips to help you:
       

It gets hot quick and stays hot long after an ordinary skillet so watch your fingers!

       

You never, ever, NO, NEVER want to store your cake or food in it. Doing so may cause foods, especially acidic foods, to react with the iron, developing sour flavors. And moisture encourages cast iron to rust. So, once you've finished serving your cake, simply remove the rest and store it in an airtight container.
Now, on to the fun!
To get started, pre-heat oven to 350° and grab your 12" cast iron skillet, spreading the oil evenly on the bottom and sides, being sure to cover everything.
Here's where simplicity takes over – Pour the cake mix, oil, eggs, water, and pudding mix into the skillet and with a fork, mix all the ingredients until well blended.
Add the chocolate chips and mix them in, smoothing the batter evenly when finished.
Bake for 25-30 minutes or until the toothpick comes out clean.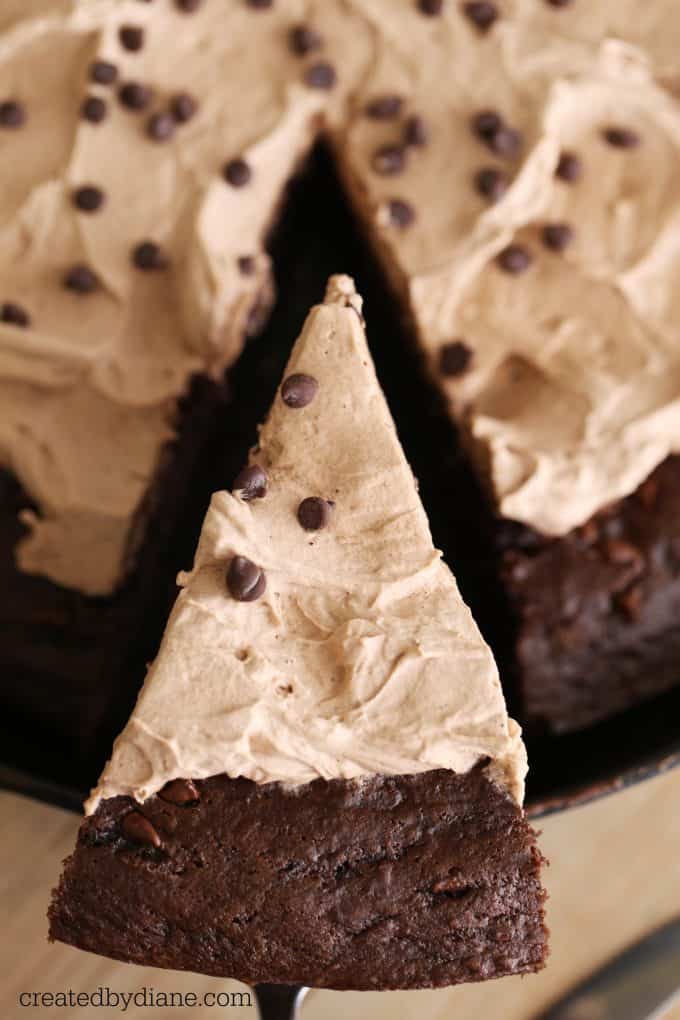 At this point it is extremely important to let your cake cool completely. Any amount of warmth will melt the delicious icing we are about to make. Be patient-your taste buds will thank you!
Next up is our crème de la crème… The fluffy chocolate frosting, it's made by whipping the heavy cream until thick and it forms soft peaks.
Add in the pudding mix and whip until light and fluffy.
Now spread on your cast iron skillet cake add some mini chocolate chips and serve!
Can I use a regular pan?
You can! This cake bakes beautifully in a 13×9 pan or similar size. I've also used a white corning ware dish and also used an 8″ round casserole dish that has the cake bake up extra thick, it takes a little longer to bake in that size.  
I don't do dairy, is there a substitute for the heavy whipping cream?
Silk makes a heavy whipping cream that you can pick up at your local grocery store! Just use in place of dairy whipped cream and substitute the ¼ cup milk for soy, coconut, or oat milk.
Another delicious option is to dust the cake with powdered sugar, it's really great that way too.
What's the best way to clean cast iron after use?
Cleaning your cast iron is critical to good cast iron health! So, avoid using excessive soap or steel wool as this could strip off the pans seasoning. And never use a dishwasher. (I keep hearing people who stuck their pans in the dishwasher and they rust, you'll have to restore the pan by scrubbing it with steel wool, and bake it with shortening a few times to gain a nonstick surface again.
To remove stuck-on bits, scrub the pan with a paste of coarse kosher salt and water. A firm plastic scraper or spatula, or metal chain mail if it has a really stubborn stuck-on food. Then rinse or wipe the pan clean with a paper towel.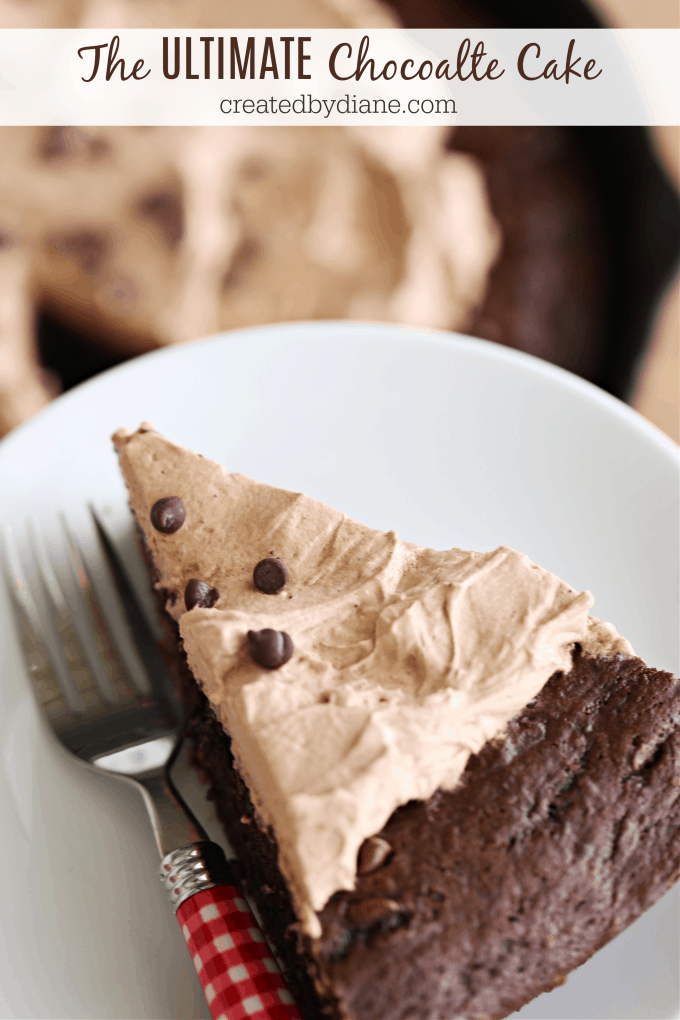 This recipe uses a cake mix, I have other chocolate cake recipes from scratch HERE and HERE if you need those.
HERE is the cast iron pan I use and love. and if you use yours as much as I use mine THIS is a must.
If you're looking for another great chocolate cake recipe look HERE!
Chocolate Chocolate Chip Skillet Cake
This easy chocolate skillet cake is made with a box mix but tastes like homemade. Moist and delicious and denser than a flurry cake with no substance. No bowl needed, just mix it in the skillet and bake.
Author:
Diane Schmidt Created by Diane
Ingredients
1 chocolate devils food cake mix (about 15.25 oz)
1 3.4 oz package instant chocolate pudding mix
1/4 cup oil (canola, vegetable, or avocado oil) I use avocado oil
1 1/4 cups water
2 large eggs
6 oz mini chocolate chips
whipped pudding frosting
1 cup heavy whipping cream
1/4 cup chocolate instant pudding mix ( or 1/4 cup melted cooled chocolate)
1/4 cup milk (no need to add if using melted chocolate)
1-2 tablespoons mini chocolate chips
Instructions
Preheat oven to 350°
In a 12" cast iron skillet spread the oil over the bottom and sides by moving the pan around so the oil coats them both.
Pour the cake mix, oil, eggs, water, and pudding mix into the skillet.
With a fork, mix all the ingredients until blended.
Add the chips and mix them in.
Smooth the batter evenly.
Bake the cake for 25-30 minutes or until a toothpick comes out clean.
Make the frosting by whipping the heavy cream until it's thick and soft peaks form, add in the pudding mix and whip until fluffy, or use melted cooled chocolate.
Allow cake to cool.
Spread the frosting over the top, add mini chocolate chips and serve.
Don't store the cake in the skillet, slice and remove extra cake and store it in the refrigerator.
Notes
This cake can be made and baked in an 8" square pan or in a 2.5-quart casserole dish it'll rise very high. If you bake it in a 13x9 pan or similar it'll be 1 1/2-2 inches high. Adjust baking time the thicker cake will take longer to bake.