I love cast iron cooking, it perfectly cooks shrimp with crispy edges and adds a ton off flavor to this dish!   
That flavor from the cooked shrimp that clings to the cast iron skillet adds great flavor to the tasty cream sauce.
I have a friend that's a vegetarian and thankfully for me eats shrimp and fish.
I could totally be a vegetarian…
everyday…
for lunch!
I think I would totally miss hamburgers, meat, and chicken at dinner time, but with fish and shrimp for lunch and all sorts of options like eggs I could totally do it for lunch!
This dish is great for lunch or dinner…. lucky me!
I love shrimp!
I wanted to create a flavorful dish when she came over for lunch the other day.
We both adore pasta… no low carb diets today!
Pasta, cheese…. oh yes CHEESE and shrimp and lots of yummy flavor goes into this dish.
I created a one-dish skillet meal that combined these three favorites, and let me tell you, we each had two very large portions. We were stuffed and only wish our bellies could accommodate more!
I even sent her home with leftovers, and she told me it was happily consumed for dinner.
Yep, I knew I had a winner here.
I love cast iron cooking because cast iron has excellent heat retention properties, which means it's excellent for searing fish and meats, no need to go out in the cold to turn on the grill, just fire up the cast iron and get cooking.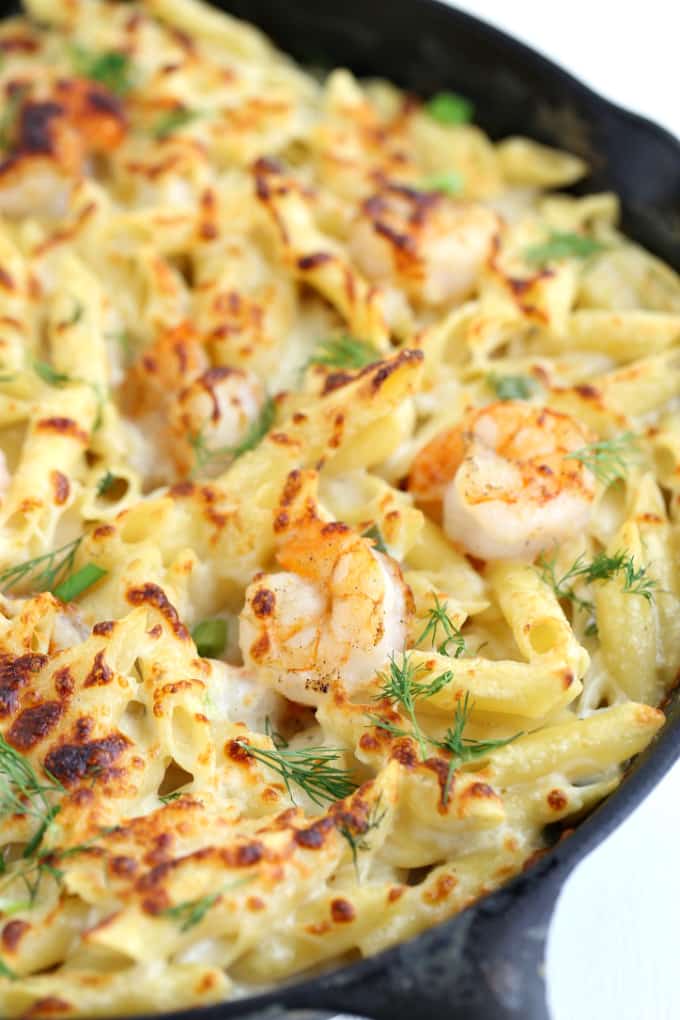 Now about the shrimp…
yes they sell pre-cooked shrimp for lots of great dishes, but oh the flavor of cooking the shrimp in the cast iron skillet,
all that wonderful shrimp-y crustiness adds to the flavor of the sauce.
I bought extra large shrimp, big shrimp are great in this dish.
Kind of reminds me of the drippings from the turkey pan at Thanksgiving, which creates that rich flavor for the gravy.
I used penne pasta, but any similar-sized pasta will work just as well. This size works well to hold onto all that cheesy sauce.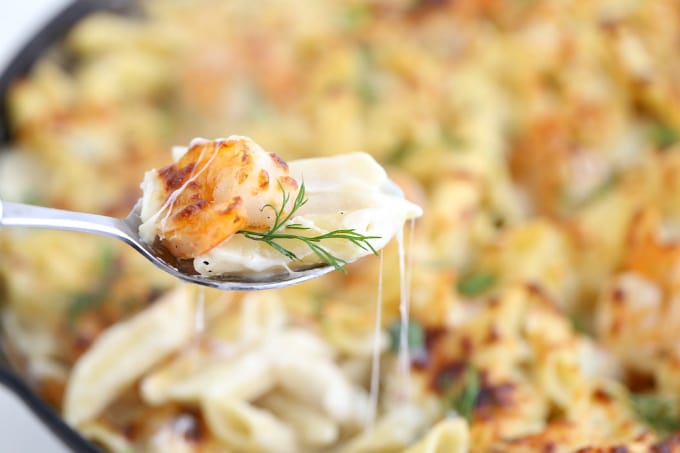 Don't forget the crowning glory, mozzarella cheese. 
It's stringy and smooth and doesn't overpower with flavor for this dish,
I also use some romano cheese, it adds a bit of saltiness and browns nicely on top.
You may have to force yourself to take this last step, you'll put the cast iron pan under the broiler to get the cheese all browned and it will melt the cheese on top and add even more flavor and texture and it's worth the wait… then dig in!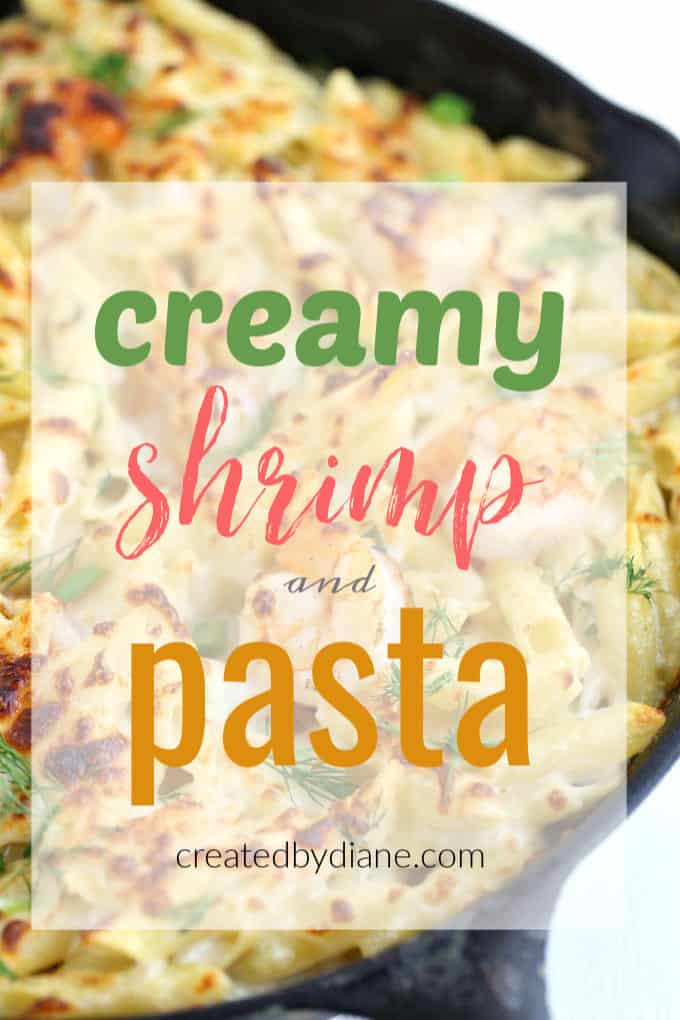 THIS is the skillet I use and love and I use it so much I have 3 of them and more in other sizes too, it's a kitchen must have.

Creamy Shrimp and Pasta
Ingredients
1 lb penne pasta
1 lb extra-large raw shrimp, peeled and deveined
2 tablespoons butter
2 tablespoons flour
1 1/2 teaspoons old bay seasoning
1/2 teaspoons salt
1/4 teaspoon black pepper
3 cups milk
2 cups mozzarella cheese
1/2 cup finely grated romano cheese (I used a Microplane grater, so the cheese is super fluffy, not packed in the measuring cup)
fresh dill
Instructions
Cook pasta according to package directions.
Heat a large cast-iron skillet on high add a teaspoon of oil.
Add in the shrimp and cook them on each side for a few minutes, they don't take long to cook.
Remove shrimp from skillet, you'll add them back in at the end.
Add 2 tablespoons butter to the skillet on medium-high heat, and whisk in the flour until combined.
Add in the old bay seasoning with salt and pepper.
Then slowly add in the milk and whisk and cook until smooth, then add in 1 -/2 cups mozzarella cheese and 1/4 cup romano cheese reserving the rest for the top to brown under the broiler.
Mix the pasta into the sauce and add back in the shrimp.
Top with remaining cheese and place skillet under the broiler on high for 2-3 minutes.
The cheese will brown, be sure to watch it so it doesn't burn.
Top with fresh dill and serve.