This almond cake recipe from scratch will win you over big time, it's topped with toasted almonds and almond-flavored cream cheese frosting.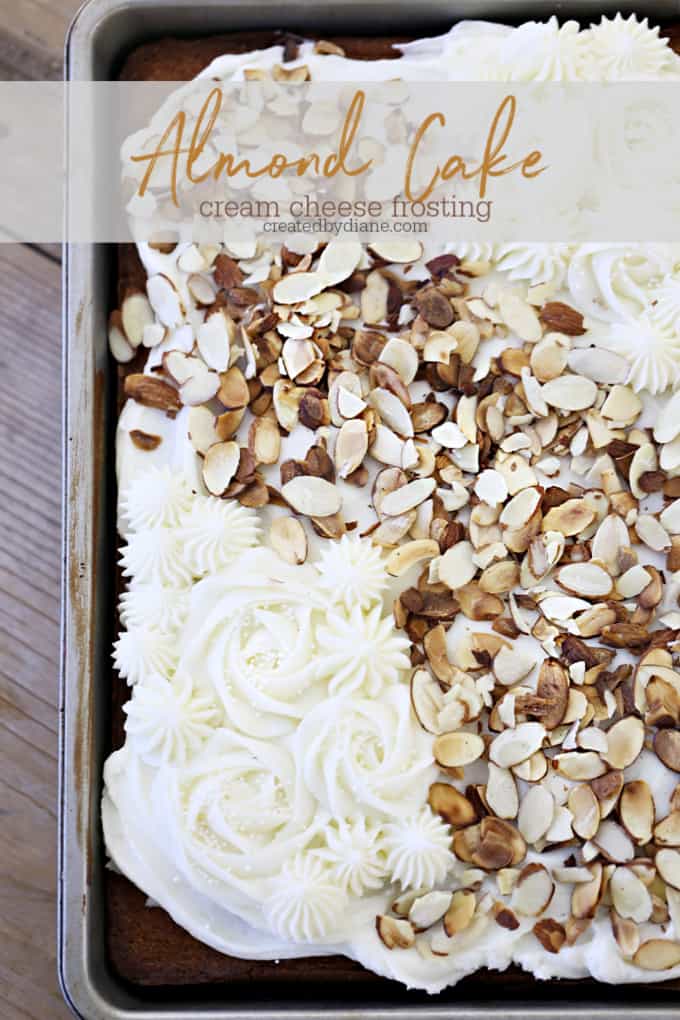 Almond Cake… Cream Cheese Frosting… OMG so yummy!
It's creamy, buttery, and perfectly moist. 
This recipe simple enough to whip up for a mid-week dessert.
I call this my southern comfort cake, but it's really an almond cake. The Southern Comfort is just an added deliciousness that makes this cake irresistible.
If you don't have or want to use Southern Comfort you can substitute Rum or Amaretto, or use a teaspoon of rum or maple extract with 1/4 cup water. But trust me the Southern Comfort makes this cake amazing!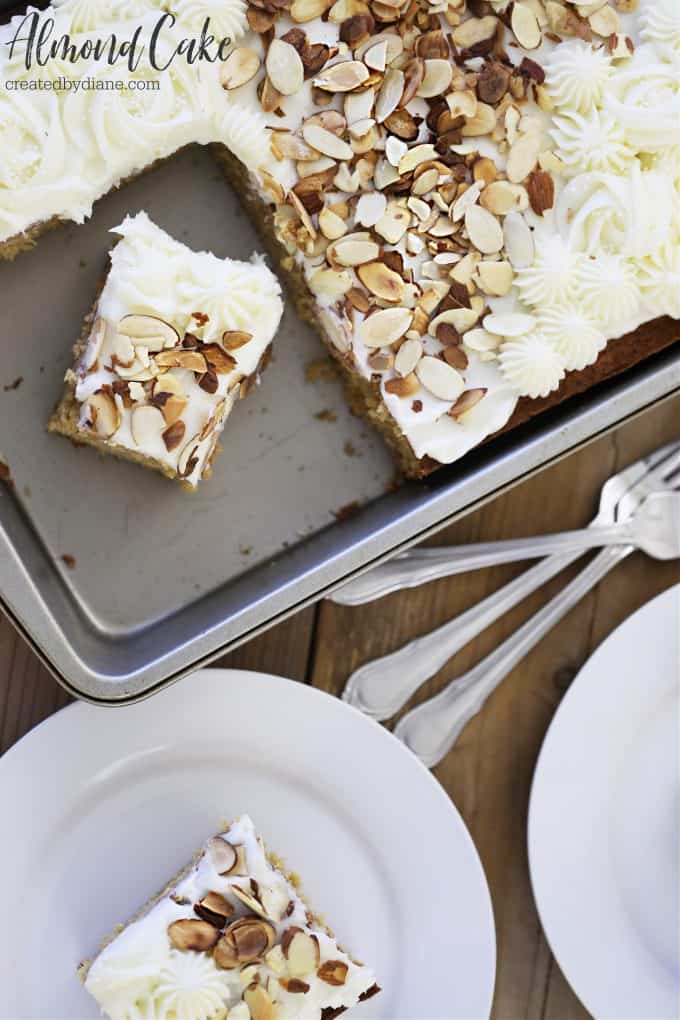 It's been so cold and dreary outside…it's that time of year when I'm ready for a glimpse of spring.
Enter…this Almond Cake. As much as I love Pumpkin Spice and everything cozy, the flavors of this cake make me look forward to sunnier weather and celebrations.
If you are looking for some pumpkin items check out my Pumpkin Scones and yummy Pumpkin Syrup recipe.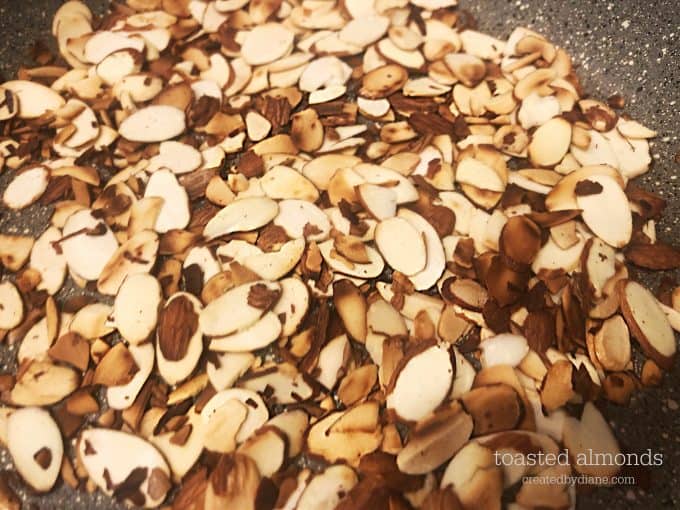 Toasted almonds top this cake and with good reason, it adds so much added flavor, just heat a pan to medium-low and add the almonds, stir them and heat them until golden, remove from heat and cool the almonds before adding them to the top of the cake so the frosting doesn't melt.
Almond Cake is always an absolute favorite. The flavor is just so buttery and distinctive, eating it feels like a special occasion. It's always been my opinion that the best desserts feel like a celebration when you eat them, and this Almond Cake with Cream Cheese Frosting Recipe does just that, two great flavors in every bite!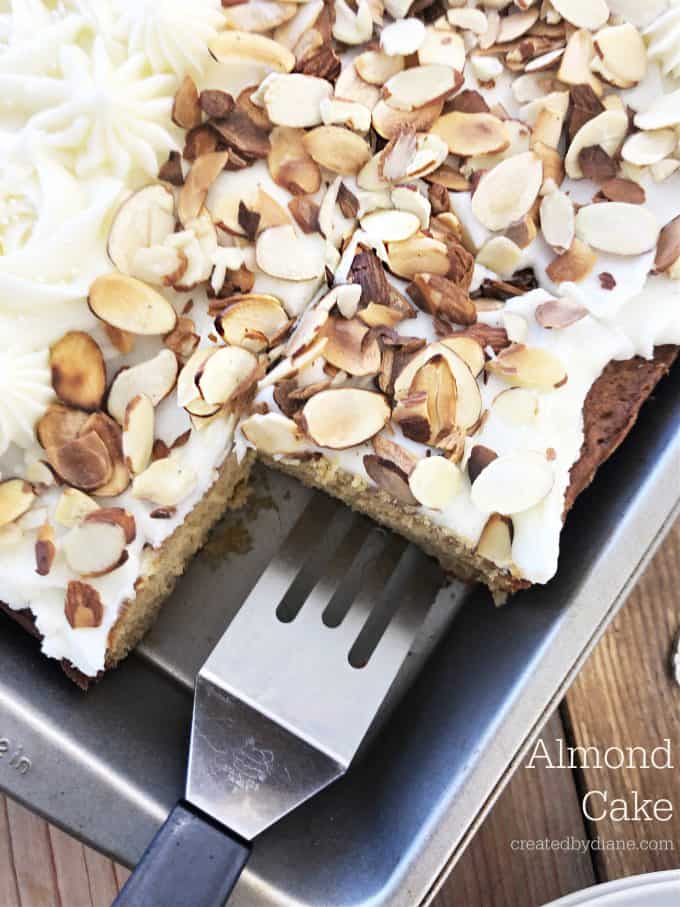 Even if you don't care for almonds you may be surprised to find that you love this cake.
Almond extract has a buttery flavor that can be hard to pinpoint.
You'd be surprised by how many people will ask, "what IS that amazing flavor?" when they try this Almond Cake for the first time!
Does the alcohol bake-off in this cake?
The simple answer is mostly, but there are options if you don't want to use alcohol in baking this cake. You'll notice that this recipe calls for ¼ cup Southern Comfort or Amaretto (or rum, etc). While MOST of the alcohol will evaporate during the cooking process, some will still remain in the baked cake. But remember no one is eating the whole cake. If you need a cake that is completely booze-free, substitute ¼ cup water mixed with a teaspoon of rum extract for the alcohol in this recipe.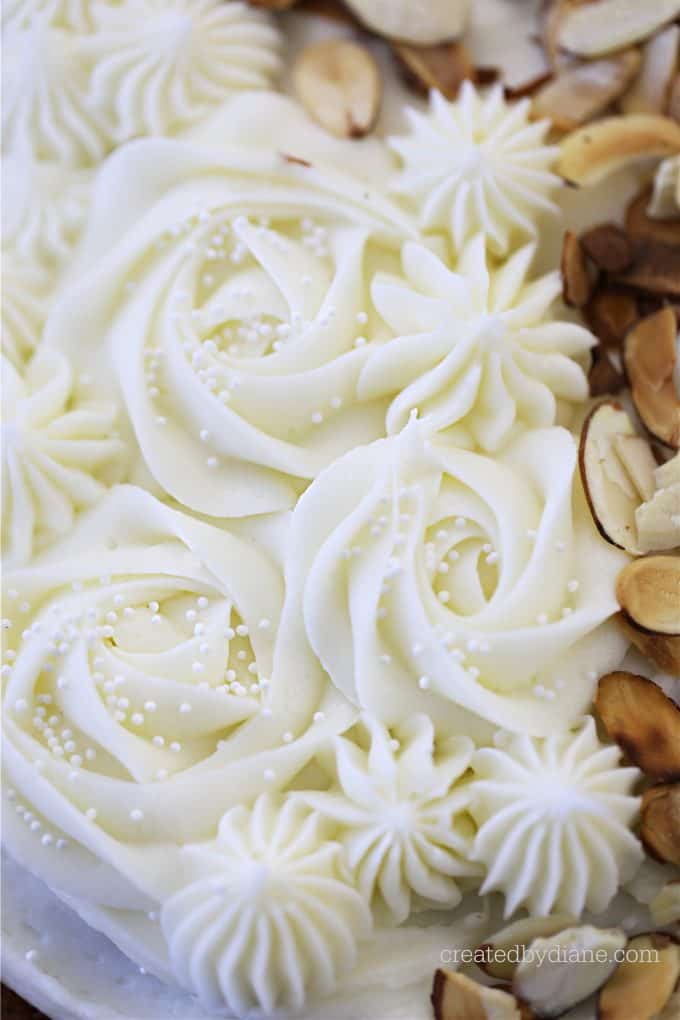 How do you decorate this cake?
For an elegant cake worthy of a bride, garnish with toasted almond slivers, roughly chopped and toasted almonds, or a combination of both. If piping swirls and borders isn't in your wheelhouse, consider a border of maraschino cherries (add these right before serving) that have been dipped in melted white chocolate. Coconut also makes a fantastic topping for Almond Cake with Cream Cheese Frosting.
I used a 2D tip for the roses and a couple of star tips for the other dollops of frosting.
How should I store the cake?
This cake can be stored unfrosted and covered at room temperature for 2 days. Due to the dairy in the frosting, it should be refrigerated after it's been frosted. Covered in the refrigerator, this cake will be fresh for about 4 days.
To freeze this cake, simply cool to room temperature after baking, wrap UNFROSTED cake tightly in plastic wrap (you can keep it in the pan), and a layer of foil. Thaw at room temperature for about 3 hours before frosting and serving. 
If your cake is already frosted and you want to freeze some for a later time, I did just that. I wrapped the frosted cake in a freezer plastic bag, it thawed out nicely and tasted great.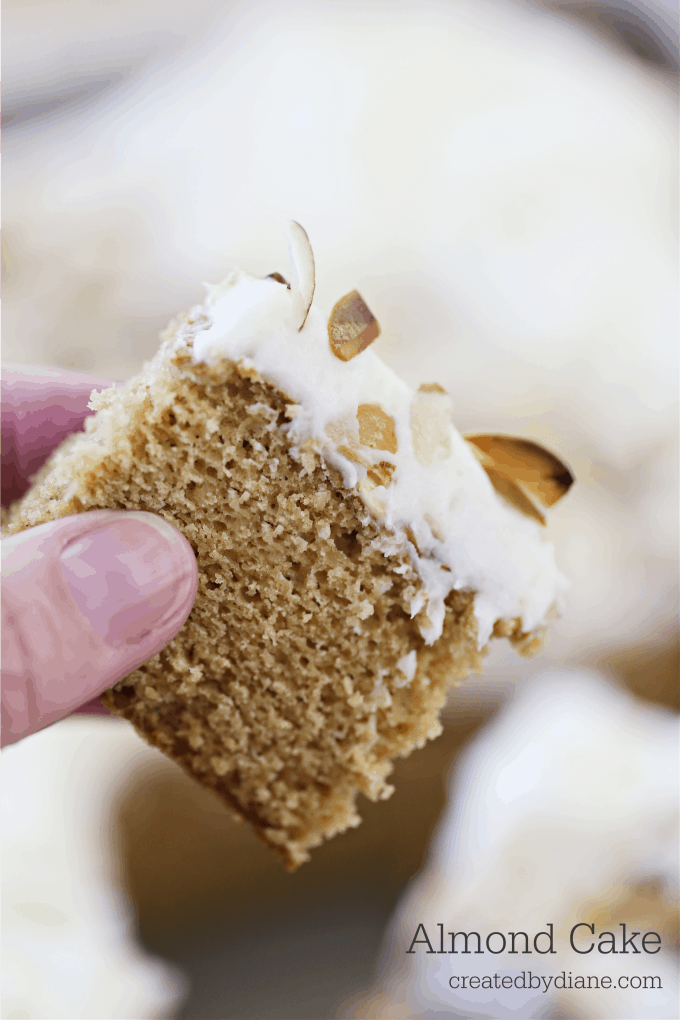 If you're looking for more sheet cake recipes, you're in luck! I have a bunch of them right here on this site! Here are some of the ones we love:
And don't' forget to check out my Glazed Almond Cookies, they are really delicious.
Other great recipes to make with Southern Comfort
Almond Cake
Author:
Diane Schmidt, Created by Diane
Ingredients
2 cups dark brown sugar
4 eggs
2 1/2 cups all-purpose flour
3 teaspoons baking powder
3/4 cup milk
1/4 cup southern comfort or amaretto (or rum or another almond-flavored liquor)
1/2 cup butter, melted
1 1/2 teaspoons almond extract
1 teaspoon vanilla extract
almond cream cheese frosting
1/2 cup butter, room temperature
1/4 cup cream cheese, room temperature
5 cups powdered sugar
2 tablespoons heavy cream
1/2 teaspoon almond extract
1/2 teaspoon vanilla extract
topping
Instructions
Preheat oven to 350 degrees.
Prepare a 13x9 pan with a baking spray or shortening and flour for the cake to release easily.
In a large bowl with a mixer beat sugar, then add in the eggs and mix incorporate all the eggs completely.
Add in the flour and baking powder and mix on low just to stir together.
Then add in the milk, alcohol like southern comfort or amaretto, butter, almond extract, and vanilla extract. Mix on low to combine, then turn to medium speed and combine ingredients until thoroughly mixed about 1 minute.
Pour batter into baking pan.
Bake at 350 degrees for 30-35 minutes or until a toothpick comes out clean.
Allow cake to cool for 15 minutes, then turn out onto a cooling rack and cool completely.
Almond cream cheese frosting
In the bowl of a mixer beat butter and cream cheese, then add in powdered sugar, heavy cream, and almond and vanilla extract.
Almonds for topping cake
Toast the almonds in a skillet over medium heat until they are golden.
Spread a light layer of frosting over the top of the cooled cake.
Place the remaining frosting in a piping bag fitted with large star tip, pipe roses, or dollops on the cake and sprinkle the toasted almonds on top of the cake too. I used a 2D tip for the roses and an 857 tip and a 195 tip, you can use any piping tip you'd like.