No kitchen should be without pumpkin pie spice, in my opinion of course.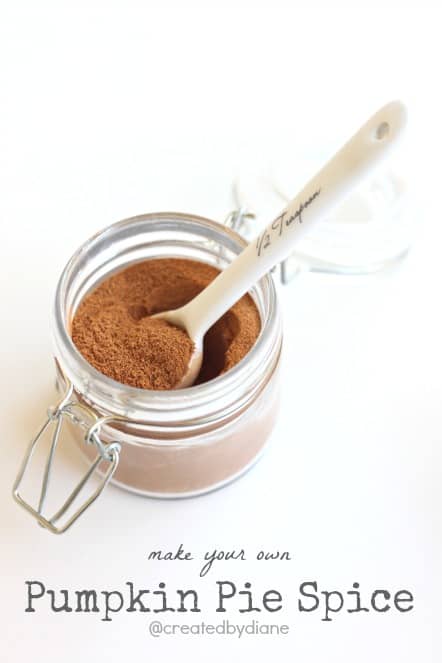 I use it for WAY more than just pumpkin pie.
I used to buy it in the spice aisle,
but when I would run out.
I would just whip up a  batch myself and I ended up liking the combination I made.
I use pumpkin pie spice all year long.
I love it in syrup on pancakes, I love it in pancake batter and well let me see…..
Chocolate Pumpkin Cupcakes, Chocolate Pumpkin Cookies, Chocolate Pumpkin Spice Cookies, Royal Icing Pumpkins,
Pumpkin Cheesecake Hand Pies, Pumpkin Mocha Donut Cake, Gingerbread Spiced Cupcakes, Pumpkin Oatmeal Cookies
and this fun Apple Pie Dip.
Pumpkin Pie Spice
Ingredients
3 tablespoons cinnamon
3 teaspoons ground ginger
2 1/2 teaspoons ground nutmeg
2 teaspoon ground cloves
Instructions
In small bowl mix all spiced together well,
place in an airtight jar and label it.
Enjoy using this pumpkin pie spice mix in all your favorite recipes.
Notes
you can additionally add mace or all spice to the mixture if you prefer those flavors too.