If you're looking to indulge in some great tasting recipe look no further, these crab stuffed mushrooms can be served as an appetizer or a main dish. They're ready in minutes and low carb!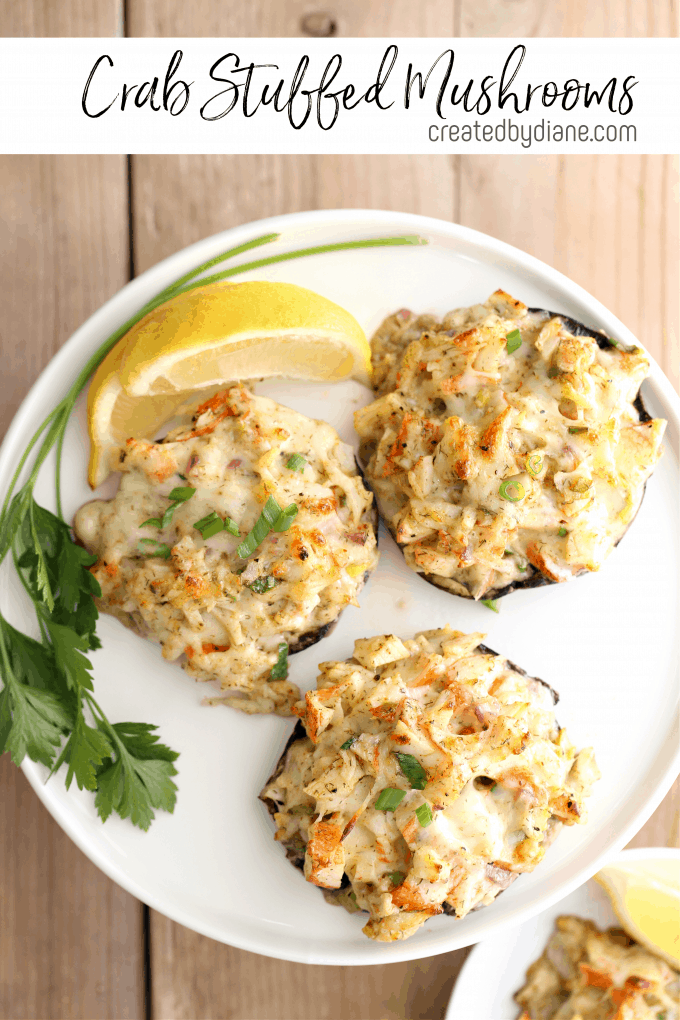 This dish is so simple to make yet offers an elegant flare – so it's perfect for entertaining, or it can just as easily be enjoyed alone with your family.
I'm a seafood lover and always looking for more ways to enjoy even the simplest of seafood recipes, this one falls in that category, just wait until you see how easy. And the flavor OMG…. so yummy, 
filled with cheese and great seasonings…
a true winner!
I try to eat low carb, and this fits right in with low carb eating, if you want to see my low carb guide look here… or sign up for my low carb emails!
If you are interested in jumping in feet first I have a low carb ebook here.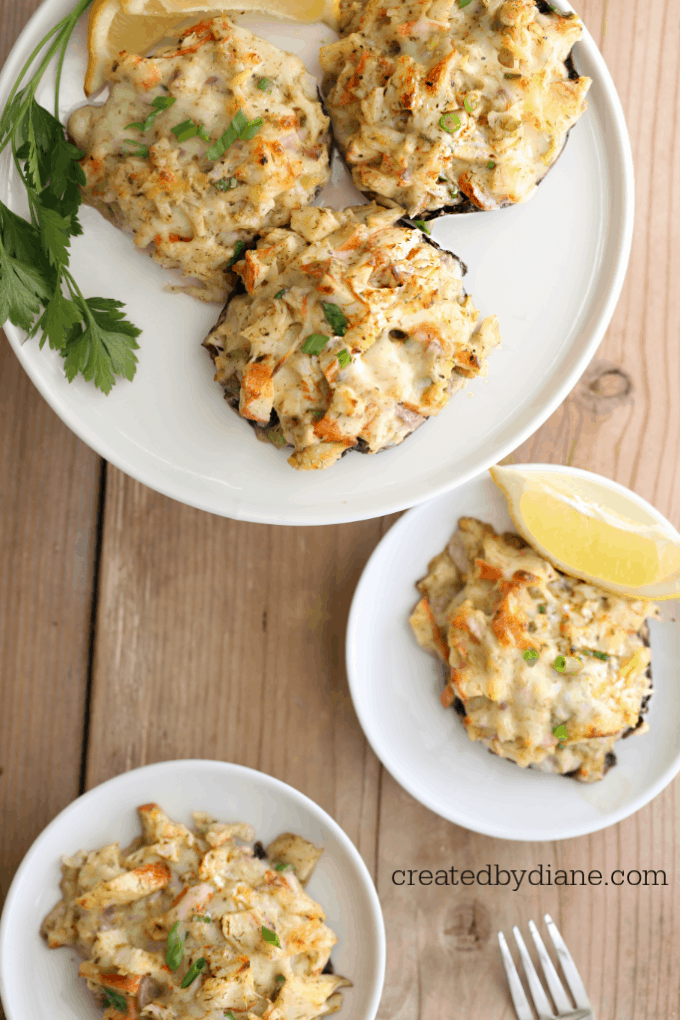 Let's begin:
Preheat your oven to 400°
Start by cleaning off your mushrooms.  I rinse mine and dry them with paper towels. Alternatively, you can wipe them clean with a damp paper towel.
Remove the stems of the mushrooms. If you'd like, you can scrape the underside of the mushrooms smooth, but I just leave them alone. The stems should just pop off if you bend them to the side. You can chop the stems to add them to the filling or leave them out. I opted to leave them out and have more crab in the filling. Set your mushrooms aside.
Remove the crab from your package and chop it small, this is so when you bite into the mushroom the filling doesn't come out. I recommend a dice of 1/4 – 1/2″ pieces.
Now in a medium bowl, mix the crab, cheese, mayo, red onion, and green onion, along with old bay, dill (I love fresh!), salt, and pepper. Mix well and set aside.
Prepare a foil-lined baking sheet (for easy clean up). Place mushrooms cap side down. (upside down)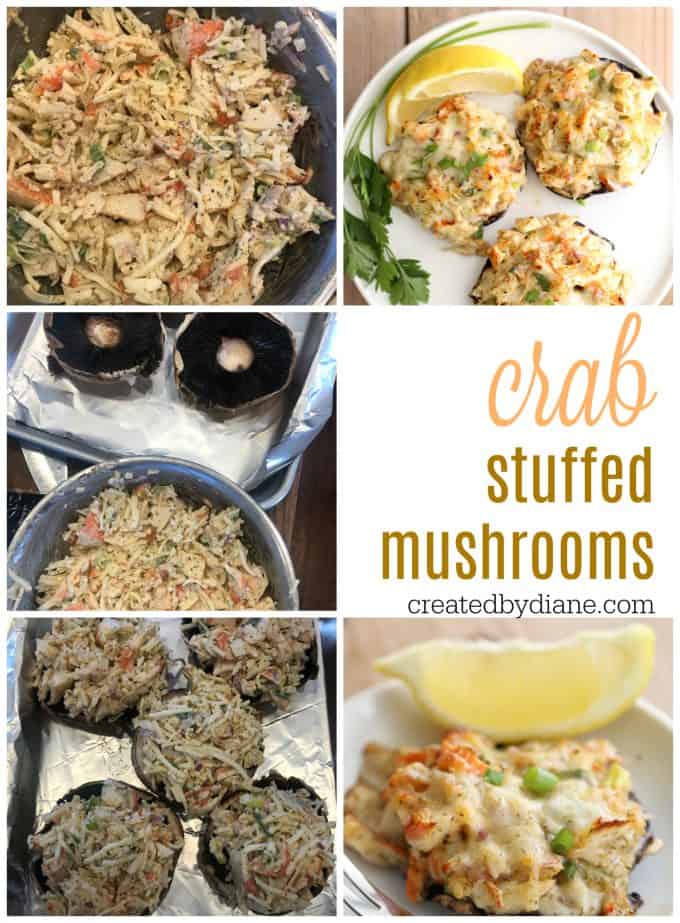 Fill each mushroom with 3 tablespoons of the filling, press it down a bit so it doesn't fall off.
Bake at 400° for 15 minutes or until mushrooms are softened and filling is heated through. The tops will get golden and crispy.
I recommend serving with lemon squeezed on top or you can add some lemon juice to the filling itself before baking.
It's so good! And you'll make it again and again!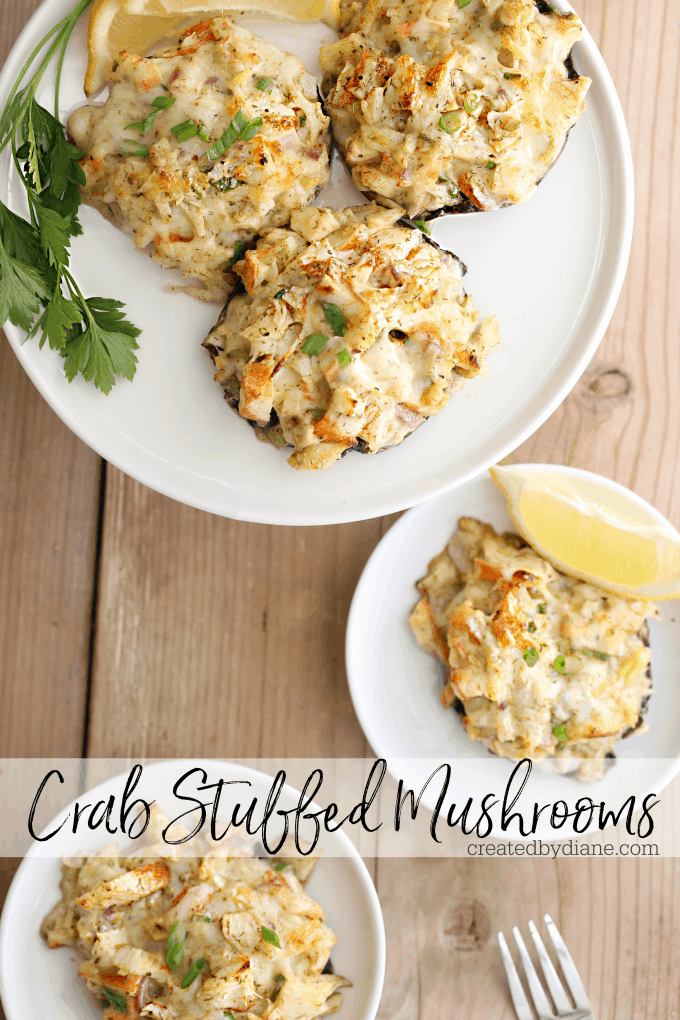 \Inquiring minds want to know:
I'm not a fan of crab, would chicken be a good substitute?
Yes! Add in some cooked chicken. It will work well since chicken can be a bit dryer you may need to add a little more mayo to mix it smoothly.
I'm out of mayo, is there something else I can use?
It just so happens I have a great recipe for homemade mayo. It's straightforward, and if you've never made it before – you may never go back after tasting it! 
These Crab Stuffed Mushrooms will delight you and inspire you to create more stuffed goodies!
Be sure to check out my jalapeno cheese bacon stuffed mushroom as well as some of my other mushroom recipes.
And I have a couple of other recipes using imitation crab here:
And if you want some recipes using canned crab look at these: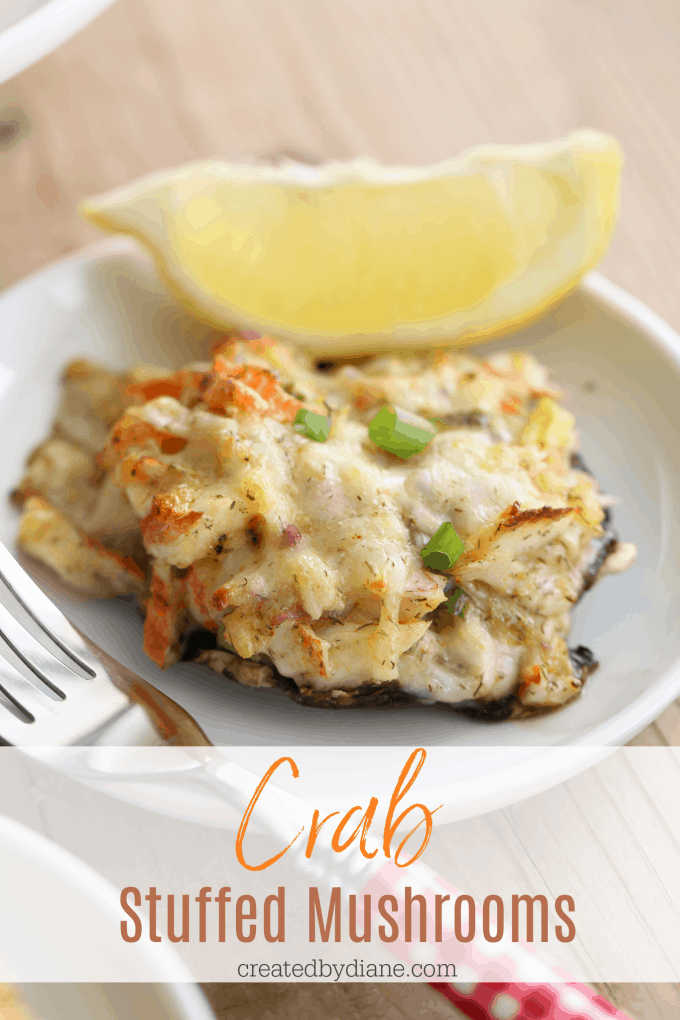 You have the option to use either imitation crab or canned or fresh cooked crab.  

Crab Stuffed Mushrooms
a delicious stuffed mushroom recipe with crab and delicious seasonings, a great appetizer, or vegetarian main dish, serve hot or cold.
Author:
Diane Schmidt Created by Diane
Recipe type:
Appetizer, Main Dish, Vegetarian, low carb
Ingredients
5 (2 -1/2") portabella mushrooms (or similar, you'll need fewer larger or a few more smaller mushrooms)
6 oz crab, imitation crab (canned crab will also work in this recipe)
1 cup shredded mozzarella cheese
1/4 cup mayo
2 tablespoons red onion, diced
2 green onions, sliced
3/4 teaspoon old bay seasoning
1/2 teaspoon dill (dry or fresh)
pinch of salt and pepper
lemon (add a squeeze lemon juice to the filling or on top of the cooked mushrooms)
Instructions
Preheat oven to 400°
Clean off mushrooms, I rinse mine and dry them with paper towels. Alternatively, you can wipe them clean with a damp paper towel.
Remove the stems of the mushrooms. (you can scrape the underside of the mushrooms smooth, but I just leave them alone), you can chop the stems to add them to the filling or leave them out, I opted to leave them out and have more crab in the filling.
Remove the crab from the package, chop the crab so when you bite into the mushroom the filling doesn't come out, dice it into 1/4-1/2" pieces.
In a medium bowl, mix the crab, cheese, mayo, red onion and green onion, along with old bay, dill, salt, and pepper.
Place the mushroom on a foil-lined baking sheet (for easy clean up) cap side down. (upside down)
Fill each mushroom with 3 tablespoons of the filling, press it down a bit so it doesn't fall off.
Bake at 400° for 15 minutes or until mushrooms are softened and filling is heated through.
The tops will get golden and crispy.
Serve with lemon squeezed on top (or add some lemon juice to the filling)