Mac and cheese will the fantastic addition of seafood and crispy breadcrumb topping!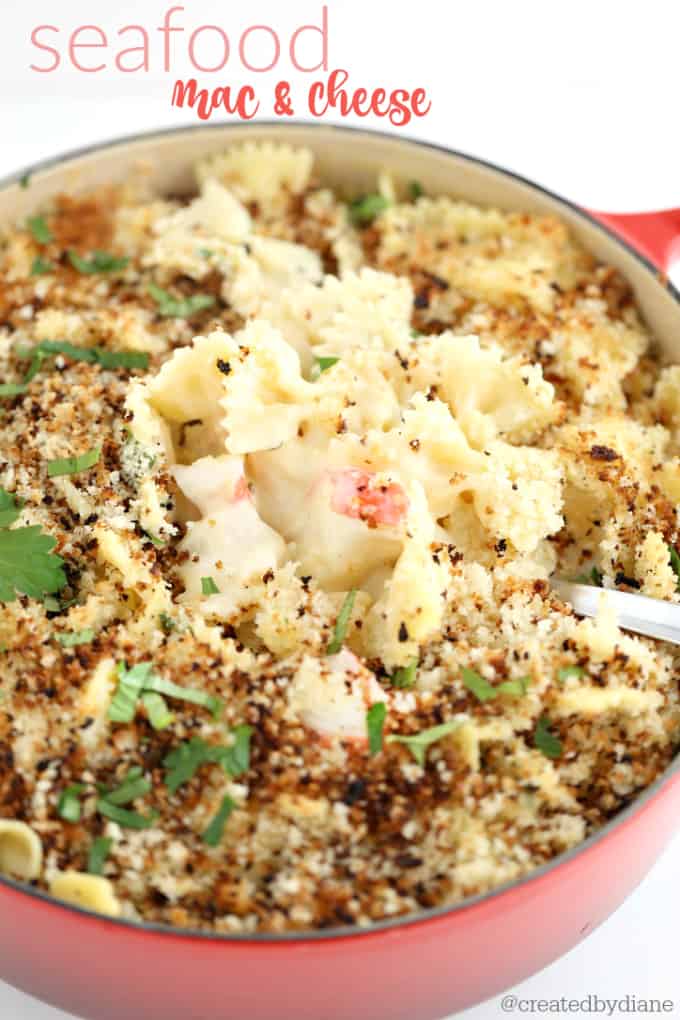 I am a seafood lover….
I always have been…  I find it hard to resist.
This dish is FULL of flavor and is surprisingly affordable, as I've used a package "seafood" commonly known as imitation crab. It's available in the seafood section of the grocery store.
Now you add this fantastic flavor to mac and cheese and you have a true WINNER!
I like the bow tie pasta with the "crab" flakes they are perfectly portioned and make a fantastic meal.
Perfect anytime!
Imagine a delectable dinner ready in under 30 minutes that will WOW any seafood lover!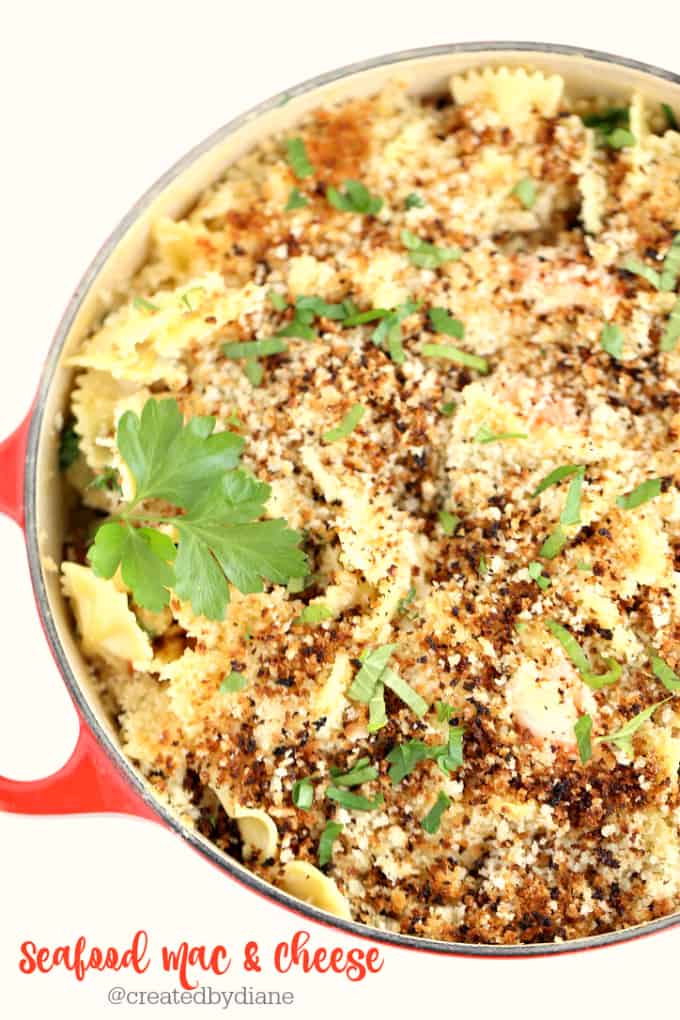 Do you see all that crispiness on top of the mac and cheese… oh it's toasty and delicious!
I topped it with some panko mixed with melted butter and then placed the pot under the broiler for a little crisping.
This is a great vegetarian option for dinner if they are "pescatarian" types, I'm not clear on all of it, but my vegetarian friend said she loved having this the last time she was over.
Seafood Mac and Cheese
Ingredients
1 lb bow tie pasta (this shape works well with the crab flakes as they "stick" to the pasta)
2 tablespoons butter
2 tablespoons flour
2 cups whole milk
1 teaspoon minced garlic (I use Gourmet Gardens Garlic)
1 cup cheddar cheese
1/2 cup loosely shaven romano cheese (1/2 oz is my estimation)
1-16 oz package imitation crab
Add salt and pepper to taste
Bread Crumb Topping
2 tablespoons butter (melted)
1 cup panko breadcrumbs
Instructions
Cook pasta according to package directions and drain.
In a skillet add butter and flour and whisk to combine over a medium heat.
Slowly pour in milk while whisking until it's all incorporated.
Add in garlic.
Add in both kinds of cheese.
Stir in crab (I break it into pieces before adding it in so it distributes evenly in the pasta and sauce.
Place butter over breadcrumbs in a bowl then pour over pasta and place under the broiler for a minute or two so they get crisp.
Add salt and pepper to taste.
I have another recipe that uses imitation crab, it's a Deconstructed California Roll Bowl. Everyone loves these, even non-sushi eaters since it's not raw fish, and kids seem to love it too.
If you like this or any other recipe on Created by Diane be sure to share the post with the ones you love. You can click on the "share" buttons on the top and the bottom of each post, you can share it on social media or in an email.
~Sign up for email updates and GET delicious recipes delivered right to you! Plus get my free e-cookbook too.
Thanks ~Diane