A simple side dish that will take any meal to the next level!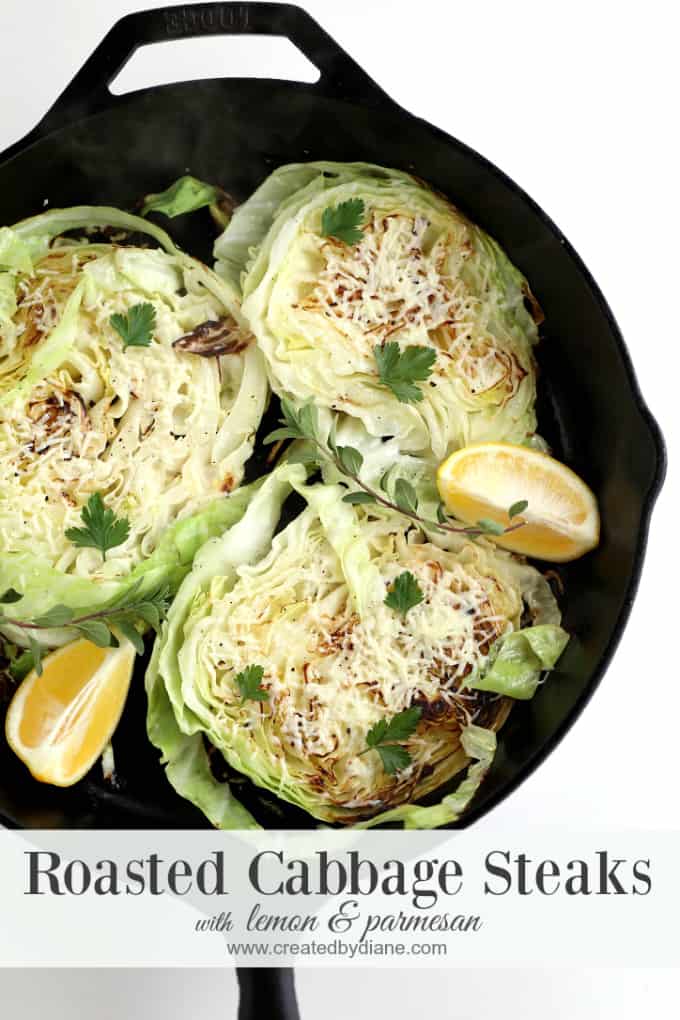 I can't count the number of times I've made roasted cabbage steaks,
if you haven't tried them you're in for a real treat.
It really is amazing how many people I talk to that say they LOVE cabbage, but they don't often make it.
I buy heads of cabbage all the time, regular and napa cabbage as well as stock up on coleslaw packs (you know the shredded coleslaw that you can make coleslaw with, easy and already sliced and often with carrots).
Other recipes that include cabbage:
Corned Beef and Cabbage Eggrolls
Ham Fried Rice (regular and low carb options)
I love cabbage and if you aren't already signed up to receive my recipes through email, sign up here and get my free ebook on how I use a coleslaw pack to create some easy delicious recipes.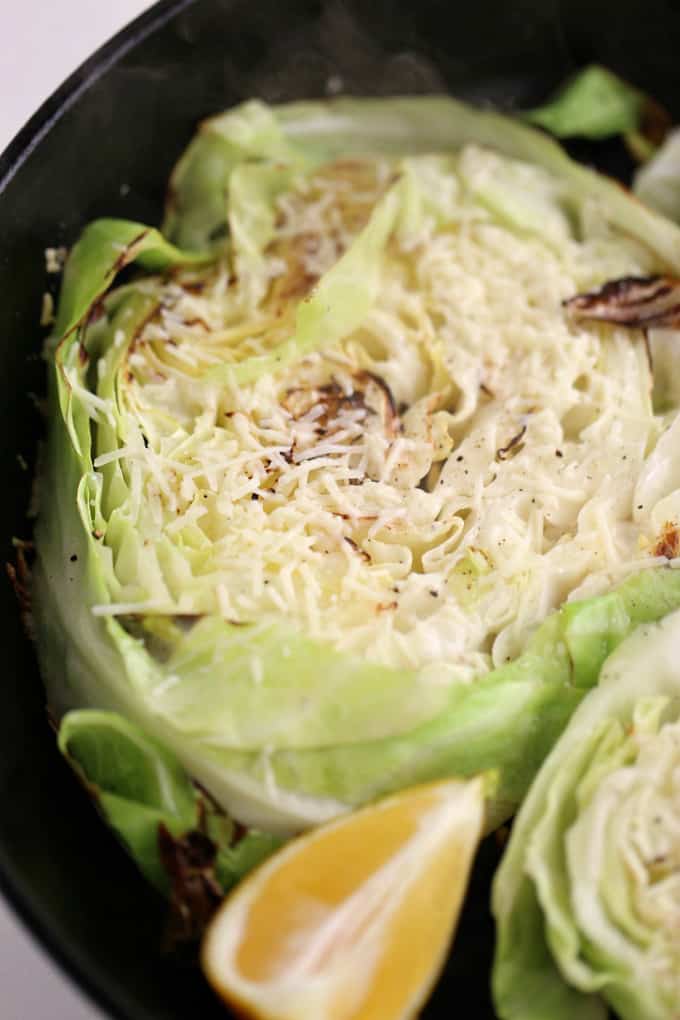 I pan roast my cabbage steaks in a cast iron skillet, they get a bit charred and that adds to the flavor.
Alternatively, you can put the cabbage steaks on a sheet pan in a 425° oven to roast them for 10-15 minutes, test them with a knife, when they are just tender and the knife goes in and out without resistance they are ready. No need to overcook until they are soft, unless you have a hard time chewing al dente vegetables.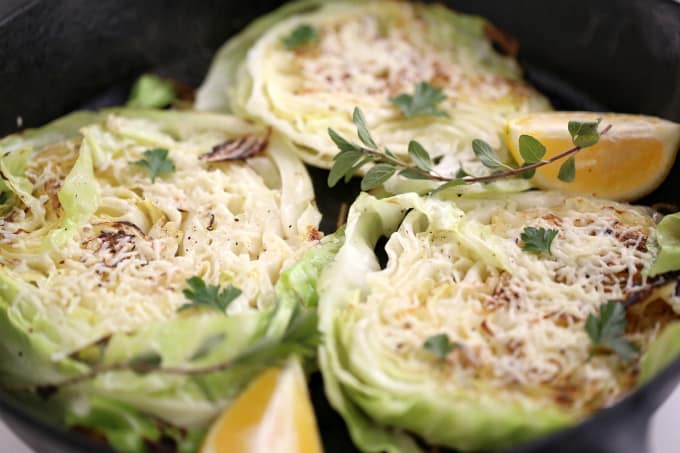 Roasting cabbage steaks have become one of my go-to items, cabbage is inexpensive, it stays fresh in the fridge a long time. It's easy to cook and ready in minutes. If you won't want to serve a large "steak" cut them in half, or quarters or slice the cabbage into chunks and saute it.
I use this cast iron skillet to get the cabbage to caramelize a bit and give it that delicious "grilled" or "roasted" flavor!
THIS is the skillet I use and love and I use it so much I have 3 of them and more in other sizes too, it's a kitchen must have.
Roasted Cabbage Steaks with Lemon and Parmesan
Ingredients
1 cabbage sliced into 1-inch steaks
1 tablespoon extra light olive oil
1/4 cup grated parmesan cheese (or romano cheese)
lemon- juice of a 1/4 lemon wedge
salt and pepper to taste
Instructions
Heat a cast iron skillet on high, add olive oil to the pan or to both sides of the cabbage steaks.
Heat on both sides until each side is caramelized, this usually takes only a few minutes.
Top with the juice of a lemon and cheese on top of the cabbage then place a lid on top of the pan for a minute, the juice will create steam and will melt the cheese and soften the cabbage a bit too.
Add salt and pepper and serve.