If you like strawberries, this strawberry curd is what you'll want to slather on cake, cookies, scones, or eat it off the spoon, it's that good.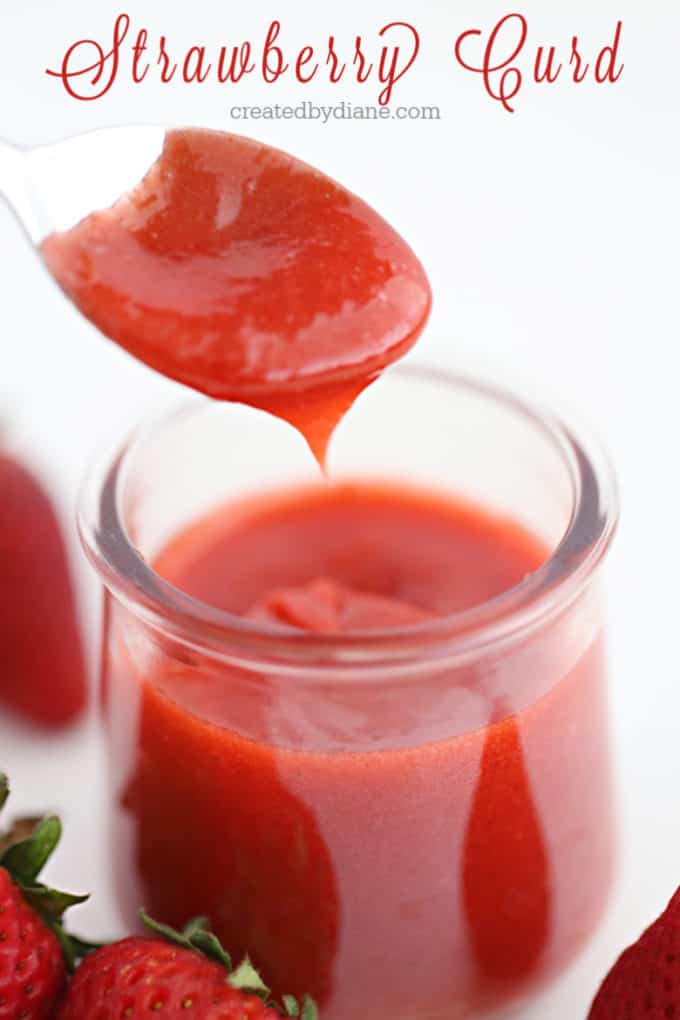 Most people have heard of lemon curd… it's often on top of tarts, at high tea for scones, and sometimes with mini meringue topped shortbread bites that we all find irresistible, right… tell me I'm not the only one!
If you haven't had fruit curd, it's a dessert spread, and for those of us who have had some whether it's lemon or another flavor, we find it irresistible! 
It's smooth and delicious and full of flavor. 
This strawberry curd is made with delicious fresh strawberries, the riper the better! Remember the better the fruit tastes the better anything you make it will be.
This recipe goes beyond enjoying it with scones, it's great on cake and cookies as well. This really is the best strawberry cake filling ever!
One of my favorite items to enjoy curd on is scones, and these Cream Scones are not only the easiest to make. They are so tender, definitely worth making a batch!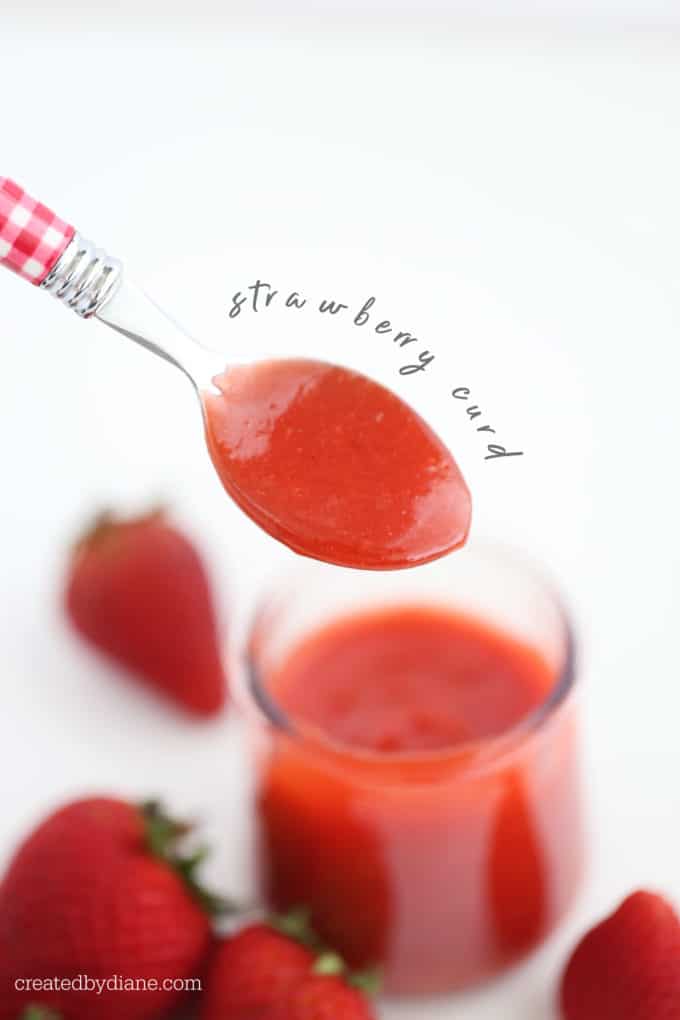 Making curd may sound complex, but relax… it's quite simple and only takes a few minutes to whip up a batch.
You'll need:
Strawberries
lemon juice
sugar
egg yolks
butter
In just a few simple steps of heating and straining, then adding the remaining ingredients and heating until thick. Then place it in the fridge with plastic wrap touching so it stays smooth. Chill and enjoy!
This is a small batch, you can double this recipe to make a larger batch.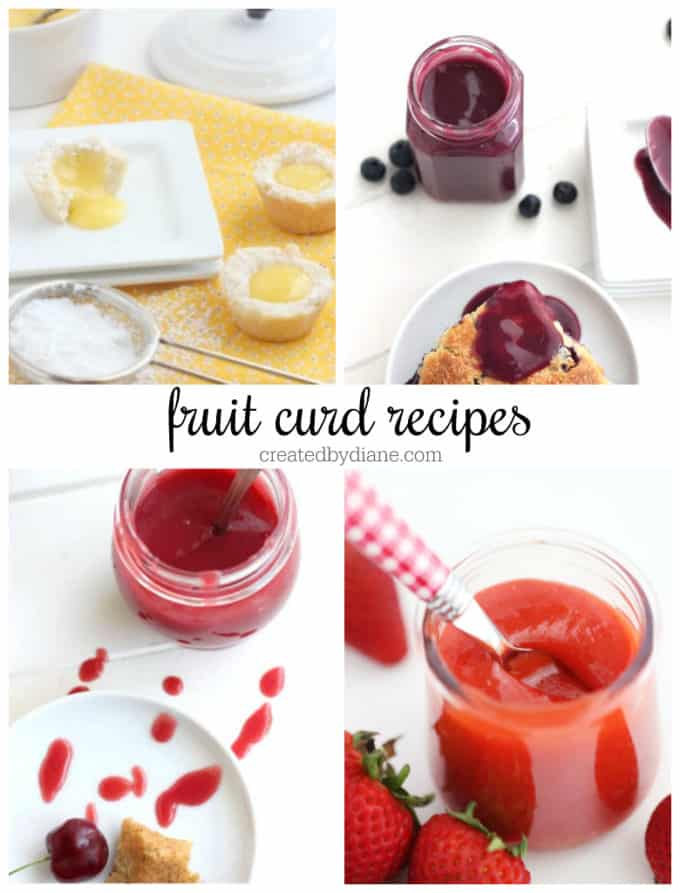 I just love how delicious this is, be sure to check out my other curd flavors.
Giving your lots of options to make with fresh fruit.
How long will this last in the fridge?
This will last up to 2 weeks in the refrigerator.
Can I can this like I would  "can " jam?
Yes, you can "can" this item as well for longer shelf life.
Can I use this as a filling to cupcakes?
Yes, here are two of my vanilla cupcake recipes  6 vanilla cupcakes, and 24 vanilla cupcakes.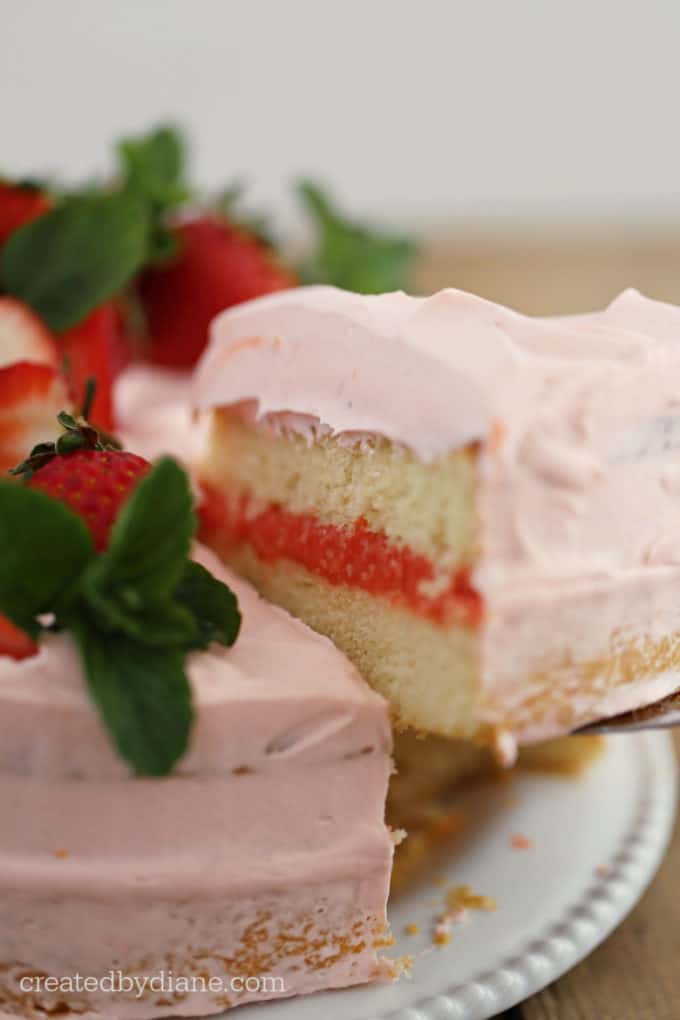 Be sure to check out this great cake filled with strawberry curd, it tastes SO GOOD!

Strawberry Curd
This fruit curd is made from fresh strawberries, it's easy to make and so delicious, great on cookies, cakes, scones, and more.
Author:
Diane Schmidt Created by Diane
Cuisine:
American, English
Ingredients
1 cup fresh strawberries, diced
1 tablespoon fresh lemon juice
1/2 cup sugar
3 egg yolks
4 tablespoons butter
Instructions
In medium saucepan mix strawberries, lemon juice, and sugar.
Heat on medium bring to a simmer and cook for 2 minutes over medium heat.
Place a strainer over a bowl and stain and press the mixture until all liquid is in a bowl.
Mix the egg yolks in a small bowl.
Add a tablespoon at a time of the mixed egg yolks into the strawberries and stir well and quickly so the heat of the strawberry mixture heats the egg yolks slowly so they don't curdle.
Keep whisking while you add more egg to the strawberry mixture until it's all well blended.
Place the mixture into the saucepan and heat it on low, whisk in the butter and it's ready when the mixture is thick and coats the back of a spoon.
Remove the pan from the heat, transfer the strawberry curd to a glass jar or shallow dish covered with plastic wrap touching the curd so it doesn't get a film on top as it cools, and refrigerate.