Creamy and wickedly flavorful this beer mac and cheese is going to win you over! This is power packed with flavor it's the perfect dish to serve alongside a meal, bring to a party, enjoy at game day, or just for fun on a rainy day!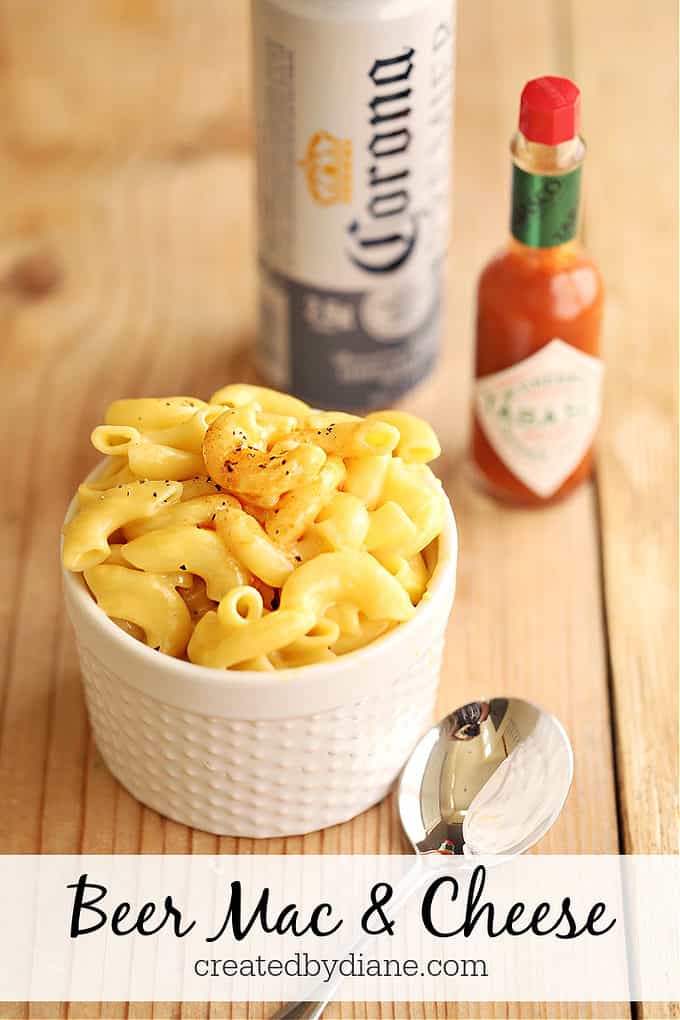 Comfort food gets kicked up and OMG it's so awesome!
No matter if it's cold and rainy, game day, or you want something cozy to eat any day of the year even if it's 100° out… you still have to EAT!
This is so fun. Great flavor with a kick of spice without being spicy, but load up the tabasco all you'd like.
This is a large batch of beer cheese mac and cheese, but you can easily reduce the recipe if you only need a recipe using a pound of pasta. But trust me, if you make the two pounds you won't regret it, it's delicious to enjoy for days, bring to a friend, or cuddle up on the couch and enjoy it for a midnight snack.
If you'd like to make it garlicky, go right ahead and add a couple of cloves of fresh minced garlic to the butter when you put it in the pan, for a wonderful flavor. Add in a diced onion as well. 
There are many items you can add to this to make it even more special. 
Ingredients
large elbow pasta

12 oz corona 

whole milk 

chicken bouillon 

Tabasco

dry mustard

cheddar cheese

salt and pepper
No matter when you make this, it's sure to be devoured. It's perfect for game day, parties, serve in small cups for an appetizer, or any day ending in d=a=y!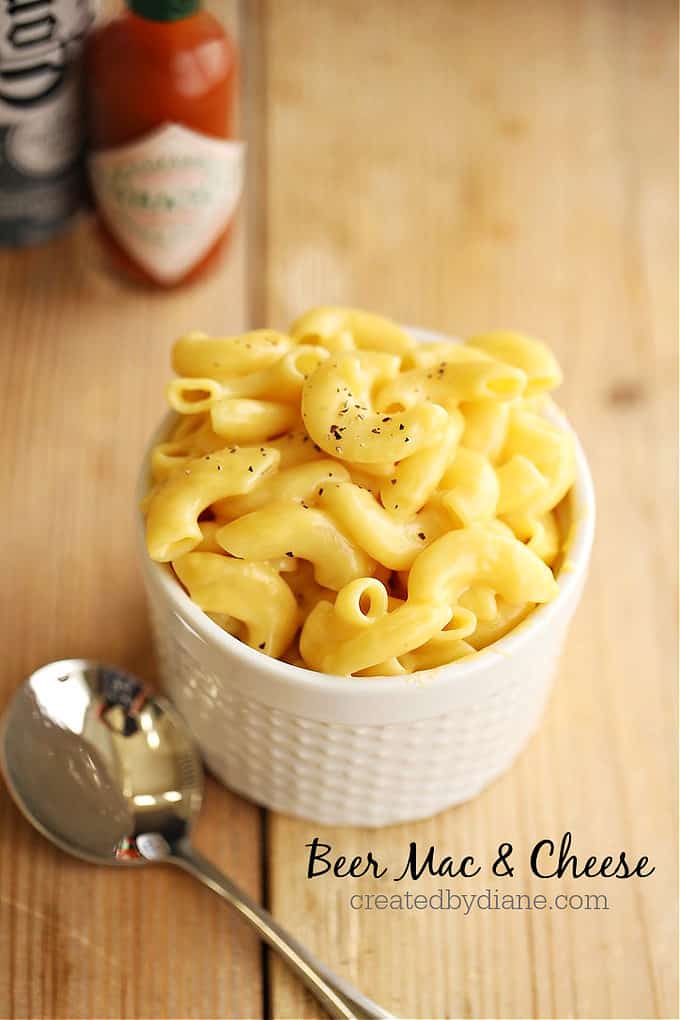 This recipe is great if you love a cold beer, or you typically pass on the hoppy drink, it gives a really great and unique flavor to this recipe.
diced jalapeno
pepper jack cheese
parmesan cheese
BBQ sauce
diced onions
minced garlic
pesto
lobster or shrimp
diced tomatoes
diced mushrooms
ham, brown diced ham for a smokey flavor
If you like a crispy baked mac and cheese add some panko breadcrumbs on top and place it under the broiler for a few minutes until crisp.
Creamy and wickedly flavorful this beer cheese pasta is going to win you over!

Can I use a different cheese?
I like Cheddar, but you can use it in combination with other cheeses if you prefer, such as Monterey Jack, Pepper Jack, Gouda, Muenster, fontina, Havarti, or Colby, if you want it stringy use some Mozzarella.
This mac and cheese recipe with beer is bound to make its way onto your regular recipe rotation.
You can make it by using another shaped pasta like penne, ditalini, bellflowers, and even make a baked ziti with the beer cheese sauce and cooked ground beef or sausage for a fun meal.

Beer Mac and Cheese
This is the ultimate in comfort food, creamy and wickedly flavorful this mac and cheese is going to win you over! It's perfect for a side dish to a weeknight meal, game day, and to bring to a party.
Author:
Diane Schmidt, Created by Diane
Recipe type:
Main Dish, Pasta
Ingredients
2 lb elbows (yes 2 lbs I double-checked)
3 tablespoons butter
3 tablespoon flour
1 12 oz corona (regular or light beer, not a heavier beer or IPA)
2 ½-3 cups whole milk
2 teaspoons Knorr chicken bouillon
½ teaspoon Tabasco (10+ drops)
1 teaspoon dry mustard
2 lbs shredded cheddar cheese (4 cups shredded cheese)
½ teaspoon coarse salt (I use coarse kosher salt) adjust according to taste
½ teaspoon coarse black pepper
Instructions
This is a large recipe using 2 lbs of pasta, you can cut the recipe in half if you'd like.
Cook the pasta according to the package directions. Large elbows are key as they swell nicely when cooked. Allowing there to be plenty of noodles for the amount of sauce. Do not rinse the noodles.
As the pasta cook, make the sauce.
In a saucepan, heat the butter and flour over medium-high heat and whisk until melted.
Slowly add in the beer and milk slowly so the sauce is thick.
Add in the chicken flavor, tabasco, dry mustard, and cheese.
Stir with a spatula or wooden spoon to combine well.
Add salt and pepper to taste.