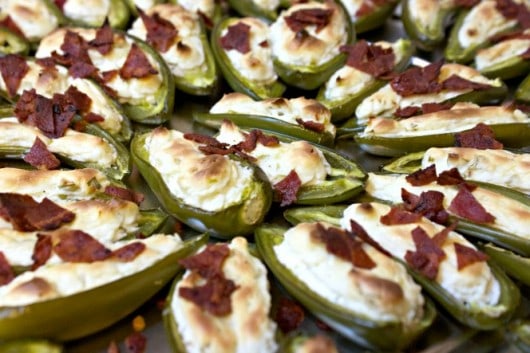 Stuffed Jalapeños
I should make a whole list appetizers I love,
if it involves cream chees-I'm sure it's going to be on the list.
I love cream cheese appetizers!
There I said it and now you know 🙂
I washed and sliced 30 jalapeños, cut out the seeds and the ribs
use a small pairing knife, surprisingly it went quick,
I thought it would take me much longer to do them all.
In my mixer I whipped 8 oz of
Neufchâtel cream cheese
(it has 1/3 less fat the the regular cream chesse)
and 1 cup nonfat Greek Yogurt
along with some salt and pepper.
Then I place it into a piping bag and piped the mixture into the peppers.
They were almost ready,
but something was missing.
These were going to be a smaller version of
bacon wrapped stuff jalapeño peppers
the only thing missing was the
BACON…
no I didn't forget it…
I cooked turkey bacon to put on the top of them, and it worked out well.
I put them in a 400 degree oven for 45 minutes.
The peppers were a great texture, not soft and the filling was hot but not going to burn you mouth! The bacon was….
well…..
what do I need to say about bacon,
it's delicious.
I put the bacon on after they were in the oven for 20 minutes.
Since I had precooked it, I didn't want it to burn.
I don't think it would have burned, next time I will add it at the beginning.
The bacon would have stuck to the cream cheese better, but really I don't think anyone else noticed,
once everyone smelled them hot out of the oven, they were quickly being gobbled up!
Since the seeds and ribs were removed they were not spicy, if you prefer the spicier. Dice some of the seeds and add them to the cream cheese mixture for some kick!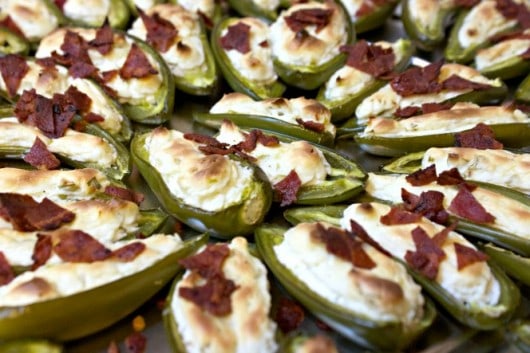 I think I ate half this tray and can't wait to make more.
Just looking at them reminds me of how wonderful they were!