Grond turkey chili is the meal to make, It's Fall Y'all… Up until now, it's been pretty moderate, but OMG the weather has been colder than normal here in Southern California.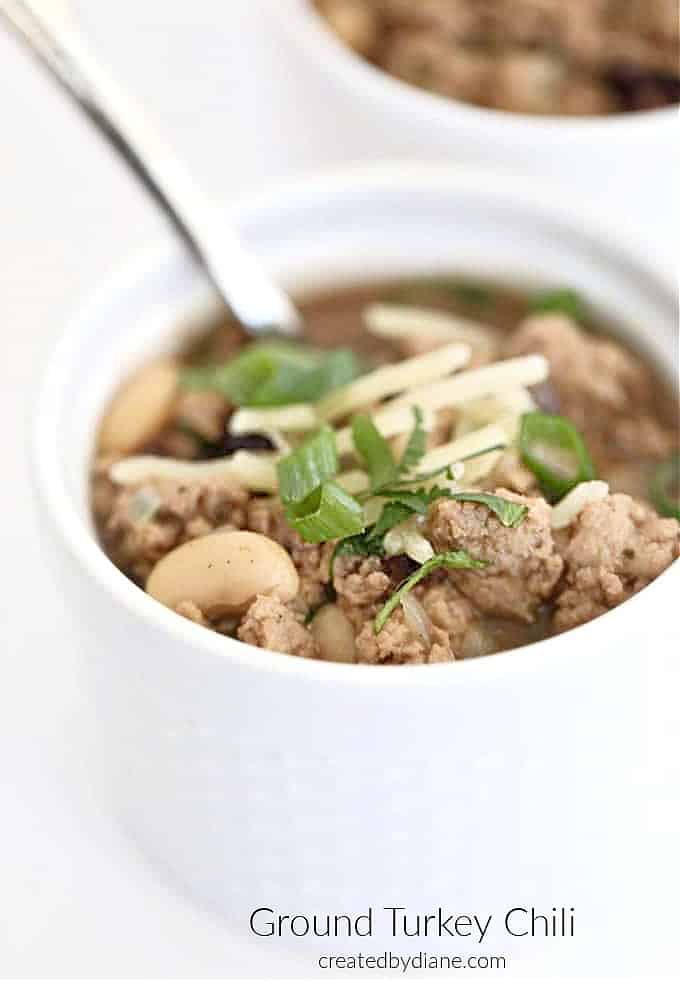 The temperatures are dipping into the 30's at night, but luckily they are reaching the 80's in the daytime.
A 40 degree temperature difference is shocking to my system, I'm not made for cold weather anymore, I'm more-comfy in flip flops then socks and fur-lined boots, sweaters, and jackets and gloves and hats tied all up in a scarf…
thank goodness it's sunny and warm during the daytime or I don't know what I would do!
We were recently in the South… and I think I might have picked up on the accent ever so slightly,
I enjoyed all the biscuits and gravy and BBQ… no getting back into the swing of things and making dinner, I knew I wanted a lightened up heart meal and this white turkey chili is now my new favorite.
It's made with ground turkey,
white and black beans,
chicken broth,
onions garlic and cilantro
and the taste is AMAZING.
Make some tonight… you'll be glad you did!
I make a nice size pot of chili and it easily serves 6 bowls… topped with some white cheddar and WHAMO you have an easy and delicious comfort food meal to enjoy all through the cooler weather.
Pack a thermos full and take it to go… or make an extra batch and drop it off to a friend, who wouldn't love to receive a home-cooked meal to make their day, they may even say, "bless your heart" in the sweet southern way. 
You can use ground chicken if you prefer which was going to be my first choice, but as luck would have it ground turkey was on a killer sale at a quarter the price of ground chicken, so we'll be enjoying lost of ground turkey recipes this weekend. 
Like these Turkey Stuffed Hamburgers with Avocado.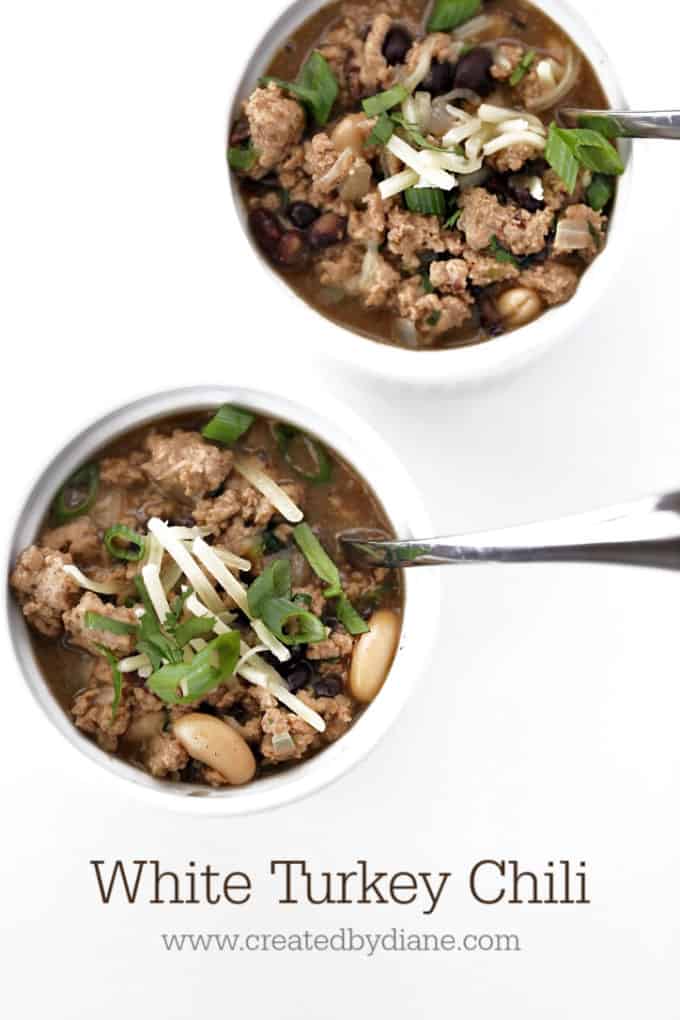 and these turkey meatballs, it's my FAKE Thanksgiving and if you haven't seen my post on it, you should! Enjoy a great tasting meal that can be whipped up in no time that tastes just like Thanksgiving dinner without the extensive work.
If you're all set to make a roasted turkey for Thanksgiving… be sure to check out my post on How to Roast a Turkey Overnight or maybe you're in a hurry… then this Spatchcock Turkey will be up your alley.
CHECK OUT my post on Holiday Dinner Recipes for more deliciousness.
In keeping with my somewhat southern theme… bake up some cornbread (it'll remind you of hush puppies) and if you are baking up some biscuits, be sure to make some GRAVY (if you want to make a more classic southern gravy start with sausage and add milk or cream as the liquid)
OK, so it's time to throw on a heavy sweater and enjoy the hearty cooler weather eats which means there is APPLE PIE to be eaten as well.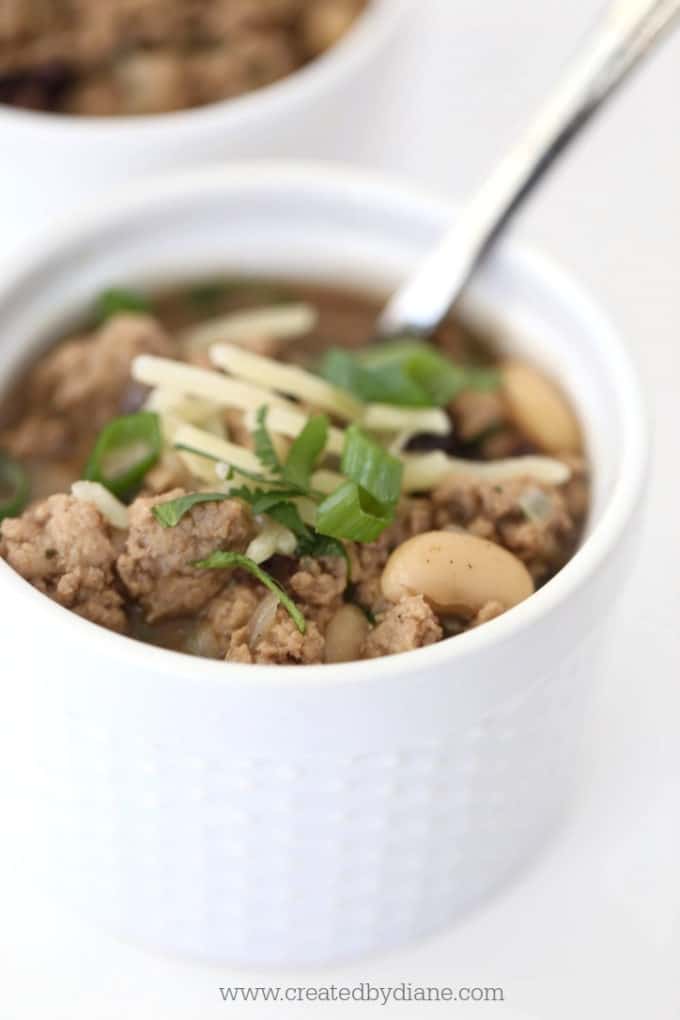 That's All… 
Enjoy your day and make it delicious!
White Turkey Chili
Ingredients
1/2 onion diced
2 cloves garlic minced (or 1 tablespoon garlic paste)
1 jalapeno diced
2 tablespoon oil (I use avocado oil or olive oil)
2 lbs lean ground turkey
1 15 oz can white cannellini beans
1 15 oz can black beans
3 green onions, sliced
14 cup chopped cilantro
2 cups chicken broth or water with chicken bouillon
1/2 cup milk
1-2 tablespoons cornstarch (to thicken)
1/2 cup grated white cheddar cheese for topping
1 teaspoon chili powder
1/4 teaspoon paprika
Instructions
In a 4 quart saucepan saute the onion and garlic, and jalapeno with oil over medium-high heat.
Add in the ground turkey and stir to cook and break up the pieces smaller with a wooden spoon or spatula.
Add in the chicken broth (if you want more chicken flavor, add more chicken bouillon I add about a tablespoon_
Mix the cornstarch to the milk and stir it into the chili when it comes to a boil.
Add in the chili powder and paprika and give it a stir.
Cook over medium-low heat for 5 more minutes.
Stir in 1/2 of the green onion and 1/2 of the cilantro.
Then serve the chili topped with green onion, cheese, and cilantro.