Summer just isn't summer without getting together with friends, enjoying great food and making memories.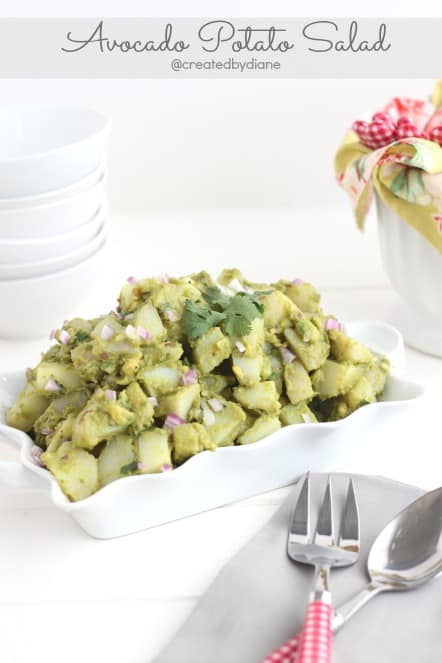 AVOCADO POTATO SALAD 
Don't miss one delicious recipe and get my FREE e-cookbook click here!
This is one potato salad you won't want to miss.
So what are you waiting for? Invite your friends over, fire up the grill and serve this delicious avocado potato salad. It's perfect with burgers, hot dogs, chicken, and pork. Ok, it's great with sausage sandwiches, too. They always seem to be such a great hit at BBQs. Add some corn on the cob and watermelon and dessert and…. maybe… dig out a Frisbee or some horseshoes. They are a hit when friends come over, some will play and some will watch and chat… the chatting will make memories summers are made of.
This avocado potato salad is made with red potatoes, red onion, avocado, lime, cilantro and a couple spices.
I boil the potatoes the night before I'm serving the potato salad. It saves time the day of the get-together, and they are easier to slice cold and don't get all broken up when mixing.
No need to get the mayo out for this recipe. Avocados are creamy and delicious and they work great in this no-mayo potato salad. If you love mayo, go ahead and add some to the recipe.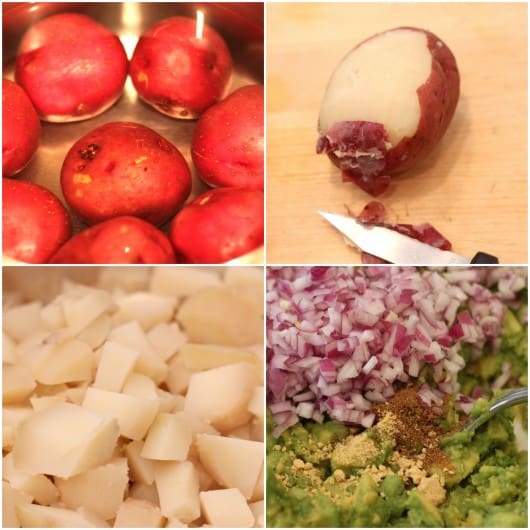 If you're asked to bring something to a get-together, this avocado potato salad is perfect. And a great way to transport this potato salad is to place it in small 4 oz. glass jars. You can pack them in a cooler with ice. Perfect for the beach, a friend's house and picnics. The small jars make a great grab and go side dish when the hot food comes off the grill or alongside sandwiches.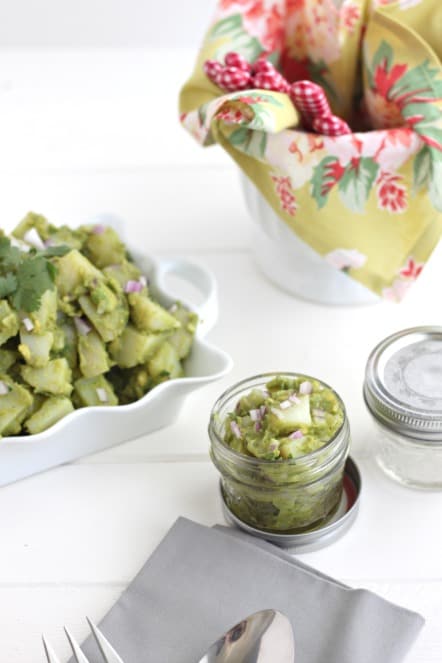 Avocado Potato Salad
Ingredients
2 1/2 pounds medium red potatoes
2 ripe California Avocados diced
1/2 red onion diced
1 lime juiced
1/2 teaspoon cumin
1/2 teaspoon dry mustard
1/2 teaspoon celery salt
1/2 teaspoon salt
2 tablespoons fresh cilantro chopped
Instructions
Wash potatoes, then place potatoes in a large pot and cover with water by an inch, cook until tender.
Drain potatoes, and place potatoes into a container with a cover and refrigerate overnight.
The moisture in the container will make the skin on the potatoes easy to peel once the potatoes are cold.
Peel and cut the potatoes into 1-inch pieces and place them in a large bowl.
Place avocado, lime juice, onion, cumin, dry mustard, celery salt and salt into a small bowl and mix until creamy.
Add avocado mixture to potatoes and stir in cilantro.