Bursting with flavor, these shrimp recipes will make your family smile and give you new dishes to add to your weekly rotation!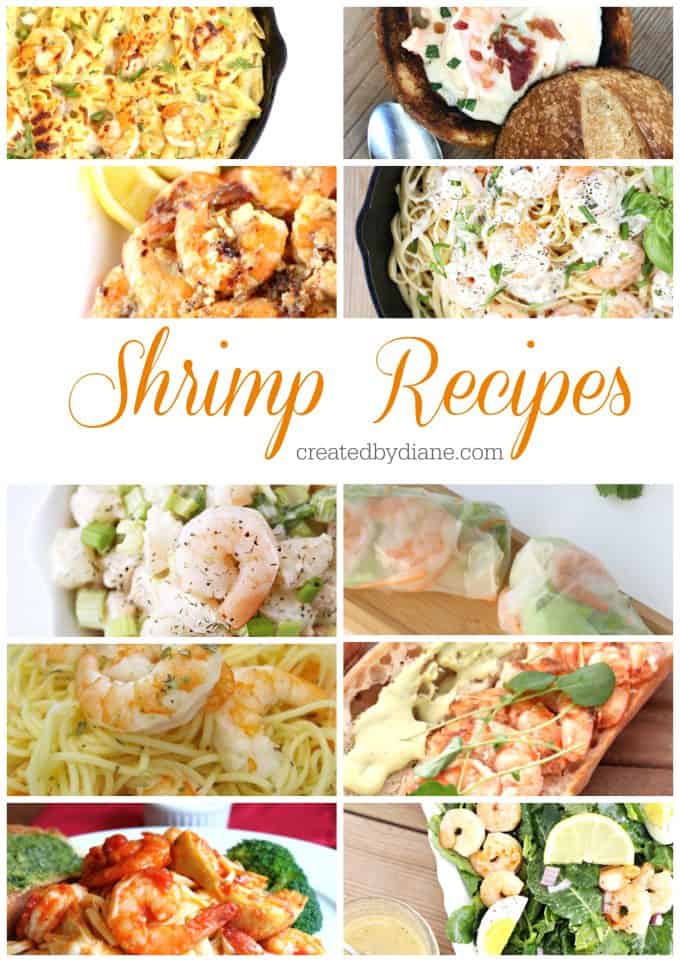 I love shrimp not only because of how quickly and easily they cook, but also because they lend themselves so seamlessly to many different types of dishes.
Add them to pasta and red gravy and you have delicious spaghetti. Or toss them in olive oil and saute them, then use them in your favorite salad.
There are so many ways to use this crustacean, and I'm going to show you some of my favorite shrimp dishes to help inspire you and help you with that meal.
Let's talk about picking the freshest shrimp. A lot of people shy away from seafood because they aren't sure how to tell if it's fresh or not. With shrimp it's easy to tell the difference is you keep these three things in mind:
Smell – Get your nose in there! They shouldn't smell fishy, but clean. If it smells like eggs or ammonia, pass it by.

Color – Uncooked shrimp should be grayish or pinkish-white. Look out for black spots, this is an indication they weren't processed properly. And avoid yellowing near the tail or swimmerets.

Avoid shrimp with shrunken or missing eyes

Squeeze – If the shrimp is noticeably squishy, it's probably old and shouldn't be eaten. The hell should be glossy and not dull.

Date – If you bought the shrimp uncooked, it should be eaten within two days of purchase.

And if you're worried about deveining a shrimp, don't be! It's actually pretty easy to do with the right tool! I use

this one

.

Just slide it down the back of the shrimp and cut the shell while pulling it out away from you. Then pull off the legs and shell from the opposite side. Alternatively, you can use a knife (carefully) using the same method.

If you can't find fresh shrimp, frozen is just as acceptable. This can be bought pre-cooked or raw. To thaw, simply sit the package in a bowl overnight in your fridge, or put the package in a bowl, weigh it down with a plate and add cold water. Let sit for about 45 minutes. Do not use warm or hot water as this will start to cook the fish and make them mushy in texture.

Alright, it's time to make some shrimp dance! I have included some of my all-time favorite recipes, and they will make your tastebuds sing!



Sweet and Spicy Shrimp

– I'm a fool for sweet and spicy, and that's how this recipe came to be! And it's simple and easy to make!

Shrimp Salad

– Summertime never tasted so good. I love having pasta salads on hand, and this one brings flavors of lemon and green onion for a fresh taste.

Shrimp and Kale Salad

– A great way to pack in those greens! Kale is such a nutrient-rich food and with my lemon garlic dressing, it won't even taste like healthy food!
But one of my absolute favorite ways to cook shrimp is in curry! I have a recipe that uses chicken but shrimp would absolutely go well in this dish, you could use it in place of the poultry, or have a mix of proteins! Either way, just add some shrimp and WHAMO – one great shrimp recipe!