Spicy and sweet shrimp, this dish makes my taste buds sing and it's so simple!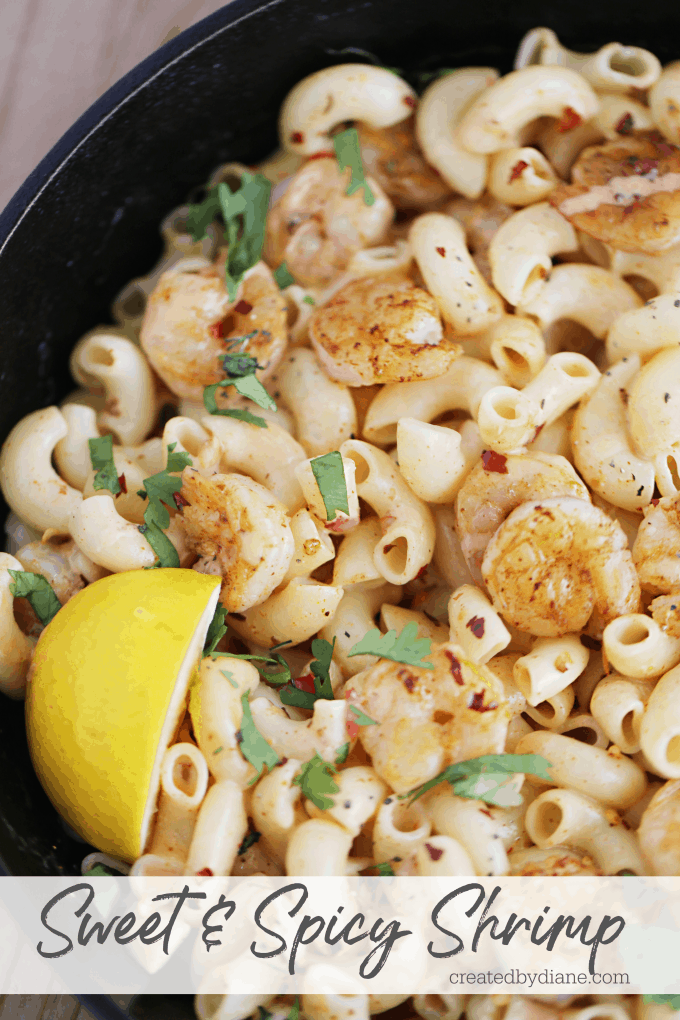 When spicy sweet meets the simplicity of pasta it's a double win!
The heavy cream helps tame the chili flavor,
and the lemon cuts through the sweet mellowing it to provide a well-balanced dish.
You won't be disappointed! This dish is so full of flavor.
It's perfect for your family and a quick meal that's hassle-free. This recipe includes my homemade sweet chili sauce – but if you're short on time you could purchase a pre-made sweet chili sauce, I like this one. Let's get this pasta dish going.
Cook pasta according to package directions – your pasta should be toothy, yet not crunchy.
Whether you are using fresh shrimp or frozen shrimp that has been thawed, pat shrimp dry with a paper towel – this ensures the spices will stick to the meat and not slide off.
Add the chili powder, and paprika to shrimp, tossing gently to coat.  In a hot skillet with a little oil, sauté until cooked for about 4 minutes. You'll see the shrimp turn a slight pink color and begin to curl up.
The sauce will heat as it's tossed with the hot shrimp and cooked pasta, keep an eye on for this step and risk overcooking the shrimp.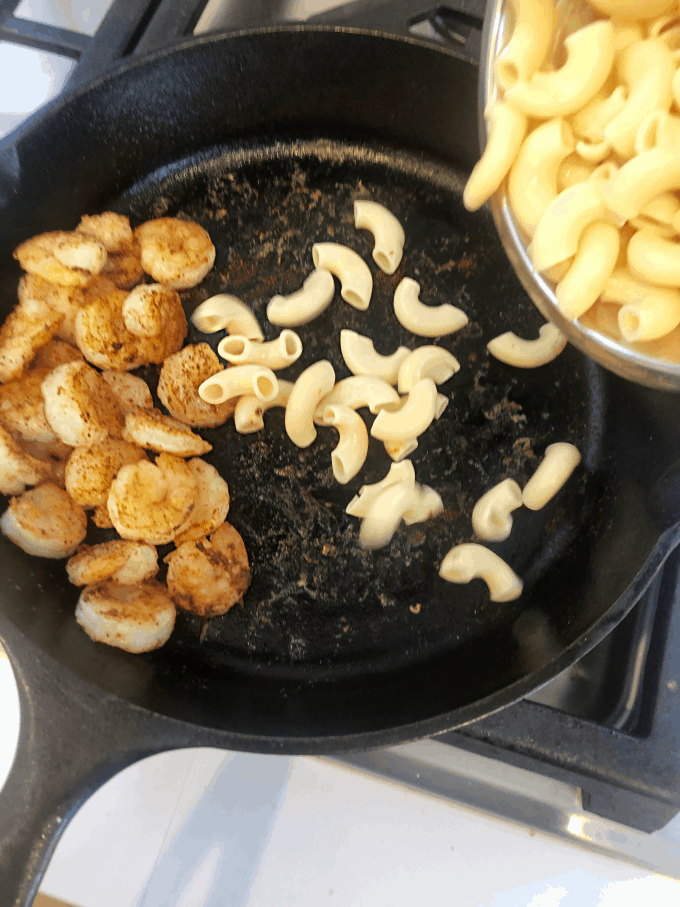 Chef's Notes:
Using a cast-iron skillet with this dish is beneficial. One it helps the seasoning stick to the shrimp and when the sauce is added, it adds additional flavor removing any bits off the pan. The heat of a cast iron quickly cooks the shrimp giving it great texture while crisping the edges, this adds to the flavor.
Cast iron skillets stay warm long after the heat is one of my favorite combos is spicy with sweet, it satisfies the demands of my cravings. And when I can get this flavor profile from a real meal and not just dessert, I am sold.
For that reason, I make lots of dishes with both elements to appease that side of my personality like my Sticky Sweet and Spicy Chicken and Beef with Snow Peas, I have LOTS of great cast iron recipes like this great skillet pizza and great desserts like this Banana Blueberry Cake, and this great Chocolate Chip Cookie Bites!
Question Time! Pasta dishes lend themselves to creativity and versatility. And I often get questions about just that so without further ado…
Inquiring minds want to know:
What other meats would work in this dish?
Chicken works flawlessly in this dish, as would pork loin. I would recommend cutting the meat in small chunks to evenly spread the flavor. And with chicken and pork, you could add the dry spices beforehand to allow it to marinate and penetrate it, producing a really tender and flavorful bite.
I'm really in love with the chili sauce recipe! What else can I use it in?
It's such a wonderful addition to so many things, one of my favorites is adding it to roasted cauliflower steaks or to spring rolls.
THIS is the sweet chili sauce recipe that gives this creamy sauce such great flavor, make it or purchase the sweet chili sauce here. 
Could I use other pasta in place of the elbow?
Yes, absolutely… this dish would be great with any shaped pasta from spaghetti to penne and everything in between.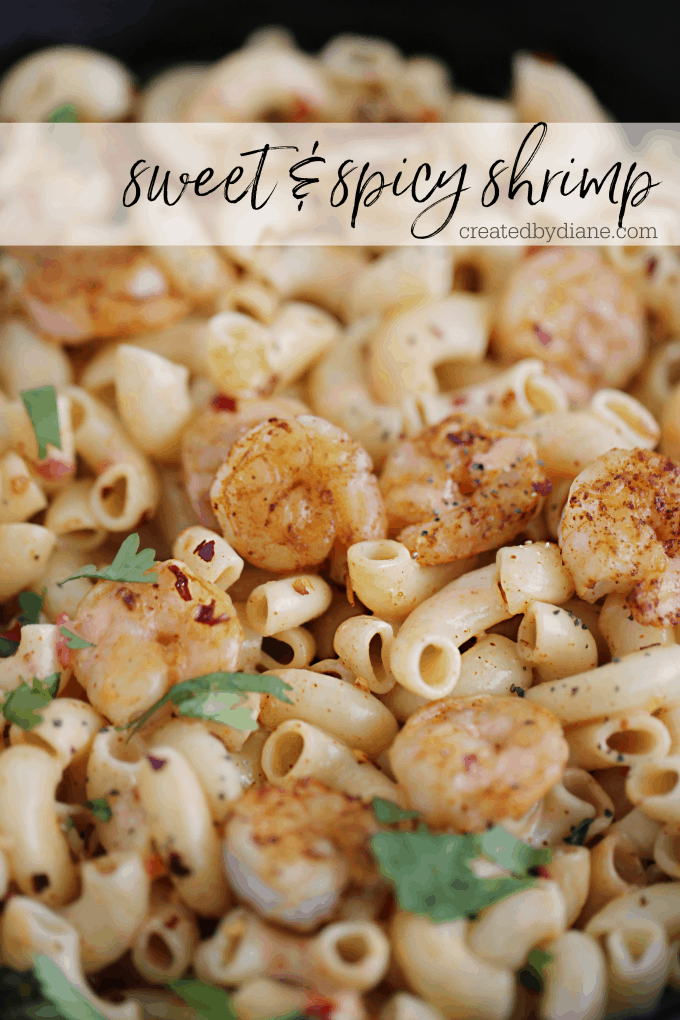 Check out this Shrimp Salad Recipe and scroll down the post to see a fun list of my shrimp recipes.
AND if you're looking for more pasta recipes CHECK out this post on my Pasta Sauces!
The sweet and spicy bang bang sauce is a true winner here!
Sweet and Spicy Shrimp
A creamy sweet and spicy sauce with tasty shrimp and pasta recipe that is easy for weeknight meals and great for date night.
Author:
Diane Schmidt Created by Diane
Recipe type:
Main Dish, Seafood, Pasta
Ingredients
1 lb shrimp (thawed, deveined, shell removed) (you can use raw or pre-cooked, I prefer raw)
1/2 lb (8oz) pasta (smooth large elbow pasta
1 cup heavy cream
3 tablespoons sweet chili sauce (purchases or my homemade sweet chili sauce)
2 tablespoons sriracha sauce
1-2 tablespoon lemon juice
2 teaspoons garlic paste
3/4 teaspoon chili powder
1/4 teaspoon paprika
pinch crushed red pepper
Instructions
Cook pasta according to package directions.
Pat shrimp dry with a paper towel, apple chili powder, and paprika to shrimp and saute in a hot skillet with a little oil until cooked for about 4 minutes.
I use a cast-iron skillet and some bits of seasoned shrimp may stick but when the sauce is added it'll lift up those bits and add additional flavor.
Add pasta to the pan once shrimp are cooked.
Mix heavy cream with chili sauce, sriracha, garlic, and lemon juice, and crushed red pepper.
Pour sauce over pasta and shrimp.
Cast iron skillets stay warm so the sauce will heat as it's tossed with the hot shrimp and cooked pasta. If the sauce isn't heated through turn your skillet on medium to heat everything together for a minute.
Add salt and pepper to taste.