Tequila lime shrimp will have you licking your plate. Grab a skillet and let's get cooking!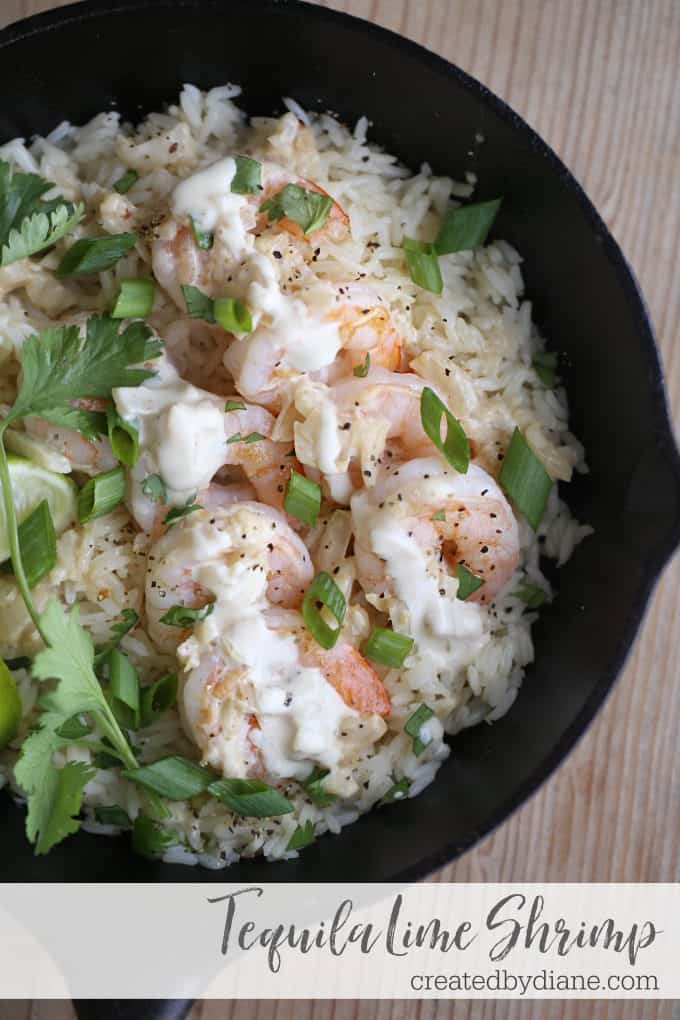 If you like the citrusy flavor of a margarita, salted or not you'll love this fun tequila lime shrimp recipe. the sauce is so delicious you'll want to definitely lick the spoon!
I'm a huge shrimp fan, it cooks quickly, is delicious and you can enjoy it in so many ways. If you like shrimp, be sure to check out my other shrimp recipes here.
What type of shrimp you use is up to you. I prefer it raw and to shell and devein them as I find they have the best flavor, but if I'm short on time precooked will work, just thaw and cook for 1 minute (30 seconds on each side) in a hot skillet I prefer to cook in cast iron it gives shrimp a great flavor….it gets a nice firmness on the edges and you'll love the flavor it'll give the whole dish.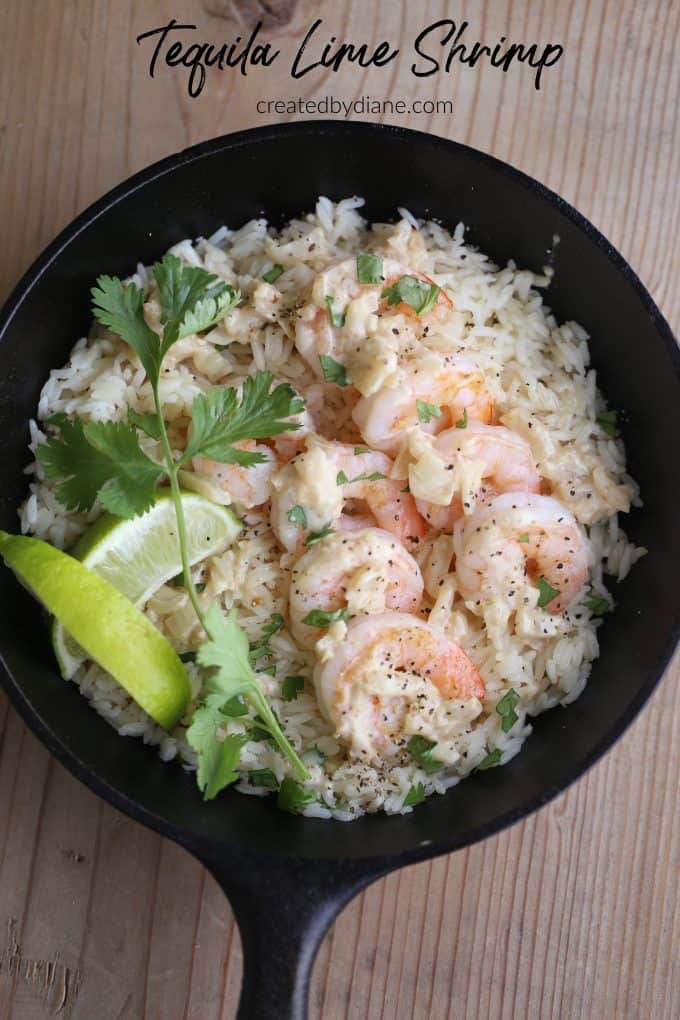 Ingredients
shrimp
onion
garlic
cream
lime
tequila
cilantro
Serve this great shrimp recipe over rice for a full meal or eat it on small dishes for a fun appetizer. 
I love rice and fried rice is one of my all-time favorites… looking for tips, check out my post on How to cook rice.
You can kick up a caesar salad by crisping up the shrimp in a skillet and make the sauce ahead of time and chill it and use it instead of traditional caesar dressing.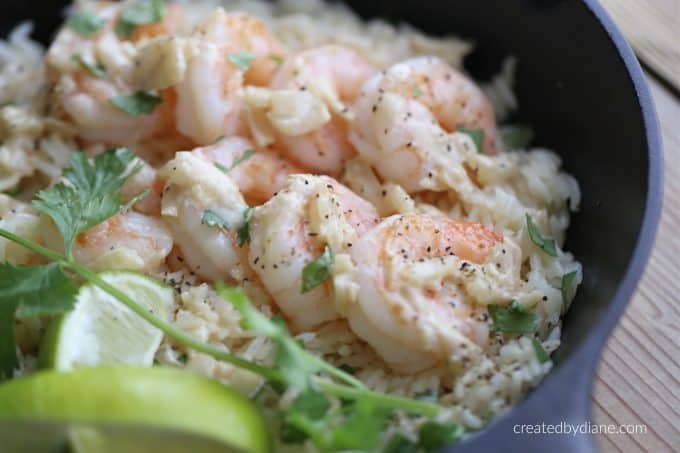 What type of rice is best?
That all depends on your taste, I like basmati, jasmine, and long grain rice. But feel free to serve your favorite variety. If you're looking for a super quick meal, they sell pre-cooked rice in grocery stores if you prefer.
Will the alcohol in this recipe be present after you cook the sauce?
I heat the alcohol first to be sure the alcohol cooks off, then be sure to heat the sauce thoroughly so the ensure the alcohol completely cooks off. 
Do you have more recipes like this?
As a matter of fact, I have some fun Margarita flavored recipes, give my margarita scones or margarita cupcakes a try. If you're looking for main dishes give this penne with vodka sauce a try, or my screwdriver spaghetti a go!
Tequila Lime Shrimp
A delicious creamy flavorful sauce with the tanginess of lime and the hint of margarita flavor that is poured on skillet cooked shrimp for a delicious meal.
Author:
Diane Schmidt, Created by Diane
Recipe type:
Main Dish, Seafood
Ingredients
1- 1 1/2 lbs shrimp, peeled and deveined
1 tablespoon oil
1/4 cup white onion, diced
1/2 cup heavy cream
1 lime, juiced
1/4 cup tequila
1-2 teaspoons garlic, minced
salt and pepper to taste
3 green onions, chopped
1 tablespoon cilantro, chopped
3 cups rice, cooked (1 1/2 cups rice 3 cups water cooked to package directions)
Instructions
First, you'll want to mix the sauce (as shrimp cooks quickly so you'll want to have the sauce ready to go) mix the heavy cream, lime juice, and garlic in a measuring cup.
In a skillet cook the shrimp in the oil and onion, turning the shrimp so they cook evenly.
The shrimp are done when they reach 140°.
Remove the shrimp.
Turn the heat onto low, then pour the tequila into the pan, it'll steam up and boil in the skillet, add the sauce mixture to the pan, and stir. If you want a more buttery tasting sauce add 1-2 tablespoons of butter and allow it to melt into the sauce as you stir it in while cooking the sauce.
Serve the shrimp over rice, pour the sauce over the shrimp and rice, and top with green onion and cilantro.