If you're looking for a delicious Kale Salad, you've found it. The Lemon Garlic dressing tastes fantastic!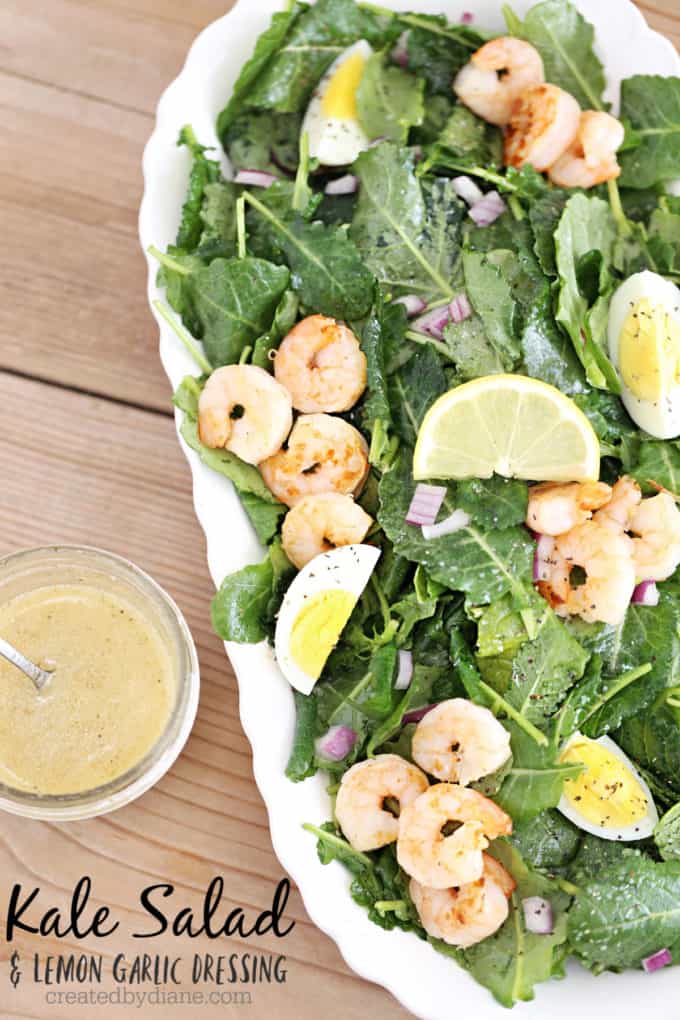 Nothing could be quicker, or more delicious than this Kale Salad with Lemon Garlic Dressing.
This simple dish offers all the health advantages that dark leafy greens have to offer as well as the natural antioxidants of garlic, making this choice not only tasty but nutritionally smart.
Kale really brings it home with vitamins A, C, B6, and K and in addition, offers antioxidants galore plus iron and potassium. Plus it's super versatile and is delicious in soups like this Italian Wedding Soup. Garlic and lemon are no push-overs, bringing antimicrobial defenses that fight the common cold. And shrimp, well it just tastes amazing.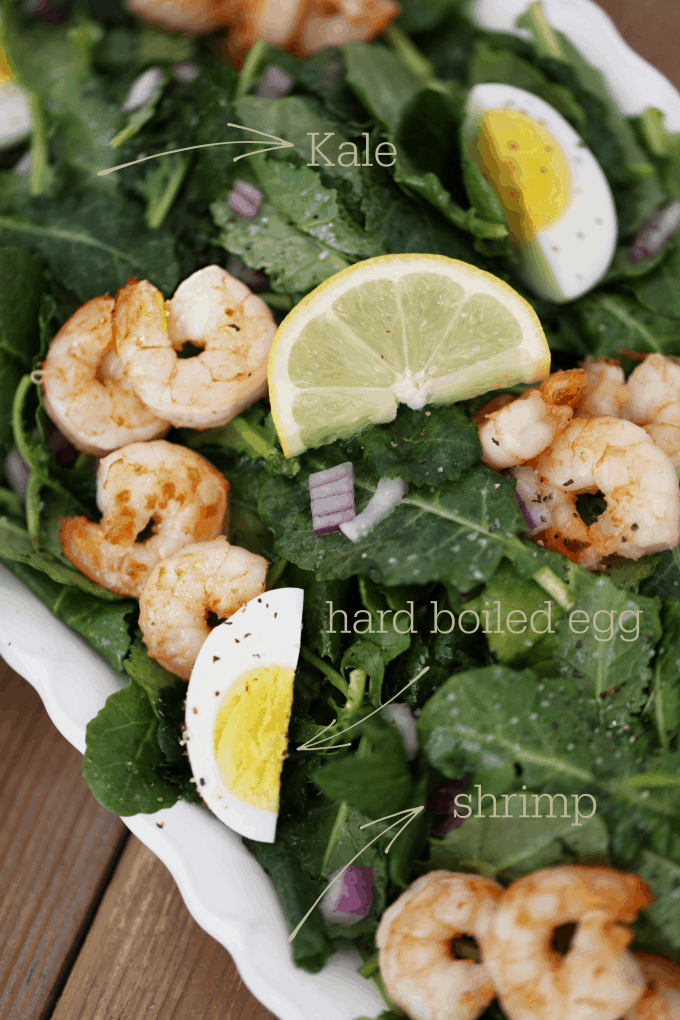 And this salad can be served as a side, or as a complete meal. It's great for entertaining guests outdoors in the cool of the waning summer evening, or as an end to a busy day.
The dressing can be made ahead of time if needed, which has the bonus of allowing all the flavors to marry and get happy for your taste buds. With that said let's start with the dressing first.
To begin, gather all your ingredients, and a tall container – this can be a recycled yogurt container or a tall plastic cup.
Place all ingredients inside and use an immersion blender to blend completely. Alternately you could use a traditional blender, drizzling the oil in as it blends.
Set the dressing aside.
You'll want to pre-prep your hard-boiled eggs. My favorite way is to take cook them in an Instant Pot, take a look at how easy!
Now slice your onion thinly, or as thin as you like and toss it with your kale. 
You're ready for the star- cooking the shrimp.
These small delicious crustaceans are best fresh if you can get them, otherwise, you could use frozen. Just be sure to thaw them in cold water, then blot them well with paper towels to remove excess water.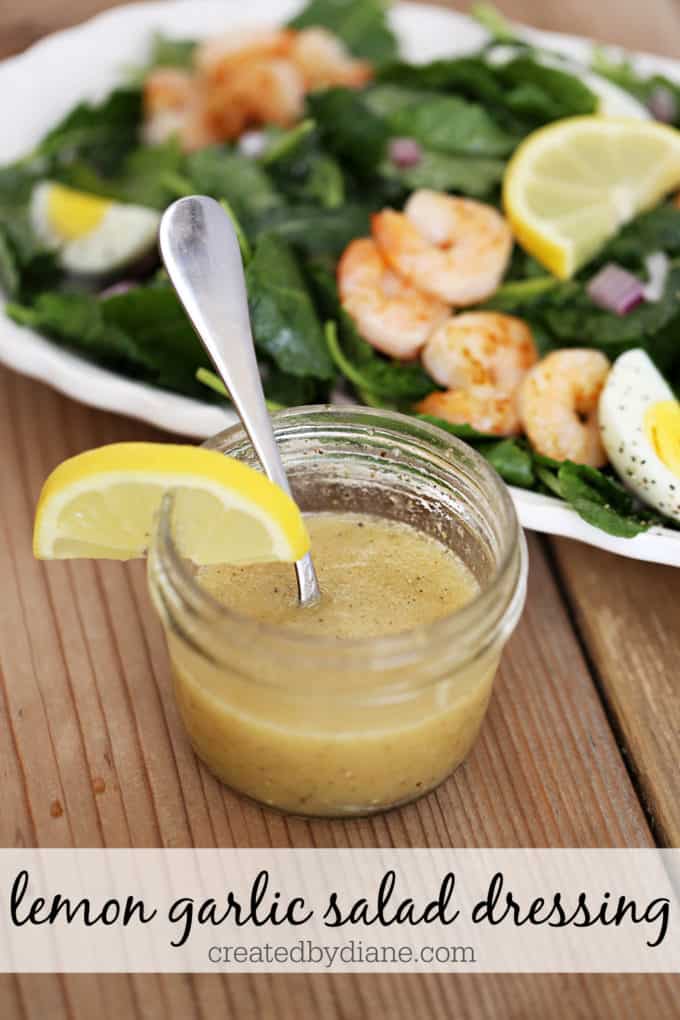 In a hot skillet, take butter and melt slightly on medium-high heat. Throw your shrimp in and cook – it doesn't take long, 2-3 minutes per side. A better indicator is when they began to curl and turn a slight pink.
If you like your food extra garlic-y, you can add a clove or two of minced garlic during the last minute or two of cooking.
Once cooked, do not leave in the hot pan, as the shrimp will continue to cook and could become rubbery. Instead, remove and place in a dish.
Lastly, toss your kale and onions with 2 Tablespoons of dressing and plate. Add your gorgeous shrimp and sliced hard boiled eggs.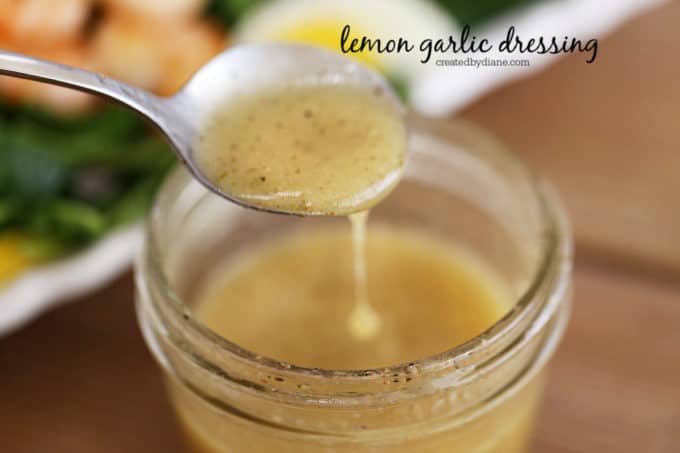 Inquiring Minds Want to Know:
Can I use another protein in place of shrimp?
100%! Chicken breast is easily substituted. Just be sure to read up on cooking times, as chicken takes a bit longer to be fully cooked.
For a vegetarian option, a marinated extra firm tofu would work seamlessly as well, you can even marinate it right in the dressing! I have loads of marinades as well too,  this one for Chicken Kabobs could also be used for another dish.
I don't have a blender, what can I use instead?
A ball jar and your muscles! Just add everything like you normally would and shake, shake, shake! 
Can I dress the salad ahead of time?
This is not a good idea. As the dressing sits on the greens it will begin to wilt and breakdown.
Now grab a nice dry white wine, kick your feet up and enjoy!
Lemon Garlic Dressing
A simple and delicious lemon-garlic salad dressing great on more than salad, great with shrimp, chicken, and pasta salad too.
Author:
Diane Schmidt Created by Diane
Recipe type:
Salad Dressing
Ingredients
3/4 cup oil (avocado oil, light olive oil or vegetable oil)
1/4 cup lemon juice
4 basil leaves
1/2 teaspoon oregano
2 tablespoons garlic
1/8 teaspoon seasoning salt
Pinch crushed red pepper
Pinch black pepper
Instructions
Place all ingredients in a tall container and blend with an immersion blender,
or use a traditional blender and drizzle in the oil as it blends.
kale salad with shrimp
A delicious kale salad with shrimp, hard-boiled eggs and lemon-garlic salad dressing
Author:
Diane Schmidt Created by Diane
Ingredients
8 oz baby kale
12 shrimp
1 hard-boiled egg
red onion, diced
2 tablespoons dressing (recipe above this one) *remember to print both
Instructions
Cook shrimp in a hot skillet until fully cooked, use a little butter for a delicious flavor, add garlic if you'd like the salad extra garlicky.
In a medium bowl toss kale with onion and dressing.
Plate salad, add shrimp and hard-boiled egg on top.
Add salt and pepper to taste.