Nothing spells out easy meal better than S-H-R-I-M-P, and nothing is simpler than this creamy lemon shrimp pasta!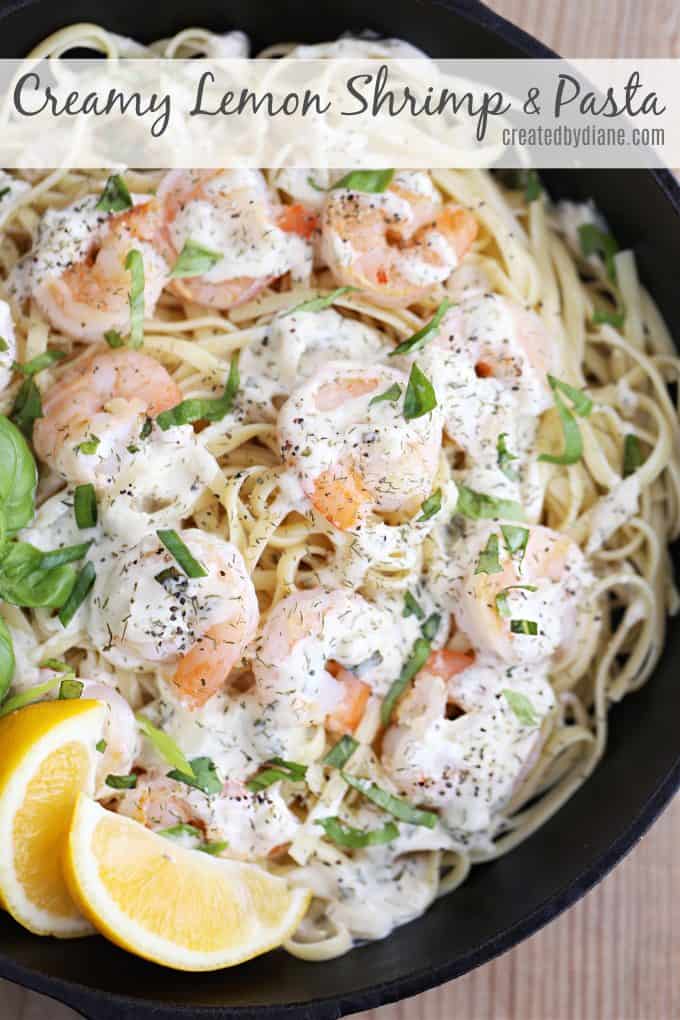 Give me all the shrimp and pasta… it's a great flavor combo, and the sauce is fantastic.
A staple in coastal cities across the world – from Japan to Greece and American cities like New Orleans and San Francisco, shrimp is king.
I love its fresh clean flavor, quick cooking time, and its versatility. It's great in ceviche, fried rice, or tacos. And as you'll discover it pairs great with this creamy lemon pasta.
This creamy lemon basil pasta will win you over in one bite!
Though this dish is rich in flavor it isn't heavy, as the fresh lemon cuts right through to reveal a mouth-watering dish that will keep your family and friends asking for more. 
Additionally, it's a time-saver, taking only 15 minutes to cook, it's perfect for the busy individual and impromptu occasions such as the unexpected dinner guest. It's also great for that romantic date, nothing adds a personal touch like fresh cooked food. 
Fresh basil and dill excite your taste buds and give this dish a zip. And the steps couldn't be simpler.
After cooking your pasta according to directions, drain.
Heat your pan to a medium heat add your chopped onion, garlic, and butter and cook until aromatic-about 1 minute.
Next, you'll add in the cream, keeping a watchful eye on the heat of your pan. Too high of heat can cause the sauce to break. Whisk in lemon juice and add your herbs, salt, and pepper.
Next is our star, the shrimp! If you're using frozen shrimp, fully thaw in the fridge the night before you plan on cooking. If using fresh, make sure they are cleaned, deshelled, and deveined (I show you how on this post) Cook the shrimp in the sauce and over medium-low temperature until the shrimp is cooked for about 4 minutes, they will curl up and their color will be pinkish.
Don't boil them! They will become tough and rubbery!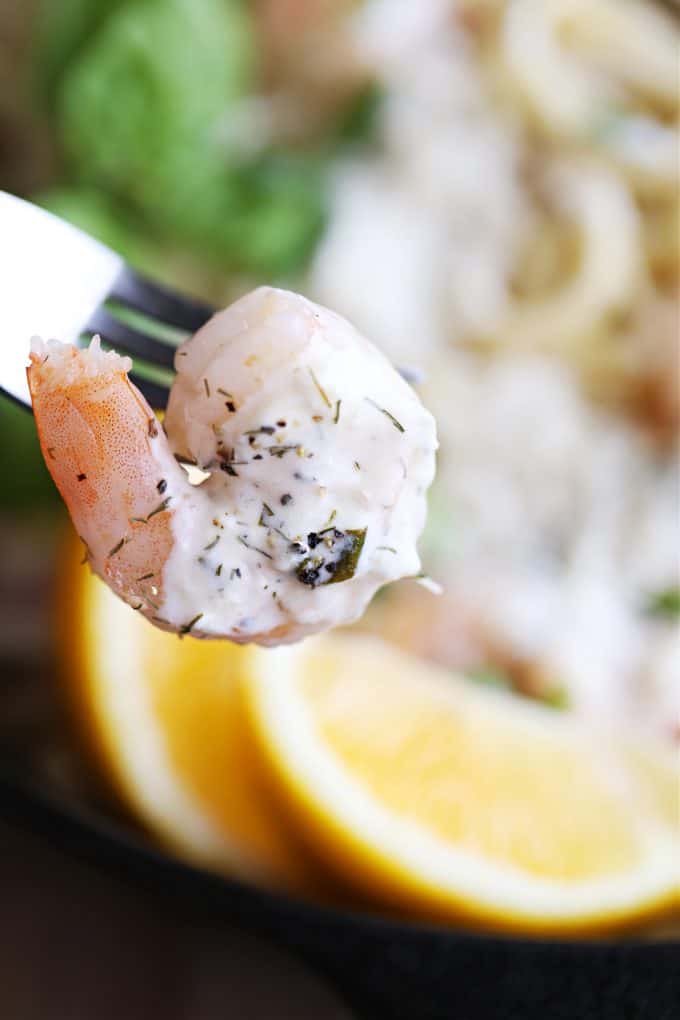 Divide pasta between plates and top with shrimp and sauce.
And for a finishing touch add grated Romano or parmesan cheese if desired and serve!
A beautiful bonus is this recipe is adaptable. You can easily exchange some ingredients for something more tailored to your tastes.
Inquiring minds want to know:
Can I use oil in place of butter?
Absolutely! For a "lighter" version simply use the same amount of olive oil, it makes a great substitute. Keep in mind that oil and butter have different smoke points, butter is right at 350 degrees where olive oil is right at 410 degrees – so you may need to make heat adjustments there.
Can I use other proteins in place of shrimp?
Yes! Chicken is a great substitute if you're not a seafood lover. In fact, you could even use a hearty vegetable, like mushrooms in place of the meat.
Can I make the sauce ahead and store it in the fridge?
You could, however, the sauce will be quite thick when it cools down, so you will need to add more liquid upon reheating. And it's best done on the stovetop and not in the microwave as microwaves reheat too quickly for cream sauces and can cause the beautiful sauce you made to separate.
When reheating on the stove add a little broth or milk and slowly warm, stirring constantly to prevent scalding.
However, the sure bet is to just make it fresh, it only takes minutes and fresh flavor is always the best flavor! 
It does heat nicely if it's mixed with pasta in the microwave, pasta, and sauce together has a way of heating well unlike the sauce separately.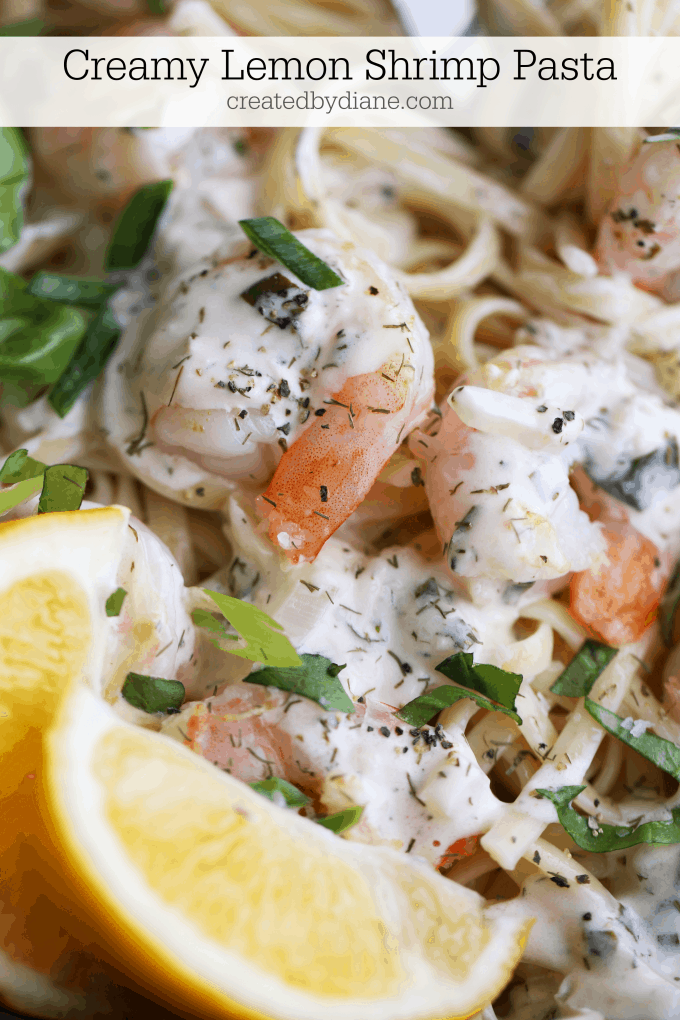 This sauce is delicious, add shredded Romano or Parmesan Cheese,
if you like it spicy add a pinch of crushed red pepper if you want additional seasoning, add a pinch of old bay seasoning.
Creamy Lemon Shrimp Pasta
Creamy lemon sauce with shrimp over pasta makes for a simple meal that tastes fancy. Perfect dinner for 2 or multiply for more servings.
Author:
Diane Schmidt Created by Diane
Recipe type:
Main Dish, Seafood
Ingredients
8 oz cooked pasta (I used linguini)
8 oz medium shrimp (raw or pre-cooked)
1 tablespoon butter
1/4 cup diced onion
2 teaspoons garlic paste or minced garlic
1 cup heavy cream (or 1 cup milk and 1 tablespoon cornstarch
2 tablespoons fresh lemon juice
4 leaves fresh basil, diced
1/4 teaspoon dry (or fresh) dill
pinch salt and pepper
Romano or Parmesan Cheese (optional)
Instructions
Cook pasta according to package and drain.
In a saute pan over medium heat add onion, garlic, and butter and cook for 1 minute.
Then pour in the cream, whisk in lemon juice and then add in basil, dill, salt, and pepper.
If you're using raw shrimp, fully thaw, then blot them with a paper towel. Place the shrimp in the sauce and heat over medium-low temperature until the shrimp is cooked for about 4 minutes, turning them to cook evenly.
If you're using pre-cooked shrimp, be sure they are fully thawed and blotted with a paper towel, add them to the sauce, and heat them on low just until they are hot (do not simmer the shrimp in the sauce or they'll become tough).
Place pasta divided between plates then top with shrimp and sauce.
Add Romano or parmesan cheese if desired and serve.