This recipe takes the intimidation out of Baked Alaska with this really simple version.
There is no need to think that this will be complicated or take a ton of time…
First, there is nothing like an impressive dessert that isn't complicated.
Second, you can make this a day ahead of time which is great.
And third, just wait until you scoop out your first spoonful and take a bite… it's delicious.
I don't recall when I first saw a baked Alaska…
but I'm pretty sure it was in a magazine when I was a kid, maybe a cookbook.
I recall making one when I was about 20 years old. I was so impressed with how it turned out, it was a lot of work (especially since I didn't cook or bake often at that point, but it was delicious but fussy. Trying to get the meringue to stick to the ice cream (this is a way different meringue, I have no trouble slathering it around this (one this is much smaller than a large baked Alaska, and the texture of this meringue just worked better and way more delicious!) but the baking and then multi-step process and the part about having a large open space in the freezer is always a challenge!
But this version is simplified, easy, and can be made quicker and enjoyed even faster. I recall browning my first on in the oven and being nervous that it would all melt, but luckily it didn't, browning any meringue it's really fast, so if you haven't done it before, don't worry, just use a kitchen torch or put it under the broiler, but be sure to keep an eye on it.
I used a small kitchen torch, I've had one for years, and use it whenever I want to toast something quick, usually marshmallow based items, but you can use it on creme brule too. It's simple to operate, works like a lighter, and I just LOVE the color and even toasting it offers. 
This, this, and this are other times you can use a kitchen torch on, or under your broiler, a handheld torch gives you more control and you can watch it every step of the way.
And this… amazing S' more Cake is just one more item to admire and use a kitchen torch on the Italian Meringue to get it perfectly toasted.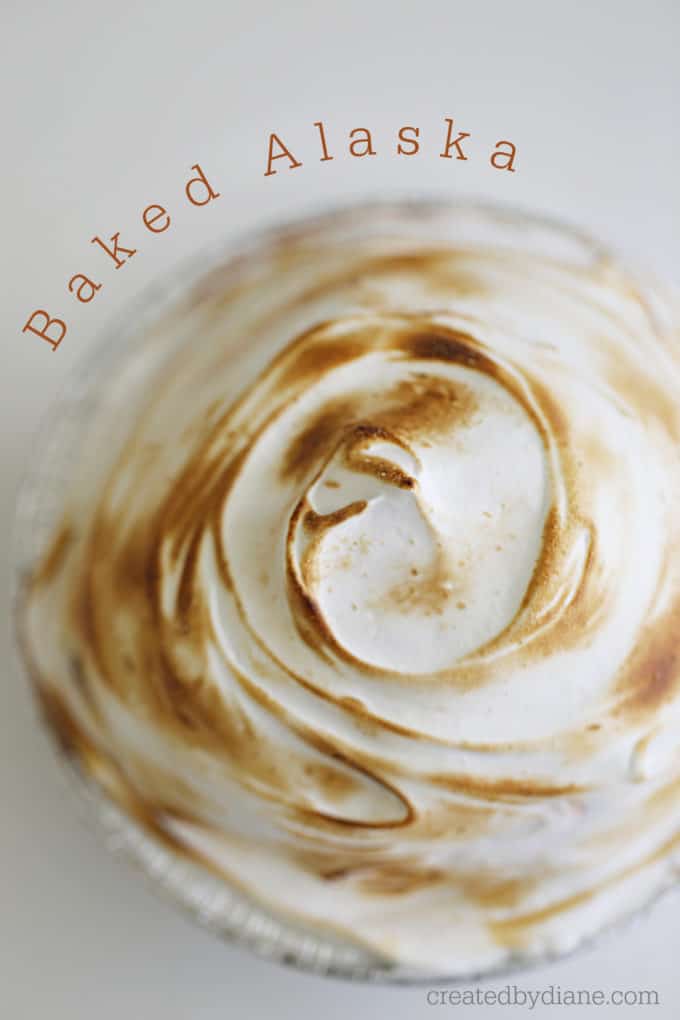 What I LOVE about this version of baked Alaska:
No cake baking involved… this uses a delicious chocolate graham cracker crust, you can make it with regular graham cracker crumbs, or any other cookie you'd like, chocolate chip, vanilla wafer, Vienna finer, Oreo, you choose. If you like peanut butter, crush up some nutter butter cookies or add some peanut butter to the graham crackers or vanilla cookie.
No perfect round bowl to find, just a simple aluminum foil dish you can find at the grocery store. You could also make this on a small baking sheet or pie plate, just place the cookie bottom down, then scoop on the ice cream, then pile on the meringue topping, and brown it, any shape you make this in will be delicious.
It'll be up to you if you want to share this with more than one person, you could…
me… I like a BIG portion of ice cream so I'd share with one person, but this easily can be portioned for 4 small servings.
But I could totally eat the whole thing myself, I have a huge appetite for ice cream and find I can practically eat my weight in ice cream just about any day you aks me.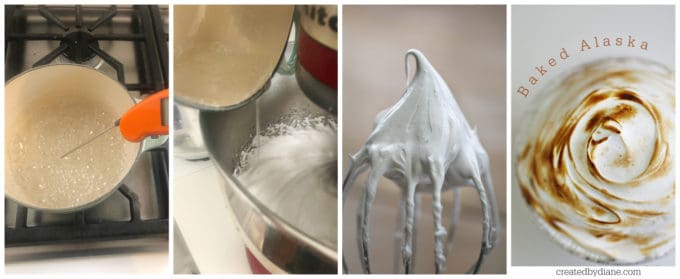 I made Italian Meringue for the topping, it's so delicious and not overly sweet nor does it taste like typical meringue, it's not spongy or dry, it's silky and smooth… and well, let's just way you can eat it off a spoon! More on my Italian Meringue can be seen here.
To make the meringue you'll heat sugar and water until it reaches 240°. 
While the syrup is heating you'll whip the egg whites until they create soft peaks,
then pour the syrup into the egg whites while they are mixing continuously a thin drizzle of the syrup is necessary to allow it to mix together properly.
After all the syrup is added continue to whip the mixture until the bowl has cooled, and the meringue is at room temperature.
You'll want to use the meringue when you're done making it.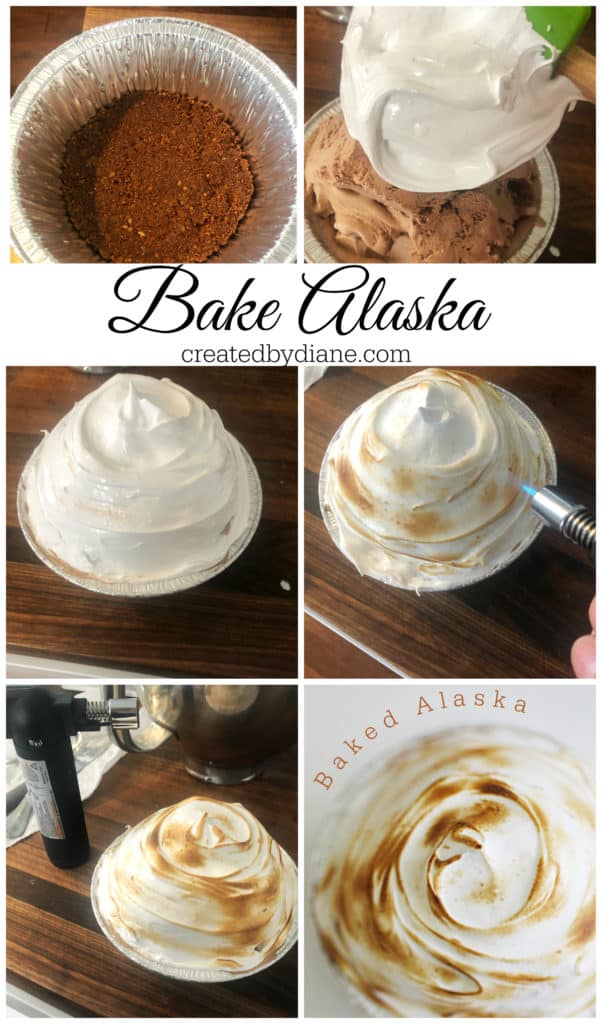 I used round aluminum foil tins (5″ round).
Prepare the meringue.
Press the "cookie" mixture into the bottom of the pie plates or dish you'll be using, you'll then add the ice cream. 
Allow the ice cream to sit for 4-10 minutes on the counter just to soften enough to scoop easily, pile the ice cream over the bottom filling, I like to mound it up in a  dome shape like a traditional baked Alaska, use a spatula and spread the ice cream smooth.
Then you'll scoop out the Italian Meringue and slather it over the ice cream, then brown it with a torch or put it under a high broiler to "toast" the meringue.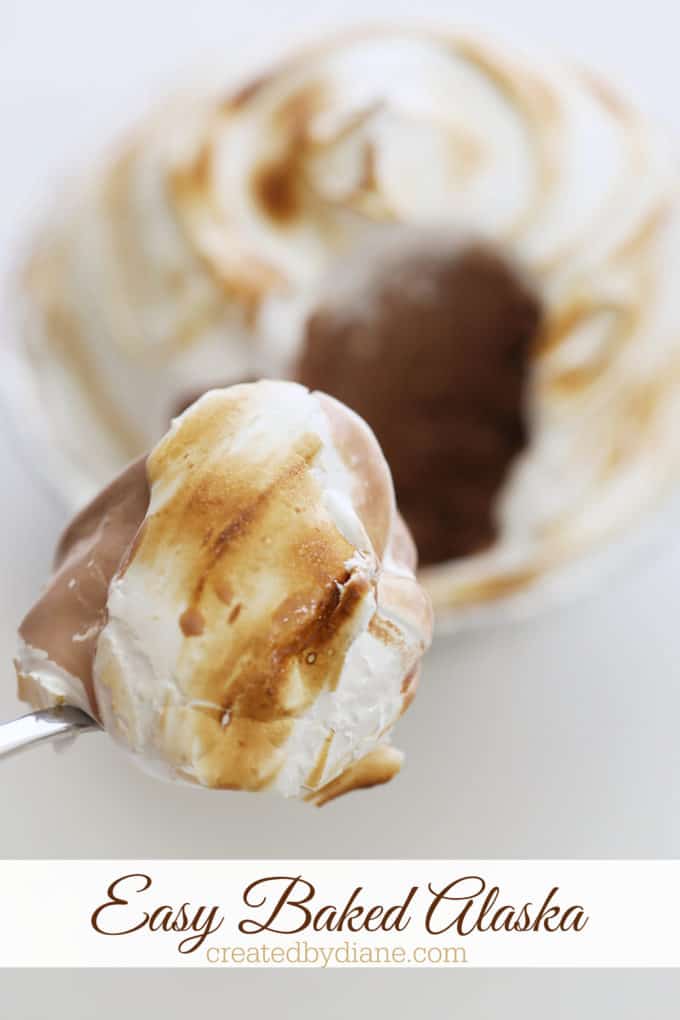 Just one bite and this may be your new favorite dessert, it sure is mine!
Baked Alaska for Two
simple baked Alaska with graham cracker crumb bottom, ice cream pile high and topped with a delicious Italian Meringue slightly browned for a delicious toasted flavor
Author:
Diane Schmidt Created by Diane
Ingredients
1/2 cup graham cracker crumbs
1/4 cup chocolate, melted (I use 60% cacao chips from Ghirardelli)
3-4 cups ice cream (chocolate) approximately 1/2 a 48 oz container
Italian Meringue recipe
3/4 cup granulated sugar
1/4 cup water
2 egg whites from large eggs
Instructions
I used 5" round aluminum foil tins.
Mix the graham cracker crumbs with the melted chocolate and press into the bottom of the tin (alternatively, you can use butter if you'd prefer plain graham cracker bottom.
prepare meringue by bringing the sugar and water to a boil in a saucepan until it reaches 240°
in the bowl of a mixer whip egg whites until soft peaks form
then slowly drizzle the syrup into the whipping egg whites until all the syrup is added (be sure not to pour it in)
Continue to whip the mixture until the bowl is cool and the meringue is at room temperature, it should offer firm peaks
Allow the ice cream to sit out at room temperature for 5-10 minutes so it's easy to scoop
Pile the ice cream on top of the crumb bottom
then pile on the meringue,
swirl it with the back of a spoon either to go around the ice cream in a circle or to create a "peaked" effect
Use a torch to toast the meringue or place it under the broil for 2 minutes