Classic and loved by people everywhere, each bite of this Chocolate Cupcake recipe will have you nostalgic for simpler times and days past…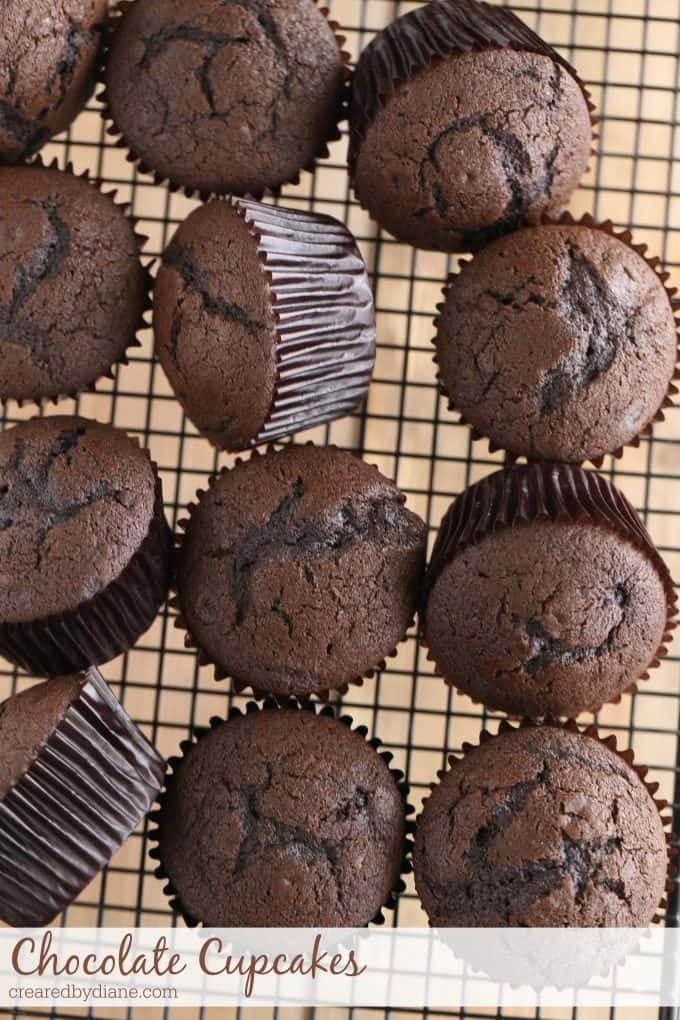 Cupcakes are a go-to for celebrations of all kinds and birthday parties, graduations, and everyday festivities are made merrier by them. Moist and surprisingly light these delicious cupcakes will be the recipe you reach for when such an event pops up!
And I have homemade frosting recipes that will knock your socks off! Creamy and smooth, with great flavors they're sure to be a pleaser.
And if you want to switch things up this Oreo frosting is amazing and kid-tested.
Or maybe a chocolate cream cheese frosting for a mild and tangy option.
I have loads of chocolate frosting recipes to mix and match with your favorite cakes, brownies, and even cookies.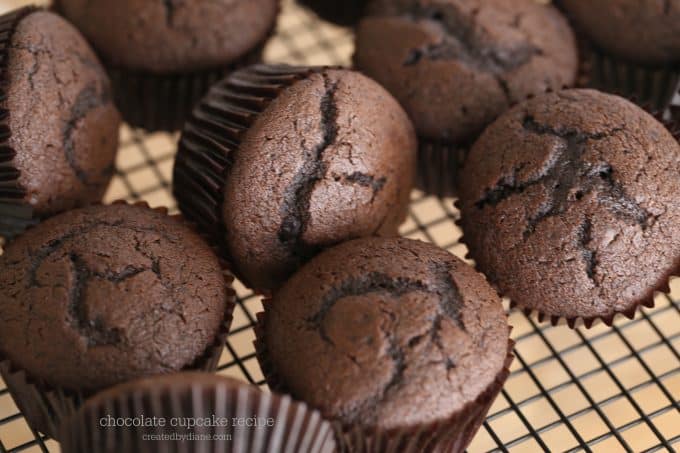 Let's get these little cakes going!
Preheat oven to 350°
I prepare a 12 portioned cupcake pan with cupcake liners. 
Some days I love my mixer and others it just seems easier to do without it, and this recipe is perfectly mixed by hand using a whisk and a spatula. You may of course use a hand mixer or a stand mixer… 
Which means no special baking items needed. You can make these chocolate cupcakes anywhere! They sell aluminum foil cupcake pans in the grocery store if you happen to be away from home and want to bake, or you can bake but don't have a cupcake pan or maybe you are camping!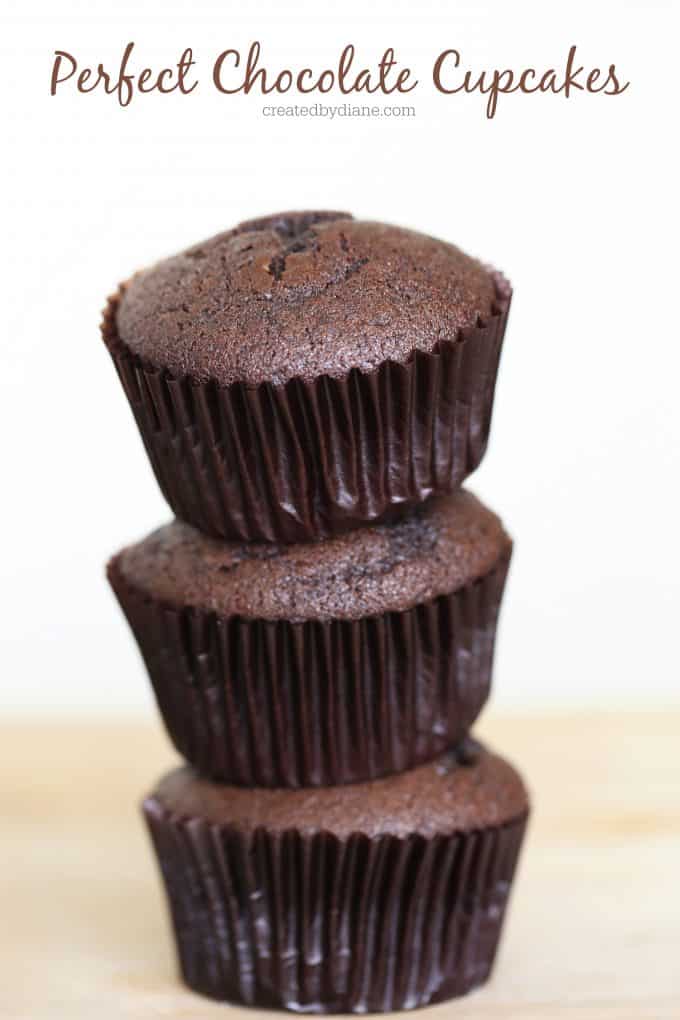 In a medium bowl place cocoa, baking soda, and boiling water and whisk to combine. Set aside until needed.
You'll need to melt your butter, a microwave works great or you may use a small saucepan on the stovetop.
Once your butter is melted, in a separate larger mixing bowl, whisk it with the oil, sugar, vanilla, and salt.
Next, mix in the eggs. I like to crack my eggs into a small dish first to be sure I don't accidentally get shells in my mix.
Once the eggs are combined into your butter mixture, set aside and turn your attention back to your medium-sized bowl with the baking soda/cocoa mixture.
Add the flour and baking powder to the cocoa mixture, whisk until combined.
Then you'll add the heavy cream and mix just until combined.
lastly add in the cocoa mixture and mix well.
Now we are going to get ready to load up our cupcake liners!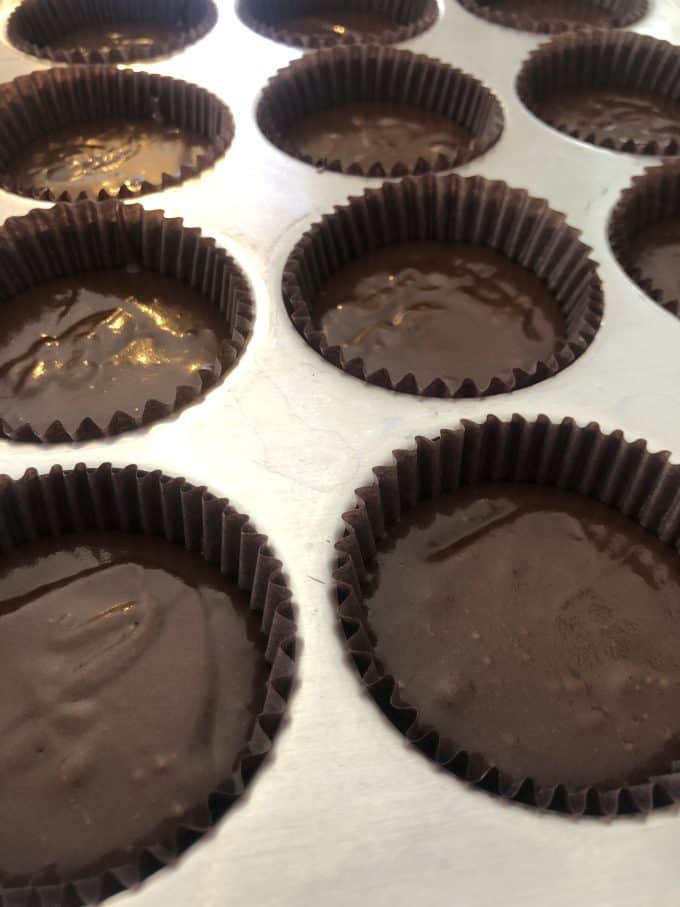 Place 3 tablespoons of cupcake batter into each cupcake liner, I use this style scoop to be sure wall my cupcakes are the same size.
Bake your cupcakes for 18-20 minutes or until a toothpick comes out clean.
Allow cupcakes to cool for 5 minutes, then remove cupcakes from the pan and place them onto a cooling rack to cool completely before icing them. 
While you're waiting, fix a cup of coffee. After all, you'll need it when you "test" your end result! Enjoy!
Questions asked and answered:
Can I make these without cupcake liners?
I do this all the time, sometimes you just have to have a cupcake and there are no liners! You'll use a muffin/cupcake pan and lightly butter it and flour it like you would a cake pan.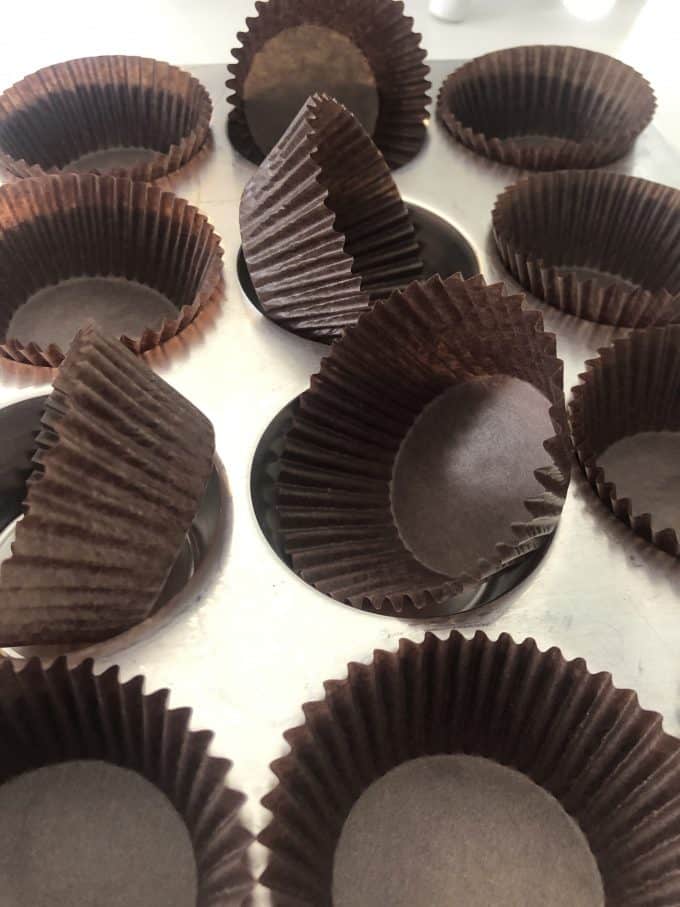 I typically buy brown or black glassine cupcake liners, they don't stick to the cupcakes, and look great on baked cupcakes.
I don't have heavy whipping cream, is there a good substitute?
Yes, you can replace the cream with whole milk and a little butter. Combine 1/4 cup of melted butter with 3/4 cup of milk and mix thoroughly to make 1 cup of heavy cream. You can find other options HERE.
Could I use this as a cake recipe?
Yes, you can. It will require a longer baking time. I would begin checking your cake at the 30-minute mark as ovens vary. You can use the toothpick trick to help you, another way to be sure your cake is done is by gently pressing with your finger pads in the center of the cake – it should spring back if it's done. If you leave an indention, leave it longer to bake.
I checked this recipe in the microwave, YES REALLY… and added 3 tablespoons in a mug and microwaved it for 1 minute, the result was a fluffy cake, you can add some mini chips for an extra chocolatey flavor.
12 chocolate cupcakes
Author:
Diane Schmidt, Created by Diane
Ingredients
1/2 cup boiling water
1/4 cup dutch process cocoa
1/2 teaspoon baking soda
2 tablespoons butter, melted
2 tablespoons oil (I use avocado oil, vegetable oil can also be used)
3/4 cup granulated sugar
1 teaspoon vanilla extract
1/4 teaspoon salt
1/4 cup heavy cream
1 cup all-purpose flour
1/2 teaspoon baking powder
2 eggs
Instructions
Preheat oven to 350°
Line a 12 portion cupcakes pan with cupcake liners.
In a bowl, mix boiling whisk hot water or coffee, cocoa, and baking soda. Set this bowl aside.
In a large mixing bowl whisk together melted butter, oil, sugar, vanilla, and salt.
Mix in eggs, then stir in flour and baking powder to the cocoa mixture and whisk it until it's blended, then add in heavy cream and mix until just combined.
Add in the cocoa mixture until well blended.
Place 3 tablespoons into each cupcake liner in the cupcake pan.
Bake for 18-21 minutes or until a toothpick comes out clean.