Cannoli Cones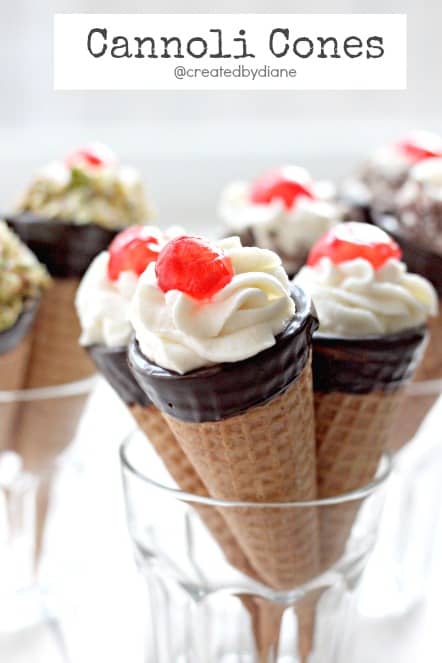 These may look like ordinary ice cream cones, but Oh trust me these are different!
These are Cannoli Cones.
Sugar cones filled with the light and delicious Cannoli filling.
Cannoli's have always been a favorite of mine.
These are the quickest and easiest cannoli's ever.
They are sugar cones (ice cream cones) dipped in chocolate, then topped with a cherry, pistachios or more chocolate.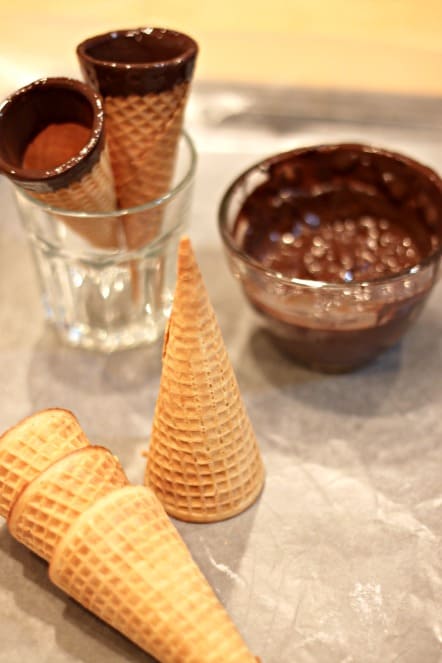 Dip cones in melted chocolate.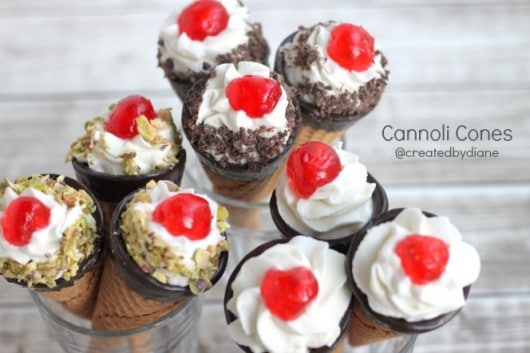 Then prepare the filling and fill the cones, top them with your favorite cannoli topping of pistachio, chocolate shavings or chocolate chips maybe slivered almonds and place a candied cherry on top for fun!
Cannoli Cones
Ingredients
12 sugar cones
3/4 cup melted chocolate (I used Merckens Dark Chocolate Wafers)
1/2 cup heavy cream
16 oz ricotta cheese (whole milk ricotta)
1/2 cup powdered sugar
1/2 teaspoon vanilla extract
Garnish:
candied cherries, pistachios, chocolate shavings/chips
Instructions
Dip cones into melted chocolate so the edges are covered and the cone is about 1 inch.
Set cones in a shallow cup to dry or on wax paper.
Whip heavy cream until stiff peaks form.
Mix in the ricotta cheese, powdered sugar and vanilla extract until smooth.
Place the mixture in a piping bag fitted with a star tip, I used a 2D tip.
Fill each cone and tip them with your favorite cannoli topping, and add 1/2 a candied cherry on top.
These are best filled just before serving.
The chocolate on the cones and the filling can be done ahead of time.
Keep filling refrigerated.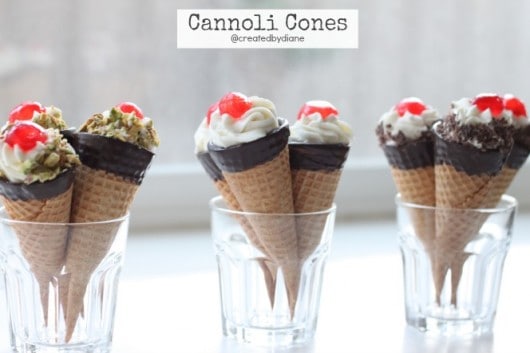 This is the cute and fun anytime NO-BAKE dessert that is a crowd pleaser!