You're going to love the taste of these coffee chocolate chip cookies. They're delicious on their own but pair perfectly with a morning cup of joe as well. (and who says that you can't have a cookie for breakfast?!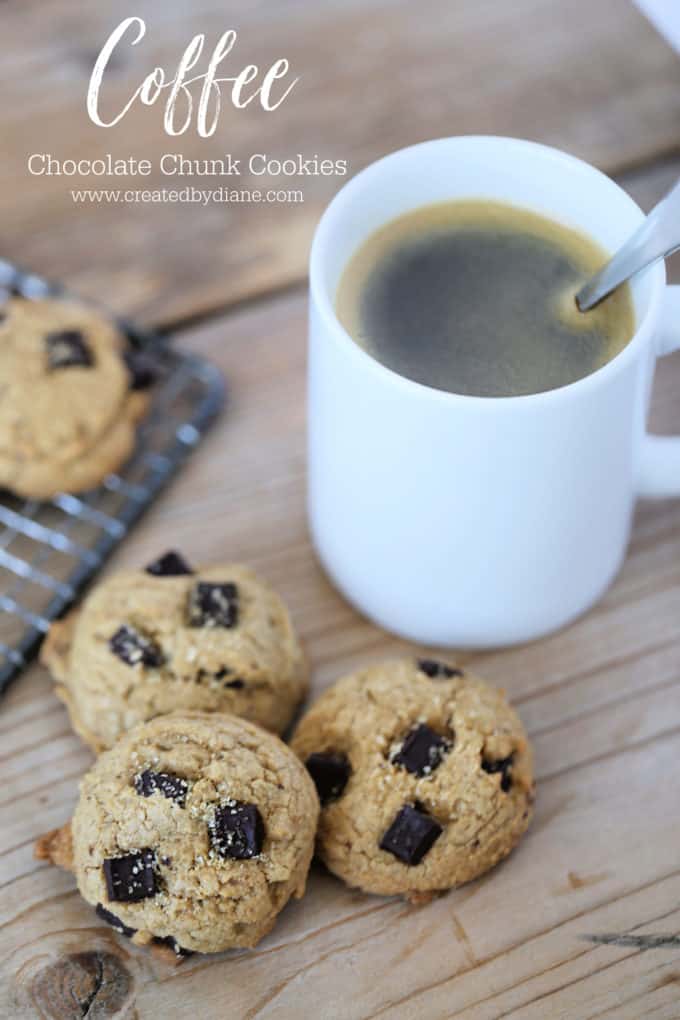 I'm always amazed at just how many fun things you can do with Instant Coffee. While it's a simple way to make a cup of coffee in a flash, it's also a great added ingredient to give your desserts (and even meals) a boost of taste, too. 
The balance is what you have to work on when you're using an ingredient like Instant Coffee and this recipe has it down. Just two simple tablespoons of instant coffee will have these cookies tasting great and giving you a much-needed boost of caffeine as well! 
If you're looking for a great latte…. try this Dalgona Coffee, otherwise known as the quarantine coffee, it's my favorite! Enjoy it hot or iced!
[rss-cut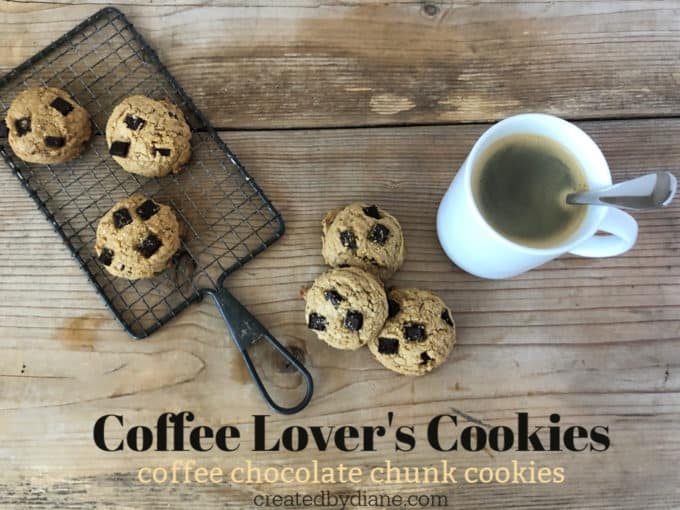 Are these coffee-flavored cookies soft are crunchy?
These coffee cookies are soft and a bit chewy, which makes them perfect for dipping as well. The brown sugar gives them that rich taste that we all know and love and the chunks of chocolate provide that "crunch" baked right inside the cookie.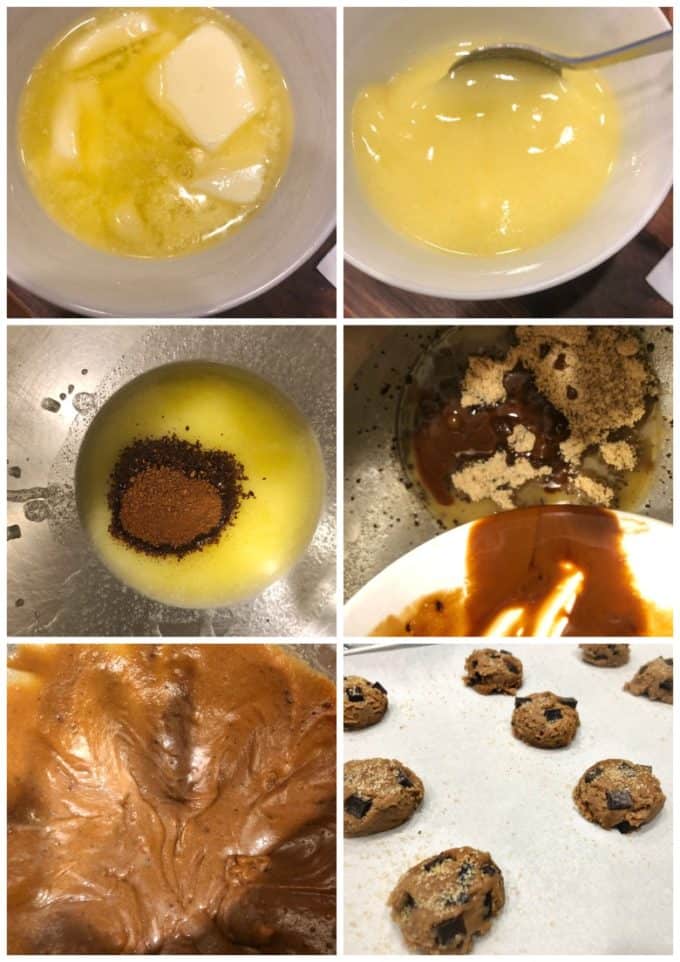 When melting butter for these cookies, do not boil the butter. I find it's easiest to place the butter in a dish and microwave it on the "defrost" setting for 30-30 seconds and completely stir it, often all the butter isn't melted, but the part that is melted when stirred will melt the remaining butter.
Add the instant coffee to the melted butter, this ensures it will rehydrate and completely combine into the cookie.
Once the cookie dough is portioned out on the baking sheet top each cookie with coarse sugar, I use Turbinado sugar.
What effect does cornstarch have on cookies?
You'll find that a lot of cookie recipes have a bit of cornstarch added into the ingredient list. This is because cornstarch can help soften up the cookies a bit and help to make them chewier. It's used typically in combination with flour in most cookie recipes as well.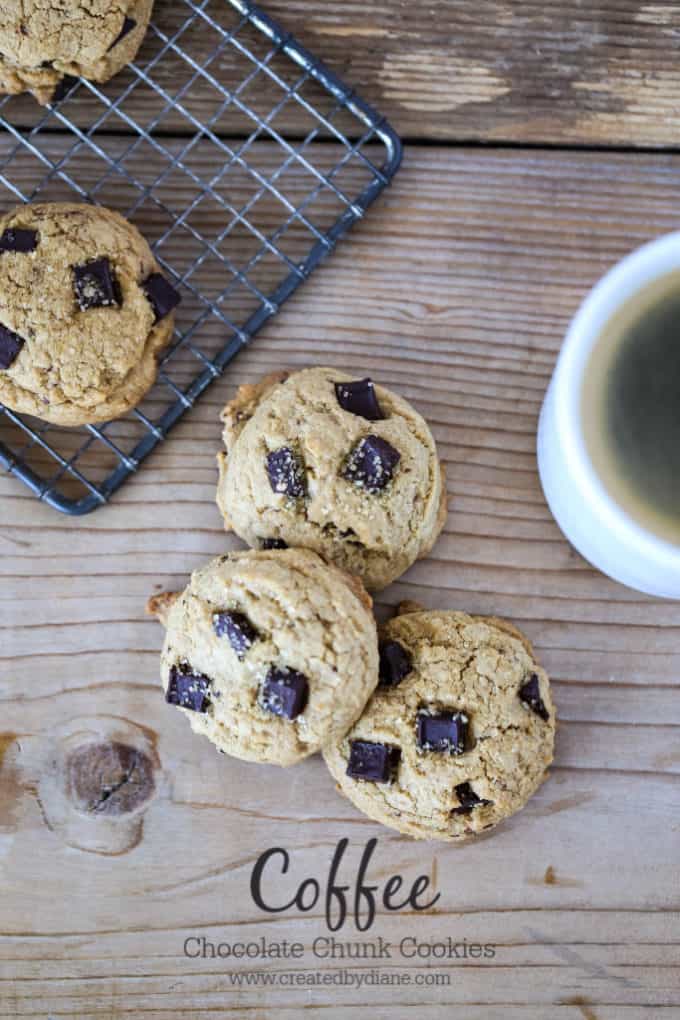 Are you ready for this delicious recipe? I think it's going to be your "go-to" cookie for sure! Or should I say your next breakfast favorite?
If you're a coffee-lover give these coffee scones and my coffee syrup recipe a try too.
Coffee Cookies
You're going to love these coffee cookies made with the delicious flavor of coffee and filled with dark chocolate chunks of chocolate sprinkled with turbinado sugar on top!
Author:
Diane Schmidt Created by Diane
Ingredients
1/2 cup butter
2 tablespoon instant coffee (or instant espresso)
1/2 cup granulated sugar
1/2 cup dark brown sugar
1 teaspoon vanilla extract
1 large egg
1-1/2 cups all-purpose flour
2 teaspoons cornstarch
1/2 teaspoon baking powder
1/4 teaspoon salt
3/4 cup chocolate chunks (I used 72% chocolate chunks about 5 oz.) any chocolate will be delicious, I do love 60% chips too.
2 tablespoons turbinado sugar (for tops of cookies)
Instructions
Preheat oven to 350°
Cut butter into tablespoons so it will melt evenly, in a microwave-safe bowl add butter and microwave about 25 seconds, you do not want to "boil" the butter, it should almost be all melted but not completely liquidy. Mix it with a spoon as the hotter spots will slowly melt the other areas of butter not yet completely melted.
Stir in the instant coffee granules until they completely dissolve.
In the large bowl of a mixer add butter, granulated sugar, and brown sugar and mix until combined well.
Beat in the vanilla and egg.
Add in the flour, cornstarch, baking powder, and salt and mix on low at first then once it's added in mix on medium to fully combine.
Stir in chocolate chunks.
On parchment-lined baking sheet add cookie dough in 2 tablespoon portions spread out 2 inches apart for even baking.
Bake cookies for 12-14 minutes (12 will give you chewier cookies, 14 will be firmer cookies)
Allow cookies to cool on baking sheets then serve.