This homemade brownie recipe is great for every day celebrating to enjoying life's special moments that call for chocolate deliciousness. This recipe is perfect 9×13 to give you 12 large or 24 smaller brownies.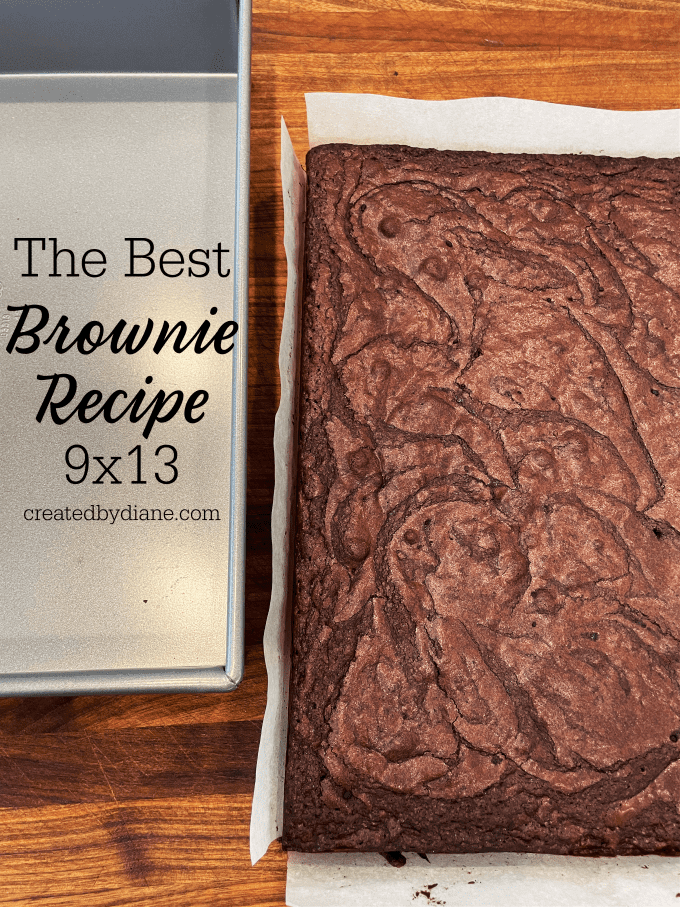 If you're looking for an easy homemade brownie recipe…
This rich chocolate fudgy brownie recipe with that desirable crackle top that every brownie lover looks for is what the recipe delivers, and will be enjoying the chocolaty goodness in no time!
How do you make chocolate brownies?
you'll need a few ingredients and then you'll be ready to get mixing. You don't need a mixer, just a mixing bowl, and wooden spoon, or a firm spatula.
With just 7 simple ingredients, you won't believe how delicious these home made brownies are:
butter
sugar
vanilla
eggs
flour
cocoa
salt
What else can I add to these brownies?
You can add a cup of chopped nuts, or chocolate chips, you can add a teaspoon of almond extract for a fun flavor option, and if you do maybe top the brownie batter with a third cup of sliced almonds. Chocolate raspberry is a fun flavor option so go ahead and add a teaspoon of raspberry extract. If you prefer white chips, go ahead and add those in. For a fun peanut butter flavor added you can add in chocolate chips, or use 1/4 cup peanut butter into the mix.
More of my 13×9 pan recipes: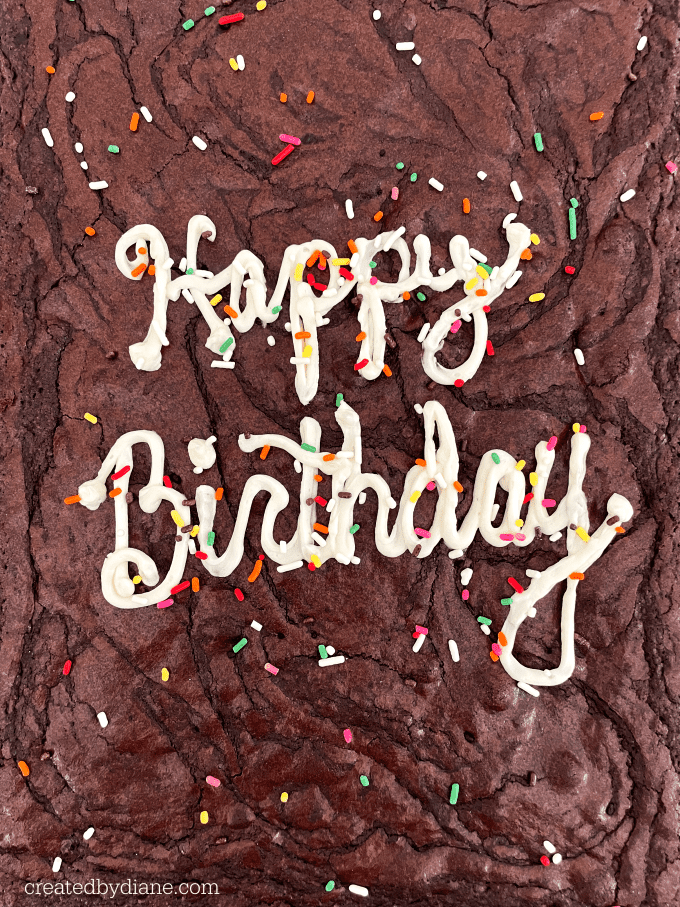 If you want to write on top of the brownie, make sure it's completely cooled. Place some frosting into a piping bag and either; use a small round piping tip or cut a small hole into the piping bag and you can write your message across the brownies, add on some rainbow sprinkles for decoration.
This will fulfill all your chocolate cravings.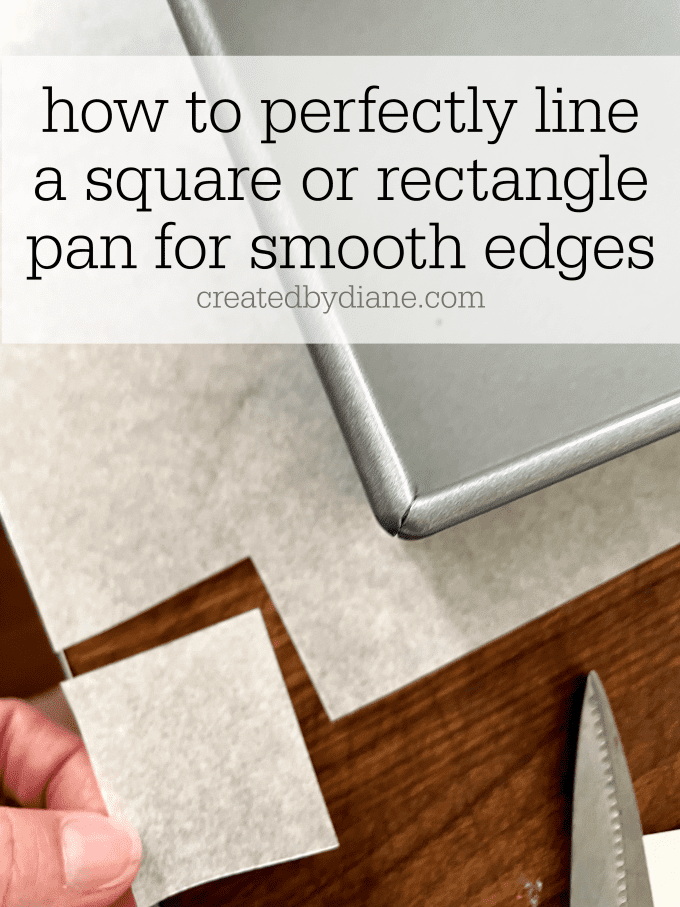 To line a rectangle pan (or square pan) place the pan over the parchment paper and look at the "corners" you can draw a line with a pencil marking the corners you'll be cutting to remove out of the parchment paper. Cut the outer four corners of the parchment paper.
Then the parchment paper will easily fold meeting the cut edges together so the corners are crisp and square.
You can spray a little baking spray in the bottom of the pan so the parchment paper doesn't move, then lightly spray the top of the parchment paper for easy removal of the baked brownie. Then fill the pan with brownie batter, and bake the brownies.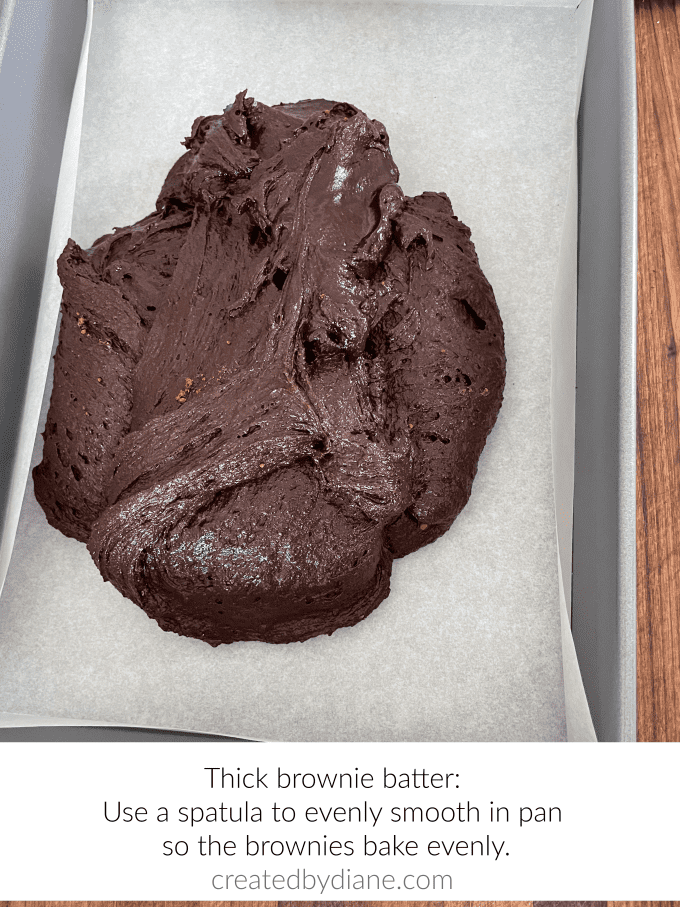 There can be some tiny bits of unmixed cocoa, that's ok. Overmixed brownie batter makes for dry brownies, and those few tiny bits will bake up just fine.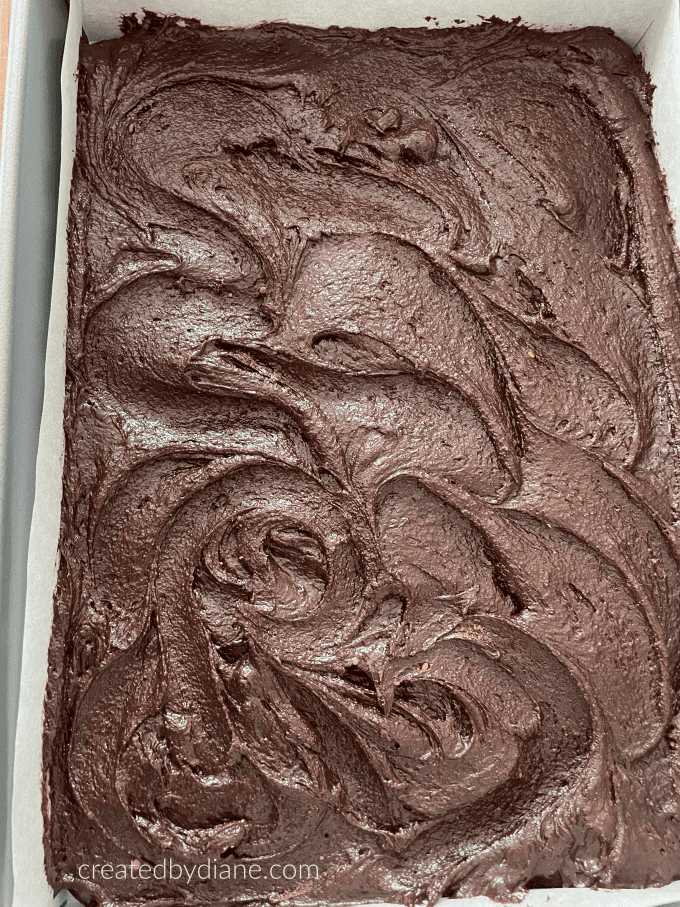 Swirl the top of the brownie batter after spreading it out.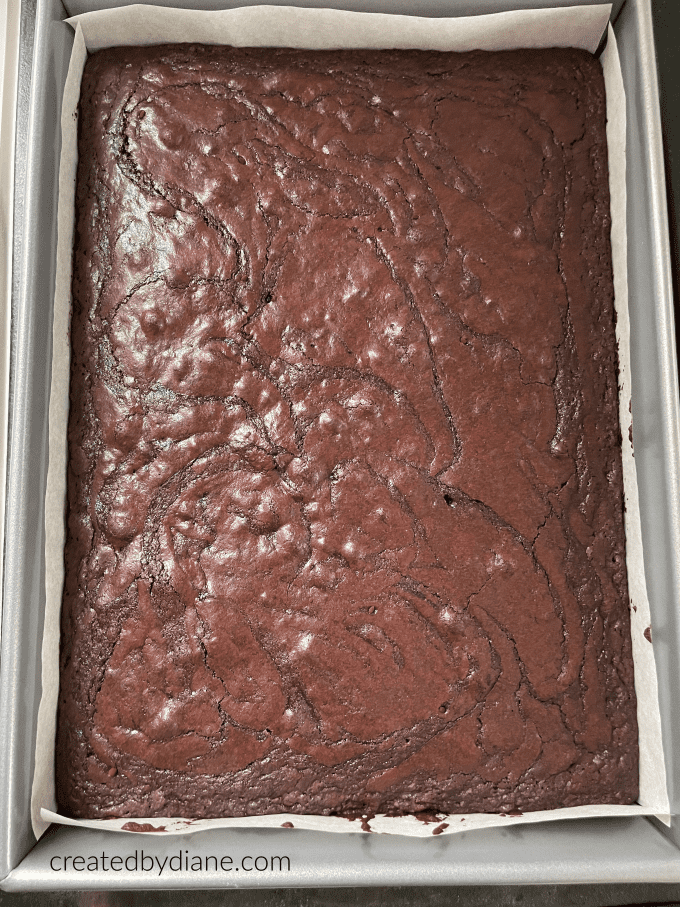 Tips on cutter brownies:
Allow the brownies to cool before cutting (about 30 minutes) for smooth lines.
It's best to use a serrated plastic knife, either a small disposable knife or the type of plastic lettuce cutting knife that works great. Plastic serrated knives won't damage the pan (if you don't use parchment paper) and allow for nice cut lines that won't squish the brownies. You can cut the brownies warm but they won't look as good, but they'll still taste great.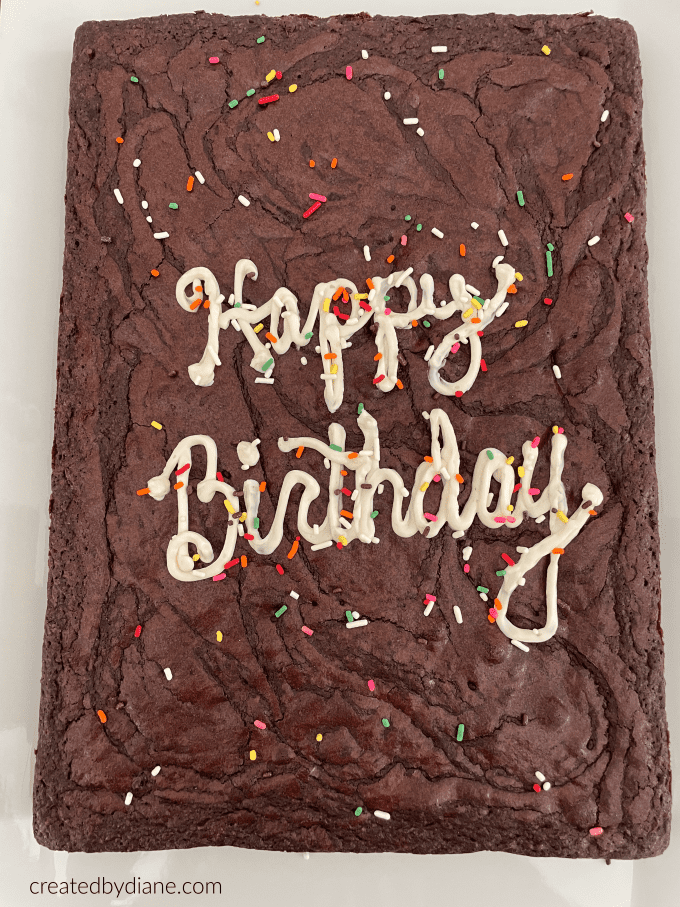 What can I top these brownies with?
You can slather on the fudge frosting for nice fudge topped brownies, add in cosmic sprinkles to replicate those fun cosmic brownies.
There are a few more frosting recipes to try, like cream cheese frosting, pink buttercream (or any color to match the occasion you're celebrating) Oreo Frosting is another great option.
Add in a tablespoon of crushed instant coffee to the batter and top the brownies with coffee frosting for an added java jolt!
And for the added rich chocolatey deliciousness add on some cooled (spreadable)or hot fudge and serve it with ice cream, brownies are always a great idea!
This is the 13×9 baking pan I use to bake easy homemade brownies. I love the squared corners and the pan bakes very evenly.
Dust with cocoa
Dust with powdered sugar
Drizzle with glaze icing (any color)
Cut into squares, and place a piece of wax paper or parchment paper at an angle to create a triangle and dush that portion with cocoa or powdered sugar for a fun design.
Brownie Recipe 9x13
rich delicious chocolate brownies with a crackle top that will win over any chocolate lover.
Author:
Diane Schmidt, Created by Diane
Serves:
12 large, 24 small brownies
Ingredients
1 cup butter melted, 2 sticks (I use salted butter, but unsalted can be used as well)
2 1/2 cups granulated sugar
3 teaspoon vanilla extract
4 large eggs
1 1/2 cups all-purpose flour
1 cup cocoa, I like using dutch process cocoa or dark chocolate cocoa
1/2 teaspoon salt (you can use half or leave out if using salted butter)
Instructions
Preheat the oven to 350°.
Line a 9x13" pan with parchment paper and spray lightly with a baking spray. (add some spray so the paper sticks to the pan, then spray the paper so all the brownie recipes from the parchment easily)
In a large mixing bowl whisk butter, sugar, and vanilla until smooth.
Add in the eggs one and a time and mix after adding each egg.
Add in flour, cocoa, and salt and stir to combine.
Place batter on top of the parchment-lined pan, spread evenly, and smooth the top, or use a toothpick to create a swirl pattern.
The batter is thick, so press it down with an offset spatula and slowly spread it to the corners for the best result.
Bake for 25 minutes or until a toothpick come out without "wet" batter but can have chocolate on it, don't overbake until the toothpick comes out clean the brownies will be dry. Remember they will remain hot until cooled which will continue to bake the brownies once you remove the pan from the oven.