Oh, the delightful flavors in this cake will have you wanting seconds! Tiramisu is not only delicious this simple cake is out of this world delicious.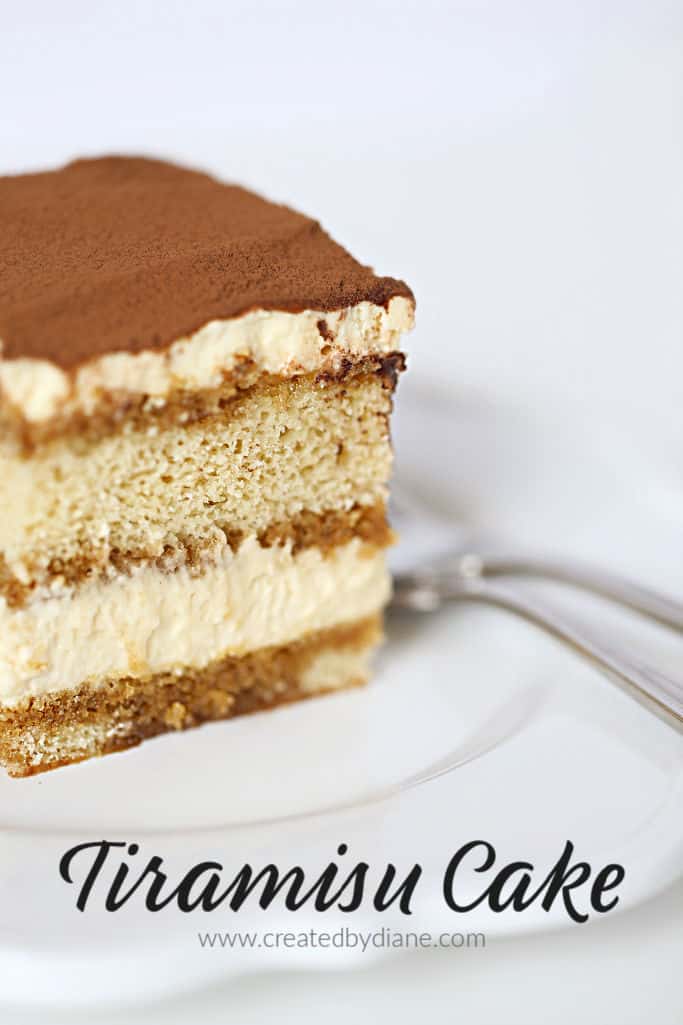 So let's examine the layers of this cake…
there is a layer of cake, the flavor of coffee, the creamy custard with some coffee flavor as well and it's all topped with a dusting of cocoa!
Winner-Winner,
this cake will be your new favorite!
One item in traditional Tiramisu is ladyfingers, no need to hunt around for ladyfingers for this recipe, I made this Tiramisu with an easy vanilla cake recipe and as it turns out it was a fabulous idea!
I made this Tiramisu Cake in a square pan, which I cut into 9 generous pieces.
If you're serving this to a crowd, you can simply cut the pieces smaller, this cake could be sliced into 18 pieces (or more).
Tiramisu means pick me up, now that sounds like a fun cake doesn't it!
I first made tiramisu twenty years ago, I recall hunting for ladyfingers only to realize the type I bought weren't the best style after I made it. It still tasted great but did not hold up well.  The softer ladyfingers soak up way too much and don't have a great texture. All that work… I learned from the experience for sure.
Savoinardi is the crunchy style ladyfingers and is the best to use if you're dipping them into coffee before layering them. The soft fluffy fresh baked style you can find in grocery stores in the bakery section are too soft and don't hold up as well. (they'd be good if you layered them in single-serving jars I think)
If you want to use ladyfingers, be sure to get the best type and just dip them into strong brewed coffee or espresso. I now know I'll be able to find the Savoinardi style ladyfingers at an Italian restaurant that sells them, but it's about a half-hour away, it's just easier for me to bake a cake!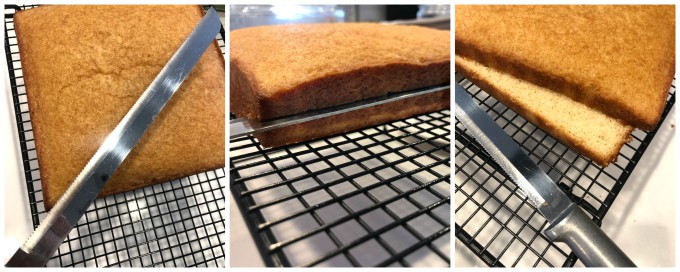 I baked a vanilla cake to substitute for the ladyfingers as they are not readily available where I live. Which also means there is NO REASON not to make this cake. You don't need to hunt around to find unusual ingredients.
And if you have Kahlua great, if not you can use rum, or simply add some vanilla where I added the coffee liquor in the sabayon (custard). 
If you want to make this without any coffee flavor, you can easily use vanilla in the custard and make a vanilla syrup or a hot fudge sauce or an almond-flavored syrup or another flavor of your choosing.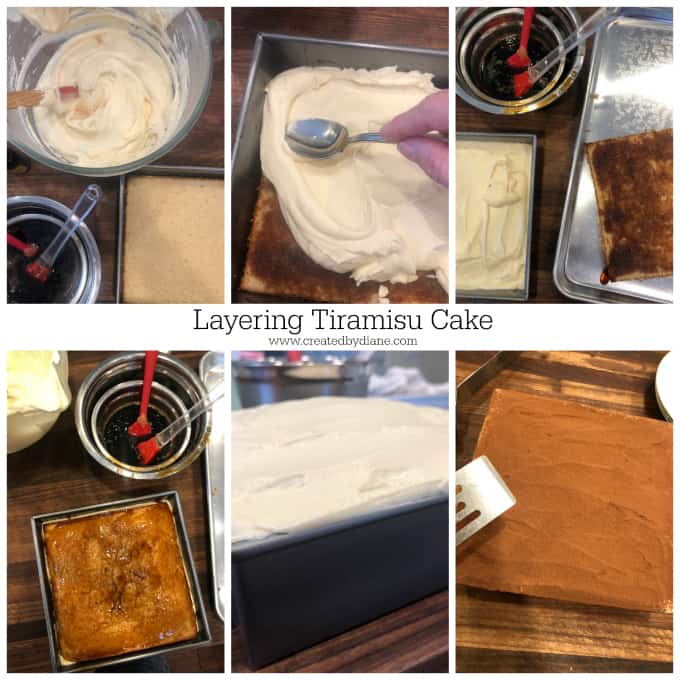 The steps to assembly are simple:
After slicing the cake in half, you'll put the first layer back in the bottom of the pan.
Next, you'll slather on some coffee syrup on the cut side of the cake.
Mix  Kahula into the custard, then you'll spread half of the custard filling (the sabayon) on the cake.
Then you'll turn the top cake layer over on wax paper, and slather the coffee syrup on the cut side, then turn it over and place it on the custard. (I used a silicone brush to spread the syrup, you can use a spoon and spread it with the back of the spoon).
Then add the syrup to the top of the cake, and the remaining half of custard.
Then place the cake in the fridge for at least 4 hours.
When you're ready to serve,  dust the top of the cake with cocoa. I place the cocoa in a fine sieve and shake it over the cake that I've placed on top of wax paper for easy cleanup.
And then you're ready to slice and serve!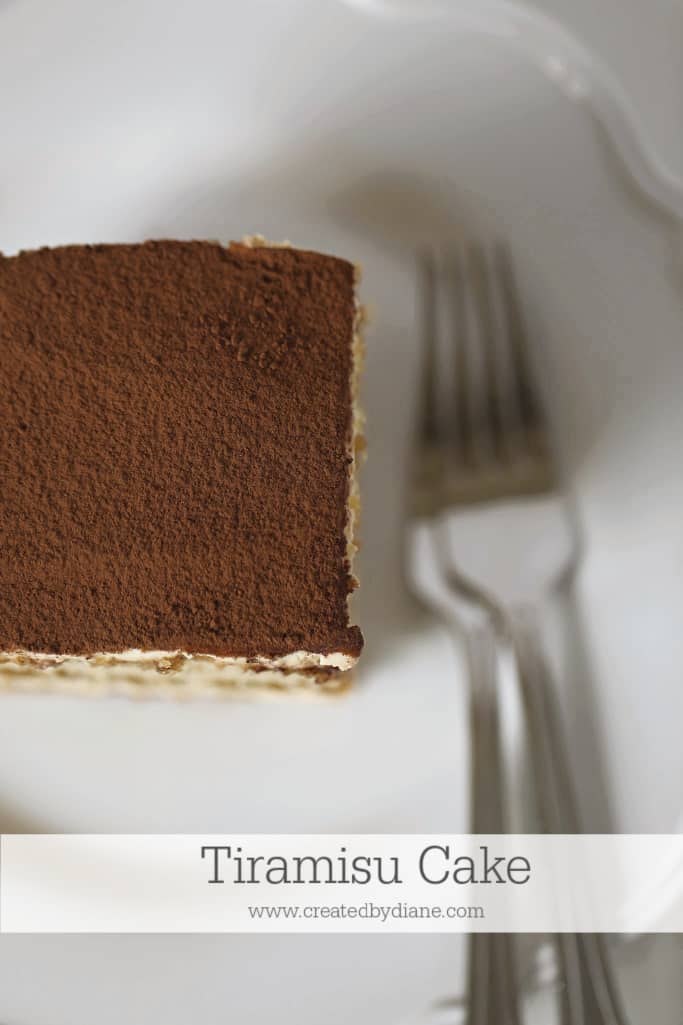 Don't let the many steps intimidate you, this is a very doable cake… and it's so delicious.
I made it for a special someone and as soon as I looked over to their place, and at the same time had my fork in my piece, theirs DISAPPEARED!
Really it was gone, they said it was great and I believe them! Wholeheartedly! Especially because they said they don't really like sweets. I did laugh and then eat mine, and it was gone just as fast!
I'm so happy to have made it again after all these years, and I know it'll be making its way onto the dessert menu here again soon!
Tiramisu Cake
Serves:
9 generous squares of cake
Ingredients
Coffee Syrup
1-1/2 cup sugar
1 cup strong brewed coffee/espresso (I use twice as much coffee as normal for this step)
Cake
1 cup granulated sugar
2 eggs
1-1/4 cups flour
1-1/2 teaspoons baking powder
1/2 cup milk
1/4 cup melted butter
2 tablespoons oil
1 tablespoon vanilla extract or vanilla bean paste
Custard (Sabayon)
6 eggs yolks (large eggs)
1 cup granulated sugar
8 oz mascarpone cheese (room temperature)
1-3/4 heavy whipping cream
3 tablespoons Kahlua (coffee liquor)
Cocoa for top
1 oz.unsweetened cocoa ( I use dutch process cocoa)
Instructions
Syrup
In a small saucepan, bring brewed coffee and sugar to a boil and then turn to medium heat and simmer for 5 minutes.
Doing this step first will allow it to cool while you make the rest of the cake.
Cake
Preheat oven to 350°
Prepare a 9inch square baking pan with a baking spray, or grease and flour pan.
With a bowl and whisk or with a mixer, whisk eggs and sugar until pale in color and fully blended.
Addin flour, baking powder and mix to combine.
Addin milk, butter, oil and vanilla and stir together.
Pour batter into the pan and bake for 30 minutes or until a toothpick comes out clean.
Cool in pan for 5 minutes, then turn the cake out of the pan onto a cooling rack, cool completely.
Then slice the cake in half so it's in 2 layers.
Custard
In a bowl of a double boiler (a metal bowl fitted over a saucepan of boiling water that is not touching the bottom of the bowl).
Place egg yolks and sugar in the bowl of the double boiler, reduce heat to low, and cook the mixture constantly stirring it for 10 minutes. The temperature should be 160°.
Remove from the heat and place the egg mixture in the bowl of a mixer and whip *(with a whip attachment) until thick.
Stir the Kahlua into the custard mixture.
Then allow the mixture to cool for 5-10 minutes.
Then you'll mix the mascarpone cheese into the egg mixture, beating it until creamy.
In another bowl with mixer whip the heavy cream until stiff peaks form.
Then you'll gently fold the whipped cream into the egg mixture. (Gently folding will take 5 minutes, do it very slowly, turn the mixture with a spatula a half-turn of the bowl, then stop, then do it again, rotate the bowl as needed. Do not stir it in, it will deflate and the end result will be deflated. This takes time, and it totally worth it.
Assembling the cake
Clean the cake pan.
Place the bottom layer of the cake, then slather on some coffee syrup, then spread 1/2 the custard mixture evenly.
Turn the second cake layer over and apply syrup to the cut side of the cake and place that side on top of the custard, then add syrup onto the top of the cake and then spread the remaining custard on top and smooth it evenly over cake.
Place the cake in the fridge for at least 4 hours.
Before serving dust cocoa on top. (I place the cocoa in a fine sieve and shake it over the cake).