It's really hard to resist the aroma of hot cornbread coming out of the oven, give me some Buttermilk Cornbread slathered with butter and I'm happy!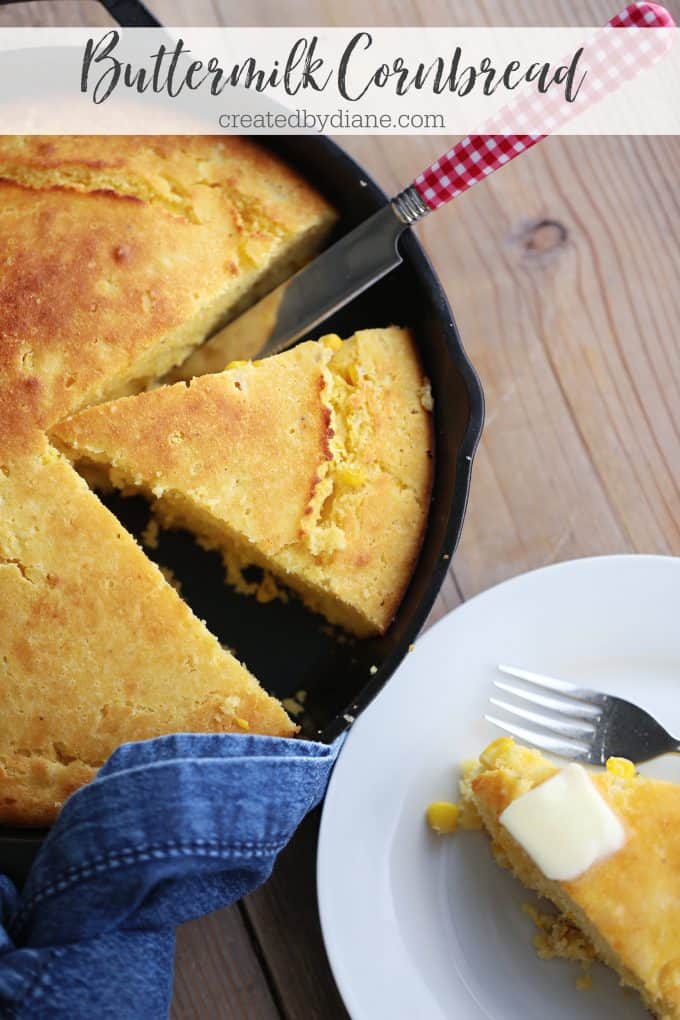 This recipe is great when you have plenty of buttermilk on hand and want to make something yummy with it. Who doesn't love cornbread, right!
When I think of cornbread a few things come to find, the first three are chili, fried chicken, and BBQ…
Oh yes,
give me all the comfort foods.
I have always been a HUGE cornbread fan, I recall eating cornbread tops, (although I haven't seen them in years… I sure would like to) I would eat for breakfast toasted with butter as a kid, seeing as I wasn't a huge sweets person in the morning and I'm still not.
I would eat those or bagels everything bagels are my fav, but since moving cross country good bagels are hard to find so I try to find other items to eat now) or leftover pizza. Yeah, I love a good savory breakfast and if you do too you may also find a new favorite over on my Toast Overload breakfast post and another savory breakfast favorite of mine is this!
So the next time you're looking to kick up things for breakfast, consider a slice of this easy buttermilk cornbread. It's great topped with whipped cream cheese too. And don't forget you can always drizzle it with honey if you like things on the sweet side.
And while we're on the subject of breakfast be sure to check out my post on EGGS too.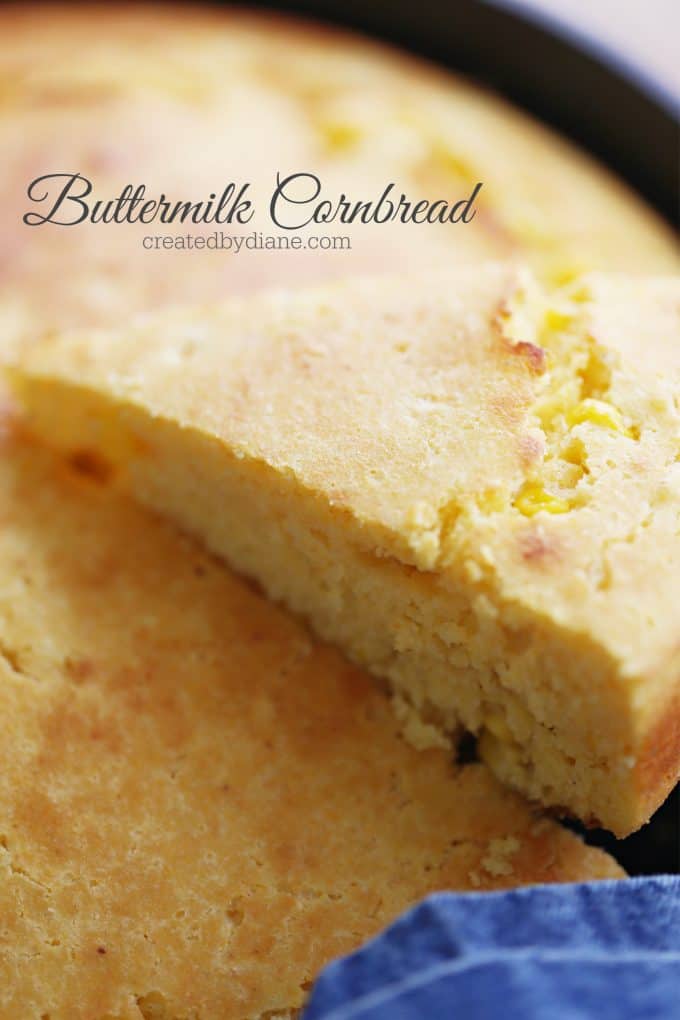 Cornbread is a great side dish it goes with so many main items. Beef, chicken, pork to name a few. 
So give the cornbread a try with some Traditional Chili, White Turkey Chili, or some yummy Chili Verde or some great Tortilla Soup.
Other items to add to cornbread:
bacon- add 1/2 cup cooked chopped bacon for some delicious salty smokey flavor
green onion- 1/4 cup give a great milk onion flavor
jalapenos- 1 fresh or 1/4 cup pickled add a fun spicy taste
canned diced green onion- 2-3 tablespoons, they offer a tangy slightly spicy flavor
maple syrup- add 2-3 tablespoons for a delicious rich sweetness 
chopped pecans- add 1/2 cup for a. nice nutty flavor
cheese, all cheese would be great here- try 1/4-1/2 cup cheddar cheese, Monterey jack, pepper jack, or 1/4 cup cotija cheese 
cheese and garlic- like parmesan and garlic with oregano
add a tablespoon of molasses for a richer flavor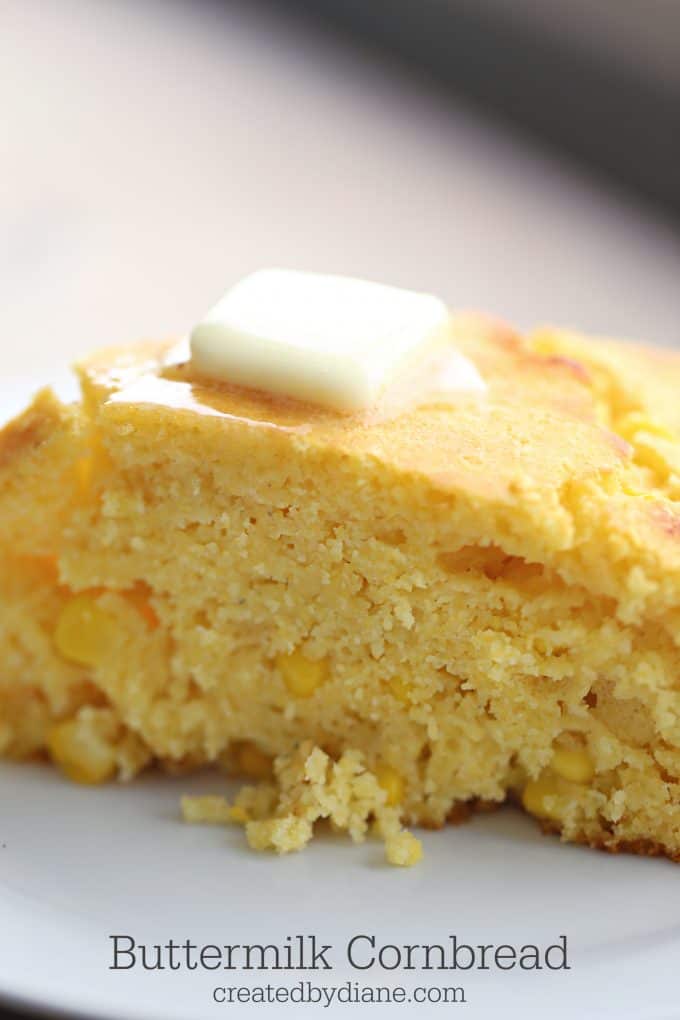 Now, remember this is not ordinary cornbread the buttermilk not only makes it tender and yummy, but it makes it TANGY… which in my life is a good thing. I love tangy! If you don't you may like this recipe it's more traditional.
If you're really into buttermilk give some of these recipes a try!
and I'm working on more buttermilk recipes as well!
This is my favorite cast iron skillet, I have many of them and use them daily!

Buttermilk Cornbread
This buttermilk cornbread recipe is tangy and delicious, a perfect side dish to spicy meals or slather on some butter for a quick snack.
Author:
Diane Schmidt Created by Diane
Recipe type:
Bread, Side Dish
Ingredients
2 cups cornmeal
1 cup all-purpose flour
1 tablespoon baking powder
1/4 cup brown sugar
3/4 teaspoon salt add 1 teaspoon if using unsalted butter
2 cups buttermilk (reduced fat)
2 large eggs
6 tablespoons butter, melted divided 5 for recipe 1 for preparing pan
1 cup corn (frozen, fresh off the cob, leftover, grilled any variety works in this dish)
Instructions
Preheat the oven to 425°.
Brush a 10" cast iron skillet with 1 tablespoon butter or oil.
In a medium to large mixing bowl mix the cornmeal, flour, brown sugar, baking powder, and salt together so it's well blended.
In another bowl mix the buttermilk with eggs and melted butter, I use a whisk to make sure the eggs get incorporated well.
Then pour the buttermilk mixture into the cornmeal mixture, stir to combine.
Stir in the corn.
Pour the batter into your prepared skillet (or 13z9 baking pan)
Bake for 25 minutes or until a toothpick comes out clean.